Sahara Reporters Latest News Today

Friday 22nd May 2020

Sahara Reporters Latest News Today and headlines on some of the happenings and news trend in the Country, today 22/05/20

Read also nigeria newspapers Friday 22nd May 2020
BREAKING: Nigeria Records 226 New COVID-19 Cases
Nigeria has recorded new Coronavirus cases, bringing the total number of confirmed infections in the country to 6401.
The Nigeria Centre for Disease Control disclosed this in a tweet on Tuesday.
SaharaReporters Media
It said, "226 new cases of ‪#COVID19‬; 131 in Lagos, 25 in Ogun, 15 in Plateau, 11 in Edo, 7 in Kaduna, 6 in Oyo, 5 in FCT, 5 in Adamawa, 4 in Jigawa, 4 in Ebonyi, 4 in Borno, 3 in Nasarawa, 2 in Bauchi, 2 in Gombe, 1 in Enugu and 1 in Bayelsa.
"6401 cases of ‪#COVID19‬ in Nigeria, discharged: 1734, deaths: 192."226 new cases of #COVID19;131-Lagos25-Ogun15-Plateau11-Edo7-Kaduna6-Oyo5-FCT5-Adamawa4-Jigawa4-Ebonyi4-Borno3-Nasarawa2-Bauchi2-Gombe1-Enugu1-Bayelsa6401 cases of #COVID19 in NigeriaDischarged: 1734Deaths: 192 pic.twitter.com/KJeNRAKFVG— NCDC (@NCDCgov) May 19, 2020
PUBLIC HEALTH
Breaking News
News
AddThis
:
Original Author
:
SaharaReporters, New York
Disable advertisements
:
Kogi Doctors Accuse Governor Bello Of Frustrating Efforts To Test Patients With COVID-19 Symptoms
The Association of Resident Doctors, Federal Medical Center, Lokoja, Kogi State, has accused the administration of Governor Yahaya Bello of frustrating efforts to test patients, who have COVID-19 symptoms in the state.
President of the Association, Dr Nnanna Agwu, in a statement on Tuesday, urged the Federal Ministry of Health and Presidential Task Force on COVID-19 to rally all relevant stakeholders in Kogi State to ensure that tests are being done.
He said, "Many patients with symptoms suggestive of COVID-19 have been seen severally in the hospital but efforts to get them tested were frustrated by the state government authorities.
"There is palpable fear at the Federal Medical Centre, Lokoja, as medical doctors and other health workers raise alarm of imminent danger posed by the COVID-19 pandemic to their lives.
"This was against the backdrop of the Nigeria Centre for Disease Control report issued on 17th May 2020 that only a single COVID-19 test has been conducted in Kogi State since the disease was recorded in the country about three months ago.
"The doctors fear that they are at a high risk of contracting the disease and transmitting same to their families and other unsuspecting patients. It is a known fact that without COVID-19 tests, physicians cannot properly categorize and treat the patients coming into the hospital in accordance with the management protocols.
"One cannot underestimate the impact of this disease on the lives of the families who have lost loved ones to it. As at today across the country 603 doctors have been exposed, 149 confirmed positive and seven deaths recorded. We in FMC Lokoja do not wish to be joined in these statistics."
The NCDC in its May 18 situation report revealed that Kogi and Cross River states have the lowest figures of samples tested since the outbreak of the COVID-19 pandemic in the country in February, 2020.
According to the report, Kogi submitted only one sample while Cross Rivers submitted seven.
Politics
PUBLIC HEALTH
News
AddThis
:
Original Author
:
SaharaReporters, New York
Disable advertisements
:


Lagos Records Two COVID-19 Deaths, Discharges Nine Patients
The Lagos State Government says it has discharged nine more COVID-19 patients, who have now tested negative to the contagion, following their treatment at the isolation facilities.
The Ministry of Health made this known via its verified Twitter handle @LSMOH on Tuesday.
The ministry also disclosed that it recorded two new COVID-19-related deaths, bringing the total number of deaths to 38.
It said, "Update as at 18th May, 2020, 74 new cases of ‪#COVID19‬ infection confirmed.
"Total confirmed cases in Lagos now 2,640.
"Two ‪#COVID19‬ deaths were recorded, bringing total number of ‪#COVID19‬ related deaths to 38.
"Nine ‪#COVID19Lagos‬ patients; two females and seven males, all Nigerians have been discharged from our Mainland Infectious Disease Hospital isolation facility to reunite with the society."
PUBLIC HEALTH
News
AddThis
:
Original Author
:
Saharareporters, New York
Disable advertisements
:
SPONSORED POST: T Pumpy: Abuja Estate Developers Announce 50% Discount, Slash Price To N1.75m Per Plot
T Pumpy Concept Limited, developers of T Pumpy Estates, Guzape, Lugbe, Karasana, Abuja, are currently offering residents of Abuja, its environs and Nigerians at large the opportunity to own a plot of land for N1.75m with a 50 per cent slash in price.
The promo, the company said, was done to encourage Nigerians to own their houses due to the effect of Coronavirus pandemic on the livelihoods of many Nigerians.

Although T Pumpy has 22 housing estates spread across Kyami, Kasana, Kuje, Lugbe, Gwagwalada and other places in the nation's capital, the ongoing promo is however, exclusive to their property along the Airport Road.
They are government approved estate plots suitable for 4 or 5 bedroom duplex, 4 or 5 bedroom penthouse and 3 bedroom bungalow.
The land and building plans are approved, authentic and highly verifiable.
Speaking on the development, MD/CEO of the company, Akintayo Adaralegbe, said the slash in price became imperative following the economic effects of COVID-19 globally of which Nigeria was not isolated from.
He said, "Imagine owning a standard 600sqm plot of a duplex, a penthouse or a bungalow for as low N1.75m. We are doing this because of the economic effects of the coronavirus on the people.
"It is every man's dream to own a house and that is why T Pumpy Concept Limited wants to make sure make actualize that dream for them.
"The market worth of the land is N3.5m but we are giving it out at this price just to encourage Nigerians at this critical time. Our lands are verifiable and authentic; they are government-approved. This promo will end on June 30.
"We sell and develop all types of estate lands for residential, educational, commercial and recreational purposes. There are lands for bungalows, penthouses, duplexes, with corresponding land sizes and amount. Crèches/nursery school plots are also available.
"Our expertise in building to the highest quality standards is evident throughout our complete line of estates. Our Estates are constructed in a factory environment and our building materials are never exposed to the elements and every aspect of the building process is closely monitored to ensure high-quality standards.
"We also undertake feasibility and viability studies of real estate development projects."
T. Pumpy Concept Limited is a progressive property developer that prides itself on its proven track records, passion and commitment to deliver superior value in design, quality and services in our developments to our customers.
T. Pumpy Concept is a registered company that deals majorly in the sales of lands and estate plots. The company has been in existence since 2009, and it's totally committed to making its utmost contribution in the development process of our environment in the aforementioned area, for the betterment of all Nigerians.
The T-Pumpy Concept team has decades of providing industry-acclaimed off-site home design and construction. Whether you're interested in a manufactured home or an innovative modular design, the T-Pumpy Concept team continues to deliver what home buyers are looking for in their new homes along with the quality construction they expect and deserve.
Call us today: Corporate Office address: No. 12, Monrovia Street, Off Aminu Kano Crescent, Wuse II district, Abuja.
Annex House 23, (F) Road, Beside RCCG Resurrection Parish, FHA Lugbe, Abuja.
Follow us on our social media platforms.
Instagram: T.pumpy_estates
Facebook: Tpumpy Estates
YouTube : T.pumpy Estates
Website:
nbsp;
WhatsApp/call: 09054545468 or 09023333380
Video of We are Nigerians, T Pumpy is our home.
We are Nigerians, T Pumpy is our home.
SPONSORED CONTENT
AddThis
:
Featured Image
:
Disable advertisements
:
Popular Christian Evangelist, Ravi Zacharias, Dies At 74
Late Ravi Zacharias
Ravi Zacharias, popular Indian-born Canadian-American Christian evangelist known for his role in defending Christianity, has died at 74.Until his death in Atlanta, United States on Tuesday, Zacharias had been battling sarcoma.
He is survived by his wife, Margie, daughters Sarah and Naomi, son, Nathan, and five grandchildren.He was a leading figure among Christian apologists, a branch of Christian theology that defends Christian doctrines against objections, CNN reports.
Late Ravi Zacharias
He won the Gold Medallion Book Award for his work, Can Man Live Without God? and published Christian bestsellers such as Light in the Shadow of Jihad and The Grand Weaver.Zacharias founded Zacharias International Ministries in 1984 and launched a global team of nearly 100 Christian scholars and authors, who continue to speak, resource, train and address the questions of millions around the world.Michael Ramsden, President of Zacharias International Ministries, in a statement said, "(Ravi) saw the objections and questions of others not as something to be rebuffed, but as a cry of the heart that had to be answered.
"People weren't logical problems waiting to be solved; they were people who needed the person of Christ. Those who knew him well will remember him first for his kindness, gentleness, and generosity of spirit. The love and kindness he had come to know in and through Jesus Christ was the same love he wanted to share with all he met."
News
OBITUARY
AddThis
:
Original Author
:
SaharaReporters, New York
Disable advertisements
:
BREAKING: Government Sacks Managing Director of Transmission Company of Nigeria
The Federal Government has sacked the Managing Director of Transmission Company of Nigeria, Usman Gur Mohammed.
He has been replaced by Engr Sule Ahmed Abdulaziz in acting capacity.
Minister of Power, Mohammed Sale, approved Mohammed's sack on Tuesday.
Spokesperson to Sule, Aaron Artimas, in a statement, said the minister also confirmed four directors, who had been on acting position in the company for some months.
He said, "As part of continuing measures to reposition and improve the performance of the power sector in the country, the Minister of Power, Engr Sale Mamman, hereby announces major changes at the Transmission Company of Nigeria.
"Accordingly, the Managing Director of the TCN, Usman Gur Mohammed, has been removed from office with immediate effect. He is being replaced with Engr Sule Ahmed Abdulaziz as Managing Director in acting capacity.
"The Minister has also confirmed the appointment of four directors who have been on acting position in the company for some time."
Electronics
Breaking News
News
AddThis
:
Original Author
:
SaharaReporters, New York
Disable advertisements
:
E2%80%94nafdac We Have Received Four Potential COVID-19 Cure Submissions From Nigerians —NAFDAC
Director-General of the National Agency for Food Drugs and Administration Control, Prof Mojisola Adeyeye, has said that the regulatory agency had received four submissions from Nigerians, who claim to have found the cure to COVID-19.
Prof Adeyeye on Tuesday said the entries followed a call for researchers and practitioners to submit potential solution to the deadly virus.She said, "I made a call for people to submit their application and I believe we have about three or four now and we are going to expedite the processing because it takes a while for us to go through the laboratory testing and what not but I have already given the directive to expedite.
"So, where we are right now is just to make sure that the information submitted is okay and by the end of the week, we may be sending these samples to the lab after we must have gone to inspect the site where the products are made because we don't want a product that somebody will take and the person will start vomiting."So, we will go and inspect the site to make sure that whatever sample we are going to get must have been prepared in an environment that will not make the drug to compromise the health of the user."If somebody says he or she has a remedy for COVID, first of all, we want to know the history of the plant or the family the plant belongs to, background information on the botanical characteristics of the plant, we will also want to know whether the plant has been used for anything before because sometimes, we use one plant for several diseases and the usage will be different for a particular disease."We will also ask for any written or published document about the plant because the plant may not come from Nigeria and it may be available in other climes. "So, we want to ensure that we get enough information and once that application is submitted with the information, then we will start the process and part of the process involves inspecting where the medicinal product was prepared to be sure that it is not going to compromise the health of the people."
PUBLIC HEALTH
News
AddThis
:
Featured Image
:
Original Author
:
Saharareporters, New York
Disable advertisements
:


COVID-19: Do Not Treat Yourself At Home, Health Minister Warns Nigerians
The Nigerian Government has warned citizens not to self-medicate if they developed symptoms of Coronavirus due to a spike in fatalities linked to home-based solutions and treatments.
Dr Osagie Ehanire, Nigeria's Health Minister, gave the warning on Tuesday in Abuja while speaking during the daily briefing of the Presidential Task Force on COVID-19.
He said, "1,644 patients have been treated and discharged from care but we have sadly recorded 191 deaths in 26 states and the FCT.
"Even though this figure seems low compared to other countries, a disturbing picture emerging from statistics is that not only are most fatalities observed to be linked with preexisting diseases, many are educated, well-to-do people, who chose home-based care, where they develop sudden complication and have to be rushed to hospital.
"Experience is showing that breathing complications in COVID-19 patients can arise with little or no notice. This is an added reason why all persons should seek medical attention when they test positive.
"Also, we do not at any point support self-medication, and if you hear that anybody is taking self-medication at any time, it is definitely something prescribed by his or her doctor. There are medicines that should not be in your hands normally unless they are prescribed by the doctor.
"There is a study being done about the efficacy of some drugs by five centres in our country and hydroxylchloroquine is one of them. But again, stay with what your doctor has prescribed and do not start self-medicating otherwise you can do serious harm to your own self."
PUBLIC HEALTH
News
AddThis
:
Original Author
:
Saharareporters, New York
Disable advertisements
:
Hold Salah Prayers In Your Homes, Islamic Scholars Urge Muslim Faithful
As Muslim faithful across the world prepare to mark the end of Ramadan fast this weekend, Islamic scholars have advised adherents of the religion to observe Eid-El Fitri prayers in their houses and avoid congregation at various prayer grounds.
The scholars said this was in compliance with the two-week extension of the gradual easing of the lockdown.
as announced by the Presidential Task Force on COVID-19, Boss Mustapha, on Monday.
Director of Muslim Rights Concern, Prof Ishaq Akintola, who spoke with SaharaReporters, said Muslim faithful should be role models in observing health protocol in curtailing the COVID-19 pandemic.
He called on Muslims across the country to observe their prayers in their homes, saying that God can answer prayers anywhere.
Akintola admonished them to celebrate Eid-el-Fitri in a limited way and avoid unnecessary gathering.
He said, "As we know that it affected Easter and it was celebrated in a limited way and in the same manner the Muslims should celebrate Eid-el-Fitri in a limited way. Our prayers can still be done inside our houses. We are complying and want others to do so.
"If we say we want to go out and congregate, we would endanger our own lives and other Nigerians because after the prayer, we are still going back to the society."
The Islamic scholar said disobedience to government in Islam is a sin, adding that the battle is for the whole mankind and humanity to come together to win the war against the virus.
On his own part, National Cheif Imam, Al-habibiyyah Islamic Society, Fuad Adeyemi, said the outbreak of COVID-19 had broadened and enriched their belief in the act of giving to the needy.
He said they had cultivated the habit of giving foodstuff and cash to the poor before the outbreak of the virus as part of their religion obligations.
Adeyemi explained that the reward of praying was the same anywhere in the world and the mosque can be anywhere so far it was not in the toilet or burial ground.
He called on government to create more awareness and ensure strict enforcement of the lockdown order for erring religious leaders fond of flouting the rules.
Recall that Christians in most parts of the world celebrated Easter in their houses as churches were closed and annual pilgrimages cancelled as a result of the lockdown.
Islam
News
AddThis
:
Original Author
:
Saharareporters, New York
Disable advertisements
:
SERAP, EiE, Ask EFCC To Investigate Lagos Assembly Speaker, Obasa, Over Corruption Allegations
Mudashiru Obasa
The Socio-Economic Rights and Accountability Project, and Enough is Enough Nigeria, have asked the Economic and Financial Crimes Comission to launch an investigation into corruption allegations against Lagos Assembly Speaker, Mudashiru Obasa.
SaharaReporters in a series of reports had exposed how Obasa and some of his colleagues in the House of Assembly embezzle public funds without caution.
Speaking with SaharaReporters on Tuesday, Adetokunbo Mumuni, Executive Director of SERAP, said the findings of such investigations must also be made known to the public.
Mudashiru Obasa
Google
"It is the business of the Attorney-General and concerned government agency to look into it. Nobody is above the law and that is what democracy is about.
"You cannot in a democracy pretend to be hiding under a leader, it must be investigated and whatever the outcome of the investigation, must be made to the Nigerian public and the people that are involved, whether him alone or he has cohorts must be brought to justice," he said.
Reacting to the expository pieces, EiE Nigeria on Twitter said, "Recent reports of corruption allegations unearthed so far against the Lagos Assembly Speaker, @Mudashiru_Obasa, is mind-boggling.
Plus, we can't ignore the crazy cost overuns being reported. We expect @officialEFCC, @ICPC_PE to swing to action immediately! Recent reports of corruption allegations unearthed so far against the Lagos Assembly speaker, @Mudashiru_Obasa is mind-boggling. PLUS! – we can't ignore the crazy cost OVERRUNS being reported. We expect @officialEFCC, @ICPC_PE to swing to action immediately! mdash; EiE Nigeria (@EiENigeria) May 19, 2020
"N258M for the printing of IV's for the Assembly inauguration two months after the event held. N80m as estacode for a 5-day event. N13.7m for "small chops, water, juice and soft drinks. These are weighty allegations that must not be swept under the carpet.
"He was also alleged to have fraudulently collected N53m for travel with one of his staff. The event was postponed, fund was not returned but diverted for personal use.
"@Mudashiru_Obasa must be subjected to necessary investigations on these allegations @officialEFCC @ICPC_PE." He was also alleged to have fraudulently collected N53m for travel with one of his staff. The event was postponed, fund was not returned but diverted for personal use. @Mudashiru_Obasa must be subjected to necessary investigations on these allegations. @officialEFCC @ICPC_PE pic.twitter.com/JTnmqNVj83— EiE Nigeria (@EiENigeria) May 19, 2020
Corruption
CRIME
Politics
Scandal
News
AddThis
:
Original Author
:
Saharareporters, New York
Disable advertisements
:
Read also Nigerian Newspapers Today and Nigeria News Today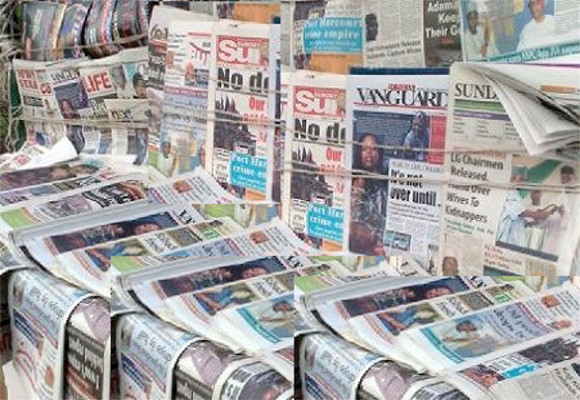 You can also check Sahara Reporters Newspaper Headlines Today