Nigerian Newspapers Today

Wednesday 15th July 2020

Top Nigerian Newspapers Today Wednesday and Breaking news Wednesday 15th July 2020 . This is current news and headlines on Nigerian Newspapers Today that is happening right now
Daily Sun
Osimhen agrees €81m Napoli move
Lille striker, Victor Osimhen has reportedly agreed terms with Napoli, having made up his mind to join the Serie A side. The forward had been linked with a number of European clubs, following his eye-catching performances for Christophe Galtier's men in the 2019-20 season. The Parthenopeans had, however, been leading the race to secure his […] .
…Sacks agent who threatens to sue
Prior to the transfer saga concerning Victor Osimhen, the Lille striker has replaced his agent after the first one allegedly tried to work out bonuses for himself and not the player. The sacked agent had now threatened to drag Osimhen to court, according to Football Italia. Football Italia sources close to Osimhen confirmed that it […] .
NFF, Lagos SWAN lament as Ukaigwe dies
Nigerian Football was again thrown into a state of mourning on Tuesday after news broke of the death of leading women football promoter and administrator, Henrietta Ukaigwe. Ukaigwe, a member of the Board of the Nigeria Women Football League, has for several decades been at the vanguard of promoting the game of women's football in […] .
20 Nigerian women's clubs receive $194,030 FIFA fund
20 Nigerian Women's Football League clubs will benefit from FIFA's solidarity funds. The fund is meant for teams who helped develop players that represented their countries at the 2019 women's World Cup in France. According to a statement from FIFA, $194,030 would be shared among the 20 Nigerian teams eligible. Rivers Angels, FC Robo, Bayelsa […] .
Showmax launches live streaming service for PL, La Liga, others
Showmax, an Internet TV has launched a new service, Showmax Pro, which bundles the existing Showmax entertainment service with music channels, news and live sport streaming from SuperSport. Showmax Pro was launched in Nigeria on July 7and features games from the Premier League, La Liga, Serie A, Premier Soccer League (PSL), as well as a […] .
Telegraph
Sanwo-Olu: I've paid all healthworkers' allowances
Being the text of Lagos State Governor Babajide Sanwo- Olu's address on Tuesday explaining issues that led to a three-day strike by the Lagos chapter of Medical Guild   All health workers' allowances approved, paid We are in Infectious Disease Hospital (IDH) in Yaba and you journalists have asked me question around the ongoing warning […]
WASSCE: Reps urge FG to reopen schools
The House of Representatives yesterday urged the Federal Government to rescind its decision and halt the withdrawal of students from the West African Senior School Certificate Examinations (WASSCE). It also demanded that the government provide enabling environment for students to write their examination in accordance with NCDC guidelines.   The resolution followed the adoption of […]
COVID-19: How we can boost immune system of elderly people – Adetiloye
Philip Omoniyi Adetiloye is a Professor and scholar in Systems Design and Systems Agronomy at the Federal University of Agriculture, Abeokuta, Ogun State. The Ise Ekiti born academician, in this interview with ADEWUMI ADEMIJU, explained how he researched into the discovery of a new technology called Bio-energy also known as cold plasmas     Adetiloye […]
Day women said no to sexual abuse in Bauchi
Ali Garba It was like a day of mourning when disable women, adolescent child, both girls and boys, mothers of various categories, working class men and women including Civil Society Organization (CSO) put on blacks clothes to register their grievances to government, relevant stakeholders, securities agencies, judiciary and individual on the daily abuse of women […]
Exploring the Yoruba concept of Ori
Book title: Ori: Yoruba Personality Guide Author: Raymond Ogunade, Ph.D Reviewer: Abdulgaffar Olawale Arikewuyo (Ph.D.) olawale7@yahoo.com     The book Ori: Yoruba Personality Guide, takes a systematic and in-depth insight into the concept of Ori.   This review, therefore, breaks down the different chapters of the book and how the author discusses the various interesting […]
Daily Trust : Nigerian Newspapers Today
Reps move to bar ex-electoral officers from contesting election
The House of Representatives has passed for second reading a bill to amend the Electoral Act, 2010 to stop retired electoral officers from partisan politics or seeking elective office immediately after retirement. The bill specifically seeks to prohibit them from engaging in partisan politics after their relief of duties, retirement or resignation until after five […]
My Supreme Court victory, God's intervention – Diri
Bayelsa State governor, Senator Duoye Diri, has described his victory at the Supreme Court as God's divine intervention in the affairs of the state. The apex court had yesterday dismissed the appeal filed by Peoples Democratic Party (PDP) governorship aspirant in Bayelsa State, Timi Alaibe, challenging the primary that produced Governor Diri. Diri, who spoke […]
Edo, Ondo 2020: INEC's quest for flawless elections amid challenges
With the Edo and Ondo governorship elections scheduled for September 19 and October 10, 2020, respectively getting closer, the habitual propaganda games that normally precede every election in Nigeria have started; with political actors in opposing camps trading attacks. So far, three allegations have emerged. One stated that the Chief of Staff to the President, […]
Nigerian football coaches are denied respect, job security – Biffo
The Technical Adviser of Kwara United football club, Abdullahi Biffo has said there is no job security for indigenous coaches as he maintained that they can be sacked anytime by their employers. Biffo who was the Guest of the virtual interview of FCT Football Update said due to lack of respect for coaches, there is […]
Klopp: Man City appeal victory not good for football
Liverpool boss Juergen Klopp described as "not a good day for football" Manchester City's successful appeal against a two-year UEFA ban for allegedly breaking Financial Fair Play (FFP) rules. "I don't think it was a good day for football yesterday, to be honest," Klopp told a virtual news conference on Tuesday. "FFP is a good […]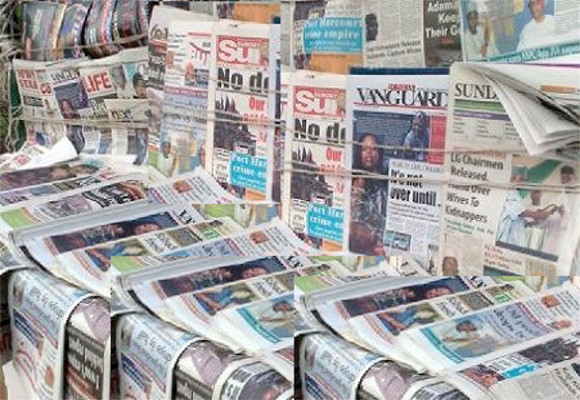 Nigerian Newspapers Today