Nigerian Newspapers Today

Friday 2nd June 2023

Top Nigerian Newspapers Today Friday and Breaking news Friday 2nd June 2023 . This is current news and headlines on Nigerian Newspapers Today that is happening right now
Daily Sun
Telegraph
Lagos Assembly Passed 46 Bills, 120 Resolutions In 4 Years – Obasa
The Speaker of the Lagos State House of Assembly, Mudashiru Obasa, has said that the lawmakers passed into law, 46 Bills with over 120 resolutions and a couple of regulations between 2019 and 2023. In his valedictory speech at the last plenary session of the 9th Assembly, Obasa said the bills have brought about remarkable... The post Lagos Assembly Passed 46 Bills, 120 Resolutions In 4 Years – Obasa appeared first on New Telegraph.
Endeavor Welcomes Qore's CEO, Emeka Emetarom
Qore, a Banking-as-a-Service platform (carved out from the Pan African fintech software provider group, Appzone) today announces the integration of its Chief Executive Officer, Emeka Emetarom into Endeavor- a leading global community of High-Impact Entrepreneurs — those who dream bigger, scale faster, and pay it forward. The acceptance into the community was concluded at Endeavor's 37th... .
Subsidy: We Won't Fix Petrol Prices Again – NMDPRA
The Nigerian Midstream and Downstream Petroleum Regulatory Authority (NMDPRA) has said that it would no longer fix prices or release templates for petrol prices again, as market forces were allowed to dictate prices under a liberalised market. The Authority Chief Executive (ACE), Engr Farouk Ahmed who made this known on Friday, however, explained that the... The post Subsidy: We Won't Fix Petrol Prices Again – NMDPRA appeared first on New Telegraph.
Ogun Threatens To Revoke CofO, License Of Petrol Station Hoarding Products
The Ogun State Government has threatened to revoke the license and Certificate of Occupancy (CofO) of any petrol station found hoarding or inappropriately dispensing its product. To this end, the state government on Friday set up a task force to monitor the sale of petroleum products by filling stations. The task force, which comprised of... .
Jaruma Reveals Pot Judy Austin Puts Yul Edochie Before Bottling Him
Nigerian sex therapist, Hauwa Saidu Mohammed, popularly known as Jaruma, has caused a lot of controversies on social media over a video she posted online. The aphrodisiac specialist took to her Instagram page to share a video of a pot which she claimed  Nollywood actress, Judy Austin used in capturing Yul Edochie. Jaruma who is... .
Daily Trust : Nigerian Newspapers Today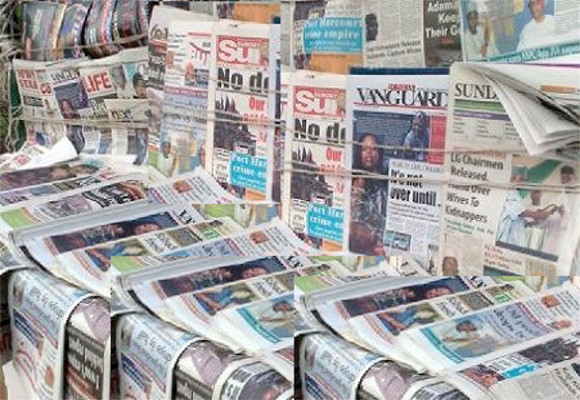 Nigerian Newspapers Today