Nigerian Newspapers Today

Monday 27th September 2021

Top Nigerian Newspapers Today Monday and Breaking news Monday 27th September 2021 . This is current news and headlines on Nigerian Newspapers Today that is happening right now
Daily Sun
Lagosmatchmaker coach Nkpubre Arit Edet wants Nigerian singles to put more efforts to find lifetime Love
In-house dating coach of LagosMatchmaker, Nkpubre Arit Edet, has advised Nigerian singles who are finding it difficult to cross from their present status to get a lifetime partners not to worry themselves as what they need is to put extra efforts in their search for love for them to find their ultimate happiness. Arit Edet […] .
Nigeria at 61: The vision remains undefeated – Osinbajo
From Juliana Taiwo-Obalonye, Abuja Vice President Yemi Osinbajo, has said that not withstanding the current security, economic, religious, and ethnic challenges, the collective vision of a united, peaceful and prosperous Nigeria, where righteousness abounds, still abides. He said this at the 61st Independence Anniversary Inter-denominational Church service and the 45th anniversary service of the Christian […] The post Nigeria at 61: The vision remains undefeated – Osinbajo appeared first on The Sun Nigeria.
Wabote wins African Local Content Icon Award
From Femi Folaranmi, Yenagoa   The Executive Secretary of Nigerian Content Development and Monitoring Board (NCDMB), Mr Simbi Kesiye Wabote has won the African Local Content Icon Award. The award instituted by the United Kingdom based African Leadership Magazine was given awarded to Wabote for his doggedness in changing the local content narrative of Nigeria […] .
COVID-19: BHC provides further information about travel rules to UK
From Aidoghie Paulinus, Abuja The British High Commission (BHC), Abuja, has provided additional information about travel rules to the United Kingdom (UK). The additional information, according to the Senior Communications and Public Diplomacy Officer, British High Commission, Abuja, Atinuke Akande-Alegbe, is sequel to the statement of September 25, 2021 by the BHC on COVID-19 vaccines […] .
Gov Bagudu inspects road project in Arewa LGA
From Olanrewaju Lawal, Birnin Kebbi Kebbi state Governor, Senatoe Abubakar Atiku Bagudu has inspected the ongoing road project from Madamfara to Yeldu in Arewa local Government Area of Kebbi State. The project which has reached completion level, is currently in the process of being tarred by the construction company. Special Adviser to the Governor on […] .
Telegraph
D'Tigeress win third consecutive Women's Afrobasket title
  *Nigerian ladies beat Mali in final in Yaounde Ajibade Olusesan Nigeria's D'Tigeress cemented their status as Africa's top basketball team with a comfortable 70-59 victory over Mali in the final in Cameroon's capital Yaounde on Sunday. Nantes forward Ify Ibekwe led the way with a double-double of 13 points and 10 rebounds, while Turkey-based […]
Restructuring'll benefit Nigeria – S'West monarchs
Two notable Yoruba monarchs, the Owa Ajero of Ijero Kingdom, Oba Joseph Adebayo and Olowu of Kuta, Oba Oyelude Makama insisted that Nigeria stands to benefit immensely when it is properly and honestly restructured. They also said with restructuring, the issues of unrest and insecurity will be an issue of the past. The two foremost […]
APC Convention: I'll cement every crack in party, says Sheriff
Ahead of the National Convention of the All Progressives Congress (APC) a frontline National Chairmanship candidate, Senator Ali Modu Sheriff has promised to cement every crack in the party. The former governor of Borno State, who spoke with journalists in Abuja in company of members of his campaign team weekend, said he has no issues […]
2023: NNPP advocates ballot box 'coup' to save Nigeria
Ahead of the 2023 general elections, the New Nigeria People's Party (NNPP) has prescribed a "ballot box coup" as a panacea to saving Nigeria from the near total collapse which the successive administrations had created for her. The party, at the launch of its South West Support Group in Ibadan at the weekend, maintained that […]
Nigeria at 61: Nigeria's progress depends on every citizen's support
…as Wike says present leadership spreading hatred, ethnicity   Lagos State Governor, Mr. Babajide Sanwo-Olu on Sunday charged Nigerians to work toward the prosperity of the country, saying Nigeria could be on the path of progress if the citizens continue to display fairness, equity and justice. He gave the advice on Sunday at the 61st […]
Daily Trust : Nigerian Newspapers Today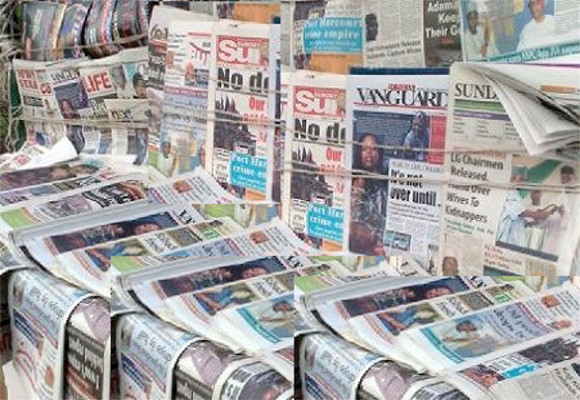 Nigerian Newspapers Today