Nigerian Newspapers Today

Sunday 24th January 2021

Top Nigerian Newspapers Today Sunday and Breaking news Sunday 24th January 2021 . This is current news and headlines on Nigerian Newspapers Today that is happening right now
Daily Sun
Infiltrators hijacked APC after electoral victory —Okorocha
From Romanus Ugwu, Abuja   Former governor of Imo State, Senator Rochas Okorocha, means many things to many people, but what may be incontrovertible is that he is a controversial politician. Speaking to a select group of journalists in Abuja, the senator representing Imo West Senatorial District explained more about the political realignments ahead of […] .
2023 presidency: Why other Nigerians should give Igbo a chance –Dr. Sylvan Ebigwei
By Daniel Kanu Elder statesman, Dr. Sylvan Ebigwei, is a renowned dental surgeon. Ebigwei, a former chairman of the governing board, Nnamdi Azikiwe University Teaching Hospital, President-General emeritus, Aka-Ikenga, an Igbo intellectual think tank and former Vice-President General of Ohanaeze Ndigbo Worldwide, is worried about the Nigerian state and afraid of mass explosion if the situation is […] .
Umahi connived with Ogah to upturn my victory through courts –Ogbee, ex-NASS member
From Obinna Odogwu, Awka Former representative of Ezza South/Ikwo Federal Constituency of Ebonyi State in the National Assembly, Chief Lazarus Ogbee, has advised the people of the Southeast region to consider re-electing their representatives in the National Assembly for second or more terms. This, he said, would give them more time to master the rope of lawmaking, […] .
'One Nigeria' mere slogan without constitution review –Adegoke, SAN
By Lukman Olabiyi   In the view of a Senior Advocate of Nigeria (SAN) and rights activist, Mr. Kunle Adegoke, the issue of constitution review is a necessity not an option if the country must remain as one.  He avers that the current constitution of the country cannot sustain its unity because it gave the Northern […] .
Southwest/Fulani crisis: Another civil war looms, ACF warns
From Noah Ebije, Kaduna and Oluseye Ojo, Ibadan The Arewa Consultative Forum (ACF) has warned that the ongoing crisis between the people of the Southwest region and the Fulani herdsmen is capable of causing another civil war in the country if not halted immediately. ACF, therefore, called on the Federal Government and Southwest governors to […] .
Telegraph
I discovered my hidden talent in interior decor while building my hotel –Kcee
One thing that has become a part of Kcee's style, is starting each year with a new innovative adventure. At the beginning of the year 2020, Nigeria's music star, Kingsley Okonkwo, popularly known as Kcee and his brother, Emeka Okonkwo, popularly known as Emoney, unveiled a road construction they did in their home town.   […]
Kola Kareem steps into the big shoes
There is no doubt that the demise of billionaire business man, Harry Akande created so much vacuum and part of the vacuum is the position of the Agbaoye, highest honorary chieftaincy title in Ibadan land.   In the midst of the mourning process of the giant that passed on, one serious thought in the minds […]
Alaafin of Oyo decorates Shina Peller
Unarguably, Shina Abiola who is better known as Shina Peller remains the most visible among the children of the foremost magician in the country, late Moshood Abiola a.k.a Peller.   With his hands in different businesses, young Shina's effort was really crown wit success that he started controlling large sum of money early in life. […]
Inflation: Nigerians getting poorer –Analysts
Nigeria's inflation rate hit 14.89 per cent in November 2020, the highest since 2018 when the rate stood at 15.13 per cent. On a month-on-month basis, the Headline index increased by 1.6 per cent in November 2020. This is 0.06 per cent points higher than the rate recorded in October 2029 (1.15 per cent).   […]
Fr Uwakwe marks 20th year of priesthood
Says good things come with huge sacrifice   The parish priest of St Cyril Catholic Church, Okota, Lagos. Rev. Father Martin Uwakwe, takes a look at his journey into the catholic priesthood. as he marks his 20th year as a priest, in this interview with tai anyanwu   Your are marking your 20th year of […]
Daily Trust : Nigerian Newspapers Today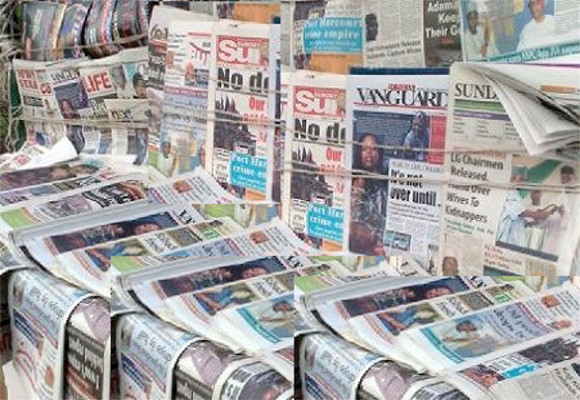 Nigerian Newspapers Today