Thisday Newspaper News Today

Friday 13th December 2019

Top Nigeria news Dailies Update from Thisday Newspaper News Today 13/12/19

Read also The Nation Newspaper Today Headline Friday 13th December 2019
Senate Moves to End Discrimination against Women Police
Chuks Okocha and Deji Elumoye in Abuja The Senate has commenced moves to put an end to discrimination against women in the Nigeria Police Force with Thursday's consideration of the Police Act Amendment Bill, 2019. The piece of legislation before the National Assembly essentially seeks to expunge the provisions of Regulations 122, 123, 124 and
THISDAYLIVE.
FG, House Pledge Prompt Implementation of Agreement with NUEE
Ngige faults workers' 'abrupt' withdrawal of service 21-day ultimatum not abrupt, Ajaero insists Adedayo Akinwale ín Abuja The federal government and the leadership of the House of Representatives have assured the National Union of Electricity Employees (NUEE) that the agreement reached with them would be implemented. The union had at the expiration of the 21-day
THISDAYLIVE.


Cecil Hammond: 15 Years of Promoting Nigerian Music  
Cecil Hammond, President Flytime Group and owner of Flytime Promotions has for 15 years been behind the scene of grooming and churning out great musicians in the Nigerian music industry. To his credit, he has done over 40 shows nationwide, promoting young African talents and has been at the forefront of the showbiz industry through his popular concert, Pepsi Rhythm
THISDAYLIVE.
Fanfare as Siju Iluyomade's 'Arise Women' Empowers Abuja Villages
Mary Nnah It was fanfare when residents of Dafara and Kabusa villages in the Abuja suburb welcomed with open arms the Arise Women, a non-faith based nongovernmental organisation championed by delectable, philanthropic lawyer of decades, Dr. (Mrs.) Siju Iluyomade, wife of Pastor Idowu Iluyomade, the Presiding Pastor of the Redeemed Christian Church of God, RCCG,
THISDAYLIVE.
Disobedience to Court Order, Recipe for Lawlessness, Chaos, Sultan Warns
Senate orders investigation of DSS' invasion of court SANs call for judicial commission of enquiry   Deji Elumoye and Alex Enumah in Abuja The Sultan of Sokoto and President-General of the Nigerian Supreme Council for Islamic Affairs (NSCIA), Alhaji Sa'ad Abubakar, thursday joined campaign for respect for the rule of law in the polity, warning
THISDAYLIVE.
Winners Emerge at Three Crowns Mom of the Year 2019 Competition
Mary Nnah Three moms have emerged winners of the 2019 Mom of the Year competition organised by the Three Crowns Milk, Nigeria's leading Low cholesterol milk from the stable of FrieslandCampina WAMCO Nigeria Plc. The winners, who emerged from a list of five smart moms shortlisted from among over a hundred thousand entries received across
THISDAYLIVE.
Access Bank Collaborates Genesis House in Tackling Gender Violence
Mary Nnah Access Bank Plc., through its Access Women Network (AWN) in conjunction with Genesis House, a female residential rehabilitation and resource centre in Lagos, recently brought together stakeholders to ponder on how they can easily tackle the issues of human rights violation and sexual violence against women and girls during the 2019 edition of
THISDAYLIVE.


Bank Supports Startups, Sponsors Innovative Ideas at Tech Fair
Mary Nnah Zenith Bank, leading multinational financial service provider in Nigeria at its recent Tech Fair, supported and sponsored various technology start-ups and innovative ideas. Held recently in Lagos, the event had the theme, "Future Forward', which showcased leading technology innovation across every aspect of life. Speaking at the event, Chairman, Zenith Bank Plc, Jim
THISDAYLIVE.
A Voyage of Saints' for Launch Dec. 14
Mary Nnah Captain Marvin Abe, a seasoned Mariner, is releasing his debut novel, "A Voyage of Saints on December 14, 2019, at Oriental Hotel, Skyline Terrace, Hall 1, Lagos, by 4pm. A Voyage of Saints is published by Masobe Books; a Lagos-based publishing house with the primary aim of encouraging reading by making available to
THISDAYLIVE.
TVC Communication Launches Crèche for Staff
Mary Nnah Taking cognisance of the challenges working mothers face trying to meet up with targets at work place, TVC Communications, one of Nigeria's leading broadcast companies, is poised to make life more comfortable for nursing mothers who are staff of the company. To this end, the media outfit recently launched a crèche within the
THISDAYLIVE.
Read also Nigerian Newspapers Today and Nigeria News Today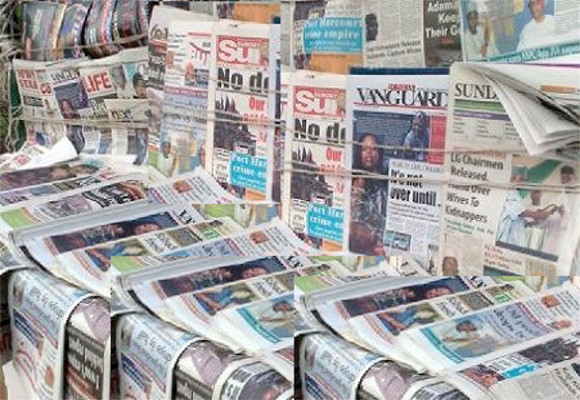 You can also check Thisday Newspaper News Today