The Nation Newspaper Today Headline

Thursday 16th November 2023

The Nation Newspaper Today Headline and news Dailies Update on current affairs happening now in Nigeria today 16/11/23

Read also

Daily Sun Newspaper Headlines Today Thursday 16th November 2023
Winners emerge in innovation challenge

Joseph Ojighoro, the founder of OJ Technologies Limited, a health tech business, emerged as the winner of the maiden Innovation Makers Challenge (IMC) organised by the Telecommunications and Technology Sustainability…
The Nation Newspaper.
Access Bank, Fed Govt okay N30b support for MSMEs

In line with its commitment to support women and youth-owned businesses in Nigeria, Access Bank Plc, has partnered with the Federal Government of Nigeria to provide N30 billion in support…
The Nation Newspaper.
AIHN: N3.44tr raised through bonds, commercial papers in two years

Private companies and government raised N3.44 trillion through Corporate Bonds and Commercial Paper issuance in two years, the Association of Issuing Houses of Nigeria (AIHN), announced yesterday.  AIHN President,  Ike…
The Nation Newspaper.
Millionaires emerge in Polaris Bank's savings promo

Five lucky Nigerians have emerged millionaires in the ongoing Polaris Bank's 'Save & Win' promo. The live quarterly draw of the ongoing Polaris 'Save & Win' promo took place at…
The Nation Newspaper.
Transition to HoldCo will yield better returns to shareholders, says Sterling

The recent transition to holding company structure will enable Sterling Financial Holdings Company Plc to diversify into other businesses and improve overall returns to shareholders. Shareholders of Sterling Financial Holdings…
The Nation Newspaper.
Senate frowns at N1.3tr lost to waivers, concessions in 2023

The Senator Sani Musa-led Joint Committee of the Senate scrutinising the 2024 – 2026 Medium Term Expenditure Framework and Fiscal Strategy Paper (MTEF/FSP) yesterday, frowned at alleged loss of N1.3trillion…
The Nation Newspaper.
Persistent inflationary pressure not a surprise, says Yusuf

The persistent inflationary pressure has not come as a surprise, an economic expert, Dr. Muda Yusuf, has said. He however stated that the Federal Government is taking steps to reverse…
The Nation Newspaper.
Tech firm eyes Nigeria's payment ecosystem

A London-based next-gen fintech startup, Due Network, yesterday announced plans to launch its global payments platform in Nigeria, promising to address the inefficiency in the global payment ecosystem.  Its CEO…
The Nation Newspaper.
UBA-AfCTA $6b pact to lift trade across Africa

United Bank for Africa (UBA) Plc, has said its agreement with the Africa Continental Free Trade Area (AfCFTA) Secretariat to provide $6 billion funding support to boost trade across Africa…
The Nation Newspaper.
Firm to build solar plant, targets 750KVA by 2027

Determined to overcome electricity power challenge in its operations, Arla Foods Nigeria, manufacturers maker of Dano milk, has unveiled a four year energy transition plan to build a solar power…
The Nation Newspaper.

Read also

Nigerian Newspapers Today

and

Nigeria News Today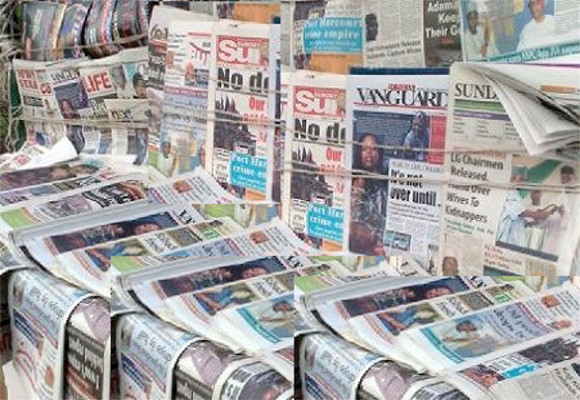 You can also check
The Nation Newspaper Headlines Today