Breaking News in Nigeria Today

Thursday 16th November 2023

Here are some of the Breaking News in Nigeria Today Thursday 16th November 2023 on some of the nation newspapers .

Read also

Nigeria News Today Thursday 16th November 2023
Senate Moves To Establish College Of Aviation In Ogun

The Senate, on Wednesday, furthered its decision to set up a college of aviation in Ogun State, as a bill seeking to establish the Federal College of Aviation Technology, Ilaro Remo, scaled second reading on the floor of the Upper Chamber. The proposed legislation scaled second reading following the presentation of the lead debate on…
New Telegraph.
Nestlé Championing Sustainable Environment Through Community Engagement

In line with achieving the Sustainable Development Goals (SDGs), Nestle Nigeria has been working on reducing waste pollution in the country. To work towards its vision of a waste-free future, Nestlé has championed necessary actions to promote behavioural changes and to build a circular ecosystem in waste management, starting from the company's employees while extending…
New Telegraph.
Sultan, Emir Of Kano, Govs To Grace Commission Of New Adogba Mosque

The Tadhamunul Muslimeen Mosque also known as Adogba Mosque, Iwo Road, Ibadan, which was rebuilt by the Oyo State governor, 'Seyi Makinde, will be commissioned on Thursday. According to Sulaimon Olanrewaju, Chief Press Secretary to Oyo State Governor, in a release made available to journalists in Ibadan, Yesterday, Governor Makinde is expected to host the…
New Telegraph.
Strike: We Had Fruitful Meeting With Labour Leaders – FG

…Labour: We'll consult with our members to take decision The National Security Adviser (NSA), Nuhu Ribadu and the Minister of Labour and Employment, Simon Lalong, on Wednesday afternoon, met leaders of organised labour behind closed doors with a view to apprehend the ongoing nationwide strike in the country. Ribadu had earlier in the day condemned…
New Telegraph.
Electricity Reform Bill: Lagos Rep Hails Senate For Concurrence

The Chairman of the House of Representatives Committee on Defence, Rep. Babajimi Benson has described the concurrence of the Senate to the Electric Power Sector Reform Act as a step in the right direction and a welcome development, particularly for host communities. Babajimi, who made this known on Wednesday said this will go a long…
New Telegraph.
We Followed Stipulated Regulations On Marginal Oil Fields Award, NUPRC Insists

The Nigerian Upstream Regulatory Commission (NUPRC) has said it followed stipulated regulations on marginal oil fields award, contrary to a media report (not New Telegraph), that the Commission failed to adhere to its own regulations while implementing the 2020/2021 marginal fields' award. A statement signed by Head Public Affairs and Media Relations, NUPRC, Oliade Shonola…
New Telegraph.
Benue: Alia Escapes Unhurt As Youths Attack His Convoy With Objects

…Six suspects apprehended by police Governor Hyacinth Alia of Benue State on Wednesday escaped unhurt when some irate youths from the Ugondo extraction of Makurdi community pelted his convoy with stones and other objects when he visited Vaatia College to assess the level of arrangement for the burial of its proprietor, Engr. Michael Vaatia. At…
New Telegraph.
Kwara Health Insurance Agency Opens Regional Office At Offa

Kwara State Health Insurance Agency has inaugurated a regional office for Kwara South senatorial district, as the government is prepared to increase enrollment by making the free healthcare scheme much more closer and accessible to the people of the district. Located at the premises of Offa General Hospital, Offa, the new outstation was designed to…
New Telegraph.
Nigerian Govt Committed To Innovation, Responsible Use Of Artificial Intelligence – Kalu

…Seeks collaboration towards protection of digital rights Deputy Speaker of the House of Representatives, Hon. Benjamin Kalu has stressed the commitment of the federal government to the responsible use of Artificial Intelligence (AI) to improve the economy. He however warned that the government will not condone any form of abuse that will affect national security….
New Telegraph.
10th House Will Ensure Domestication Of Humanitarian Treaties, Agreements – Abbas

The Speaker of the House of Representatives, Hon. Tajudeen Abbas has said the 10th House would ensure the domestication of critical international treaties, protocols and agreements signed by Nigeria, towards addressing the humanitarian crisis in the country. Abbas expressed his readiness to reach out to the Ministry of Humanitarian Affairs and Poverty Alleviation and the…
New Telegraph.

Read also

Nigerian Newspapers Today

and

Nigeria News Today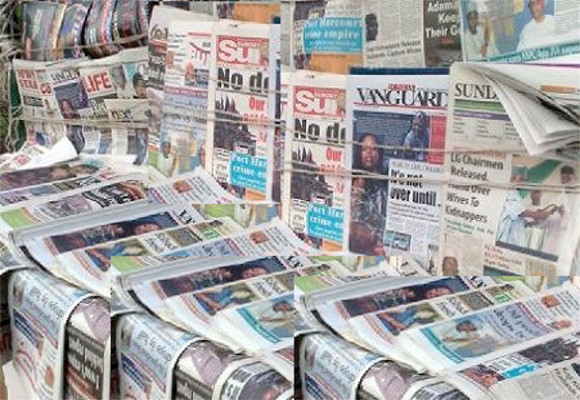 You can also check
Nigeria Newspaper Headlines Today