The Nation Newspaper Today Headline

Wednesday 8th November 2023

The Nation Newspaper Today Headline and news Dailies Update on current affairs happening now in Nigeria today 08/11/23

Read also

Daily Sun Newspaper Headlines Today Wednesday 8th November 2023
24BITS, sons of Edo music legends end tour of Canada

Music producer and international show promoter Osarobo Igbinosun Dickson aka 24Bits has successfully pulled off another edition of his yearly 'Story Story' concert. For this year, sons of Edo music…
The Nation Newspaper.
Lasisi fuses poetry with visual arts in African Citations

Performance poet Akeem Lasisi is bringing something new into poetry as he plans to hold an exhibition titled African Citations. The multitalented artist of Iremoje, Eleleture and Udeme fame is…
The Nation Newspaper.
'Religion has helped to preserve languages'

The just-concluded annual conference of the Linguistics Association of Nigeria has put the spotlight on the role of religious organisations, such as the Jehovah's Witnesses in documenting and preserving African…
The Nation Newspaper.
Gelede art, tradition among Yoruba

Religion is a major aspect of the Yoruba culture. This is a culture that contains a huge pantheon of the gods and goddesses each with a different mythology and purpose….
The Nation Newspaper.
Elebuibon's daughter begins podcast on Spotify

United Kingdom-based IT consultant, author and politician Yetunde Elebuibon has begun a podcast on Spotify, called 'Life Lessons with Eltey''. The daughter of the renowned Ifa priest and Araba of…
The Nation Newspaper.
Edo gains support for heritage policy at validation workshop

Many stakeholders from various sectors converged at the Ogba Zoological Garden to participate in the Stakeholder Validation Workshop for the Edo State Heritage Protection and Promotion Policy Draft. It was…
The Nation Newspaper.
Day of land grabbers in Lagos community

Ibasa Ijegun-Egba in Oriade Local Council Development Area (LCDA) is a community known for peace and tranquillity. It was created out of Amuwo-Odofin Local Government Area 20 years ago. The…
The Nation Newspaper.
LIMCAF: A journey of artistic brilliance

Eminent personalities and artists converged on the International Conference Centre of the Institute of Management and Technology (IMT) Enugu for the 16th edition of Life in My City Art Festival…
The Nation Newspaper.
Hess King continues to defy odds

Energetic performer Hess King has continued to defy all odds on his way to musical stardom. Born Akanji Abiodun Samuel, Hess King's romance with Fuji genre of music back in…
The Nation Newspaper.
Bigger Ibekwe releases Yahoo Yahoo to curb internet fraud

Worried by rising criminal activities, especially financial crimes, in the country, versatile gospel act Bigger Ibekwe aka Mr. Bigger has released a song entitled, Yahoo Yahoo'  According to Mr Bigger,…
The Nation Newspaper.

Read also

Nigerian Newspapers Today

and

Nigeria News Today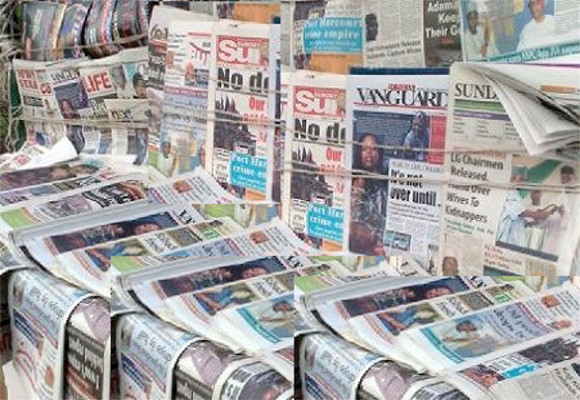 You can also check
The Nation Newspaper Headlines Today