Breaking News in Nigeria Today

Tuesday 5th September 2023

Here are some of the Breaking News in Nigeria Today Tuesday 5th September 2023 on some of the nation newspapers .

Read also

Nigeria News Today Tuesday 5th September 2023
Creative thinking with the six hats

Many years ago, a man owed a large sum of money to an old, ugly and mean loan shark who fancied his debtor's beautiful daughter. The Shylock then decided to offer the man a deal that would cancel the debt if he could marry his debtor's daughter, a bitter pill that neither the man nor…
New Telegraph.
Nigerian engineers oppose electricity tariff increase

The Nigerian Society of Engineers (NSE) has opposed any possible increase in electricity tariffs. It stated that after a careful review of the situation, it reached a conclusion that the call to raise power tariffs was unjustifiable. Being one of the stakeholders requested by the National Electricity Regulatory Commission (NERC) to make a presentation on…
New Telegraph.
World Athletics Championships: AFN member proffer solutions to avoid future failure

A Professor and board member of the Athletics Federation of Nigeria (AFN), Emmanuel Ojeme, has offered solutions to prevent a recurrence of Nigeria's poor performance at the 2023 World Athletics Championships in Budapest, where the country failed to win any medals. While speaking on the team's performance, Ojeme expressed disappointment at the results but quickly…
New Telegraph.
Industrialist decries Nigeria's poor electricity supply, others

An industrialist, Mr. Cyprian Orakpo, has decried Nigeria's poor electricity supply and distribution capacity. He stated that Nigeria's electricity wheeling capacity did not enhance industrialisation and economic growth. He spoke to journalists in Lagos on the sidelines of the public presentation of his book: 'Journey To The Top.' Orakpo, a member of the Manufacturers Association…
New Telegraph.
Strike: Banks to withdraw services today, tomorrow

As organised labour carries out its threat to embark on a two-day warning strike to protest against the hardship in the country from subsidy removal, financial institution workers including banks have followed suit by downing tools to join the industrial action slated for today and tomorrow. In a circular released yesterday, members of National Union…
New Telegraph.
Study: Infertility treatment raises stroke risk in women

Scientists in the United States have said their study spotted an elevated risk of stroke in women who became pregnant after fertility treatments. Results of the new study are published in the journal 'JAMA Network'. Senior study author, Dr. Cande Ananth said although the absolute number of strokes reported in the study was low, women…
New Telegraph.
Missing Intestine: Lagos Assembly hails Sanwo-Olu, begins probe

Lagos State House of Assembly has commended Governor Babajide Sanwo-Olu for visiting 12-year-old boy, Master Adebola AkinBright, with a case of alleged missing small intestine. Speaker of the House, Mudashiru Obasa, described the Governor's action as a reflection that the government was responsive and caring. He said: "It shows the governor is caring for him…
New Telegraph.
Afreximbank reviews Kenya's proposal for pan-African payment platform

African Export-Import Bank (Afreximbank) is in the process of evaluating Kenya's proposal to host a pan-African settlement house for intra-African trade deals, Business Daily newspaper reported, citing Denys Denya, Afreximbank's executive vice president for Finance, Administration and Banking services. Denya was quoted as saying: "The Kenyan government has decided to support the rollout of pan-African…
New Telegraph.
H1'23: Fidelity records N76.3bn profit …declares interim dividend of 25 kobo

Leading financial institution, Fidelity Bank Plc, has recorded an impressive 204.4 per cent growth in Profit Before Tax for the first half of 2023 to N76.3 billion, according to the bank's recently issued financial result. A review of the results published on the Nigerian Exchange Group (NGX) on Friday, September 1, 2023, showed a positive…
New Telegraph.
Naira depreciates to N747.87/$1 at I&E window

The naira weakened against the dollar at the Investors and Exporters' (I&E) window yesterday, closing at N747.87/$1 compared with N740.38/$1 on Friday, data obtained from FMDQ Exchange shows. However, traders said that the local currency was stable against the dollar at the parallel market yesterday as it exchanged at N915 per dollar, the same rate…
New Telegraph.

Read also

Nigerian Newspapers Today

and

Nigeria News Today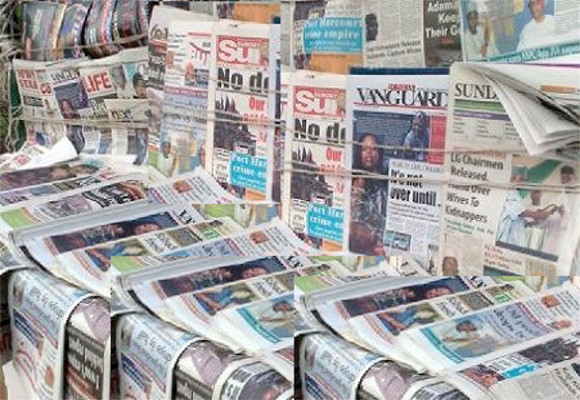 You can also check
Nigeria Newspaper Headlines Today