Breaking News in Nigeria Today

Monday 4th September 2023

Here are some of the Breaking News in Nigeria Today Monday 4th September 2023 on some of the nation newspapers .

Read also

Nigeria News Today Monday 4th September 2023
FG mulls single window to block leakages in MDAs

The Federal Government is considering optimising both revenue and expenditure across Ministries, Department and Agencies, MDAs with the introduction of National Single Window (NSW). The Window is a Federal Government automation and digitalisation initiative designed to bring greater efficiency in the way MDAs collect funds, and it would be meant to account for them including…
New Telegraph.
Fidelity Bank to help schools with education loan

Fidelity Bank Plc has perfected plan to help schools for resumption session through its bespoke product known as the Fidelity Edu Loan. Administrators of registered private primary, secondary and tertiary institutions in Nigeria can access loans of up to N180 million through trust initiative. Divisional Head, Product Development, Fidelity Bank Plc, Osita Ede, said: "At…
New Telegraph.
OPL 245: You're unfit to talk about corruption, Buhari tells Adoke

Former President Muhammadu Buhari has lashed out at a former Attorney-General of the Federation (AGF) and Minister of Justice, Mohammed Adoke, for accusing him of corruption. The former president said his administration's fight against corruption was unprecedented, noting that Adoke lacks the track record and the moral standing to accuse him or anyone of corruption….
New Telegraph.
Israel considers tough steps to deporting rioting Eritreans

Israel is considering tough steps, including the immediate deportation of Eritrean asylum seekers involved in riots in Tel Aviv on Saturday. Some 170 people were injured in violent clashes with police and in-fighting between groups of supporters and opponents of the Eritrean regime. Prime Minister Benjamin Netanyahu said "a red line" had been crossed. He…
New Telegraph.
Uganda police foil bomb attack on church

Uganda police said Sunday they foiled a bomb attack on a cathedral in Kampala and detained a man accused of trying to detonate an explosive in a crowd of worshippers. Hundreds of congregants were evacuated from the Rubaga Miracle Centre Cathedral in the capital city after a man tried to enter the grounds carrying an…
New Telegraph.
Joint Accounts as LGs Albatross Local Govts on the Verge of Extinction Over Lack of Financial Autonomy

The local government is the closest administration to the people, but the inability of the country's 774 councils to meet the two primary objectives as spelt out in the landmark Local Governments Reform of 1976, which are to promote participatory democracy and rapid socio-economic development at the grassroots, has made the citizens to lose trust…
New Telegraph.
8.3m Nigerians in dire humanitarian need in Bornu, Adamawa, Yobe – FG

The Minister Humanitarian Affairs and Poverty Alleviation, Betta Edu, has said that of the 16 million Nigerians affected by the humanitarian crisis, Bornu, Adamawa, and Yobe states are the worst hit. Edu stated: "We have a huge task on our hands; as we speak now, over 16 million Nigerians are affected by humanitarian crises, either…
New Telegraph.
Edo LG Poll: LP calls for scrapping of SIEC's

The Labour Party (LP) has called for the scrapping of states' Independent Electoral Commissions (SIEC). The LP, in a statement yesterday by the National Publicity Secretary Obiora Ifoh, condemned Saturday's local government election conducted by the Edo State Independent Electoral Commission (EDSIEC). The party described the election, which the Peoples Democratic Party (PDP) was declared…
New Telegraph.
Nigeria's glorious days when naira'll be stronger than dollar shall return –Adeboye

  The General Overseer of the Redeemed Christian Church of God (RCCG), Pastor Enoch Adeboye, has again foretold the recovery of Nigeria's economy with the naira being stronger than the dollar. Adeboye, said this at the RCCG National Headquarters, Ebute-Metta, Lagos, during the September Thanksgiving Service with the theme "Uncommon miracles" and special prayer service…
New Telegraph.
Arsenal stun Man United with late goals as Salah lead Liverpool to home win

Arsenal secure a dramatic victory over Manchester United at Emirates Stadium. In a chaotic finale to a largely scrappy game, United first thought they had snatched three points only to see Alejandro Garnacho's 88th-minute finish ruled out for offside by the video assistant referee with the score 1-1. The drama then switched to the other…
New Telegraph.

Read also

Nigerian Newspapers Today

and

Nigeria News Today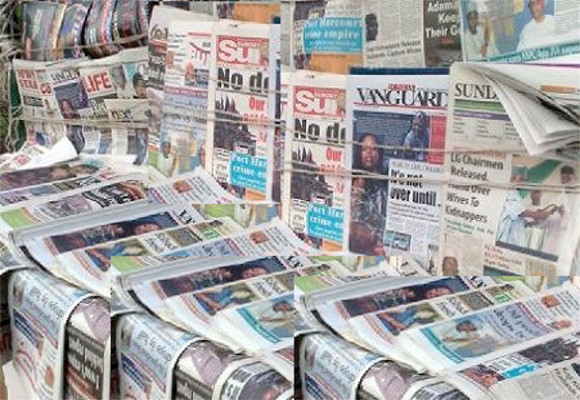 You can also check
Nigeria Newspaper Headlines Today