Breaking News in Nigeria Today

Sunday 3rd September 2023

Here are some of the Breaking News in Nigeria Today Sunday 3rd September 2023 on some of the nation newspapers .

Read also

Nigeria News Today Sunday 3rd September 2023
Nations That Resist God'll Meet Their Waterloo– Dr. Uche

The Prelate Emeritus of Methodist Church of Nigeria, Dr. Samuel Chukwuemeka Uche, has strongly appealed to Nigerians, irrespective of class and situation, to acknowledge God in their actions. He made the appeal while delivering a sermon at the 55th birthday thanksgiving/Eucharistic service and 35 years of service in God's vineyard of the Bishop of Metropolitan…
New Telegraph.
Be Good Shepherds, Not Wolves, Ndukuba Tells Bishops

•Okupevi becomes 9th Bishop of Lagos Diocese The Primate of the Church of Nigeria, (Anglican Communion), Most Rev. (Dr) Henry Ndukuba, has called on bishops to be good shepherds of the flock not wolves. He spoke at the consecration and en- throned Venerable Ifedola Senasu Okupevi as the new Bishop of Lagos Diocese. Okupevi who…
New Telegraph.
Nigerians're Tired of Bad Governance– Hon. Obetta

Hon. Chidi Obetta, member representing Nsukka/Igboeze South Federal Constituency of Enugu State, in the House of Representatives in this interview, speaks on the security, infrastructure and other challenges in the South- East. ONYEKACHI EZE, brings excerpts of the interview Do you think the Labour Party has satisfied the expectations of Nigerians in the 10th Assembly?…
New Telegraph.
Trudeau, Ford, Asekun Laud Drum Cultural Festival In Canada

Canadian Prime Minister, Mr. Justin Trudeau, has commended organisers of The Drum Festival, (Ayan- Agalu), for their commitment to cultural exchange, stating that Canada is truly a multi-cultural nation, made stronger and more resilient by its diversity. In a message to the 2023 festival, titled "Rejigging Yoruba Cultural Heritage: As Catalyst for National and International…
New Telegraph.
Nigeria and the Nigerien Coup: The Allegory of Hunch-Backed Cripple (2)

Introduction We have in Part 1 of this thesis, used the allegory of a man with a hunch to liken Nigeria's needless push for ECOWAS intervention in the Nigerien coup militarily. We brought out historical perspectives to show why Nigeria is not a high moral ground to do so. The questions of self-determination and powers…
New Telegraph.
Haaland, Son, Hat-Trick Sink Fulham, Burnley

Erling Haaland "was born to score goals" and capped a golden week by completing a second-half hat-trick as Manchester City extended their 100% start to the Premier League season with a win over Fulham. On Tuesday, Haaland was named PFA Player of the Year. On Thursday, he got a similar award from Uefa. Man City's…
New Telegraph.
Soludo Vows to Support Anambra Manufacturers On Production for Export

Professor Chukwuma Soludo, Governor of Anambra State, said at the weekend in Awka that his administration is determined to encourage production for export in the state. The governor gave the assurance during a Business Roundtable with manufacturers, importers and exporters in Anambra, themed, "From Import to Industrialisation for Export." Governor Soludo said that the meeting…
New Telegraph.
Enugu Unveils $2.1BN Investment Opportunities

As prospective local and foreign investors at the weekend gathered in Enugu to brainstorm with the new administration on investment opportunities in the state, the state governor, Peter Mbah has unveil 30 investment opportunities worth over $2.1 billion, which he said would directly impact the lives of the people and change the economic fortunes of…
New Telegraph.
Oversized Sunglasses: Glam Girl Accessory

The sunglasses are getting bigger and the aim is to look more dramatic and more glamorous. American singer, Beyonce Knowles-Carter has been rocking different designers' sunglasses at her recent music tour around the world. One of the most eye-catchy sunglasses the international music star slayed – in was the extra large glasses which kept her…
New Telegraph.
Nigerian Breweries Party With Johnny Drille, DJ Sose To Unveil Goldberg Black

It was a party with top notch celebrities, industry leaders, notable personalities, with music superstar, Johnny Drille thrilling guests to his hit song, 'How Are You' at the unveiling of Nigerian- Breweries Plc newest addition to the Larger Beer brand, 'Goldberg Black'. At the highly-anticipated launch event which took place at Rhapsody Restaurant, Ikeja, Lagos,…
New Telegraph.

Read also

Nigerian Newspapers Today

and

Nigeria News Today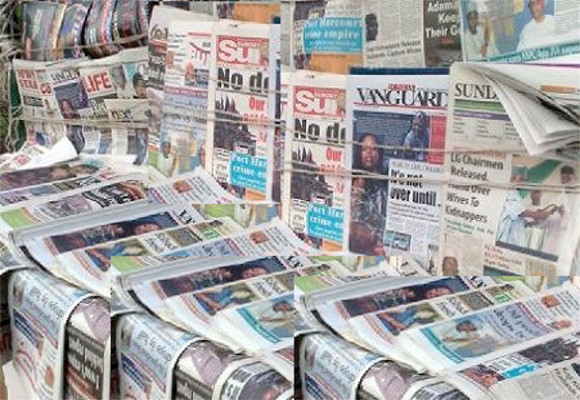 You can also check
Nigeria Newspaper Headlines Today