Breaking News from Nigerian Evening Newspapers and Evening News

Friday 1st September 2023

These are Breaking Evening News from popular Evening Newspapers in Nigeria Today .

Read also

Sahara Reporters Latest News Today Friday 1st September 2023
BREAKING: Tinubu replaces Ondo, C/River nominees in NDDC board after protests

President Bola Tinubu has approved the immediate replacement of the NDDC's Ondo State Representative nominee, Mr. Victor Akinjo, with a new Ondo State Representative nominee, Hon. Otito Atikase. The president has equally approved the immediate replacement of the NDDC's Cross River State Representative nominee, Mr. Asi Oku Okang, with a new Cross River State Representative,
Tinubu approves 5m eyeglasses for Nigerians, narrates late mum's sight problem

President Bola Ahmed Tinubu has declared his support for a partnership between the Federal Ministry of Health's National Eye Health Programme and the Peek Vision Foundation to provide more than five million pairs of eyeglasses to Nigerians with sight impairments. He made a pledge on behalf of the Federal Government during a courtesy visit by
Tinubu sacks NASENI CEO, appoints 32-year-old as replacement

President Bola Tinubu has sacked Dr Bashir Gwandu, Executive Vice Chairman and Chief Executive Officer of the National Agency for Science and Engineering Infrastructure (NASENI). Gwandu's sack was contained in a statement issued by Chief Ajuri Ngelale, Special Adviser to the President on Media & Publicity. Ngelale announced 32-year-old Khalil Suleiman Halilu as the new
Soludo's commissioner knocks Obiano for dethroning 12 monarchs

Anambra State Commissioner for Local Government, Chieftaincy and Community Affairs, Mr. Tony Nwabunwanne, has stated that it was wrong for Willie Obiano's government to have dethroned 12 traditional rulers in the state. He described decision as illegal, unconstitutional and against the fundamental rights of the monarchs, noting that the present government would review the case
Job racketeering: ICPC probes bribery allegations against Reps, MDAs

The Independent Corrupt Practices and Other Related Offences Commission (ICPC) says it has launched a probe into the petitions submitted to it over job racketeering in the Federal Ministries Department and Agencies. Spokesperson for the anti-graft agency, Azuka Ogugua, confirmed to journalists on Friday that an online media organisation, PREMIUM TIMES submitted one of the
Deputy Senate President Barau salutes Shettima at 57

The Deputy President of the Senate, Senator Barau I. Jibrin, has extolled the virtues of the Vice President, Senator Kashim Shettima on the occasion of his 57th birthday. Senator Barau, in a statement by his Special Adviser on Media and Publicity, Ismail Mudashir, said the Vice President, who was born in Maiduguri, the Borno State
Emergency: FG to invest more in firefighting, make fire service first responder

The Federal Government has said it will decentralize emergency responses, making the Federal Fire Service (FFS), a first responder. The Minister of Interior, Hon. Olubunmi Tunji-Ojo, who disclosed this when he inspected facilities at the headquarters of the FFS in Abuja, said the government would invest more in firefighting. Tunji-Ojo, who highlighted the importance of
Nigerian Youths Unite for Empowerment: Inspire Youth Development Foundation's Program "Golazo Fest" a Resounding Success

In a remarkable display of unity and determination, Nigerian youths have once again proven their potential and dedication to empowerment through the resounding success of the Inspire Youth Development Foundation's annual event, "Golazo Fest." What began as a humble initiative in 2017 has now evolved into one of the most anticipated youth-centric events in Nigeria,
'Diversion of funds': DSS grills Ogun LG Chairman as Assembly bars journalists from probe

The Department of State Services (DSS) has grilled suspended Chairman of Ijebu East Local Government Area, Wale Adedayo, who accused Governor Dapo Abiodun of diverting statutory Federal Allocation due to the state's Local Governments in the last two years. Adedayo had raised the alarm in a letter to elder statesman, Chief Olusegun Osoba, and a
Terrorism: Without support from UN, we are in trouble – Tinubu

President Bola Ahmed Tinubu has charged the United Nations to be more practical in supporting Nigeria in the fight against terrorism, in view of the rippling effect on global peace, displacements of people, and rising poverty. He gave the charge in an audience with the Under-Secretary General of the United Nations Office on Counter-Terrorism, Mr.
Niger: Gov Bago declares three-day public holiday to distribute palliatives

Niger State Governor, Muhammad Umar Bago, has declared a three-day public holidays for the distribution of palliatives to the various wards, units across the 25 local government areas of the state. The three days declared are Wednesday, Thursday and Friday next week. The governor made this disclosure at a median press briefing in Minna on
Niger: Gov Bago declares three-day public holiday to distribute palliatives
Enugu targets $30bn economy with investment roundtable

The Enugu State Government, on Friday, took a bold step towards the actualisation of a $30 billion economy in the next four to eight years, as the State successfully hosted an inaugural Enugu State Investment and Economic Growth Stakeholders' Roundtable. This was even as the administration of the State Governor, Dr Peter Mbah used the
Enugu targets $30bn economy with investment roundtable
Deputy Senate President salutes Vice President Shettima at 57

The Deputy President of the Senate, Senator Jibrin Barau, has extolled the virtues of the Vice President, Senator Kashim Shettima, on the occasion of his 57th birthday. Senator Barau, in a statement by his Special Adviser on Media and Publicity, Ismail Mudashir, said the Vice President, who was born in Maiduguri, the Borno State capital,
Deputy Senate President salutes Vice President Shettima at 57
Transfer deadline day: Arsenal lose two players to EPL rivals

At least two Arsenal players have joined other Premier League clubs on transfer deadline day. Defender Rob Holding has signed a three-year deal with Crystal Palace. The Gunners will get a £4million fee for Holding, who was at the club since 2016. Sambi Lokonga has also finalized a season-long loan move to Luton Town. The
Transfer deadline day: Arsenal lose two players to EPL rivals
Deadline day: Why I left Chelsea for Nottingham Forest – Hudson-Odoi

Chelsea winger Callum Hudson-Odoi has completed his transfer deadline day move to Nottingham Forest. The England forward signed a three-year deal with Steve Cooper's side. The winger left Stamford Bridge, after being told he was not in manager Mauricio Pochettino's plans. Nottingham Forest have spent around £8million to sign the 22-year-old. "It's a new chapter
Deadline day: Why I left Chelsea for Nottingham Forest – Hudson-Odoi
LCDAs: Akoko leaders protest alleged marginalisation, demand fair representation

Leaders of the four local government areas of Akoko land in the northern senatorial district of Ondo State have expressed dissatisfaction with the creation of only five Local Council Development Areas (LCDAs) in the area. Coming under the umbrella of the Akoko Consultative Forum (ACF), the leaders protested at the Press Centre of the Nigeria
LCDAs: Akoko leaders protest alleged marginalisation, demand fair representation
After 10 years of blackout, BEDC set to restore light to Ekiti LGAs

The Benin Electricity Distribution Company (BEDC) has promised to commence the supply of electricity to Ayekire LCDA and Ekiti East LGA after over 10 years of power outage. The development was part of the outcome of a tripartite meeting organised recently by the Ekiti State Government in Ado Ekiti, with representatives of BEDC and the
After 10 years of blackout, BEDC set to restore light to Ekiti LGAs
Navy hands over arrested vessel MT TECNE with alleged crude oil to EFCC in Delta

The Nigerian Navy Ship, NNS Delta, has handed over an arrested vessel, MT TECHNE with alleged stolen crude oil with about 1,905,836MT to the Economic and Financial Crimes Commission, EFCC. The Commander, NNS Delta, Commodore Chindo Usman Yahaya, handed over the vessel to the EFCC at the NNS Delta Jetty in Warri, Delta State. Commodore
Navy hands over arrested vessel MT TECNE with alleged crude oil to EFCC in Delta
NPFL board confirms single fixture for matchday one

The Nigeria Professional Football League opener in Ibadan will be the only game on matchday one of the 2023–24 season. Shooting stars will lock horns with Plateau United at the Lekan Salami Stadium, Ibadan. The chairman of the NPFL, Gbenga Elegbeleye, disclosed that the decision is consistent with the tradition established last season. He added
NPFL board confirms single fixture for matchday one
Oyo pharmacists at loggerheads with state assembly over controversial new drug law

The Association of Community Pharmacists of Nigeria (ACPN) has declared the passage of the Veterinary Practising Premises Registration Regulation 2018 into law by the Oyo State House of Assembly as a contravention to National Assembly legislation. The association described the law passed by the state lawmakers as an affront to the federal government's exclusive power
Oyo pharmacists at loggerheads with state assembly over controversial new drug law

Read also

Nigerian Newspapers Today

and

Nigeria News Today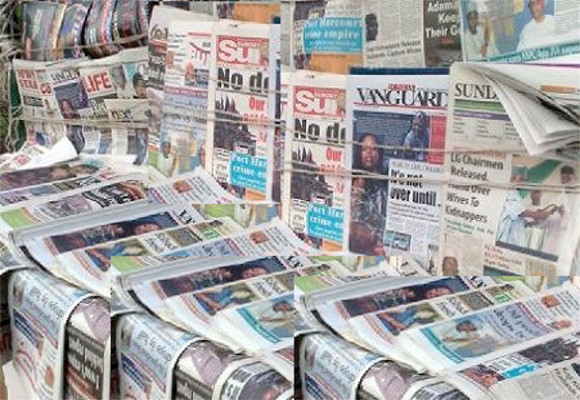 You can also check
Breaking News this Evening in Nigeria