Breaking News in Nigeria Today

Thursday 31st August 2023

Here are some of the Breaking News in Nigeria Today Thursday 31st August 2023 on some of the nation newspapers .

Read also

Nigeria News Today Thursday 31st August 2023
Ondo APC Rejects Akinjo As Representative

The All Progressives Congress (APC) in Ondo State has rejected the nomination of Kolade Victor Akinjo as the State Representative on the governing board of Niger Delta Development Commission (NDDC). Leaders of the party, in a virtual meeting yesterday, however, commended President Bola Ahmed Tinubu for the appointment of Ifedayo Abegunde, as the Executive Director,…
New Telegraph.
Man City Face Trip Of Newcastle In EFL Cup Third Round

We saw Tottenham Hotspur knocked out of the EFL Cup on Tuesday night after a penalty shootout loss to Fulham. Now that the draw for the third round of the competition has been made, the remaining seven Premier League clubs have joined the party. Holders Manchester United kick off the defence of their crown at…
New Telegraph.
NDDC Board: Apc Legacy Group Rejects Okang As C'river Nominee

Following the appointment of the Board members and management team for Niger Delta Development Commission (NDDC) by the Presidency, the people of Cross River State yesterday rejected the appointment of Mr Asu Oku Okang as nominee from the state. They noted that Okang was a staunch and active member of the Peoples Democratic Party (PDP)…
New Telegraph.
Coalition Warns Politicians To Stop Harassing Tinubu's CoS

The Centre for Credible Leadership and Citizens Awareness, a civil society coalition with core values on good governance, has warned politicians to stop harassing the Chief of Staff to the President, Hon. Femi Gbajabiamila, over appointments into the federal cabinet and boards of government-owned agencies and parastatals. Director of the coalition, Dr Gabriel Nwambu who…
New Telegraph.
Fidelity Bank Prepares School For New Session With Edu Loan Product

As the summer break winds down, leading financial institution, Fidelity Bank Plc, has emphasised its devotion to help schools prepare adequately for the next session and deliver quality education. Through its bespoke product known as the Fidelity Edu Loan, administrators of registered private primary, secondary and tertiary institutions in Nigeria can access loans of up…
New Telegraph.
Like Dasuki, Emefiele In Another Prank Trial

"When honour and the Law no longer stand on the same side of the line, how do we choose?" – Anne Bishop No segment of the criminal elements are more pronounced in Nigeria than our politicians. There is no better patriotism than to keep denouncing them. Perhaps, it is the most nationalistic option to help…
New Telegraph.
N1.4bn Debt: Court Stops Firms From Accessing Funds In 24 Bank Accounts

Justice Akintayo Aluko of Federal High Court in Lagos has granted an interim order of mareva injunction restraining two firms, Duport Midstream Company Limited, Platform Capital Investment Partners Limited and their Managing Director, Akintoye Akindele, from accessing the sum of N1, 379,400,918 or its equivalent in any currency in 24 banks, pending the hearing and…
New Telegraph.
Transportation: OPS Advocates Use Of CNG-Fuelled Vehicles

Following threat by oil marketers to further hike pump price of Premium Motor Spirit (PMS), otherwise known as petrol, members of the organised private sector (OPS) have called for the us- age of CNG-fuelled vehicles as a means of transportation. A former President of the Lagos Chamber of Commerce and Industry (LCCI), Mr. Babatunde Ruwase,…
New Telegraph.
Drug Smuggling: Court Orders Remand Of Suspect

A Federal High Court, Ikoyi, Lagos, presided over by Justice Akintoye Aluko, has granted the request of the Nigeria Customs Service (NCS), to remand an alleged smuggler, Boniface Ike Okoye, for using two containers to smuggle Tramadol, Codeine and other prohibited goods into the country from India. The judge specifically directed the NCS to keep…
New Telegraph.
Gabon Coup: President Bongo Calls For Help As Army Takes Power

Gabonese President Ali Bongo appeared in a video at his home calling on his "friends all over the world" to "make noise" on his behalf after military officers appeared on national television yesterday to say they had seized power and placed the President under house arrest. They also announced they were annulling the results of…
New Telegraph.

Read also

Nigerian Newspapers Today

and

Nigeria News Today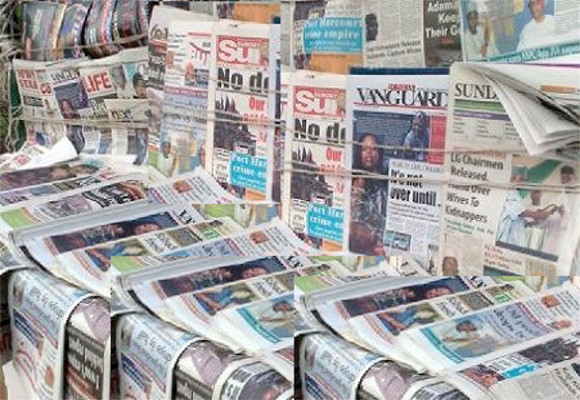 You can also check
Nigeria Newspaper Headlines Today