Breaking News in Nigeria Today

Sunday 25th June 2023

Here are some of the Breaking News in Nigeria Today Sunday 25th June 2023 on some of the nation newspapers .

Read also

Nigeria News Today Sunday 25th June 2023
Tinubu In London, To Return Before Sallah

President Bola Tinubu has detoured to London, United Kingdom from Paris, France, instead of returning to Nigeria after attending a Summit in France. The President left the country on Tuesday to attend the summit for A New Global Financing Pact between Wednesday and Thursday, after which he was billed to return to Nigeria yesterday (Saturday)….
New Telegraph.
Hurricane Tinubu In Action

With the replacement of all service chiefs with news ones, dissolution of boards of all parastatals and removal of fuel subsidy, LAWRENCE OLAOYE, writes that President Bola Tinubu, like a hurricane, is desirous of making huge difference in governance Less than a month after taking the mantle of leadership as the President, Asiwaju Bola Tinubu…
New Telegraph.
Tinubu Should Focus On States' Viability, Says Akinsola

'Kayode Akinsola, the founding Partner of Queens Attorneys with corporate office on Victoria Island, Lagos is a Doctor of Business Laws and Corporate Governance, who teaches Law at Chrisland University, Abeokuta. He speaks on the task before President Bola Tinubu on a path to chart in revamping the Nigerian economy There is a new political…
New Telegraph.
Tinubu's Cabinet To Take Shape After Sallah –Investigation

The delay in President Bola Tinubu announcing members of his cabinet has been attributed to the inability of some state governors to submit names of their nominees. That was even as the list of that of the party leadership is said to be ready and former governor of Nasarawa State, Senator Tanko Al-Makura; Senator John…
New Telegraph.
Alaba Traders: Distressed, Shattered, Numbed By Demolition

For a great number of traders, who lost their shops following the demolition of structures said to be distressed at the Alaba International Market, their worries and anger cannot be hidden as their future seems uncertain. LADESOPE LADELOKUN, who visited the market, reports the frustration, expectations and the pains of affected traders As rubble of…
New Telegraph.
Sheer Blouses: A Dress For Bold, Daring Women

There is something about the All- season trendy blouse-sheer that has made fashionable women tag it the sexiest blouse among others. The first quality is that with Sheer blouses, there is no leaving a little to the imagination. This see-through blouse has given ladies the stylish way of flaunting design- er's bra, which has always…
New Telegraph.
A Trip To Milan By Luxury Perfume Lovers

Salon De Parfum by Seinde Signature, the exclusive niche fragrance store has laid down plans to celebrate its third anniversary in the Niche perfume business in Nigeria. To mark the anniversary, which is called "Scentiversary'(Scent Anniversary 3), the premium perfume brand is set to treat clients to a lifetime experience of a luxury fragrance tour…
New Telegraph.
Naija Super 8: Katsina United Will Be Ready For Kano Pillars –Baba

The chairman of Katsina United, Suraj Umar Baba, has said his team will go all out for victory against Kano Pillars in the North West zone derby at the ongoing Naija Super 8 playoff in Eket, Akwa Ibom state. The final day of the playoff will see the two Nigeria National League sides playing the…
New Telegraph.
Oyo, Delta Win Wheelchair Basketball National Championship

Delta State Wheelchair Basketball team punctured Oyo State's dream of winning both the men and women title at the just concluded BetKing 3×3 Wheelchair Basketball National Championship in Abeokuta, Ogun State, after defeating them in the women's final. The game ended 3-2 in favour of the Delta team in a keenly contested women's final at…
New Telegraph.
Busquets To Reunite With Messi At Inter Miami

Inter Miami have announced the signing of Barcelona captain Sergio Busquets, reuniting him with former team-mate Lionel Messi. Busquets, 34, announced in May he would be leaving the La Liga champions after 18 years at the club. The midfielder will link up with Argentina forward Messi, 35, who confirmed this month he was moving to…
New Telegraph.

Read also

Nigerian Newspapers Today

and

Nigeria News Today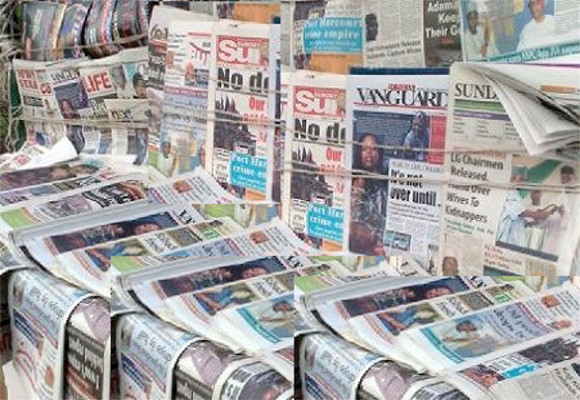 You can also check
Nigeria Newspaper Headlines Today