Breaking News this Afternoon in Nigeria

Thursday 8th June 2023

Top Nigeria News Dailies Update from Newspaper Headlines Today this Afternoon

Read also

latest news in nigeria Thursday 8th June 2023
FG Begins Zero Fossil Energy Emission Regime With Deep Blue Industrial Park's Approval

The Federal Government has commenced a deliberate regime for zero fossil energy emissions in the country. Prof. Adesoji Adesugba, Managing Director of the Nigeria Export Processing Zones Authority (NEPZA) who disclosed this in Abuja on Thursday said the licensing of Deep Blue Industrial Park in Lagos commences a deliberate regime for zero fossil energy emission…
New Telegraph.
Police Fault Allegations Of Ritual Killings In Anambra

The Anambra State Police Command has described as falsehood the allegation that two persons were apprehended over accusations of ritual killings in the Ihiala area of the state. It would be recalled that last Wednesday a crowd of protesters had taken to the streets parading three naked persons forcing them to carry two dead bodies of…
New Telegraph.
Nwifuru: Stop Creating Tension In Ebonyi, Foundation Warns AEISCID

A foundation in Ebonyi, Salt Family Foundation (SFF) has warned the Association of Ebonyi Indigenes Socio-Cultural in the Diaspora (AEISCID) against creating unnecessary tension in the state. AEISCID had alleged that the immediate past Governor of the state, Dave Umahi was still in charge in the state after leaving office on May 29 and urged…
New Telegraph.
Tamazo Autonomous Community Is Peaceful – Council Chiefs

The People of Tamazo Autonomous Community of Koluama 1 in Southern Ijaw Local Government Area of Bayelsa State have once again declared their allegiance to the Paramount ruler of the community, His Highness Diepreye Amadein. This is coming on the heels of a publication done recently in a national tabloid (not New Telegraph) against the…
New Telegraph.
Subsidy: NNPL Withholds N8.4trn Due For Remittance To FAAC

…RMAFC boss lauds president BAT on a subsidy funding halt The Nigerian National Petroleum Limited (NNPL) has withholds a sum of N8.4 trillion due for remittance to the Federation Account purse between 1st January 2022 to date as fuel subsidy cost. The amount reflected in the record of the Office of the Accountant General of…
New Telegraph.
Restiveness: LG Chair Imposes Curfew In Ebonyi Communities

The Chairman of Ohaozara Local Government Area of Ebonyi State, Ajah Consider has imposed a dusk-to-dawn curfew in Okposi, Uburu and Ugwulangwu communities following restiveness in three communities of the state. It would be recalled that gunmen had attacked the communities last week, injuring some persons and burning cars. Following this development, the LG Chairman…
New Telegraph.
Nonso Diobi Speaks On Taking Break From Nollywood

Popular Nollywood actor, Nonso Diobi has finally broken the silence has to where he has been, what he has been doing and his disappearance from movie scenes. It would be recalled that the movie actor has been a leading light in the movie industry for over a decade, starring in numerous blockbuster movies which made…
New Telegraph.
Fuel Subsidy: Veteran Journalist Seeks Media Support For Tinubu

A veteran journalist and former Special Adviser on Strategy to Kwara State Governor, Alhaji Saadu Salahu, has called on journalists in the country to enlighten Nigerians on the gains of fuel subsidy removal. According to him, the government's decision to cancel fuel subsidy was in the interest of the highest number of citizens as against…
New Telegraph.
Apprehend Killers Of Our Colleague – ASUU Tells Security Operatives

The Academic Staff Union of Universities (ASUU), the University of Ibadan Chapter, has called on security operatives in the country to as a matter of urgency track down and arrest the killers of one of its members. ASUU made this remark on Thursday, following the death of Professor Opeyemi Isaac Ajewole of the Department of…
New Telegraph.
20 Terrorists Killed In Syria By Russian Forces

As the war in Syria continues to linger, various sides involved in the conflict are doing everything possible to maintain their stronghold, Russia which is an ally to the Syrian Government is making considerable gains continually. According to the Deputy Chief of the Russian Center for Reconciliation of the Opposing Parties in Syria, "As part…
New Telegraph.

Read also

Nigerian Newspapers Today

and

Nigeria News Today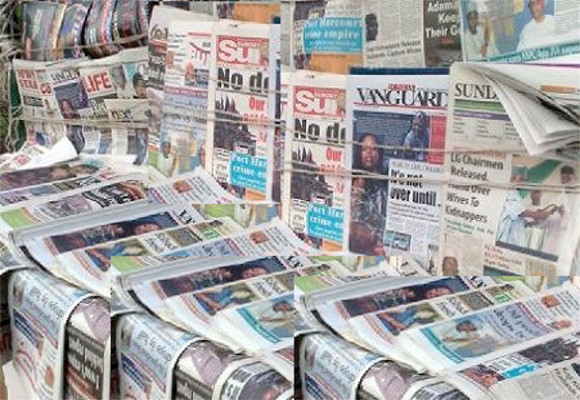 You can also check
Breaking News this Afternoon in Nigeria