Nigerian Newspapers Today :

Wednesday 22nd February 2023

Here are some of the Nigerian Newspapers Today on Wednesday 22nd February 2023 .

Read also

Nigeria news Tuesday 21st February 2023
CIIN President Commends SUNU Assurance for Support

Ebere Nwoji The Chartered Insurance Institute of Nigeria (CIIN) has commended SUNU Assurance Plc for its constant support to the institute and the insurance industry as a whole. The President,
Amidst PMS Scarcity, Elections Uncertainty, Analysts Forecast Uptick in Inflation for February

Nume Ekeghe Following the perennial scarcity of Premium Motor Spirits (PMS), uncertainty of elections, elevated energy prices and other macroeconomic variables, experts in the financial service sector have predicted that elevated
Firstbank Urges SMEs to Leverage Digital Marketing for Business Growth

Nume Ekeghe In its continuous stride at capacity building for Small and Medium-scale Enterprises (SMEs), Firstbank has urged SMEs to take advantage of the various social media platforms to grow, promote and build sustainable businesses.
Cedrus Emerged W'Africa's Best Financial, Investment Services Brand

Kayode Tokede Cedrus Group Africa has been named West Africa's best brand in the Financial and Investment Services category at the 12th West African Brand Excellence Award, held recently in
5,000 Youths Graduate from Uzodimma's SkillupImo Project

About 5,000 youths in Imo State will today, graduate from a digital empowerment programme put in place by the Executive Governor of Imo State, Senator Hope Uzodimma. The Minister, Federal
Zipline Begins Delivery of Medical Products to Health Facilities in Cross River State

Zipline has announced the start of commercial deliveries of essential medical products to health facilities within the Cross River State.  This follows a successful approval and a right to fly
Insurers Advice Airline Operators to Initiate Common Policy Contract with Foreign, Local Insurers

Ebere Nwoji Following recent complaints by Nigerian airline operators on double insurance for purchased or leased aircraft with both international and local insurers, insurance operators have charged airline owners to initiate
US Defense Attache Visits MOWCA, Talks Collaboration

Secretary General, Maritime Organisation of West and Central Africa (MOWCA), Dr Paul Adalikwu has hosted the Senior Defense Attaché of the United States Embassy in Côte d'Ivoire, Lt. Col. Dean
A Closer Look At Dj ASAP EPK Career

Abijo Victor Ayobami is a professional Nigerian Disc Jockey, Musical Artist and Producer known as Dj ASAP (The Spontaneous One). He started having his way with music from church as
Firm Launches Apps to Ease International Schooling, Relocation

Kayode Tokede In its bid to ease the efforts of students and people who intend to school abroad, Across the Horizon recently launch an app that provides varying solutions to

Read also

Nigerian Newspapers Today

and

Nigeria News Today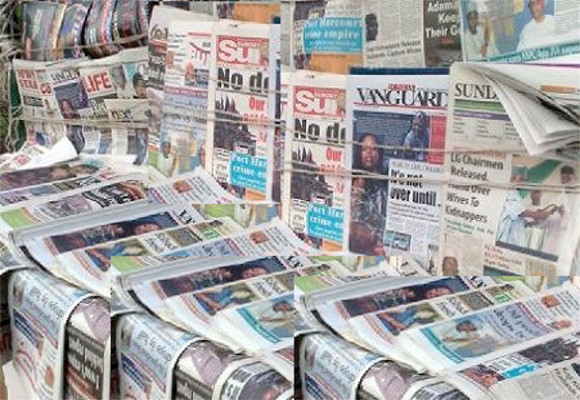 You can also check
Nigeria Newspaper Headlines Today