Nigerian Newspapers Today :

Wednesday 7th December 2022

Here are some of the Nigerian Newspapers Today on Wednesday 7th December 2022 .

Read also

Nigeria news Tuesday 6th December 2022
Olam Reiterates Commitment to Quality Foods, Self-sufficiency in Wheat Production

Dike Onwuamaeze Olam Agri Nigeria, a subsidiary of the Olam Group, has reiterated its commitment to ensuring that would Nigeria would attain self-sufficiency in local wheat production and to provide
Salvaging Nigeria's Debt Crisis

Barely two decades after Paris debt cancellation, Nigeria's sovereign debt has reached an all-time high with over $103 billion (N42.8 trillion). Nigeria appears to be heading towards another debt crisis.
Nigeria's 2023 Poll Will Not be Manipulated, Buhari Assures West African Elders

*Says elections will be free, fair, credible  Deji Elumoye in Abuja  President Muhammadu Buhari Tuesday ruled out the possibility of the forthcoming 2023 general elections in the country being manipulated. 
Osinbajo: Nigeria, Vietnamese Relations Has Potential to Yield More Results

Deji Elumoye in Abuja  Vice President Yemi Osinbajo has declared that the bilateral relations between  Nigeria and Vietnam relation can yield better fruits for citizens of both nations, if properly
APC Governorship Candidate Flays Poverty, Illiteracy Rate in Bauchi

*Promises to bring succour to people of state Deji Elumoye in Abuja The governorship candidate of the All Progressives Congress (APC) in Bauchi State, Air Marshal Sadique Baba Abubakar (rtd),
Gombe Gov, Leaders Laud Buhari over Kolmani Oil Find

*Say his footprints will remain indelible  Deji Elumoye in Abuja  President Muhammadu Buhari Tuesday paid host to a delegation of political, religious and business leaders from Gombe State at the
Buhari Receives Guinea Bissau's Highest Honour Wednesday 

*To inaugurate road named after him in Bissau *Holds bilateral talks with President Embalo  Deji Elumoye in Abuja  President Muhammadu Buhari will on Wednesday in Bissau, Guinea Bissau, be decorated
Morocco Shock Spain, Pick Q'final Ticket  

Morocco pulled off one of the biggest shocks in World Cup history as they beat Spain on penalties to reach their first ever quarter-final.    The result leaves the Atlas
Senate's Bill to Whittle down FG's Power to Grant Tax Waivers Passes Second Reading

Sunday Aborisade in Abuja  The Senate Tuesday passed for second reading a bill to amend the Federal Inland Revenue Service (FIRS) Act. The proposed law aims to regulate the processes
Weep Not for Tinubu, But Nigeria 

By Dele Momodu Call it what you will, what happened at Chatham House London yesterday was a complete charade… The Bola Tinubu handlers fumbled, and bungled it big time… They

Read also

Nigerian Newspapers Today

and

Nigeria News Today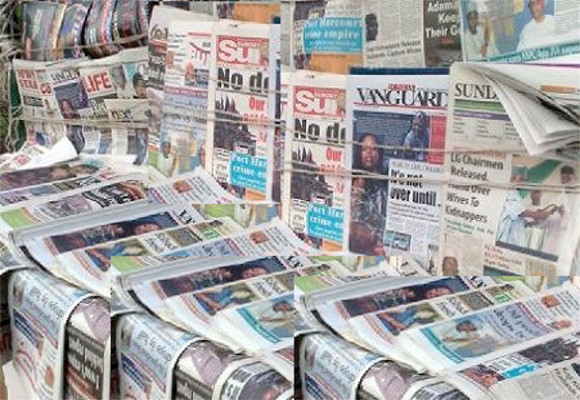 You can also check
Nigeria Newspaper Headlines Today