Nigerian Newspapers Today :

Saturday 3rd December 2022

Here are some of the Nigerian Newspapers Today on Saturday 3rd December 2022 .

Read also Nigeria news Friday 2nd December 2022
After Floods, Comes Famine
The floods which swept through many parts of the country some time ago, submerging homes and hopes with devastating consequences were no isolated events. They had been a long time
Understanding Advocacy for Alleged Witches in Africa
The formation of the Advocacy for Alleged Witches (AfAW) has continued to generate reactions from the public. The purpose of this piece is to highlight these reactions, clarify the misconceptions,
Da Chris Closes 2022 With 'Chop Life'
Nigerian singing sensation Daniel Chris popularly known as Da Chris is closing the year with a new hit 'Chop Life'. 'Chop Life' is a bubbling record which gets one hooked
Breaking: Dogara Group Endorses Atiku for President
  Alex Enumah in Abuja A splinter group of the All Progressives Congress (APC) in the north led by former Speaker of the House of Representatives, Rt Hon Yakubu Dogara,
Ogun LP  Warns Okupe not to Represent Party Again
James Sowole in Abeokuta The Labour Party (LP), Ogun State yesterday, warned the Director General of the Peter Obi Presidential Campaign Committee, Dr Doyin Okupe and some members of the
HIV: Ogun  Parleys TBAs to Check Mother to Child Transmission
James Sowole in Abeokuta Determined to check mother to child transmission of  human immunodeficiency  virus (HIV) in the state and ensure treatment, the Ogun State Ministry of Health through the State Agency
 A' Ibom, SON, FTAN Sign MOU on Standard in Hospitality Industry
Okon Bassey in Uyo Akwa Ibom state government has signed a memoradum of understanding ( MoU) with Standard Organisation of Nigeria (SON) and Federation of Tourism Association of Nigeria (FTAN)
Plusworld Moves to Solve Roof Maintenance Problems
Kate Ejisu  A leading roofing company in Africa, Plusworld Roofing and Restoration, has introduced what is called Roof Asset Maintenance Programme (RAMP) to solve the financial, social and psychological problems
Niger PDP to Inaugurate Campaign Council Saturday
  Laleye Dipo in Minna The Niger State Chapter of the Peoples' Democratic Party (PDP) is to inaugurate its Governorship Campaign Council (GCC) in Minna on Saturday. A statement that
Lawyer Arraigned  in Court over N2.4m Fraud
Ibrahim Oyewale, Lokoja A legal practitioner, Chukwueze Ewerem has been dragged before the Chief Magistrate's Court sitting in Lokoja, the Kogi State capital for complicity in a N2.4 million fraud.
Read also Nigerian Newspapers Today and Nigeria News Today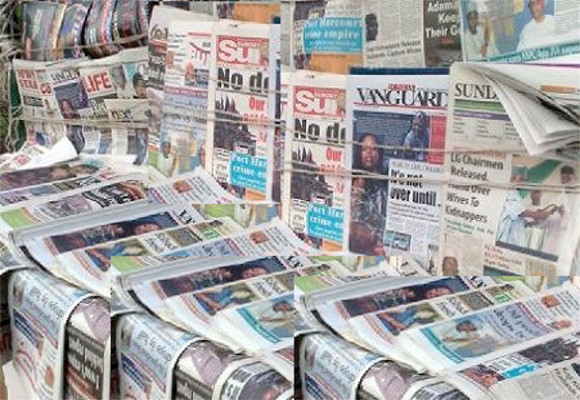 You can also check Nigeria Newspaper Headlines Today