Breaking News this Afternoon in Nigeria

Saturday 3rd December 2022

Top Nigeria News Dailies Update from Newspaper Headlines Today this Afternoon

Read also latest news in nigeria Saturday 3rd December 2022
Osinbajo to leave for Vietnam for bilateral engagements
  Lawrence Olaoye, Abuja Vice President Yemi Osinbajo will on Sunday depart Abuja for the Socialist Republic of Vietnam for high-level bilateral engagements in the Southeast nation including meetings with the President of Vietnam, President Nguyễn Xuân Phúc;  Vice President Vo Thi Aah Xuan, Prime Minister Pham Minh Chinh, other government officials and the business community.
Poverty Index: FG's failure to provide security, responsible – Govs 
    Onyekachi Eze, Abuja State governors have reacted to the accusation by the Minister of State for Budget and National Planning, Mr. Clement Agba, on the rising poverty index in the country, arguing that the minister's attack on them was misplaced. Agba had accused the state chief executives of misdirecting resources to projects that
Nigeria's $11bn London Trial Will Expose Corruption, Court Hears
  A British lawyer representing Nigeria in a London court case in which $11 billion are at stake said on Friday the trial would reveal corruption "on an industrial scale", not only of Nigerian officials but also of British lawyers. The case stems from a contract for a gas project awarded by Nigeria in 2010
Wall Gecko allegedly wipes out family of six in Ogun
    The neighbourhood of Mowe in Ogun State has been thrown into mourning after a family of six was discovered stone dead in the early hours of Friday. The cause of death is suspected food poisoning after a wall gecko had allegedly walked on their food. The victims have been identified as Mr Adeleke
Ukraine War: Oil price cap will hit Putin immediately, says US
  A new cap on the price of Russian oil will "immediately cut into Putin's most important source of revenue," the US has said. US Treasury Secretary Janet Yellen said the cap – which was officially approved by Western allies on Friday – came after months of hard work, reports the BBC. The cap stops countries paying
Europe would be in trouble without US – Finnish PM
  Finnish PM Sanna Marin has said Europe is "not strong enough" to stand up to Russia's invasion of Ukraine on its own, and has had to rely on US support. During a visit to Australia, the leader of the pending NATO member said Europe's defences must be strengthened, reports the BBC. "I must be
World Cup Roundup: S'Korea advance; Portugal win group
  In a thrilling finish to Group H play on Friday, South Korea stunned Portugal 2-1 on Hee-Chan Hwang's goal in stoppage time to advance to the knockout stage at the World Cup at Al Rayyan, Qatar. South Korea and Uruguay finished with the same record (1-1-1) in Group H, but South Korea advanced on
Neuer not thinking of ending international career
  Germany goalkeeper Manuel Neuer said he was not thinking of retiring from international soccer after Germany were eliminated from the group stage of the World Cup in Qatar. The four-time champions crashed out the World Cup on Thursday, finishing third in the standings, level on four points with Spain but behind on goal difference
Qatar 2022: I didn't swear at Portugal coach over substitution – Ronaldo
  Cristiano Ronaldo denied that he had sworn at Portugal coach Fernando Santos when he was substituted during a dramatic 2-1 defeat to South Korea in the World Cup on Friday, as both teams advanced into the next round. Ronaldo, Portugal's captain, said the comments he made as he left the field in the 65th
IGP's Committal: We've filed motion to set aside conviction – FHQ
The Force Headquarters (FHQ), Friday, said an application to "set aside" the conviction, and subsequent sentencing of the Inspector-General of Police (IGP), Usman Baba, for contempt/disobedience, has been filed before the Federal high Court in Abuja. Saturday Telegraph recalls that the court, in a ruling that was delivered Tuesday, November 29, by Justice M. O.
Read also Nigerian Newspapers Today and Nigeria News Today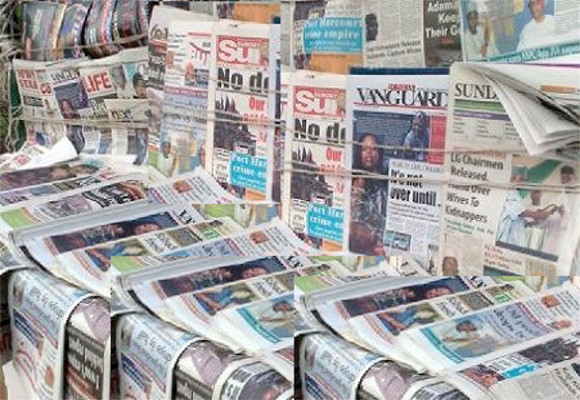 You can also check Breaking News this Afternoon in Nigeria