The Nation Newspaper Today Headline

Friday 30th September 2022

The Nation Newspaper Today Headline and news Dailies Update on current affairs happening now in Nigeria today 30/09/22

Read also Daily Sun Newspaper Headlines Today Friday 30th September 2022
Insurance stakeholders advise Nigerians to subscribe to Takaful insurance
Insurance stakeholders drawn from the private sector and the academia have advised Nigerians, including business owners, to subscribe to Takaful insurance as it remains the only ethical insurance that offers enormous benefits to all members of society. This was the submission echoed at the Takaful workshop organized by Noor Takaful Insurance Limited on Wednesday, September
Floods destroy 89,558 hectares of farmlands in Adamawa, Kogi
172,000 farmers affected in Land of Beauty 216 farmers groan in Confluence State The Executive Secretary of the Adamawa Emergency Management Agency (SEMA), Malam Mohammed Aminu has said that the flood affected 172,000 farmers in 11 local government areas of Adamawa State. He said that the farmers had their farms submerged, adding that 27,800 households
There is a better way to create A bright Future after graduation – a lesson from Hammer The Movie
The central theme to take away from Hammer is that there is a better way to create a bright future without going into crime. This is not a message to just condemn those involved in crime, but to provide actionable solutions to deal with the issue of crime and social vices among youths. Hammer is
Fed Govt to set up micro LNG plants in communities
Federal Government has said it is pursuing the opening of micro Liquefied Natural Gas (LNG) plants across communities to address rising prices of Liquefied Petroleum Gas (LPG). Chairman of Natural Gas Expansion Programme (NGEP), Dr Mohammed Ibrahim, spoke at the 2022 Annual General Meeting of Nigerian Association of Liquefied Petroleum Gas Marketers (NALPGAM) in Port
FAAN, airport host community unite for runway safety
Federal Airport Authority of Nigeria (FAAN) and host community of Murtala Muhammed Airport (MMA) in Shasha in Alimosho Local Government have renewed their pact for runway safety. They affirmed their collaboration at the annual MMA safety week campaign. FAAN's Regional General Manager in Southwest and MMA, S.M. Mamman, said collaboration with aviation communities was critical
NYSC trains legal officers for enhanced performance
National Youth Service Corps (NYSC) has trained newly converted legal officers to enhance their performance. The organisation noted that the training would broaden their understanding as legal officers. Director General Brig Gen Muhammad Fadah spoke at training in Abuja. Read Also; Wike has given us world-class facilities, says NYSC Speaking on the theme, "The Role of
Tinubu's daughter consoles flood victims'
The Iyaloja-General Chief Folashade Tinubu-Ojo, yesterday consoled victims of flood disasters in Kanti Kwari Market in Kano and Lokoja, Kogi State. In a statement,  she sympathised with Governor Umar Ganduje of Kano State, Governor Yahaya Bello and the people. Mrs Tinubu-Ojo said the devastating event affected many, with market men and women hard hit. "I
'I'll attract federal presence to my constituency'
House of Representatives candidate in Lagos State, Sola Osolana, has vowed to address "deprivations",  which he said the people of Agege Federal Constituency suffer due to lack of federal presence. The Peoples Democratic Party (PDP) candidate spoke during the  launch of his campaign. Osolana promised to provide quality representation, if elected in next year's election.
Nigeria loses $26b yearly to gender inequality
Nigeria loses $26billion yearly to gender gap inequality, Nigerian Economic Summit Group (NESG) has said. The group said data showed that on a per capita basis, gender inequality in earnings could lead to a wealth loss of $23,620 per person globally, leading to an estimated global loss of about $160 trillion in human capital wealth.
Forex squeeze threatens telecoms sector
Operators to disrupt service over N80b USSD debt Push for end to national tariff Telecoms operators have warned that unless something is urgently done by the Federal Government, the threat facing the aviation sector may be extended to the sector as a result of foreign exchange (forex) liquidity crisis. They also warned that they may
Read also Nigerian Newspapers Today and Nigeria News Today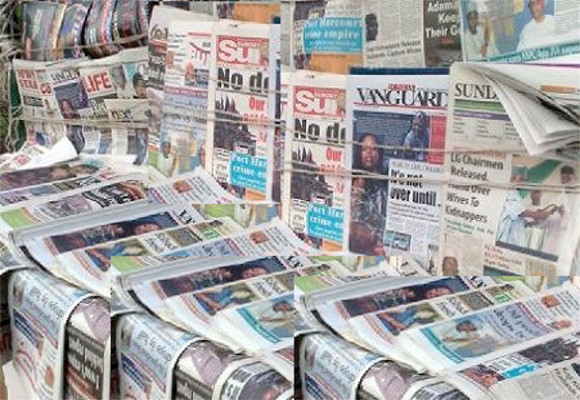 You can also check The Nation Newspaper Headlines Today