Sahara Reporters Latest News Today

Friday 24th June 2022

Sahara Reporters Latest News Today and headlines on some of the happenings and news trend in the Country, today 24/06/22

Read also nigeria newspapers Friday 24th June 2022
Nigerian Army, Police Arrest South-East Youths, Elderly People, Detain Them Without Trial, Harvest Their Organs — IPOB Alleges
The Indigenous People of Biafra has alleged that the Nigerian government through the various security agencies unlawfully arrest and detain Igbos particularly the youths, and transport them to military facilities in the Northern region where they are killed and their organs harvested.
IPOB, in a statement by its spokesperson, Emma Powerful said majority of the atrocities are committed at Wawa military barracks at Kainji in Niger State.
According to the statement, the victims were arrested since over a year ago, from their homes in the South-East region and taken to the far north, after which the security operatives deny them access to legal services and cut them off from their families and friends.
IPOB called on the international community to prevail upon the Nigerian government and its security agencies to release every Igbo person who is being detained without trial.
It further warned the Nigerian Police, operatives of the Department of State Services and others to stop attacking Igbos who have committed no crime stating that there's nothing the government can do to stop the actualisation of the Biafran nation.
A statement from the group reads, "We wish to condemn the continued and unlawful detention of Igbo youths, fathers and mothers in Imo State, Anambra State, Enugu State, Abia state and Ebonyi State detention facilities in the North more especially in Wawa military barracks at Kenji (Kainji) Niger State.
"The people were unlawfully abducted and moved to the military facilities in North and some of these people were killed and harvested their important organs in the military barracks camp.
"The people were unlawfully abducted and moved to the North since one year ago, they were being detained incommunicado, all efforts made by their lawyers, family and associates were rebuffed by Nigeria Government and her security agents in Wawa military barracks of Niger State.
"We hereby bring to global consciousness the attitude of the Nigerian police/Military in whose custody our Igbo people are denied of their fundamental human right.
"Both old and young men, women and ladies since their unlawful abduction without being charged to court, they are being prevented from contact with their families, friends and colleagues, they also been hidden away from lawyers and denied access to legal services, human rights agencies assistance.
"We appeal to the International community to prevail on Nigeria Government and its security agents to discharge all the Igbo people unlawfully arrested without trial from the above-mentioned States because this act is a pure "human rights violation of a particular race" "racial profiling, violation of freedom of worship, discrimination and persecution".
"The Nigeria Military, DSS, Paramilitary and Police must ensure that our Innocent Igbo citizens languishing in God-forsaken dungeon called Nigeria detention facilities in the Niger State of Nigeria be released and in good and sound health.
"We have a pertinent question that requires an urgent answer. We want to ascertain why the Nigerian army, police and DSS agents like to arrest only Igbo in Nigeria, is it because they are looking forward to achieving Biafra freedom through nonviolent posture and passive resistance? We need them to answer this question?
"Why do Nigeria Army, Police and DSS agents always create or manufacture false reasons to profile, kill and kidnap any person of "IGBO RACE" in a discriminatory manner or better still, steal from them with wielding heavy arms, but dare not harass other tribes in Nigeria, steal with arms, kidnap, kill Igbo and mount revenue-generating checkpoints in every 1-kilometre road in Igboland? This begs for an urgent answer.
"IPOB now watches with keen interest going forward on discriminatory treatment and crimes against Biafrans and Igbos in particular. We are everywhere and our eyes and ears are everywhere as well.
"Igbos are the most law-abiding race within our space, we are Fathers, mothers, brothers, sisters, sons and daughters that has high regard for lives, therefore we warn the Nigerian Armed forces and Police desist from killing Igbos untimely otherwise it will bounce back to them harshly.
"The Biafra restoration project has crossed the Rubicon and can no longer be stopped and it would be achieved in no distant time. Nigeria military should dignify themselves by releasing the Igbos under incarceration in various confinement facilities including those in Wawa military detention centre in Niger State and other Northern states in Nigeria.
"We call on well-meaning Igbos to exercise the spirit of ónúrú ube nwanne agbala ósó (he who hears the agonising cry of his sibling should not run away) to facilitate within ones means the process to release all innocent Biafrans citizens detained in the Military Barracks in Niger State and all Northern states. This act would marshal a strategic new beginning for us."
News
AddThis
: 
Original Author
: 
Saharareporters, New York
Disable advertisements
: 
EXCLUSIVE: Anti-graft Agency, ICPC Uncovers Billions In Cash Meant For Arms, Ammunition To Fight Boko Haram In Abuja Home Of Ex-Chief Of Army Staff, Buratai
The Chief of Army Staff (COAS), Lt General Yusuf Tukur Buratai.
 
The Independent Corrupt Practices and Other Related Offences Commission (ICPC) has recovered N1.85 billion from a house and office said to belong to former Chief of Army Staff, Tukur Buratai in Abuja, multiple sources told SaharaReporters.
 
Buratai, a retired Lieutenant General was the COAS between 2015 and 2021.
The Chief of Army Staff (COAS), Lt General Yusuf Tukur Buratai.
Sources said ICPC officials stormed the house in the Wuse area, beside the National Open University of Nigeria Campus in Abuja last week after it received a tip-off from a whistleblower.
 
SaharaReporters gathered that the huge cash was part of the billions of naira earmarked for the purchase of arms and ammunition by the Muhammadu Buhari-led government.
 
"Last week Thursday, ICPC officials stormed a house in Wuse area of Abuja, beside National Open University and arrested a man, Kabiru Salisu after they saw N850 million cash in the house," a source told SaharaReporters.
 
"He claimed the money belonged to Tukur Buratai who was in Cotonou at that time.
 
"Officials of the ICPC took him to an office where another N1billion in cash was also discovered. Also, bulletproof cars, BMW, G-Wagon worth N450m were recovered."
 
"Serious pressure is being mounted to claim money found was only N30m," another source said. 
 
In March 2021, Nigeria's National Security Adviser (NSA), Babagana Monguno revealed that funds running into billions of naira meant for the procurement of arms and ammunition under the past service chiefs were unaccounted for.
 
His revelation came a few months after President Buhari replaced Buratai and other service chiefs.
 
Others were former Chief of Defence Staff, Gabriel Olonishakin; Chief of Air Staff, Abubakar Sadique and Chief of Naval Staff, Ibok Ibas.
 
According to Monguno, neither the money nor the arms were on the ground upon the resumption of the new service chiefs.
 
"Now that he (President Buhari) has brought new people (service chiefs), hopefully, they will devise some ways… I'm not saying the former service chiefs diverted the money, but the money is missing. We don't know how, and nobody knows for now," he had said.
 
"The President will surely probe this matter. As we speak, the Nigerian Governors' Forum too is also wondering where all the money went. I can assure you the President takes issues of this nature seriously.
 
"The fact is that preliminary investigation showed the funds are missing and the equipment is nowhere to be found.
 
"When the new service chiefs assumed office, they also said they did see anything on the ground."
 
History Of Graft 
 
Sahara Reporters had in a series of publications in 2016 exposed how Buratai procured expensive assets in Dubai, the United Arab Emirates, between 2013 and 2015, from proceeds of crime.
 
He and his two wives in 2013 paid the sum of 1,498,534.00 AED (N120 million/$419,000) for the first property, Project TFG Marina Hotel Unit 2711. 
 
Sale documents indicated that the first property was handed over to the Buratais on January 13, 2013.
 
Eleven days after he was appointed by President Buhari, the retired Army General made arrangements for the purchase of a second property from the same company in Dubai. 
 
Between July 24 and August 17, 2015, he paid a total sum of N42.2 million into TFG Sigma 111's account in Nigeria (Skye Bank 1770380452). 
 
Evidence exclusively obtained by SaharaReporters revealed that Buratai made N10 million payments on July 24 and August 7 respectively.
 
Three days later, another N10 million was paid into the real estate firm's account. The phone number on the Skye Bank teller is 08033349740. Saharareporters investigations showed that it belonged to a Nigerian Army Major, Emmanuel G. Adegbola of the Nigerian Army Finance Corps (N/10808). 
 
On August 17, 2015, the Chief of Army Staff paid the sum of N3,270,000 into the account.
 
Buratai, who owned up to purchasing the two properties in Dubai, however, claimed that he amassed his wealth through "personal savings" and not ill-gotten gains.
 
He added he made a lot of money from his snake farm along Keffi-Abuja Highway in Nasarawa, just 50 kilometres from the nation's capital. 
Scandal
Exclusive
News
AddThis
: 
Original Author
: 
Saharareporters, New York
Disable advertisements
: 
E2%80%93-23-may-2022-adeyinka-olumide-fusika-0 Sango! (Segun Aderemi: May 7, 1958 – 23 May, 2022), By Adeyinka Olumide-Fusika
Comrades, of death, all mankind can be certain. In the memorable words of that great American humanist and agnostic, Robert Ingersoll at the grave of his brother, a "… wreck at last must mark the end of each and all. And every life, no matter if its every hour is rich with love and every moment jeweled with a joy, will at its close, become a tragedy as sad and deep and dark as can be woven of the warp and woof of mystery and death"! 
However, we gather today, not to wonder at the mystery of death and lament about the desolation of the grave but in celebration of a life lived joyfully and without regret in toil for a glorious dawn for the wretched of the earth. On the23rd day of May 2022, our friend and comrade, Segun Aderemi breathed his last. He was 64 years old. More than forty of those years went into the toil. And though it appears that we are not closer to achieving his revolutionary goal today than he was when he began his toil, this occasion affords us an opportunity to look back at his life and seek inspiration from his deeds.  I will highlight a few here.
I cannot remember exactly my first meeting with this splendid being. I remember, however, my first consciousness of his specialness; his difference from the regular crowd of Marxism-inspired student radicals. 
The regular pattern, for petty-bourgeois radicals, was that you go to the university; come across radical ideas; join-in; acquire and throw some 'isms' all over the place; grow a wild beard; participate in some social-rattling activities of students and students unions; then graduate; get a job; hopefully settle down into a petty-bourgeois life; marry; rear children; and sometimes, if there are occasions for it, make some radical noises. You might even go into politics, where you distinguish yourself from the regular crowd by spewing revolutionary quotes.
Sango studied law at the University of Ife, where I first made his acquaintance in the student Marxist group, the Alliance of Progressive Students (ALPS). Many before him had graduated and followed the pattern I described above. For instance, those that qualified as lawyers and still wished to maintain an air of radicalism became, in popular parlance, "Peoples' Law!" (that is, they take-up popular, sometimes unpopular causes, especially for indigent clients). It was what was expected. It was what happened.
But for Sango, Marxism was not a fad. The idea of the social revolution was real, and he meant to see it attained in his lifetime. Hitherto, he had been immersed in the activities of ALPS within the small cocoon of the academic community. ALPS was, first and foremost, a Marxism study group of, and for students at the University of Ife. Its revolutionary activities had essentially been propagating Marxism among the student populace, intervening in student union politics and orientating the student union towards mass struggle, which was mainly the promotion and protection of the right to state-funded education at all levels of education. In this, it coordinated with similar groups in other higher institutions (starting from A-Level colleges). This was under the auspices of the loose coalition named Patriotic Youth Movement of Nigeria (PYMN). 
So, as he inched close to graduating and leaving the cocoon of student activism, his thoughts were taken over by worries of about what would become of his Marxism and revolutionary training. He would arrive at a clear vision of what that should be; the role of professional revolutionary. He wasn't going to be a professional lawyer, a "Peoples' Law!", which was the most revolutionary precept he could see from those that went ahead of him. He was going to be a professional revolutionary. From him I heard that phrase "professional revolutionary" for the first time ever, and it was intriguing in its novelty strangeness to the younger minds of my cohort of ALPS recruits. He was going to sacrifice his prospect of petty-bourgeois life for the hard one of organizing the revolution. 
As he explained it, there was already a good number of ex-student comrades in paying jobs and professions who by reason of the demands of their jobs were left with no time to spare for the work of organizing the revolution. The revolution required a newspaper and full-time organisers and agitators. The idea was that those in paying jobs will contribute to support those engaged in full-time revolutionary work. The revolutionary work would, at the initial stage, concentrate on development of revolutionary cadre, propagating the idea of the revolution among the working classes, engaging in agitational and organizational support work in every mass movement of the people, mainstreaming the financial and other support requirement of the work among the masses.
One other important thing in the development of his life as a revolutionary at the time was his chance discovery of an alternative explanation of Nazism (National Socialism) which Hitler and his henchmen built on the false foundation of being a movement of the working masses. Our staple had been from the Soviet era publications of the behemoth, Progress Books. The franchisee of these books was that giant of the workers movement in Nigeria, the Marxist intellectual, Comrade Ola Oni. 
Compared to now, the age of the internet where at a press of a button anyone could get access to any publication and different thoughts on any subject or issue of interest, that time was like the dark age. All our study of Marxism was majorly based on the classics from the Soviet state approved philosophers – Karl Marx, Frederich Engels, Plekhanov, Vladmir Lenin, Bukharin and the like (even, Stalin and his henchmen). 
So, our ALPS group of the time, as part of our propagation of Marxism to the larger student populace, used to organise an annual book fair of Marxist literature and publications in science and other academic books from the then Eastern bloc of Europe. Our supply of books came entirely from Comrade Ola Oni's franchise of Progress Books. He allowed us to sell these books at a small margin and use the profit to fund the activities of our group. So, Comrade Ola Oni's house and book distribution centre at Ibadan was a place frequented by student organisers of ALPS. 
On one of such forays to Ola Oni's bookshop, his attention was caught by one book in an obscure and dusty corner. It was Trotsky's 'The Struggle Against Fascism in Germany'. Out of mere curiosity, he picked up the book and started reading. There, stark naked before him, page to page till the end, were answers to many of the questions we had always interrogated in our study and debate on Nazism in our ALPS seminars. He enthusiastically recommended the book to the leading cadres of our student group, principally Muyiwa Osunkoya (now Muyiwa Adebanjo), Taye Abiodun, Bunmi Oyewole (now JCA), Lanre Arogundade, Olumide Akanmu ('Olu Akanmu', in his current career as a very successful banker), etc. The exposition of the role of the Soviet state and its leaders, principally Stalin, in the growth of Nazism and suppression of the real workers movement in Germany did not sit down well with some of the comrades for whom the USSR and its satellite states in Eastern Europe served as beckon of socialist future. 
But Sango and a core of ALPS associates (Muyiwa, Lanre, Akanmu) were not to be held down by the Soviet tradition of Marxism by which they had been trained. They would explore everything explorable; question everything theoretical, every dogma; search for knowledge about scientific socialism, including critiques, without fear of where it might lead them, even if abandonment of socialism. It was a completely new vista that propelled interest in other works of the same writer. Gradually, the promise but eventual degeneration of the Soviet states as projections of the hopes and aspirations that the working classes invested in the October 1917 workers revolution in Russia, became, at once, inescapable and explainable in scientific socialist terms. Whilst acknowledging that the Soviet states represented progress for the working masses compared to their pre-soviet conditions, it was also clear that it was under the throes of bureaucratic degeneration. Lessons of history must be learnt so that we don't end up repeating it. His revolutionary, if you like, brave inquisitiveness eventually led him and his closest collaborators to a clearer ideological vision of the revolution for which he was prepared to spend and sacrifice his life as a full-timer. Yes, to workers revolution, but no to soviet-style bureaucratization; yes, to workers internationalism and international solidarity of the working masses, absolute no to socialism in one country!
And so with a clear ideological vision and of his own role, he set about living his life, the life that has now come to an end. Was he fulfilled, seeing now, as I previously noted, that it seems we are not closer today to socialist revolution in Nigeria than we were when he embarked on that journey?
Well, if he were able to rise now and address us, I would hear him say, "Comrades, despair not! If the course is right, then we fulfill our historical roles by working towards it! Historical and dialectical materialism teaches us that when the fruit is ripe enough to fall from the tree, it will! Stay the course, comrades, keep moving!"
Many a times he had encouraged me with words of this nature, when in my low moments I wonder whether we labour not in vain. With him, I have seen high moments of our efforts, and I have seen many low moments of it. Having thrown himself headlong into developing a core of revolutionary cadres, we've unfortunately lost a lot of investment in these cadres. Some lost hope and wanted a way out; some wanted to be generals in their own inconsequential army within our relatively inconsequential larger left movement in Nigeria. On each and every occasion these elements brew-up schism in order to give the colouration of ideological disagreement to their actual but hidden ambition. Each time one leaves, and I lament, he instead throws himself afresh into developing new cadres. 
He would not be daunted. He used to say that what I referred to as lost investments would prove, at the right time, not to be so. He was wont to encourage me to snap out of my feeling of loss by reminding me that Lenin also fell a similar sense of loss when Trotsky, desperate for the unity of the nascent Russian Social-Democratic Workers Party, seemingly cast his lot with the Menshevik faction, against his instinctive revolutionary nature. However, when the call of revolution came, pseudo-revolutionary nature of menshevism was in clear display. Trotsky heard the call loud and clear, and he recognized the moment because he was genuine in his quest as a revolutionary. 
This would later prove prescient during our NCP days (i.e. the National Conscience Party, founded and led for a time by that epochal character, the instinctive revolutionary, Gani Fawehinmi) when in the fervor of the social momentum we were able to create, a lot of those I had lamented about losing (including one of the most important persons with whom he worked at the early stage to build our forces, Muyiwa Adebanjo, who had left to become a pentecostalist) heard the call loud and clear. They did return and contribute immensely to our efforts in that party. Of course they petered off again when the ebb of that movement flowed to its stop. Years after that, Sango used this to illustrate his optimism, and the point that his work has not, cannot and will never be in vain! 
His work is uncompleted; his dream of seeing with his own eyes the dawn of the Revolution unfulfilled in his lifetime; the task of building the socialist society a thing that he can no longer contribute to. We, who still live, are left with this task. He has not left us this task without a clear pathway. Let us remain on that pathway. Through all high and low ebbs of the revolutionary cause and course, with every dent we make on the formidable armour of blood-sucking capitalism, in every defeat we may suffer in the mortal struggle of the working masses against their capitalist expropriators, let us remain steady and focused as Sango was till he took his last breath. 
To us, the members of DSM, let us remain encouraged by the fact that by the natural law of gravity, the fruit will fall from the tree when it is ripened enough; by the dialectics of historical materialism, capitalism will fall. Recently, a soldier in our rank of revolutionaries published an article titled "Sowore: The One-Man Show!". To illustrate one of the points he was making in the article, he quoted how Ursula Le Guin put this same point in a speech she gave during the National Books Awards in 2014, thus:
"We live in capitalism. Its power seems inescapable; so did divine right of kings …. Power can be resisted and changed by human beings; resistance and change often begin in art; and very often in our art – the art of words".
In our own case, in addition to words, our own art includes the clarity of the revolutionary idea and organizational praxis left to us by my and our dear friend, comrade and revolutionary leader, Segun Aderemi, known to the public as "SegunSango' or 'S.S.'. Death has parted him from us, and so he's taken his leave of us, having acquitted himself creditably on the side of Right, in the mortal struggle between Right and Wrong! With emotion, we who believed in the rightness of the cause for which he lived, now bid him bye.
To our comrades of the CWI (Campaign for Workers International), we thank you for all the efforts made towards finding medical succor for Sango. We also thank all left elements in this country, too numerous to mention one by one, who reached out with helping hands to his family throughout the period of his ill-health.
To his children, Omotola, Babatunde and Olasubomi, we express our condolences and thank them for the gift that their father was to us and the working and struggling masses of this country and worldwide. 
To his wife Tinu, the 'Oya' to our Sango, whose lot it has been to take care of him 24/7 in the last few years after he was struck down by the health challenge to which he has now finally succumbed, we can only say a big thank you that comes from the innermost depths of our appreciative hearts! You are a rarity!
TRIBUTE
AddThis
: 
Original Author
: 
Adeyinka Olumide-Fusika
Disable advertisements
: 
E2%80%93-buhari-recalls-roles-1967-0 I Fought Bitter Civil War; We Killed A Million Of Nigerians – Buhari Recalls Roles In 1967 Conflict
President Muhammadu Buhari has called on Nigerians to tolerate each other and embrace peaceful co-existence to avoid a repeat of the 1967 Nigerian civil war and Kigali genocide history.
Buhari made the appeal on Thursday in a statement by his Special Adviser on Media and Publicity, Femi Adesina, after visiting the Kigali Genocide Memorial.
The president, who toured the permanent exhibitions at the Memorial, laid a wreath at the mass graves where more than 250,000 victims of genocide were buried. He also paid tribute to the memory of the victims and prayed for healing for the survivors.
Buhari who spoke to newsmen after his tour at the Memorial noted that his greatest takeaway from the visit included the need for Nigerians to truly tolerate one another and for the nation to also preserve its own historical antecedents from the 30-month Civil War.
He said, "I went through all the experiences from January 15, 1966 to date. I was a Governor, Minister, and Head of State and went through detention. I returned to partisan politics and will finish my two terms as constitutionally allowed.
''We fought a 30-month bitter civil war and we killed about a million of each other. Nigeria went through this kind of terrible development process," he said.
Before departing, the President also wrote in the visitors' book:
''Remembering the victims of this dark history of the Rwanda Genocide, we pray that humanity will never experience this kind of hatred, wickedness and violence toward others because of their ethnic background, religion and beliefs.
''Nigeria is strongly committed to the prevention of mass atrocity anywhere in the world and believes that perpetrators of such crimes; and their enablers, anywhere in the world must be held accountable."
SaharaReporters reported how President Buhari travelled to Kigali, Rwanda on Wednesday for the 26th Commonwealth Heads of Government Meeting (CHOGM).
During his stay in Rwanda, Buhari would engage in bilateral talks with the Rwandan President, Paul Kagame and the UK Prime Minister, Boris Johnson, on Thursday and thereafter, attend the official opening of CHOGM and meetings of Heads of State and Government on Friday.
Politics
News
AddThis
: 
Original Author
: 
Saharareporters, New York
Disable advertisements
: 
Residents Panic As Hoodlums Invade Lagos Community, Five Killed In Two Months
No fewer than 5 persons have died in the last two months in Lagos after suspected hoodlums from Adeleye and Orile Iganmu streets attacked Zion community.
Zion community comprises Zion Street, Orisha Street, Adedoyin Street and Araromi Street of Apapa Iganmu Local Council Development Area, Lagos.
SaharaReporters learnt that the hoodlums went on the rampage in the communities, leading to apprehension among the residents.
The killings took place in different parts of the area in the last two months.
Some of those killed were identified as Ebifemi Temidayo, Michael, Habib, Tomisin, Baba Bolu (Bolu's dad), Bro Moshood (aka Gombe), Baba Fawas (Fawas' dad), and Akpan's brother.
"There is an attack going on in our area in Lagos for the past two months now and police couldn't stop. A letter has been sent to the office of the Governor and Inspector General of Police and yet nothing has been done to stop it," a resident of Zion told SaharaReporters.
"Over five people have lost their lives and many are injured already. On the 10th of March, 2022, information was gathered that the Adeleye Street 'Area Boys' (hoodlums) and Orile Iganmu Street Area Boys of Apapa Iganmu LCDA were gathering to attack Zion Community (which comprises Zion Street, Orisha Street, Adedoyin Street, and Araromi Street of Apapa Iganmu LCDA, Lagos).
"A few days after, the Adeleye Street Boys attack Zion community with guns, cutlasses and heavy weapons. They looted shops, damaged properties and some residents were critically Injured.
"Immediately the Zion community leaders and stakeholders reported the incident to the Orile Iganmu Police Station and the DPO assured the community leaders that the culprit would be apprehended.
"Unfortunately, the Adeleye Street boys have been attacking Zion Community for the past three months now. Due to the gunshot fired by the Adeleye Street Boys, at least five lives of Zion Street residents were lost, properties were damaged and many were injured.
"The 'boys' who carried out the attack are still gaining access to Zion community while the police have not apprehended any suspect till this moment and gradually Zion Street is becoming a scary zone."
Insecurity
News
AddThis
: 
Original Author
: 
Saharareporters, New York
Disable advertisements
: 
E2%80%98payment-ransom%E2%80%99 Plateau Monarch Regains Freedom 3 Days After Abduction, 'Payment Of Ransom'
The abductors of the paramount ruler of Panyam Community in Mangu Local Government Area of Plateau State, His Royal Highness, Aminu Derwan, have released him three days after he was abducted. The traditional ruler who was kidnapped by bandits on Sunday when the terrorists attacked his palace was reportedly freed on Wednesday night.
SaharaReporters gathered that a few hours after his abduction, his abductors contacted his family members and demanded a ransom of N150 million for his release. However, it is not yet clear if a ransom was paid to secure his release and how much it was if it was paid.
The Police Public Relations Officer in the state, Alabo Alfred, who confirmed the monarch's release to The PUNCH on Thursday did not mention if a ransom was paid. "Yes, he has been released. Thank you," the police spokesperson said. Similarly, the youth leader of the Panyam community, Philip Yakubu, who also confirmed Derwan's release, said a ransom was paid to secure the release of the monarch but he did not know the amount. "We are still dancing and singing. The Panyam community has been in a joyful mood since our district head was released last night. I'm not aware how much was paid to secure his release but I know a ransom was paid before the kidnappers agreed to release him," Yakubu said.
Insecurity
News
AddThis
: 
Original Author
: 
Saharareporters, New York
Disable advertisements
: 
Crisis Rocks Nigerian Institution of Estate Surveyors And Valuers As Members Exchange Blows Rivers Annual General Meeting
There is pandemonium at Obi Wali, the Port Harcourt venue of the 52nd Annual General Meeting of the Nigerian Institution of Estate Surveyors And Valuers (NIESV) as the members exchange blows over an alleged attempt to conduct an election of new executives against a court order stopping the poll.
 
The members alleged that the outgoing executives in connivance with the Electoral Committee of NIESV, against a court order, recruited a firm, Nexusmax ICT Company to conduct the election.
The court judgement obtained by SaharaReporters reads that Olagoke Olaniyi Oladipupo; Alarape Bukky Olalekan; Fatoki Solomon Olusola; Kahimu Adamu Danladi; Ogunsola Adekunle Olawale; Tanigdola Olasukanmi; Edemo Adevalk Samuel; Adebayo Adesola are the Applicants, suing on behalf of themselves as members of the Institution.Incorporated Trustees, Nigerian Institution Of Estate Surveyors And Valuers; and Electoral Committee, Nigerian Institution of Estate Surveyors And Valuers were identified as the Respondents.
 
Justice L.A.M. Folami of Lagos State High Court had in Suit No: ID/5851GCM/2022 in his judgement, restrained the outgoing leadership of NIESV and 2022 NIESV Electoral Committee from conducting the elections of the body slated for the June 13 – 24, 2022 pending the Applicants' compliance with the pre-action protocol, pursuant to the practice direction No. 2 of the High Court.
 
Justice Folami, in granting the ex parte application, held thus: "Following the schedule of activities for the forthcoming elections released by the 2nd Respondent, it is glaring that the 2018 Electoral Appeals Committee's recommendations as adopted by the Extraordinary General Meeting of Thursday, 13 September 2018 and further adopted by the 48th Annual General Meeting of the Institution held on the 23rd of March, 2019 for the purpose of conducting credible and rancour-free elections is not strictly adhered to by the 2nd Respondents.
 
"The Applicants will be at a great disadvantage if the forthcoming elections of the 1st Respondent are conducted considering the fact that the IT firm appointed by the 2nd Respondent, VeruaMax Software 365 Lid is a non-credible and non-reputable firm who had manipulated election results in the past years."
 
However, SaharaReporters gathered that trouble started when the Electoral Committee, in flagrant violation of the court order announced on Wednesday night, the opening of the election portal.
 
The unsigned notice SaharaReporters obtained on Thursday dated June 22, 2022, is titled: "Press Release on Opening of Election Portal 2022 NIESV General Elections".
 
It reads, "Following legal advice and directive of Board of Trustees, the 2022 NIESV Election Portal will open today Wednesday, 22nd June, 2022. All votes must be submitted on or before 23:59 Hours Friday, 24th June, 2022.
 
"Guide to voting instructions can be accessed on the NIESV Election Portal. Select Menu and choose, Vote Now. Select your preferred candidate for each elective position and submit your vote without saving. Thereafter, Click submit vote button to send your vote.
 
"You will receive an email and SMS notification confirming that your vote has been captured.
 
"Electoral Committee. All enquiries to be directed at niesvelectoralcommittee2022@gmail.com or Mobile Numbers 08033396363 or 08035670204.
 
"Any member who does not receive email after voting can check on "My Vote" link on the Menu to view his/her vote."
 
A member of the NIESV, Ayodele Oladapo, who is also a lawyer described the violation of the court order as an affront to the judiciary.
 
Oladapo said that the committee didn't vacate the order before breaching it, identifying it as the cause of the current crisis at the AGM in Port Harcourt.
 
He said that the members objected to the use of the Nexusmax ICT company because of credibility issues.
 
He said, "From the documents obtained from the Corporate Affairs Commission, Nexusmax ICT company was incorporated on the 4th of April, 2016.
 
"The first election ever conducted by NEXUSMAX was NIESV 2016 Elections which held on March/April 2016 in Abuja meaning that the company conducted the elections even before registering with CAC officially which was illegal.
 
"The results of that election were seriously questioned by members. The same Nexusmax ICT company conducted the NIESV 2018 Election and the result was also very questionable.
 
"We had a popularly accepted election in 2020 due to the transparency of the Electoral Committee and the ICT firm they engaged.
 
"Now in 2022, the same Nexus ICT firm is causing havoc already. We have conducted some underground investigations and there are pointers that Nexusmax ICT company is a rigging machine of some members of the current management committee who use it to force themselves on members against the popular will of the people through backend manipulations."
 
Another member of the union from the Lagos branch, Akinropo Abraham, described the alleged total disregard for the court order as unfortunate and condemnable.
 
He said, "I stand against lawlessness, distance myself from it, and won't participate in the shambolic voting process.
 
"I am completely ashamed of the leadership of NIESV at this moment. They have failed the past, present and future generations."
 
Efforts to speak with the electoral committee through the mobile phone numbers provided in the notice were unsuccessful as the numbers were said to be switched off.
DOCUMENT : Crisis Rocks Nigerian Institution of Estate Surveyors and Valuers as Members Exchange Blows Rive… by Sahara Reporters on Scribd
News
AddThis
: 
Original Author
: 
Saharareporters, new York
Disable advertisements
: 
Popular Yoruba Actor, Baba Atoli, Dies After Year-long Battle With Sickness
A veteran Yoruba movie actor, Raji Azeez, better known as Baba Atoli, on Thursday passed on after a long battle with sickness.
This was announced by one of his colleagues, Foluke Daramola in a post on Instagram on Thursday.
Daramola shared the deceased actor's photo with the caption: "Sad we lost Baba Atoli. Such a shame."
In May, the actor solicited financial support for the late actor, who was very ill at the time.
His wife, Olaide Raji, similarly stated that the actor was battling an undisclosed ailment.
"This sickness started in May 2021. We thought it was a minor thing when it started so we took him to one hospital where he spent four days. After that, we brought him home with the hope that he has fully recovered," she had said.
"However, a few days later, we noticed that his condition worsened. It was at this point that people recommended that he should be taken to the Federal Medical Centre (FMC) in Abeokuta which we did.
"At FMC Abeokuta, several tests were carried out on him and we spent a lot of money. But a few days before his surgery, the hospital embarked on strike. We initially thought the strike would be called off after some days but it lingered. We eventually did the surgery and we took him home.
 
"The sickness, however, resurfaced again. We need the support of Nigerians to ensure he doesn't die. I don't want to become a widow."
Baba Atoli's death comes about a week after the death of Yinka Ogundaisi, an actor and filmmaker.
 
News
AddThis
: 
Original Author
: 
saharareporters, new york
Disable advertisements
: 
Anambra Lawmakers Summon Education Commissioner For Calling Job-seeking Teacher 'Stupid Woman', 'Idiot', 'Filthy Thing' In Leaked Audio
Anambra State Commissioner for Education, Prof. Ngozi Chuma-Udeh
The Anambra State House of Assembly has summoned the Commissioner for Education, Prof. Ngozi Chuma-Udeh to explain what happened between her and a teaching job applicant, who was thoroughly insulted by the former.
 
SaharaReporters reported how the Education Commissioner was heard in a recorded phone conversation saying the female applicant in the ongoing teachers' recruitment must be "stupid" and calling her "an idiot," and "filthy thing".
Anambra State Commissioner for Education, Prof. Ngozi Chuma-Udeh
SaharaReporters also reported that Prof. Chuma-Udeh apologised for her choice of words but pointed out that her reaction was because the caller, whom she identified as one of the PTA teachers engaged by the former Governor Willie Obiano but sacked by Governor Chukwuma Soludo, had insulted Governor Charles Soludo and herself.
 
However, SaharaReporters gathered that the directive of the lawmakers that the commissioner should appear before the House was a sequel to the motion moved by the Chairman of the House Committee on Education and member representing Anaocha II State Constituency, Hon. Ejike Okechukwu.
 
The Independent reports that a member representing Anaocha I State Constituency in the House, Ebele Ejiofor, while reacting to the matter asked why over 1,000 teachers recruited and issued appointment letters by the former governor were sacked by the current government even after the teachers had worked for seven months without salaries.
 
According to Ejiofor, most of the sacked teachers have shown their appointment letters to lawmakers and they are yet to ascertain the reasons for their sacking.
 
He maintained that the Education Commissioner has to explain to the lawmakers the reason why the teachers were sacked from their jobs given the harsh economic situation in the country.
 
However, the Commissioner had told SaharaReporters on the phone that she inherited the state ministry of education and neither got nor had the record of the PTA teachers.
 
But Ejiofor noted that the Commissioner made "very bad utterances against Ndi-Anambra" and that she must appear before the assembly to defend her "rash" statements.
 
According to him, Anambra people voted for Governor Soludo and as such, there is no reason whatsoever for the commissioner to insult the people by virtue of her position as a public office holder.
 
He argued that even if the applicant(s) insulted the commissioner, it was her duty as a public office holder to comport herself as one working in the public service rather than throwing caution to the wind, which he described as not befitting the post of a commissioner.
 
News
AddThis
: 
Original Author
: 
Saharareporters, new York
Disable advertisements
: 
Labour Party-NNPP Merger: We're Yet To Agree On If Peter Obi Or Kwankwaso Will Be Presented As Presidential Candidate— Doyin Okupe
The vice-presidential candidate of the Labour Party, Doyin Okupe, says his party and the New Nigeria Peoples Party (NNPP) have agreed to form an alliance ahead of the forthcoming general elections.
 
In an interview with Vanguard, Okupe said both parties were still in talks ahead of the July 17 deadline by the Independent National Electoral Commission (INEC) for the substitution of candidates.
He said they had yet to reach an agreement on which platform will produce the presidential candidate as both parties were 'insisting on being the arrowhead of the union in terms of presidency'.
 
He said: "We have not foreclosed on anything. What has happened is that there have been a lot of informal discussions and interventions on the merger. There have been a lot of third-party interventions on this same issue.
 
"Officially, I have been involved in two meetings in two different locations where we discussed extensively. I can tell you authoritatively that I have spoken with Rabiu Kwankwaso on this matter.
 
"We have agreed to cooperate together as two different parties to enthrone a new political order in this country. We also agreed on working together politically and constituting a platform on which a national grand alliance can be built in pursuit of the same goal.
 
"We have not reached an agreement on the issue of whether the North will be the president or the South will be the president because both sides are insisting on being the arrowhead of the union in terms of presidency.
 
"This is where we have not really agreed. As of today, that is where we stand but there are a lot of goodwill ambassadors working behind the scene.
 
"The options are still open. We have up till July 17 or so to take a final decision but the options are still open. We have not foreclosed on anything."
 
Reacting to claims that Kwankwaso has not agreed to be Obi's running mate, he said: "I am surprised about that and I have tried to reach out. It is something that is a bit too early. We have direct access and we are talking officially and unofficially. I heard the information but I have not been able to confirm it."
 
Politics
News
AddThis
: 
Original Author
: 
Saharareporters, new York
Disable advertisements
: 
Read also Nigerian Newspapers Today and Nigeria News Today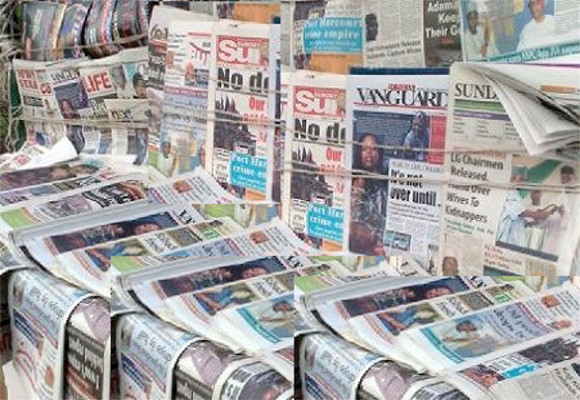 You can also check Sahara Reporters Newspaper Headlines Today