Breaking News in Nigeria Today

Thursday 14th October 2021

Here are some of the Breaking News in Nigeria Today Thursday 14th October 2021 on some of the nation newspapers .

Read also Nigeria News Today Thursday 14th October 2021
target=_blank rel=noopener>FoI Act: Court grants order of mandamus against Health Minister
The Federal High Court sitting in Abuja has granted an Order of Mandamus directing the Minister of Health, Dr Osagie Ehanire, to furnish the Centre for Transparency Advocacy (CTA) with some vital information in the health sector. The court further awarded the sum of N200, 000 only as compensation to CTA for the interference and
target=_blank rel=noopener>OPEC cuts 2021 oil demand forecast
OPEC expects this year's global oil demand to grow by 5.8 million barrels per day (bpd) from the low 2020 levels, down from last month's estimate of 5.96-millionbpd annual growth. Oil prices eased on Wednesday on worries that crude demand growth would slow, which ate into recent gains that had brought prices to multi-year highs


target=_blank rel=noopener>Chairmanship: PDP Northern Caucus' meeting stalemated
The northern caucus of the Peoples Democratic Party (PDP) has failed to reach a consensus over the choice of candidate for national chairmanship position in this month's national convention. Adamawa State governor, Ahmadu Finitiri, who addressed journalists after the meeting, said there was communication gap between them and some party leaders who supposed to appear
target=_blank rel=noopener>NNPC meets NARTO, PTD, others
The Nigerian National Petroleum Corporation (NNPC), has engaged critical stakeholders to find lasting solutions to the road network challenges and other lingering issues affecting the smooth distribution of petroleum products in the country. GroupManaging Director of the NNPC, Mallam Mele Kyari, made the disclosure after a meeting with Petroleum Tanker Drivers (PTD), the National Association
target=_blank rel=noopener>Sanwo-Olu: No going back on building affordable houses for Lagosians
Lagos State Governor, Mr. Babajide Sanwo-Olu yesterday, yesterday commissioned a 100-unit Bayview Estate Ikate- Elegushi Estate, saying his administration commitment in building affordable houses across the state for Lagosians. The housing unit is the 11th housing estate that would be commission by Sanwo-Olu's administration in two years. It consists of 68 terraces of 4 bedrooms
target=_blank rel=noopener>Osinbajo, Onaiyekan, others hail African Church's reunification
The Vice-President, Prof. Yemi Osinbajo, on Tuesday hailed the African Church for resolving the crisis that polarised the church and for its 120th anniversary. Osinbajo spoke at a unification service attended by leaders of the church, among whom were the Primate of African Church, Emmanuel Udofia, and the Lay President, Babatunde Odufuwa. The service, which
target=_blank rel=noopener>Why Anambra should be connected to the centre –Emeka
A former Minister of State for Transportation, Prince John Emeka, was until recently a staunch member of the Peoples Democratic Party (PDP). In this interview, he speaks on his defection to the All Progressives Congress (APC) and the prospect for his new party in the November 6 governorship election in Anambra State. ANAYO EZUGWU reports


target=_blank rel=noopener>Being ex-governor shouldn't be criteria for presidency –Okupe
Dr. Doyin Okupe is a former presidential spokesperson. In this interview, he speaks on the desirables expected from the next Nigerian president, the debate over experience and competence, his aspiration to succeed President Muhammadu Buhari, among other issues. WALE ELEGBEDE reports What are your perspectives on the state of the nation? Even to a child,
target=_blank rel=noopener>Igbo presidency'll end secession clamour in S'East –Nweze
Chief Chaka Nweze is a former Secretary of the All Progressive Congress (APC) in Ebonyi State. In this interview with UCHENNA INYA, he speaks on the plan for the 2023 presidency and agitations in the South-East, among other issues. The move by some members of your party to get former President Goodluck Jonathan to join
target=_blank rel=noopener>Nov 6: Anambra indigenes in Delta endorse Ozigbo
As the momentum continues to gather towards November 6 governorship election in Anambra State, indigenes of the state living in Delta State have endorsed the Peoples Democratic Party (PDP) candidate in the election, Valentine Ozigbo. The PDP flag-bearer was endorsed at a town hall meeting with indigenes of Anambra State in the neighbouring Delta State.
Read also Nigerian Newspapers Today and Nigeria News Today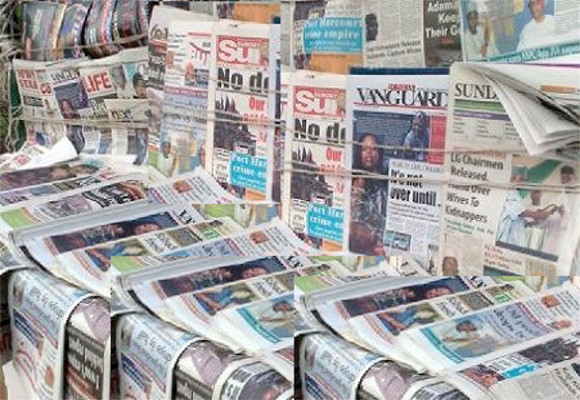 You can also check Nigeria Newspaper Headlines Today