Sahara Reporters Latest News Today

Wednesday 13th October 2021

Sahara Reporters Latest News Today and headlines on some of the happenings and news trend in the Country, today 13/10/21

Read also nigeria newspapers Wednesday 13th October 2021
target=_blank rel=noopener>Burkina Faso Opens Trial On 1987 Assassination Of Revolutionary Leader, Sankara
After 34 years of assassination of the country's revered revolutionary leader, Thomas Sankara, Burkina Faso has commenced the prosecution of a former President Blaise Compaore and 13 others involved, Al-Jazeera reports.
Compaore and 13 others are facing an array of charges in the death of Sankara, described by his followers as the African Che Guevara.
The killing of Sankara, an icon of pan-Africanism, has for years cast a dark shadow over the Sahel state.
Sankara and 12 others were riddled with bullets by a hit squad in October 1987 during a putsch that brought his friend and comrade-in-arms Compaore to power.
Al-Jazeera has reported that Compaore, the chief accused, stated through his lawyers last week that he would boycott the trial.
The former West African nation's leader will be tried in absentia by the military court in the capital, Ouagadougou.
Compaore ruled the country for the next 27 years before being deposed by a popular uprising and fleeing to neighbouring Ivory Coast, which granted him citizenship.
He has always denied the allegations leveled against him that he orchestrated the Sankara's murder.
He and his former right-hand man, General Gilbert Diendere, who once led the elite Presidential Security Regiment, face charges of complicity in murder, harming state security and complicity in the concealment of corpses.
On Monday, after several hours, proceedings were adjourned until October 25 after defence lawyers said they were confronted with 20,000 documents and had had little time to prepare their case.
They requested a one-month postponement but were granted a stay of two weeks by judge Urbain Meda.
Days before the trial opened on Monday, his lawyers announced he would not be attending a "political trial" flawed by irregularities, and insisted he enjoyed immunity as a former head of state.
Diendere, 61, is already serving a 20-year sentence for masterminding a plot in 2015 against the transitional government that followed Compaore's removal.
Another prominent figure among the accused is Hyacinthe Kafando, a former chief warrant officer in Compaore's presidential guard, who is accused of leading the hit squad. He is on the run.
A young army captain and Marxist-Leninist, Sankara came to power in a coup in 1983 aged just 33.
He changed the country's name from Upper Volta, a legacy of the French colonial era, to Burkina Faso, which means "the land of honest men."
He lobbied with a socialist agenda of nationalisation and prohibited female genital mutilation, polygamy and forced marriages.
Like Ghana's former leader Jerry Rawlings, he became an idol in left-wing circles in Africa, applauded for his radical policies and defiance of the big powers.
Burkina Faso has long been burdened by silence over the assassination – during Compaore's long time in office, the subject was taboo – and many are angry that the killers have gone unpunished.
"The trial will mark the end to all the lying – we will get a form of truth. But the trial will not be able to restore our dream," Halouna Traore, a comrade of Sankara and survivor of the putsch, said in a TV interview.
Politics
News
AddThis
: 
Original Author
: 
SaharaReporters, New York
Disable advertisements
: 
target=_blank rel=noopener>Educating Nigerians Before Birth And After Death, By Owei Lakemfa
Owei Lakemfa
A Story trended in the social media on Tuesday, October 5, 2021, the International Teachers Day. On that day, the Senate confirmed the nomination of Alhaji Yahaya Mohammad as a Board Member of the Economic and Financial Crimes Commission, EFCC.
 
Many Nigerians appeared scandalised that the Senate would clear a man who was born on September 29, 1969 but had started school in 1968; that is the year before he was born.
Owei Lakemfa
It was also unsettling for them that the nominee had claimed he attended the Borno Teachers College for thirteen years from 1975.
 
That means he started his post-primary education at the age of seven and finished the five-year course when he was 20. Simultaneously, he attended the professional College of Administration Studies in 1980 when he was a 12-year old boy. This man clearly, was a child prodigy.
 
Personally, I see nothing strange in a man beginning primary school before he was born because children are educated before they are born. Otherwise, where would a new born baby have learnt how to cry? Where would it have learnt that when hungry, it should yell for nutrients or breast milk?
 
It is a well-known fact that for us Nigerians, education is not just life-long, but eternal; it is before birth and after death. That is why it is not uncommon for people to speak to a corpse at the grave side.
 
They admonish it on various issues, remind it of past or pending matters and generally tell it not to forget the loved ones it has left behind. Sometimes the corpse during burial, is sent on errands; it is told to convey the greetings of the living to deceased loved ones in the land of the dead.
 
The Yorubas know this better than any other Nigerian nationality. They tell the corpse to continue its education eternally. There is a standard instruction they give the corpse: "When you get to heaven, neither eat millipedes nor worms, rather, eat what is eaten there." In other words, the deceased is to study the dietary pattern in heaven. It is like saying when in Rome, behave like a Roman.
 
Although teachers are told their reward is in heaven, they neither teach the unborn nor the dead; they teach only the living on surface earth, and they do a good job doing so. This is why I agree that: "Teachers are the keys that unlock the student's mind."
 
It is also a truism that while: "the architect makes houses, the writer makes poetry, the scientist makes discoveries, the teacher makes them all." In other words: "Teachers make all other professions possible." So: "If there were no teachers, all other professions will not exist." The point is, if you can read this, thank your teacher.
 
Teachers Day in Nigeria has become a ritual during which the Presidency plays the role of chief priest casting divination which shows a better future for teachers. This year, two major promises the Buhari administration made to teachers are: an enhanced salary system and extending their retirement age from 60 to 65 years. These are familiar promises; they were the same made during the 2020 Teachers Day.
 
In fact, the issue of an enhanced teachers' salary system dates back to 2006 during the Obasanjo administration. It was called the Teachers Salary Scale, TSS. It is similar to the University Salary Scale, USS.
 
The Yar'Adua administration, 2007-2009, formalised the TSS. Since then, its implementation has been trying to burrow through the bureaucracy underground. So for over a dozen years now, the Jonathan, and now the Buhari administrations on every Teachers Day, make the same promises.
 
The extension of the teachers retirement age by five years is even an older promise since the retirement age of lecturers in the universities has been sixty five. In fact in 2010 the then Minister of Education, Dr. Sam Egwu announced the implementation of a new retirement age in the universities; that for professors was extended from 65 to 70, and for the non-academic staff from 60 to 65 years.
 
But why are teachers pleased whenever they are teased that their retirement age will be extended? It is poverty. Nigeria has evolved so well that to be a pensioner is to be sentenced to a life of penury. First, it takes eternity for the once-off bulk retirement payment, called gratuity to be paid.
 
Secondly, pension payment has never been a priority of governments at state and federal levels. Thirdly, subsequent adjustments to pension in line with continuous currency devaluation, hyper-inflation and salary increases, are usually not reflected, or reflected very late for pensioners. So the average Nigerian worker lives in fear of retirement.
 
This is in sharp contrast to their European counterparts who look forward to retirement. I recall during my March 2012 visit to factories like BMW in Germany, there were protests and strikes over the decision of some governments in Europe to increase retirement age by an average two years.
 
The workers felt they needed more time for holidays and with their families. I reflected that in contrast, Nigerian workers and professionals were clamouring to postpone their retirement as long as possible even if it means tampering with their official records.
 
In any case, with mass unemployment among young graduates including those with degrees in education, does it not make more sense for teachers to be encouraged to take due retirement and be handsomely rewarded so more employment opportunities can be available for the young?
 
Whatever the case, we all need teachers, whether old or young. For instance, teachers are needed to organise refresher courses for the Nigeria Army.
 
Soldiers in Onitsha had arrested popular actor Chiwetalu Agu for wearing a cloth emblazoned with the defunct Biafra coat of arms. First the army statement announced that it was the "very well-known attire" of the proscribed Indigenous People of Biafra, IPOB.
 
This is incorrect because that was the symbol of Biafra from 1967, the same year IPOB founder, Nnamdi Kanu was born. Secondly, various organisations in Eastern Nigeria wear it. So the army's conclusion that by the actor wearing such a cloth in his film company bus, amounts to "soliciting" support for IPOB, is illogical. 
 
More to my point. Viral videos showed soldiers pushing the famous actor at gun point, forcing him to the ground, dragging him on the tarred road before finally carrying him like a piece of rag. Yet the army told Nigerians and the world that: "he (Agu) was not assaulted or subjected to brutalisation."
 
You see why teachers are needed to explain that brutalisation or assault is to visit physical violence on somebody, which was what soldiers in the video did to the veteran actor. May we never lack teachers in our lives.
Opinion
AddThis
: 
Original Author
: 
Owei Lakemfa
Disable advertisements
: 


E2%80%99ll-be-used-destroy-nigeria-%E2%80%93-father-mbaka-warns target=_blank rel=noopener>Buhari Wasting Resources On Fighter Jets That'll Be Used To Destroy Nigeria – Father Mbaka Warns
The Spiritual Director of Adoration Ministry Enugu, Rev. Fr. Ejike Mbaka, has warned President Muhammadu Buhari that the fighter jets he is acquiring will be used to destroy the country.
According to Sun, the cleric who spoke on Sunday during a sermon at Adoration ground in Emene advised the president to rather focus on building more industries to absorb unemployed youths.
Recall that President Buhari, last week, confirmed receipt of new fighter jets which he said will be deployed against any form of insecurity in all parts of the country.
Mbaka however warned that, "The jets you are buying are going to be used to collapse Nigeria. Please, the first person to meet President Buhari after this message; should tell him that all these jets he is buying will be used to destroy Nigeria. God told me to tell him that all these jets are going to be used to destroy Nigeria. Let him stop buying more jets and begin to build more industries.
"We don't want to hear that our children are being killed. Those that are being bombed are Nigerians. Nobody is going to give an award to a mother or a father for killing his or her children. The solution is simple. Put the round peg in the round hole and banditry will die.
"People are not agitating for nothing. Listen to the reason for their agitation; because even in the military, there is agitation. In the police, there is agitation. In the church there is agitation. In the families, people are agitating. Drivers are agitating, businessmen are agitating.
"Use the money and solve the problem otherwise, you are buying jets that aggrieved people will take up and scatter people. If it doesn't happen soon, it will happen later. Do you know how many billions are used to buy these jets? If they put some of these billions into job creation, the youths will be busy, parents will be happy that their children are going to work and coming back.
"The Spirit of God is not happy with our leaders no matter how they will want to paint it. If all the men of God will be silent, the Spirit of God will not be silent. When the poor masses are crying, we the men of God should be crying with them because they are our children." 
Christianity
Insecurity
News
AddThis
: 
Original Author
: 
SaharaReporters, New York
Disable advertisements
: 
target=_blank rel=noopener>Zamfara Monarch Spends Four Weeks In Captivity Of Bandits
Families, friends and courtiers of the abducted Emir of Bungudu, Hassan Attahiru, have expressed uncertainty over the fate of the monarch, BBC Hausa reports.
The emir was abducted by bandits on September 14, while travelling to Abuja. His police orderly was killed in the incident and another police officer taken with the monarch.
Attahiru, a first class emir, is a former Secretary to the Government of Zamfara State.
The secretary of the emirate council, Usman Ibrahim, said that they had not heard anything about the emir.
"From when he was abducted, some of our people that were out of the state were discussing with the kidnappers. We thought they would release him. Our people told us that they were discussing with the kidnappers and they told them he was alive," he said.
He, however, lamented that lack of access to mobile telecommunications networks in the area also complicated the situation.
Ibrahim said the Emirate Council was at a loss on the true situation of the emir.
Another member of the royal family interviewed by the BBC Hausa also expressed uncertainty about the whereabouts of the emir.
"Nobody knows. Nobody can say anything on whether he is alive or not. We feel he is alive but we are not certain. They (kidnappers) said they would release him when we pay the ransom but we have not heard anything from when we took the money to them.
"From that time (when ransom was paid) I don't think there has been anyone from here who spoke with him (the emir)," the unnamed source said.
But he said it was possible the lack of communication was due to the absence of mobile telecommunications networks in most parts of the state.
 
Insecurity
News
AddThis
: 
Original Author
: 
SaharaReporters, New York
Disable advertisements
: 
E2%80%99t-harass-october-20-protesters-protect-them-%E2%80%94takeitback-movement-warns-lagos-police target=_blank rel=noopener>Don't Harass October 20 Protesters, Protect Them —TakeItBack Movement Warns Lagos Police Ahead Of #EndSARS Anniversary
Human rights and pro-democracy group, TakeItBack Movement, has tackled the Lagos State Police Command over its recent statement warning against the commemoration of #EndSARS in the state.
Last year, thousands of youths had stormed the streets to protest against police brutality and demand good governance.
But the demonstration, which lasted for days, came to an abrupt end after personnel of the Nigerian Army opened fire on some of the protesters on the night of October 20, 2020.
In honour of those who lost their lives during the protests and on the night of the attack on the demonstrators, youths in the country announced an anniversary to mark the occasion.
The anniversary is scheduled to hold on October 20.
In a recent statement, however, the Lagos State Commissioner of Police, Hakeem Odumosu, warned youths against the anniversary.
Reacting to the police statement, the TakeItBack Movement slammed the planned attempt to stifle peaceful demonstration, saying such is undemocratic.
In a statement by Festus Ogun, its legal adviser, the group said the protest is a fundamental right of Nigerians as contained in the constitution.
It also vowed to resist any attempt by the Lagos police to harass and intimidate peaceful protesters.
The group said, "The statement credited to the Lagos State Commissioner of Police, Hakeem Odumosu, warning citizens not to exercise their fundamental rights to protest during the commemoration of the #EndSars Massacre Anniversary is unconscionable, draconian and a reckless invitation to anarchy. Concerned Nigerians have taken his words like those of stand-up comedians.
"CP Hakeem Odumosu has no such power, right or authority to warn against, prohibit or outlaw protests. That will be acting the fragile limits of his powers and against the constitution. He cannot, under our extant laws, interfere with the hallowed right to protest under any guise. The only legal duty he has is to ensure the security and welfare of all protesters; which must be professionally done.
"#EndSars Memorial Demonstration is a constitutionally guaranteed right. Sections 39, 40 and 41 of the 1999 Constitution of the Federal Republic of Nigeria, as altered, safeguard and guarantee the right to protest as a human right that shall be enjoyed by all citizens without arbitrary restraint or careless warning. Articles 6, 9, 10, 11 and 12 of the African Charter on Human and Peoples Rights (Enforcement and Ratification) Act equally protect the right to protest. Additionally, Articles 18-21 of the Universal Declaration of Human Rights, 1948 fully protect the constitutional liberty to protest.
"Emphasising the sacred nature of the right to protest in a constitutional democracy, the Court of Appeal in the case of IGP V. ANPP (2008) 12 WRN 65 held that "certainly in a democracy, it is the right of citizens to conduct peaceful processions, rallies or demonstrations without seeking and obtaining permission from anybody. It is a right guaranteed by the 1999 Constitution and any law that attempts to curtail such right is null and void and of no effect whatsoever.
"Rather than becoming restless about the looming inevitable revolution that will be witnessed in our country, in the fullness of time, the police chief is advised to ensure the right of protesters are fully protected.
"A police notorious for extrajudicial killing, torture, extortion and brutality lacks the legal and moral right to warn or caution victims on how to demand a better life. The audacity is provocative, scandalous and insulting.
"We shall not condone any form of harassment, intimidation, brutalisation or arrest. We shall resist any attempt to encroach on our constitutionally guaranteed rights. The police and other security agencies are hereby put on notice and they should be guided accordingly."
#EndSARS
ACTIVISM
News
AddThis
: 
Original Author
: 
SaharaReporters, New York
Disable advertisements
: 
E2%80%93-osinbajo-knocks target=_blank rel=noopener>Only N14billion Of N471billion Loans Released For Farmers By Central Bank – Osinbajo Knocks Governor Emefiele Over Nigeria's Ailing Economy
The Vice President, Yemi Osinbajo, has blamed the Godwin Emefiele-led Central Bank of Nigeria and other banks for failing to implement the N2.3trillion post COVID-19 stimulus package, thereby causing "economic pains" for Nigerians.
Speaking at the midterm retreat of President Muhammadu Buhari's second tenure, the Vice-President added the exchange rate was artificially low, and hence deterred investors from bringing foreign exchange into the country.
He noted that if Buhari had not set up the sustainability plan, the economic pains associated with COVID-19 would have been deeper and lasted longer.
Dishing out facts and figures of the achievements of the post-COVID-19 stimulus, Osinbajo lamented that the CBN and the banks delayed in releasing much of the funds causing implementation delays in the Agriculture, Solar Power and Social Housing sectors.
"Under the MSME, the Economic Sustainability Plan has resulted into 1.1million beneficiaries under the N75billion ESP Survival Fund for MSMES. This includes 459,000 beneficiaries of the Payroll support for 3 months, 293,000 transport workers and artisans who were beneficiaries of a one-off grant, 244,000 MSMES that benefitted from the CAC Formalisation Scheme and 82,000 businesses that received one-off grants under the MSMES Grants Scheme," a statement from the Vice President office read.
"The VP also spoke of progress in the Agriculture sector under the ESP including N471billion allocated as loans for farmers across 14 Crop Value Chains, Beef Production, Aquaculture and Poultry Farming. But he lamented that only N14billion of the sum allocated has been released by the banking system; CBN and the commercial banks.
"Of the N471billion, so far only N14billion is disbursed to commercial banks and is yet to be utilised by farmers due to late release for the 2021 wet farming season.
"He had a similar regret regarding the Social Housing programme of the ESP where very low cost, mass affordable housing was planned-300,000 across the country.
"The VP said here are continuing delays in the disbursements of funds from the CBN. The Debenture Agreement for N200billion with the CBN which represents bulk of the financing was agreed on 22nd April and has been signed by all parties. However disbursement is yet to take place.
"There was a similar lamentation when the VP reviewed the Solar Power Naija programme of the ESP where 5million solar power connections are planned. This programme he said will increase energy access to 25million Nigerians. Already he disclosed that 704,000 solar connections are certainly underway now and another 600k connections is in the offing.
"But the 5m Solar Connections target is being delayed because while N140B was allocated through the CBN to facilitate, only N7B of that has been disbursed. Unwillingness of CBN to disburse funds, risk aversion of Public and private financial institutions particularly for Power projects," were among challenges militating against a faster speed of implementation.
"The VP said with the Sustainability Plan in place, revenues improved despite oil production issues, while macroeconomic indices are trending in the right direction. Besides there has been a rebound in a number of sectors like Transport that had risen by 77%, Hospitality by 2%, Education 1%, Real Estate 4%, Trade 23% and construction by 4%.
"The VP noted that CBN reports indicated disbursements of a total of N798B to 3.9m small holder farmers under the Anchor Borrowers Programme, N134B to 38,140 beneficiaries in soft agric and small business loans and grants, and a total of N1Trillion to 269 real sector projects and another N103B disbursed to 110 health care projects.
"Prof. Osinbajo (SAN) said during if not for good policies, the Nigerian economy would have been worse off than most economies who are now struggling with the negative impacts of COVID-19. Osinbajo took the audience through the memory lane about the nation's remarkable exits from two recessions – 2016 and 2020.
"It would be recalled that during the third quarter of 2020, the economy was already on a rebound, adding that the latest fourth-quarter figures show that the recovery of the Nigerian economy is steady thanks to the Economic Sustainability Plan (ESP). The ESP is a product of the Osinbajo-led Economic Sustainability Committee (Esc) set up by President Buhari in April 2020.
"The Federal Executive Council approved the ESP in June 2020, while the Vice President was requested to lead the implementation of the Plan. The ESP aims to, among others, prevent a deep recession, ensure economic recovery, and inject funds into the economy through direct transfers."
Economy
News
AddThis
: 
Original Author
: 
SaharaReporters, New York
Disable advertisements
: 
target=_blank rel=noopener>Six Girls Abducted By Boko Haram From Chibok, Others Escape With Nine Children
Chibok Girls handing over i Abuja
At least six girls have reportedly escaped from the Boko Haram terrorists' camp with nine children and one pregnant.
The Governor of Borno State, Prof Babagana Zulum, received the girls who were aged between 20 to 25 years on Monday.
File Photos of Chibok Girls
Sahara Reporters Media
It was learnt that the girls were abducted at Chibok, Borno State and Hong town in Adamawa State during attacks in northeast Nigeria.
The Commissioner for Women Affairs, Hajiya Zuwaira Gambo, told the governor that the girls trekked through the Sambisa Forest for about six hours before they were rescued by security operatives.
"The victims who were freed, ran away from the Boko Haram custody at Buni Yadi axis of Yobe State and trekked through the Sambisa Forest for about six hours before they were rescued by security operatives.
"The three of them were abducted on the 3rd of October 2020, while the other ones were abducted on 5th of May, 2021.
"The three who were abducted at Takulashu village of Chibok; are Maryam Ishaya with one child, Racheal Simon with two children, and Esther Ayuba with two children, while Alheri Ezekiel has two children, Victoria Andrew and Victoria James also with two children were abducted from Cofure village, Hong town in Adamawa State."
Governor Zulum, who received the freed school girls and their children in his office at the Musa Usman Secretariat, Maiduguri, expressed happiness over the new development.
The governor disclosed that the government was doing everything possible to ensure speedy reconstruction and reintegration of all victims of Boko Haram terrorists into the society.
"I am very happy to receive you my daughters after you felt prey to Boko Haram terrorists. We thank God Almighty for rescuing and protecting you from the hands of terrorists.
"As government, we will do everything possible to reintegrate and support you to continue a normal life into the society as we hand you over to your respective families."
The girls were received alongside some parents, Chairman of Chibok Local Government Area, Alhaji Umar Ibrahim, traditional rulers, stakeholders, including the Chairman of Christian Association of Nigeria (CAN), Borno State chapter, Bishop Williams Naga.
Boko Haram
News
AddThis
: 
Original Author
: 
SaharaReporters, New York
Disable advertisements
: 


target=_blank rel=noopener>N6.9billion Fraud: Court Adjourns Trial Of Ex-Ekiti Governor, Fayose
A Federal High Court in Lagos State, on Monday, further adjourned until December 1 and 3 the continuation of the trial of former Governor of Ekiti State, Ayodele Fayose, over alleged N6.9billion fraud.
Fayose is being prosecuted by the Economic and Financial Crimes Commission (EFCC).
He was first arraigned on October 22, 2018, before Justice Mojisola Olatoregun, alongside his company, Spotless Investment Ltd, on 11 counts bordering on fraud and money laundering offences.
He pleaded not guilty to the charges and was granted bail on October 24, 2018, in the sum of N50million, with sureties in like sum.
The defendant was subsequently, re-arraigned before Justice Chukwujekwu Aneke, on July 2, 2019, after the case was withdrawn from Mrs Olatoregun, following EFCC's petition.
He also pleaded not guilty to the charges and was allowed to continue on the earlier bail granted, while the case was adjourned for trial.
The commission has since opened its case, and is still leading witnesses in evidence.
Meanwhile, the case, which was fixed for continuation of trial on Monday, could not proceed.
The case, which was listed in the cause list, was called at about 11.40am, as parties were awaiting one of the defence counsels.
When it was eventually called, the EFCC counsel, Rotimi Jacobs (SAN) informed the court, that having waited until almost noon, it would be better to grant an adjournment, to enable parties to come back and face the trial.
Although the first defence counsel, Mr Ola Olanipekun (SAN) had urged the prosecutor to begin examination of its witness, who was already present in court, the case was, however, adjourned at the instance of the prosecutor.
The judge had urged parties to take new dates within the year, especially as no progress had been made in the matter since resumption.
Following agreement of parties, the case was consequently, adjourned until December 1, December 2 and December 3 respectively for continuation of trial.
Legal
News
AddThis
: 
Original Author
: 
SaharaReporters, New York
Disable advertisements
: 
target=_blank rel=noopener>Security Forces Kill 32 Bandits In Zamfara Fleeing To Niger, Lose Policeman
File Photo
The joint security forces comprising the police and the military have shot dead 32 bandits in their attempt to flee from Zamfara State forests to Niger State.
According to PRNigeria, the incident took place on Sunday after the bandits attacked a security post, and gunned down five policemen who attempted to confront them.
File Photo
The incident occurred at Bangu Gari in the Rafi Local Government Area of the state.
A security source said the bandits, who fled Zamfara due to the ongoing military operation, had earlier wreaked havoc on the community.
"The bandits came in their large number with sophisticated weapons including rocket launchers after fleeing their camps at Danjibga and Munhaye in Tsafe Local Government Area of Zamfara State.
"They stormed the police station at Bangu Gari in Rafi LGA and killed five policemen during the exchange of gunfire.
"Immediately a signal was received and a detachment of joint security forces was dispatched. The troops on reinforcement successfully ambushed the marauding bandits while attempting to escape through Tegina axis.
"At least 32 of the bandits were killed including their leaders, Karki Buzu and Yalo Nagoshi while another kingpin, Ali Kawaji sustained serious gun wounds," the source said.
Insecurity
Military
News
AddThis
: 
Original Author
: 
SaharaReporters, New York
Disable advertisements
: 
target=_blank rel=noopener>Nigerian Polytechnic Student Commits Suicide In Lagos After Being Dumped By Lover
Olivia James, a Higher National Diploma student of Akanu Ibiam Federal Polytechnic, Unwana, Ebonyi State, has reportedly committed suicide in Lagos State shortly after her boyfriend broke up with her.
The deceased, who celebrated her birthday on Wednesday, October 6, was said to have consumed a poisonous substance after a misunderstanding with her boyfriend identified as Henry who is said to be on the run.
She was found unconscious in her apartment during the weekend by her friends who rushed her to the hospital, but was confirmed dead on arrival.
"She ended her life after her boyfriend ended their relationship. During the course of their misunderstanding, Henry stopped taking her calls; rather an unknown female was the one answering the calls.
"Unable to live with the realisation that the man she spent all her savings on was likely cheating and acting uninterested in their relationship, Olivia took the move of ending her life," a source said.
"She left a Whatsapp message for one of her friends about taking her life," a friend of the deceased posted.
Godswill Chinecherem Okoro, the Students Union Government's Director of Information and Publicity, of Akanu Ibiam Federal Polytechnic also confirmed the incident in a statement.
He said, "Akanu Ibiam Federal Polytechnic, Unwana loses student to suicide over heartbreak. Miss Olivia James, An undergraduate student of Library and Information Science (LIS), Akanu Ibiam Federal Polytechnic Unwana, Ebonyi State, has reportedly committed suicide over a heartbreak.
"The Student was said to have drunk a substance suspected to be sniper and was rushed to a nearby hospital where she was confirmed dead on arrival. Sources available said that she committed suicide because of her boyfriend who left her.
"A student of the Polytechnic described her death as "Unfortunate". May her Soul find rest, Amen."
News
AddThis
: 
Original Author
: 
SaharaReporters, New York
Disable advertisements
: 
Read also Nigerian Newspapers Today and Nigeria News Today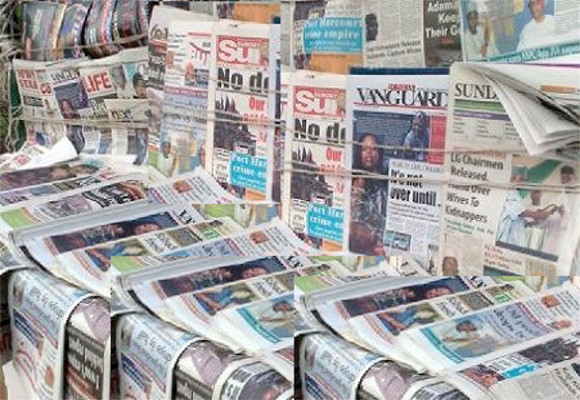 You can also check Sahara Reporters Newspaper Headlines Today