Sahara Reporters Latest News Today

Tuesday 21st September 2021

Sahara Reporters Latest News Today and headlines on some of the happenings and news trend in the Country, today 21/09/21

Read also nigeria newspapers Tuesday 21st September 2021
E2%80%99s-%E2%80%9Cbest-brains%E2%80%9D-accompanied-mannequin-un-general-assembly-new-york%E2%80%94activist How Nigeria's "Best Brains" Accompanied A Mannequin To The UN General Assembly in New York—Activist, Sowore
Human rights activist, Omoyele Sowore has knocked Nigerian technocrats and professionals who went with President Muhammadu Buhari to the United States for carrying on with the charade knowing he has nothing to offer. 
SaharaReporters had reported that the President departed Abuja on Sunday, September 19, to attend the United Nations General Assembly (UNGA), where he is expected to speak. 
According to Femi Adesina, presidential spokesman, Buhari will address the Assembly during the General Debates on Friday, September 24. 
He will be speaking on the theme of the conference and other global issues.
"President Muhammadu Buhari will depart Abuja Sunday for New York, United States of America, to participate in the 76th Session of the United Nations General Assembly (UNGA76)," Adesina had said in a statement.
"The session opened on Tuesday, September 14. The theme for this year's UNGA is, 'Building Resilience Through Hope – To Recover from COVID-19, Rebuild Sustainably, Respond to the Needs of the Planet, Respect the Rights of People and Revitalize the United Nations.' 
"President Buhari will address the Assembly during the General Debates on Friday, September 24 when he will speak on the theme of the conference and other global issues.
"In the course of the Assembly, the Nigerian leader and members of the delegation will partake in other significant meetings such as 'The High-Level Meeting to Commemorate The Twentieth Anniversary of the Adoption of the Durban Declaration and Programme of Action' on the theme –Reparations, Racial Justice and Equality for People of African Descent."
But reacting in a Facebook post on Monday, Sowore asked why a country of 200 million citizens could deploy some of its "best brains" and human resources to support a lie and a fallacy in "this mannequin."
Sowore, who posted some pictures of Buhari with some members of the delegation, including one showing the foreign affairs minister, Geoffrey Onyeama, seemingly showing the President something from a note, described the 'show' as a charade. 
He posted, "It remains a mystery to me that an entire country of 200 million could consistently deploy some of its 'best brains' and Human Resources to support a lie and a fallacy in this mannequin. 
"On this trip to the United Nations General Assembly are two well-trained pilots, at least an aeronautical engineer, at least two medical doctors, speechwriters, several lawyers, Nurses, Accountants, Policy workers, International Affairs specialists, some clergymen, and women. So, one can't imagine that there is NOT a single of men and women in these photos who could turn around and just sober up. Tell the truth that these exercises presented here are a charade as well as a facade. #RevolutionNow."
Politics
News
AddThis
: 
Original Author
: 
Saharareporters, New York
Disable advertisements
: 
Gombe Governor's Supporter Dies After Falling Off Car In Convoy
Gombe State Governor Inuwa Yahaya
 
A man identified as Ahmad Sagir who was known to be a strong supporter of the Governor of Gombe State, Muhammad Inuwa, died on Sunday after falling from a moving vehicle in the governor's convoy.
The convoy was heading towards Bajoga/Funakaye Local Government for an official duty when 30-year-old Sagir popularly called Khalifah fell off.
Gombe State Governor Inuwa Yahaya
He reportedly died on the spot after suffering from a skull fracture.
It was learnt that the governor immediately disengaged the ambulance in his convoy to take Khalifah straight to the state Teaching Hospital Gombe for better medical attention where he was eventually confirmed dead by the doctors upon arrival to the hospital.
The Director-General (DG) Press Affairs Government House, Ismaila Uba Misilli in a statement, said the governor described the young party faithful as "a respectful, hard, working and promising fellow who was known for his die-hard support for APC and Governor Yahaya's project."
The governor was said to have suspended all his engagements for the day in honour of the deceased who has since been buried according to Islamic injunctions.
Politics
News
AddThis
: 
Original Author
: 
Saharareporters, New York
Disable advertisements
: 
E2%80%99-story Kwara Government Vows To Support Community Condemned To Mud Water After SaharaReporters' Story
The Kwara State government has reacted to a video showing residents of the Dagbalodo community in the Patigi local government area digging up soil in search of water.
The AbdulRahman AbdulRasaq-led government disclosed that officials of the state would visit the village on Tuesday, adding that it was accountable for the wellbeing of the people.
While recording its past projects on water in the state, the state revealed that it had collaborated with the Nigerian government to improve rural access to hygienic amenities in Asa, Moro, Patigi, Ilorin East and other areas.
This was disclosed in a statement by the Commissioner for Water Resources in the state, Alhaji Femi Agbaje obtained by SaharaReporters on Monday.
SaharaReporters had published a video how the residents of Dagbalodo were using their hands to dig out the soil in search of water.
See Also
PUBLIC HEALTH
VIDEO: How Residents Of Kwara Community Dig The Ground With Their Hands For Dirty Water To Drink, Wash
0 Comments
1 Day Ago
In a statement titled, "Dagbalodo: We Take Responsibility For People's Welfare: Kwara Government," Agbaje said, "The government has seen a video of some community folks digging up the soil in search of water in Dagbalodo village of Patigi local government area of the state. This video is another spur for our administration to ramp up existing efforts and partnerships to bridge the inherited infrastructural gaps in not just the water sector but in virtually every area of basic human needs across the state.
"Specifically on water, the administration's recent needs assessment report has revealed acute shortage of water supply in a few local government areas such as Asa, Patigi (where Dagbalodo community is situated), Moro, and others.
"Despite the yearly budgetary allocations of billions of naira purportedly allocated to the sector pre-2019, this administration inherited no functional waterworks in the state while the entire staff of the water corporation were on strike for non-payment of salaries. That sums up the pitiable situation in the water sector.
"This administration is however not sleeping on the report it did on water shortage; neither is it proud of this preexisting precarious situation, such as the one at Dagbalodo community.
"So far, as part of its stop-gap measures to address water scarcity pending when sustainable water sources would be available statewide, the administration has dug some 500 boreholes between June 2019 and July 2021. These cut across the three senatorial districts.
"Similarly, Kwara has entered into a partnership with the FG to boost rural access to sanitation facilities, including potable water, in frontline local government areas such as Asa, Moro, Patigi, Ilorin East, among others. The choice of these areas is as a result of the acute water scarcity revealed in recent situation reports.
"The government is not relenting in ensuring that people have access to drinkable water in a sustainable way as dictated in the Sustainable Development Goal (SDG) 6 to which this administration is committed.
"Between 2019 and now, the administration has fixed nine water works across the state, including in Patigi, and is constructing new ones in Jebba and Dumagi. The results have taken Kwara from where it was, while more efforts continue to go into deepening public access to clean water in every part of the state.
"The administration takes full responsibility for the welfare of the people of Kwara State, including in deepening access to water even to the remotest corner. However, these efforts are understandably limited by resources which must be spread to other sectors like basic education, healthcare, rural and urban roads, and other human capital development indices.
"It is against this background that we call for patience and understanding while the administration continues to fill the inexplicably deep gap it inherited in public access to basic amenities, especially in the rural areas of the state.
"Finally, I will be leading a team from the Ministry of Water Resources to visit the Dagbalodo community on Tuesday to address the issue along with other such requests elsewhere in the state. This is without prejudice to the administration's overall strategy to addressing water shortage in a sustainable way through functional waterworks."
Environment
News
AddThis
: 
Original Author
: 
SaharaReporters, New York
Disable advertisements
: 
Yaba College Lifts Ban On Students Union Activities After Six Years
YABATECH
The management of the Yaba College of Technology in Yaba, Lagos State, has lifted the ban which it put on the activities of its Students' Union Government since 2015.
This directive was contained in a statement issued on Monday by its Dean of Students Affairs, O.R. Balogun.
YABATECH
The statement stated that the students' union of the institution now had the permission to continue their various activities within the campus.
It added that the management of the institution had set up an Electoral Committee presided over by its former Deputy Rector (Administration), Dr.M.A Adebakin.
The committee was saddled with the responsibility of conducting the Students' Union Election adding that the students should ensure peace reign in the school.
"This is to inform all the students that the College Management has lifted ban on Students' Union Activities in the Campus.
"To this effect, Electoral Committee chaired by the former Deputy Rector (Administration), Dr. M. A. Adebakin has been constituted to see to the conduct of Students' Union Election.
"It is hoped that the students would reciprocate this kind gesture from the College Management and conduct themselves in a manner that would ensure peace and order continues to reign in the campus. Thank you," the statement reads.
SaharaReporters learnt that the SUG activities were suspended in Yabatech six years following a spate of violence in the institution.
Education
News
AddThis
: 
Original Author
: 
SaharaReporters, New York
Disable advertisements
: 
Gunmen Kill Five Family Members In Attack On Kebbi Community
File photo used to illustrate story.
Unidentified gunmen have killed a man and four of his sons at Achiku community in the Shanga Local Government Area of Kebbi State.
TheCable reports that the gunmen invaded the village, on Friday, attacking the household and injuring several others, including children.
File photo used to illustrate story.
Bello, one of the victims of the attack, said he was with his cattle when the gunmen arrived. He said they later led him to his house where they killed his father and brothers.
He was quoted as saying, "At first, I was sleeping in the ranch when I was told that I had visitors. I saw five men and they asked if I was the owner of all the cows but I told them I could not be the owner of all as some belonged to my family.
"So I was asked by one of them if they should either chase away the cows or me. But I responded with affirmation that I could not be chased away. So they asked me to stand up to follow them but I pleaded for negotiation. While standing up, they hit me with a gun and held me tightly to go home.
"On reaching home, my brother was sleeping. My father heard our argument then he came out. To my surprise, five members of the gang were also waiting for me at home. All of them had guns (AK-47) with them.
"My father pleaded, but they started hitting him too until he fell on the ground. My brother was also hit hard. Later, they told us to sit but while trying to sit they opened fire and killed three people on the spot, and began to leave. We thought they had left until they came back to kill two other people and injured five other people in the house."
It was learnt that the injured persons were receiving treatment at the General Hospital located in Shanga town.
Some villagers have also fled the community to seek refuge in Shanga.
Insecurity
News
AddThis
: 
Original Author
: 
SaharaReporters, New York
Disable advertisements
: 
Police Stray Bullet Kills Pastor During Morning Devotion In Ebonyi
File Photo
A pastor of a church, the Glorious Gospel Fire Assembly in Abakaliki, Ebonyi State, John Onu, has been killed by a police stray bullet at his house while observing his morning devotion.
According to Tribune, the stray bullet from the officer hit the pastor in the heart on Monday and went out through his back.
File Photo
The incident reportedly happened at Nkaliki in the Abakaliki Local Government Area of the state when officers protecting a hotel belonging to one Chukwudi Onyibe, the Special Assistant to the chairman of the local government on Internally Generated Revenue, started to shoot sporadically at rioting youths of the area.
It was gathered that youths of the local government had gone on a rampage, burning houses in the area after a man in the Ebyia Upnuhu community was beaten up and died in the process.
The chairman of the local government, Emmanuel Nwangele, confirmed the incident.
He added that despite not knowing what led to crisis, the youths also set his house and some others on fire.
He was quoted as saying, "I was about to go to the village that night to calm the youths but somebody around me that time told me that it was late; that it was better to go in the morning. It was after that that I was informed that somebody died and that they are rampaging to the extent that they came to one Bosco Guest House but they were dispersed by the police. They went back home and set ablaze houses.
"I was called that they also moved to my own house and set it ablaze, destroying so many things. I said why, when I don't know the genesis of the problem? Late in the night, they also went back to that Bosco hotel. According to information, they were even trying to come to Abakaliki Local Government headquarters, but security agencies prevented them. Then this morning, they returned.
"Chukwudi Onyibe is my SA on IGR. But information reaching me says that they conveyed Ebubeagu people to go and arrest somebody who stole something and on the way to that place, they had a clash with somebody who overtook their vehicle. From there, they had some squabble; it was led by one soldier from our village who was posted out but was in the village. It was one of the Ebubeagu boys that they said had encounter with them, and my SA wasn't even with them but that he was on the steering. This was what I was told. I don't even know anything about it."
The Assistant Police Public Relations of the state Police Command, Philip Levi, confirmed the incident but said everything has been brought under control.
It was gathered that some persons were arrested in connection with the incident.
Police
News
AddThis
: 
Original Author
: 
Saharareporters, New York
Disable advertisements
: 
Court Stops Nigeria's Agriculture Minister, Research Agency From Removing Veterinary College Provost
File photo used to illustrate story.
The National Industrial Court of Nigeria, sitting in Abuja, on Monday ruled against moves by the Executive Secretary, Agricultural Research Council of Nigeria (ARCN) and the Minister for Agriculture and Rural Development, to remove the Provost of Federal College of Veterinary and Medical Laboratory Technology, Plateau State, Joseph Okwori, from his office.
This is coming two weeks after the court prevented the ARCN Executive Secretary, Garba Sharubutu, and the new agriculture minister, Muhammed Abubakar, from conducting interviews for the position of the Provost.
File photo used to illustrate story.
The court also stopped the minister from going ahead with the aptitude test for nine applicants, who were shortlisted for the Provost position, slated to hold at the College premises, Jos on Thursday, September 2, 2021.
Justice Bashar Alkali, while ruling on the application for an injunction, on Monday, said the Minister and the Executive Secretary "have no power whatsoever, to remove the applicant" (Provost) from his office, when he had not finished his tenure.
The court also frowned at the refusal of Sharubutu to honour the memo sent to him by the immediate past Agriculture Minister, Mallam Sabo Nanono, who asked him not to involve himself with the recruitment of another provost of the college.
In a memo dated June 4, 2021, which was tendered in evidence, the former Minister had advised Sharubutu to go ahead by recruiting heads of other institutions but not the Provost of the College whom he said had two more years to stay in the office.
The Executive Secretary, however, ignored this directive and rather advertised the position of the Provost of the College, and shortlisted 9 applicants for interview.
But the Provost, Okwori, had challenged the process in court and the Judge granted an interlocutory order to stop the interview scheduled for September 2.
Justice Alkali, during his ruling on Monday, specifically ordered that Okwori be allowed in office, while the parties continued with their suit.
The court affirmed that Okwori, who was appointed as a substantive Provost of the College on the 2nd July, 2018, would still be in the office till 2023, "according to the appointment letter, which has not been controverted".
A paragraph from the letter of appointment obtained by SaharaReporters read, "Consequently, your appointment which will run for a single period of (5) five years now takes effect from 2nd July, 2018. This is in recognition of your dedication and commitment to service delivery as well as your immense contribution to the development of the Green Alternative Program (GAP).
"It is expected that you would continue to lay a solid foundation for the implementation of the Mandate/objectives of the College in accordance with extant laws and other subsisting Rules and Regulations."
Education
Legal
News
AddThis
: 
Original Author
: 
SaharaReporters, New York
Disable advertisements
: 
E2%80%93-federal-lawmaker-laments Kogi Communities Now Under Bandits' Siege – Federal Lawmaker Laments
A member of the House of Representatives representing Kabba-Bunu/Ijumu Federal Constituency in Kogi State, Teejay Yusuf, has raised alarm over the rising cases of bandits' attacks in his constituent.
Yusuf said the worsening security challenges in and around Kabba in the Kabba-Bunu Local Government Area in the past one week "led to the death and abductions of persons as well as attacks on buildings, institutions, farmlands and church."
He also called for an immediate intervention by relevant security agencies and result-driven strategies that would restore peace and order in the affected communities and their environs.
This was contained in a statement Monday titled, "Rising Spate of Armed Banditry, Kidnapping, Killings in Kabba, Calls for Immediate Action, Change of Strategy by Security Agencies – Hon. Teejay Yusuf."
The lawmaker who commiserated with the victims of the attacks asked why "these faceless bandits decided to unleash terror, brigandage and pains on residents of these communities and the entire LGA, who are generally peaceful, law-abiding, accommodating, while going about their normal daily activities."
He said, "It is not only shocking but very painful that within days, the bandits turned Kabba-Bunu LGA to their target, unleashing sorrow, grief, pain and wailing on the people.
"First, it was the Gestapo-style attack on the Kabba Correctional Centre where many inmates were forcefully released. Next was the abduction of three poultry workers in Egbeda, a community in Kabba. Shockingly, these bandits, last Sunday, attacked worshippers at the ECWA Church in Okedayo, Kabba, leading to death, kidnapping and injuries to innocent people."
Yusuf added that at the end of the attack on the ECWA Church, one person reportedly died, while two persons, including the pioneer Provost of College of Education (Technical), Kabba, Chief Oshadumo J.O.T, were abducted, with his wife, some students and other worshippers sustaining gunshot injuries.
He added, "It is shocking that a group of people with evil minds and devilish attitudes will carry out such cruel, barbaric and animalistic actions on communities and people known for hard work, love, peace and unity. These heinous, senseless, and unimaginable attacks are not only outright callous, but also inhuman and clear demonstration of vicious wickedness at its zenith.
"Indeed, this spate of recent gruesome attacks on communities in Kabba-Bunu LGA, as well as other similar bandits' operations in other communities in Kabba-Bunu Ijumu Federal Constituency and the entire Okun nation, should be serially condemned by everyone.
"As a result of their activities and operations, the peace-loving people of Okun Nation now live in perpetual fear, anxiety and worries. Also, trading and economic activities have been badly, grossly affected. Given the agrarian nature of our communities, people can no longer go to their farms for fear of intimidation, attacks, maiming, kidnapping and killings by these bandits."
Insecurity
AddThis
: 
Original Author
: 
SaharaReporters, New York
Disable advertisements
: 
EXCLUSIVE: After Shutting Down Zamfara, Governor Matawalle Jets To US As Wife Delivers Baby Abroad
Zamfara State Governor Bello Matawalle
Governor Bello Matawalle of Zamfara State has left the country for the United States of America, after vowing that he would limit his movements and share in the ban on mobile telecommunications in the state.
The governor had also said the ban would remain until the bandits terrorising the state were dealt with.
Zamfara State Governor, Bello Matawalle.
A source told SaharaReporters on Monday that the governor last week sent his wife to the United States where she was delivered of a baby girl.
SaharaReporters gathered that Governor Matawalle left for the US with other members of his family to meet the wife and the new born baby.
The baby is expected to be named during their trip.
"They are expected back in the country on Sunday, September 26," the source told SaharaReporters.
Speaking to SaharaReporters, a government official confirmed the governor travelled to the US.
He, however, said he left the country as part of President Muhammadu Buhari's entourage to the 76th Session of the United Nations General Assembly (UNGA76).
Deadly attacks have raged across Zamfara State where bandits have thrived.
See Also
Exclusive
BREAKING: Nigerian Government Orders Telcos To Shut Down Mobile Phone Services In Zamfara As Bandits Take Over State
0 Comments
2 Weeks Ago
Farming and herding communities in the state have long been terrorised by gangs who raid villages, stealing cattle and kidnap residents for ransom.
In 2019, the state government entered a peace agreement with the gunmen.
About 15 brand new Hilux vehicles and cash gifts were also given to leaders of different 'repentant' gangs of bandits by the governor in 2020.
But despite all these, communities in the state are still being attacked and residents kidnapped and/or killed.
To curtail the banditry, the government about two weeks ago placed ban on mobile telecommunications network.
There are also restrictions of movement in some parts of the state even as markets, banks and other commercial places have been shut.
The Nigerian Communications Commission (NCC) directed mobile telecommunications network providers to shut down their networks in Zamfara State for two weeks as part of measures to tackle the activities of bandits.
Sources told SaharaReporters that people in the state now travel to Sokoto and Funtua in Katsina State to make calls, send messages and do financial transactions.
The ban was expected to expire on Friday, September 17. But speaking via BBC Hausa Service, Matawalle said it will continue indefinitely.
Politics
Exclusive
News
AddThis
: 
Original Author
: 
SaharaReporters, New York
Disable advertisements
: 
E2%80%99s-anti-graft-agency-efcc-akwa-ibom Court Convicts 17 Fraud Suspects Arrested By Nigeria's Anti-graft Agency, EFCC In Akwa Ibom
The Economic and Financial Crimes Commission (EFCC), Uyo Zonal Command has secured the conviction of 17 Internet fraudsters before Justice Stephen Daylop Pam of the Federal High Court sitting in Port Harcourt, Rivers State.
The convicts are; Valentine Moses Ukong, Ebuka Kelvin Uzokwe, Onedo Elohor Caleb, Godson Lekia Tophie, Achilonu Moses Chidiebere, Monshe Oloko Pius, Samuel Egu Ezeh, Akobo Joseph Chikone, Morayor Jerry Shina and Obioma Joel.
Others are Modey Terrence Akong, Abang Godswill Iyurinyi, Emmanuel Chika, Prosper Okpubeku, Obikwelu Bright Ugochukwu, Enajemo Oghenekaro and Effiong Akaninyene Essien.
The convicts were among 33 suspected internet fraudsters apprehend in a series of operations at different locations in Calabar on Thursday September 9, 2021.
This was disclosed by Head, Media and Publicity of the Commission, Wilson Uwujaren, on Monday.
They were each convicted after pleading guilty to separate one count of charge that bordered on criminal impersonation and identity theft with intent to obtain property and gain advantage contrary tothe Cybercrime (Prohibition, Prevention, Etc) Act 2015.
All the defendants with the exception of Godson Tohie and Achilonus Chidiebere bagged six months imprisonment with various options of fine ranging from N50,000 to N10,000.
CRIME
News
AddThis
: 
Original Author
: 
SaharaReporters, New York
Disable advertisements
: 
Read also Nigerian Newspapers Today and Nigeria News Today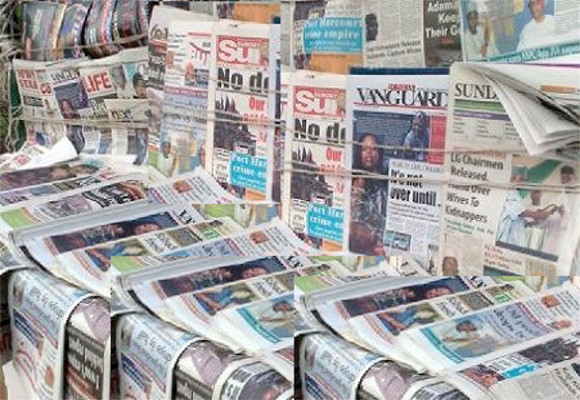 You can also check Sahara Reporters Newspaper Headlines Today