Sahara Reporters Latest News Today

Wednesday 15th September 2021

Sahara Reporters Latest News Today and headlines on some of the happenings and news trend in the Country, today 15/09/21

Read also nigeria newspapers Wednesday 15th September 2021
E2%80%93 target=_blank rel=noopener>Buhari'll Decide Fate Of Suspended Police Chief, Abba Kyari Despite Readiness of Probe Report– Minister
The Minister of Police Affairs, Muhammad Maigari Dingyadi says President Muhammadu Buhari will take the final decision on the suspended and disgraced former head of the Intelligence Response Team, Abba Kyari.
Dingyadi disclosed this on Tuesday while featuring as a guest on Channels Television programme 'Politics Today'.
He said the Nigerian government is trying to ensure that due diligence is done on the matter because it has international connotations.
The minister said, "The issue of Abba Kyari has become a public domain and I think by now everybody has heard that the police in their very wisdom, in their usual way of becoming transparent and fair to all have set up a committee to investigate all these allegations".
"We have also reported that the committee has submitted the report to the Inspector General of Police (IGP). We have also submitted this report and recommendations to the Attorney-General of the Federation for a legal opinion, thereafter, we will take it to Mr President for final consideration.
"So, you can see that even though this matter is a local matter here, it has some international connotations.  We have to do some due diligence to ensure that we do the right thing. We have to do some consultations with the Ministry of Foreign Affairs, Ministry of Justice before a final decision will be taken.
"But what is important is that Nigerians should know that the police management is up and doing and they have done what they are supposed to do. I hope people will wait and see what actions will be taken on this matter."
Kyari had been indicted by the FBI in a $1.1 million Internet scam allegedly carried out by a serial internet fraudster, Ramon Abbas, aka Hushpuppi and four others.
The commission had earlier suspended Kyari with effect from July 31 pending the outcome of the police investigation.
Politics
News
AddThis
: 
Original Author
: 
SaharaReporters, New York
Disable advertisements
: 
E2%80%98repentant%E2%80%99-bandits-society-even-though-they-are-criminals target=_blank rel=noopener>Nigeria Will Integrate 'Repentant' Bandits Into Society Even Though They Are Criminals, Committed Atrocities – Buhari's Minister
Maigari Dingyadi
Nigeria's Minister of Police Affairs, Maigari Dingyadi, has said 'repentant' bandits deserve to be reintegrated into society because they are Nigerian citizens.
Dingyadi spoke on Tuesday during an interview on Channels Television, which was monitored by SaharaReporters.
Maigari Dingyadi
Some Boko Haram terrorists terrorising the North-East and bandits terrorising terrorising North-West Nigeria have been surrendering their weapons and given amnesty, a move that has attracted public criticism.
Answering questions about the window of opportunity available to 'repentant' bandits, the minister said since they are Nigerians and have surrendered their weapons, they are free to rejoin society.
He said, "When you talk of amnesty, it is a relative term and what the Federal Government is trying to say is 'Let us see those who have surrendered their arms, let us listen to them, let us chronicle them, let us receive them. We cannot just throw these people away because they are all Nigerians. 
"Of course, they are criminals. They have committed atrocities, they have committed crimes, but according to the international laws, when you surrender from a war zone, you are not killed, you are not maimed, you are allowed to have your say. We are listening to them to see how we can integrate them into the larger society. What we are trying to do is to get them settled in their various communities, to let them have a kind of means of livelihood so that they can integrate peacefully and honourably into the society."
Speaking further, the minister noted that "anybody willing to surrender and do it honourably and honestly, government is ready to listen, government is ready to see what they can do to settle them down without much cost.
"As a nation we have responsibilities to our citizens, to integrate them with the little that we can afford to give them and we will continue to monitor what they are doing in their various communities to ensure that they don't go back to their old days of armed banditry and all of them. We will monitor them and ensure that they don't go back to their bad old days of armed banditry and kidnapping."
Recently, the governor of Katsina, one of the states mostly affected by banditry, Aminu Masari expressed regrets that he gave bandits amnesty, stating that he was wrong to have believed that they repented years back.
According to Masari, the amnesty he granted bandits in 2016 should never have happened.
"The only thing I say is with the benefits of hindsight, I wouldn't have done it because at that time when we started in 2016, there were leaders. But gradually, all the leaders were eliminated. That was the failure of the first round," he said.
Politics
News
AddThis
: 
Original Author
: 
SaharaReporters, New York
Disable advertisements
: 


E2%80%99s-states-will-struggle-collect-vat-cheta-nwanze target=_blank rel=noopener>Why Nigeria's States Will Struggle To Collect VAT By Cheta Nwanze
The Federal Inland Revenue Service, on behalf of Nigeria's federal government, has been locked in a legal tussle with the Rivers and Lagos state governments over the collection of value-added tax. In the last few minutes, a VAT collection Bill, similar to the aforementioned two states, has passed the second reading in the Ogun State House of Assembly. It is going to become a law. 
 
The return to civilian rule in 1999 gave some states, starting with Lagos, the courage to challenge the Federal Government on various parts of tax collection. After Lagos lost on a technicality at the Supreme Court in 2014, it kind of relaxed, but now that the Rivers State Government has successfully challenged the powers of the Federal Government to collect the VAT, Lagos is back on the hunt. I expect the current kerfuffle to go all the way to the Supreme Court, and even at that, I think that there will be movements in terms of trying to change certain laws after the apex court has delivered a ruling.
At the base of this rumble is a lingering battle for legitimacy by the Nigerian state, symbolised by the federal government. One of the ways Nigeria is being slowly restructured can be seen in the manner in which its federating units are steadily gnawing at the Federal Government and usurping authority for themselves while the latter looks on almost helplessly. The outbreak of the coronavirus pandemic in Nigeria in early 2020 ushered in an opportunity that some state governors took advantage of. When the Federal Goverment moved to lock down Lagos, Abuja and Ogun at the end of March 2020 as a means of curtailing the spread of the virus, other state governments took matters into their own hands and locked down their states. The pandemic coordination efforts were largely spearheaded by the Federal Government under the leadership of the Secretary to the Government of the Federation, Boss Mustapha, but one could witness how governors damned federal authority. Cross River and Kogi for instance refused to test for the virus and despite all anecdotal evidence to the contrary, consistently declared that the virus did not exist in their states. As a result, the NCDC did not get Covid data from those states. Furthermore, the manner in which the lockdowns were enforced by the states gave a window into how state policing would be implemented – the very same abrasive, rash and blanket use of force that we have come to know and love is to be expected from state police forces. 
 
This battle for legitimacy will also be felt in the area of tax collection. International financial institutions like the World Bank and the IMF have entrenched a belief that Nigerians do not pay tax, or that taxation is only focused on the formal sector. Nigerians have also parroted this for years. However, recent findings from SBM Intelligence showed that Nigerians are among the most overtaxed in the world, and this is important. There is a world of difference between not wanting to pay tax at all yet going ahead to pay, and not wanting to pay tax and successfully evading tax. Nigerians pay tax, but to whom? While the state is focused on taxing the formal sector, the informal sector is being taxed by non-state actors, most of them armed and out of control. In Lagos – the state with the largest contributor to the VAT purse – there is a huge tax base not controlled by the government, but by area boys who shake down business owners and remit very little to the state coffers while the government looks the other way. Perhaps this is the state government's own way of creating employment for many young people in the state who would otherwise have nothing to do. This however means that the state has subcontracted its basic authority to non-state actors, a sign of its receding legitimacy.
 
In areas outside Lagos, the political implication of this fight for, or loss of legitimacy, is seen in multiple ways – Nigeria loses vast areas of its territories to armed groups that have more or less assumed state functions. The Islamic State West Africa Province demonstrates this fact ever so clearly. In areas around Lake Chad, it has set up a rival government and appointed emirs to oversee various state functions such as the enforcement of and collection of taxes such as cattle and farm taxes. ISWAP's success is largely predicated on providing what the Nigerian state has failed to provide for people under its control – a social contract, social amenities and a form of security. Despite the near-constant air raids by the Nigerian military, ISWAP has been able to do one thing right: provide security and relative stability for people under its control. It did that simply by not antagonising those who accepted its way of life, but by choosing rather focus its insurgency on the Nigerian military. There are other groups that are doing similar stuff in other parts of the country. Proto-states if you like.
 
The struggle over VAT will lead to many consequences – some intended. What is not being seen amidst the banal noise is the possibility of states struggling to raise VAT in the near future for one single reason: at the beginning of the life of a state, the state has a lot of believers, and thus little or no problems raising revenue. At that point, it can easily meet up with its basic task – providing security and stability. As the population expands and the state grows, it may struggle to maintain control if it loses legitimacy, thus depleting its revenue sources. It is ironic because a rapidly expanding population should provide the basis for increased revenue. States that are unable to maintain legitimacy struggle to raise revenue, opening up vacuums for non-state (not necessarily violent) actors to fill. When such people fill such vacuums, they tend not to give back such proceeds to the state because they feel they have done the work the state failed to do for them. The state does not think so, and thus resorts to the use of force to extract tax. This reinforces the crisis of legitimacy as the people at the receiving end of that force are left with no other option but to perceive the state as an illegitimate entity. 
 
Nigerian states have not put the necessary mechanisms in place to extract VAT, and the federal government will continue to focus its attention on the formal sector. The only state which appears to have this under control is Lagos but its dependence on louts to extract tax reduces its legitimacy in the eyes of its people. 
 
The VAT debate is great for all of us as the centralised Nigerian structure has clearly failed. But underneath it all is a crisis of legitimacy for Nigeria's states, perhaps best put in words by the Ebonyi state governor, David Umahi (who supports FIRS) when he said, "Our very weak states must be taken care of before we say let everybody control their resources." 
 
I do not believe that the states at the forefront of this push have sat down to count the cost.
 
Nwanze is a partner at SBM Intelligence
Opinion
AddThis
: 
Original Author
: 
Cheta Nwanze
Disable advertisements
: 
E2%80%93minister target=_blank rel=noopener>Private Jets Owners In Nigeria Involved In Gold Smuggling, Need Closer Monitoring–Minister
Uche Ogah
The Minister of State for Mines and Steel Development, Uche Ogah, has alleged that owners of private jets in the country are responsible for the high cases of illegal smuggling of gold outside the shores of Nigeria.
Ogah made the disclosure to the Senate on Tuesday in Abuja at an investigative hearing on $9 billion annual loss to illegal mining and smuggling of gold.
Uche Ogah
Speaking at the hearing organised by the Senate Committee on Solid Minerals, Mines, Steel Development and Metallurgy, Ogah alleged that owners of private jets are masterminds of illegal mining in Nigeria.
Ogar, who lamented the rate of illegal mining in the country, said all efforts to end the menace have failed because according to the Nigeria Customs Service (NCS), it has no powers to check private jets.
He added that illegal mining in Nigeria started in the early 1980s as a result of the indigenisation policy of the military regime in the late 1970s.
He suggested death penalty as punishment for offenders, saying, "Gold smuggling in Nigeria is often done using private jets, the very reason private jets ownership and operations need to be streamlined in the country."
SaharaReporters had earlier reported that Ogah accused the Godwin Emefiele-led Central Bank of Nigeria of not contributing to his success as a minister after abandoning the steel and mining sector.
The minister's attack came following speculations that the Abia State-born politician is one of President Muhammadu Buhari's appointees struggling hard to find their feet in the administration.
He further alleged that nothing is being done by the apex bank to develop the sector, adding that more investment is required in the area of research to develop the sector.
The public hearing was designed to get the inputs of stakeholders on the preparations of four bills and for an investigative motion for the solid minerals sector.
The bills included the Nigerian Minerals Development Corporation Establishment Bill 2021 and Solid Minerals Producing Areas Development Commission Establishment Bill 2021.
Others also were the Institute of Bitumen Management Establishment Bill 2021, Explosive Act 1964 Repeal and Re-enactment Bill 2021 and the urgent need to investigate the loss of 9 billion dollars annually, due to illegal mining and smuggling of gold.
He said, "Equally, we need to ask the Ministry of Finance to speed up the export policy on solid minerals because that is the only way to have operators into the sector."
On the bill for the establishment of the Nigerian Mineral Development Commission (NMDC), Ogah said he would want an enlargement of the minerals listed there.
He said, "Let us not limit ourselves to only seven minerals because we have other minerals that are needed for industrial revolution.
"We must look at how to fast track development of these mineral resources, and so we must look at the relationship between the ministry and the state governments.
"States must be ready to be involved in driving the production of mineral resources, not just talking about the resources been cited in the states. States should work toward getting institutions to help drive the development of solid minerals resources in their states.
"We need to harmonise all the issues, so we could have a clear direction for the growth of the sector."
Politics
News
AddThis
: 
Original Author
: 
SaharaReporters, New York
Disable advertisements
: 
target=_blank rel=noopener>Who Promoted Dr. Isa Ali Ibrahim Pantami To The Rank Of Professor….? By Dr. Nasir Mansir
Isa Pantami
Professorship is only attained by active academics who devoted their time for teaching and research in the University. Besides, there are certain steps that are followed before any one in academia is promoted to the rank of Professor. Someone need to pass through the ranks like every other professional cadre.
In the University promotion system, an academic needs to attain the rank of Senior lecturer, Reader and then Professor after having published the required number of scholarly articles in his research area. Time in rank is also important for promotion to the next rank in academia particularly University, it is usually three years between the successive ranks.
Isa Pantami
For anybody to be promoted to the rank of professor, he/she needs at least ten years teaching and research experience in the University. Dr I sa Ali Pantami has not been active in academia for more than six years now.
In order to do justice to Dr Pantami, with regards to the recent rumour of been promoted to the rank of Professor, I run a background check on popular scholar indexed citations website such as Google Scholar and Research Gate to see his recent scholarly contribution on cyber security but found little or insufficient to qualify him to be promoted to the rank of Professor. Dr Pantami as a modern scholar has only Research Gate account with only 23 citations and  Research Gate score of 3.66.
Academic publications are entirely different to the other forms of publications public figures such as Hon Minster Dr Isa Ali Pantami presented during meetings or retreats. Articles are accepted as scholarly articles after passing through different vigorous blind reviews by professionals in different acadmic profession before been publiahed. In fact most of the standard journals reject more articles than they are accepted for publications.
I am not in anyway trying to demean Dr Isa Ali Pantami, in fact I am personally his fan, but when it comes to something very critical as this one, we need to ask questions.
My question is that, who promoted Dr Isa Ali Pantami to the rank of Professor?
Opinion
AddThis
: 
Original Author
: 
Nasir Mansir
Disable advertisements
: 
target=_blank rel=noopener>BREAKING: Ondo Governor Calls For Prayer, Says 'Evil' Men Planning Attacks On State Over Anti-Open Grazing Law
Ondo Governor Rotimi Akeredolu
Ondo State Governor, Oluwarotimi Akeredolu (SAN) has said his administration is ready to protect the lives of the people of the state at all cost.
Akeredolu said although some people are not happy with the recently signed anti-open grazing law in the state, he will stand by it and ensure that farmers are saved from losing their farm crops to an outdated open grazing practice.
Ondo Governor Rotimi Akeredolu
The governor spoke in his office on Tuesday while receiving the Pastorate of the Deeper Christian Life Ministry, led by the State Overseer, Pastor Jacob Asubiojo.
This was disclosed in a statement the Chief Press Secretary to the state governor, Richard Olatunde posted on his Facebook page on Tuesday.
According to the statement, Akeredolu noted that the law was not targeted at anyone.
The governor was also said to have noted that the state chapter of the Miyetti-Allah Cattle Breeders Association of Nigeria was ready to cooperate with his administration on the open grazing ban.
The governor also announced that the state government is partnering with the Food and Agriculture Organization (FAO) to train herders on feedlot (a type of animal feeding operation).
The statement quoted the governor as saying: "I want to urge you to intensify your prayers for us. We need it. You have referred to our efforts in trying to secure this our homeland. We have made efforts, we established Amotekun and banned open grazing.
"It is not what is pleasing to everybody. Some people are not pleased with us. We are ready to stand by it and face whatever it will cost us. Pray for us. Amotekun and the anti-open grazing law are not pleasing to some people and they are gathering together, planning evil. Pray for us. Their evil will not work.
"What we are saying is that your herds can not keep destroying our crops. The FAO has come and we have discussed it. The Miyetti-Allah here in Ondo appears to want to cooperate with us because they know that when their cows destroy crops, we seize their cows and they pay the farmers before they are released.
"The FAO will train them on how to do feedlot. They will be trained to make feed and take it to the cows. We are not discriminating against anybody. We just want to make it clear that you can't make your own ends meet and destroy other people's source of livelihood. We know your prayers are very important to us. We need it."
Insecurity
Politics
Breaking News
News
AddThis
: 
Original Author
: 
SaharaReporters, New York
Disable advertisements
: 
target=_blank rel=noopener>Pay N1million Compensation To Motorist Over N28,000 Extortion, Lagos Court Tells Oshodi Local Government
File photo used to illustrate story.
An Ikeja High Court has ordered Oshodi Local Government Area of Lagos to pay the sum of N1 million as compensation to a motorist, Mr Louis Idahosa for extorting him of N28,000.
 
Idahosa was extorted of the said amount for allegedly driving against traffic (wrong-way driving), Tribune reports.
File photo used to illustrate story.
Justice Obafemi Adamson said it was not part of the constitutional duties of local governments to impound vehicles and inflict traffic-related penalties on road users.
The judge, therefore, described the action taken by the local council officials as illegal, saying it is contrary to fundamental human rights as contained in Sections 34, 36, 41(1) and 44 of the 1999 Constitution.
 
Apart from the award of N1 million to the applicant for breach of his right to fair hearing and freedom of movement, the judge ordered the local council to refund N28,000 to Idahosa and also gave an injunction restraining Oshodi Local Government Area from harassing road users.
It also awarded a cost of N100,000 against the counsel for Oshodi local council, Mr L. O. Mazoke.
"An Order is hereby granted directing the respondents (Oshodi LGA) to refund to the applicant (Idahosa) N28,000 which was extorted from him under the guise that he drove one-way without affording him a fair hearing.
 
"An Order of perpetual injunction is hereby granted restraining the respondent or its agents from harassing, threatening or arresting motorists or road users for traffic offences, imposing fines and impounding vehicles.
 
"Doing so is ultra vires (beyond legal power or authority) their powers outlined under the 1999 Constitution of the Federal Republic of Nigeria (as amended)," Justice Adamson said.
Idahosa had via his legal counsel, Emmanuel Eze filed a fundamental human rights suit dated September 3, 2019, against the local government.
Eze told the court that Idahosa on August 28, 2019, while being chauffeured in his Toyota Corolla car with registration number KRD551CZ, in Oshodi/Isolo Local Government Area, they were accosted by six men who were not in uniform.
 
"They stopped and arrested Idahosa and his driver insisted that the driver's wrong-way driving contravened traffic laws.
They were subsequently taken into the council office.
 
"Idahosa insisted that if any crime had been committed, he and his driver should be arraigned in court.
 
"Officials of the respondent did not agree to an arraignment but resorted to harassing, intimidating and threatening them with continuous detention.
 
"The applicant was forced to pay N28,000 into the respondents' treasury.
 
"He however discovered that only N25,000 was written on the receipt issued and upon enquiry, he was informed that the outstanding N3,000 was gate pass fee," Eze said.
 
Oshodi local council, in court documents, however, denied ever extorting Idahosa and his chauffeur, claiming the persons who arrested and extorted them were not working for the local government.
 
Legal
News
AddThis
: 
Original Author
: 
SaharaReporters, New York
Disable advertisements
: 


target=_blank rel=noopener>The Ultimate Maestro (Victor Efosa Uwaifo, (1941-2021) By Niyi Osundare
Niyi Osundare
Siwo  siwo  siwo
Siwooooooooooooooo
 
     He was Nigeria's closest instance of the Renaissance Man: musician, sculptor, inventor, sportsman, architect, scholar, mythmaker, lay philosopher, folklorist, and culture ambassador/impresario. A true Jack of many trades who strove so hard to be master of all, he was a man of  many capabilities , with a voice that was admirably polyphonic. His impulse was both idealistic and relentlessly pragmatic.  Endowed with a vision that was acutely focused and seamlessly eclectic, he developed a practice that was proudly traditional and transgressively modern. This plural propensity, this borderless inter-connectedness are the defining characteristics of his vast artistic empire; for the rhyme and reason  which power his music are but close cousins of the ones that energize his numerous  undertakings, and the tempo of his countless dreams.
     Victor Efosa Uwaifo was a doughty dreamer and daring doer whose operational philosophy was: do it different, do it new, do it well…. An artist of boundless curiosity and enormous energy, Uwaifo has blessed our world with works which ply the delicate interface  between surrealism and realism, the doable and the done. How can one ever forget  that sitting-room in his capacious  Benin estate, shaped like  a 'sculpted' airplane with its small oval windows and imaginary cockpit; or that salon car in his driveway fitted with a plane engine's rotor blades instead of the usual automobile radiator fan – a feat which evokes telling intimations of the engineering experimentations of Professor Ayodele Awojobi, another Nigerian dreamer and doer?
Niyi Osundare
     From music to sculpture to engineering, and back to music again, and then you ask: where does Victor Uwaifo get his magic from? Just what is the secret behind his high-minded aspirations and multifarious achievements? Whence comes his pluck, then his pride? The answer to these questions is as clear as the Benin sky on a cloudless day: exemplary family pedigree coupled with the enabling influence of Benin culture, without doubt, one of the richest, deepest, and most resilient  of its kind in the world. On every Uwaifo sculpture are fingerprints of ancient, unforgettable ancestors. In his very voice are tone-marks, reverberations, and echoes of maestros who sang when time was young and silence was  golden. In the very air which sustains his being are the intimations and breaths of forebears who left but never departed. Uwaifo's prodigious creativity had a soil to nurture its roots, a wind to spread its fame, a sky of limitless lore and sympathetic spaces to unfurl its wings. Our maestro never lost sight of his status as a vital link in this long chain of History and Culture, and his role as worthy legatee,  inheritor, and propagator.
 
Siwo siwo siwo
Siwoooooooooooooo 
 
     Distinctively hearable in virtually every Uwaifo piece, therefore, is the riveting resonance of the Benin Song, its lungful laughter, its sorrowful tonality, its throbbing, threnodic intensity, its mythic memorability, its sombre  reflectivity, the overwhelming force of its sonorous musicality that sometimes brings goose pimples to the listener's body and/or tears to their eyes, the call-and-response rubric of the song which turns casual listeners into enthusiastic choral participants. As my father, himself an accomplished drummer and singer, used to say, you do not hear a Benin song with your ears; you hear it in your heart and your stomach, on its way to your mind.
     The performative power and affective magic of this music genre took the Nigerian music scene by storm in the 1960's, and many of us who encountered it in our early years have found it difficult to outgrow its stubborn  'addictiveness'. There is just something in the seductive sonority of Uwaifo's voice and riveting twang of his guitar that never leave the ears alone. Personally, a day hardly passes without my humming an Uwaifo tune, especially in the showers, or when I am at a knotty juncture in the creative process.
     My first experience of  Uwaifo's  magic occurred around Christmas in 1965 in that most famous of all cities, Ikere – Ekiti,  at a party hosted by a fellow 'Grammar School' student, who happened to be a lovely princess of the reigning Oba. The party began on a happy, lively  note as we teased the air with tunes by the leading highlife kings of the period: Rex Jim Lawson, Roy Chicago, Victor Olaiya, Eddy Okonta, Dele Ojo, I.K. Dairo. But just as our pleasure was heading towards a premature plateau, in came two colleagues who had just returned from Lagos where they had spent the first half of the Christmas holiday. They didn't only come with a 45 RPM vinyl copy of a new Uwaifo record; they also came with a new way of dancing to it. As the stylus touched the glistening  grooves , our overworked turntable erupted with Do Amen Amen Do. The atmosphere created by the new tune was nothing short of electric. The audience leapt to their feet, and the dance floor was filled to capacity. After three or four encores, the rave shifted to the flip side, and Eralo Gbengigialo took possession of the wind, then, the dancers. 
     The dance style imported from Lagos by my two colleagues was itself imported into Nigeria from  Ghana. Kpanlogo, as it was called, was a drum-driven, gong-accentuated,  rhythm-powered dance style thoroughly physical in its energetic joyousness and  harmonious deployment of the entire body. Victor Uwaifo's early music fitted so serendipitously into the kpanlogo dance pattern as if one had been invented for the other. To this day, I have never stopped wondering whether it was Kpanlogo which found Uwaifo, or if it was Uwaifo that went in search of Kpanlogo. But one thing is sure: with its vigorous danceability and rapturous rhythmicality, Uwaifo's music demonstrates two of those characteristics so indigenous to Benin music in its social and spiritual realms. For over 10 years from the mid-sixties, Kpanlogo and Uwaifo's music promoted each other in an interesting instance of mutual beneficence. Some of my colleagues still remember that bright afternoon in December 1965 when we encountered the Uwaifo magic for the first time, and how we became his lifelong fans and admirers.  
     Uwaifo's music grew and developed over the years as new numbers dropped from his stable with melodious rapidity: Siwo Siwo; Oliha, Ebiss Ebiss, Sesese, Agege Ogigbo.  The Maestro went from the fast-paced beats of the early days to the genteel, dancehall-like tempo of the likes of Joromi, the dramatic, myth-making narrativity of Guitar Boy, and the light, many-voiced rally of the Ekassa and Akwete  series. The tribe of Uwaifo fans enjoyed an exponential increase. Gold discs (about a dozen of them) poured in as rewards of his genius. The nation welcomed a song type so  modern in its traditional virtuosity.
     Then, with his music career all set and steady, the man who all along had taught us so much about culture decided to go back to school himself. A fortunate University of Benin threw open its door to the Kingdom's famous son and one of Nigeria's most valued culture ambassadors. Student Uwaifo snapped up the B.A. with a dazzling First Class, followed up with an M.A., and topped it all up with a prestigious Ph.D. Thereafter, the University wasted no time in offering him a place as distinguished academic. Thus the  life of Victor Uwaifo was a chronicle of aspirations searching, constantly searching, for fulfillment. Ever before his engagements at the University of Benin, our Melody Maestro was already a university person in sense and spirit; and his university was one with its universe securely steady and intact.
     I saw Victor Uwaifo many times from a respectful distance, and he and I met only once. That was at the 1994  annual convention of the Association of Nigerian Authors (ANA) which held at the University of Benin. Facilitated by the scholar-writer Asomwan Adagbonyin, that meeting, short as it was, brought me up close  to the wit, charm, and easy manners of Nigeria's Ultimate Maestro. Surprised and flattered by his open declaration before the ANA audience that he was dedicating his performance that night to me, I couldn't help the onrush of powerful memories of that bright afternoon in December 1965 when I encountered his music for the first time. When I told him how much I admired the largeness of his soul and immensity of his gifts, his response came sharp and direct: 'that admiration is mutual'. I was not sure if  he ever knew  how so deeply touched I was at his generous reply!
 
Siwo siwo siwo
Siwoooooooooooo
 
    His personality was an example, his life story a parable. Here was a man with an unassailable belief that he could be whatever he chose to be. A practicing musician with a doctorate degree in Visual  Arts; a practical philosopher who pondered the relationship between sound and light; a sculptor who conjured lifelike images out of clay and wood and bronze; a thinker who plumbed the deep structure of culture in tandem with its surface realities; a songmaster who deepened the mutual traffic between melody and memory; an archivist who never lost sight of the neglected Muse of the Nigerian museum;   a proud man, ebulliently self-assertive, uncontainable by small spaces; a Guitar Boy who saw Mammy Water and never ran away; a Maestro who sang the endless song. 
     That was/is Victor Efosa Uwaifo: a culture-conscious, legacy- literate creative activist who has contributed so much to the restoration  our cultural memory and propagation of our music. We hope Edo State in particular and Nigeria in general will reward his incredibly valuable life of dedication by making sure that his achievements never die, that his legacy endures. Let Nigeria banish her famous addiction to willful amnesia and ensure that the world does not forget the life and accomplishments of this remarkable man 
      Rest in power, Victorious Uwaifo. Here below, that song which I sang for you many seasons ago when you were here with us on this side of the Great River:
 
           FOR VICTOR UWAIFO
 
(In the background throughout, a medley of Uwaifo's songs)
 
     Siwo siwo siwo siwo…
 
Your voice nestles in the eaves of my memory,
Its red-earth vigour tremulous
Between sappy laughter and a silence
Which left its echoes in the larynx 
Of throbbing legends  
 
Wafting past the lyrical beauty of painted thresholds,
Through doors which breast the streets
Like defiant sentries, and shrines where once 
Gods swayed through the portals of the sky,
Leaving their word and wand behind
 
     Do Amen   Amen  dooooo
 
You sing of Dawn and mysty Stars
When Earth was music
And Rivers danced towards the Sea
With a chorus of capering minnows
Your melody came before the rhythm of the First Rain
 
Oh that haunting sonority,
That mellow magic in the elbow of a voice!
The guitar's wailing incantations,
Rainbow drums which prompt 
Every moment into an eternity of motions
 
     Oserie….
 
So rivetting, the rhythm of your Red-Earth City
Rhythm of Clay, rhythm of Bronze
Rhythm of ancient hands proclaiming
Miracles of mask and meaning
Rhythm of the snail's millennial sigh at Siloko Market
 
Echoing forests, pulse of the Panther
Skirted undergrowths dense with daring
And when my Hunter-Minstrel charged
His lips with a flute
Trees broke into a dance beyond recounting
 
Melody Maestro,
The universe glows in the melody  of your magic;
Your athletic virtuosity, the prodigy of your gifts
Unborn seasons thrive on the honey of your voice
The ivory sonority of your endless song
 
     Joromi jo mi o, jo mi jooooooooooo….
 
                                                 Niyi  Osundare
 
Opinion
AddThis
: 
Original Author
: 
Niyi Osundare
Disable advertisements
: 
E2%80%9Cbiafra%E2%80%9D-must-die-so-igbo-self-determination-can-live-part-2-ndidi-uwechue target=_blank rel=noopener>"Biafra" Must Die So That Igbo Self-Determination Can Live – Part 2 By Ndidi Uwechue
Ndidi Uwechue
Historians may well record that the use of the word "Biafra" to get self-determination has been the biggest scam of the 21st Century. Those pulling it off are banking on several things: a population that does not like to read, emotionalism, and corruption.
 
By reading, one would have learned that the word "Biafra" does not meet the required criteria when it comes to obtaining self-determination, and thus escape being swindled. The "Montevideo Convention on the Rights and Duties of States" lists the four criteria for self-determination, as: (1) A permanent population; (2) A defined territory; (3) Government; (4) The capacity to enter into relations with other states. Since there is NO DEFINED TERRITORY for "Biafra", it fails all the other three criteria too.
 
The most vocal of the groups falsely promising to bring about freedom and self-determination through the word "Biafra" is the Indigenous people of Biafra (IPOB). Going by their activities, this group is actually a gang or street gang that uses threats and deadly violence against its members, and members of the public. That makes IPOB a significant hindrance, and a danger to Igbos who are seeking a free society, where they can also live in safety. IPOB carry out plain deception in order to make money from others with the promise of "Biafra restoration" that involves manipulating pictures and video footage to make it look as if there is activity going on. There are quite amateurish-looking photographs of IPOB leaders available on the internet with obviously fake backgrounds. Plus their members abroad visit government buildings as tourists then claim that they had meetings with officials and diplomats. Earlier this year Ilana Omo Oodua the Yoruba self-determination organisation and a key member of the NINAS Movement, issued a Disclaimer to state that they were not in any working relationship with IPOB or its leader. That was in response to posters with photos showing the IPOB leader with two Yoruba leaders making it seem they were coming together for a rally in a European city. 
 
Being fake activists is one thing, but being a violent gang is quite something else. That is what should mostly concern Igbos because the presence of this gang in their midst if a stop is not put to their anti-social and violent activities, would mean not self-determination at all, but a society ruled by fear and violence, as Igbos are already seeing with IPOB's sit-at-home enforced by threats and actual reports of deadly violence. This is why it is baffling that World Igbo Congress (WIC) would support a gang like IPOB, identified in the influential U.S. Commission on International Religious Freedom (USCIRF) Annual Report 2020 (page 27) as one of the violent groups causing concern in Nigeria. 
Ndidi Uwechue
In January 2021, WIC took out a Notice in the Nigerian Guardian newspaper where they stated "…Recently and through various news media we have come to learn about the Eastern Security Network (ESN) this is another name for IPOB that is DESIGNED ??? my emphasis to provide additional security protection…". At the time, there had been several dissenting voices. The main criticisms were that IPOB/ESN was solely (and remotely) controlled by the IPOB leader based in Britain, and there was already a community vigilante system which could be better reinforced to provide improved security. We can also add that since ESN members are unknown, they are not vetted, no police checks were done on them and being unknown, what they are capable of doing is actually unknown. That creates confusion, plus it gives them cover to hide from taking responsibility for their activities. It is true that there is a real deadly menace from armed Fulani, and Igbo communities must protect themselves from their attacks. However, WIC whose members are in safety, mainly based in America and Europe where it is unheard of for UNKNOWN men to become any "security", should explain why they support such a thing in Igbo land, and that begs the question: Were there any inducements to do so? Equally importantly, IPOB claims to be working for self-determination. What work did WIC see in order to give IPOB and its leadership credibility that led to supporting their ESN?
See Also
Opinion
"Biafra" Must Die So That Igbo Self-Determination Can Live – Part 1 By Ndidi Uwechue
0 Comments
4 Days Ago
The methods used by IPOB are far removed from what one expects from a genuine self-determination organisation which would be: being courteous and approachable. Rather, IPOB exhibits the characteristics of a gang. IPOB are known for Internet Banging: They use social media platforms eg Twitter, Facebook, YouTube and their internet radio to make threats, and incite violence that has led to reports of people being killed and property destroyed. In addition, they carry out repeated victimization of those who criticise them by using vulgar language, insults and threats, making their presence easily identifiable on social media sites. Being a gang, they use fear to keep their members in check. Those who left IPOB or got arrested by Law Enforcement report that there is oath-taking, occult (fetish) practices, and when labelled a saboteur ("sabo") it can lead to torture and maiming (including full castration), and lynching (burning alive). 
 
IPOB has yet to provide (verifiable) evidence of the "Biafra restoration" work they claim to have done. What is now clear from the killings, destruction of property, and sit-at-home commands is that FEAR is what IPOB has to offer Igbos. The power that IPOB has over Igbos is in the word "Biafra". It is the emotions created by that word that IPOB latch onto, then they use deceit and fear to control people. Fortunately there is a way to be set free. It is by putting aside the word "Biafra" and replacing it with the word "self-determination". Igbos can therefore achieve freedom using the word SELF-DETERMINATION like Yoruba and other ethnic nations are doing. Fortunately too, the Lower Niger Congress, the self-determination organisation for South-East (Igbos) and South-South has already done most of the work and it is now at combined Stage 14 and 15 out of 16 Stages. Thus, through the NINAS Movement, a joint-action Alliance with the Yoruba and Middle Belt, Igbos can get the self-determination they have been struggling for since 1966.
 
Finally, in Part 3 the desolate place that the word "Biafra" is likely to take Igbo Nation to, if not set aside, will be discussed. 
 
Ndidi Uwechue is a British citizen with Igbo heritage from the Lower Niger Bloc. She is a retired Metropolitan (London) Police Officer, she is a signatory to the Constitutional Force Majeure, and she writes from Abuja.
 
Opinion
AddThis
: 
Original Author
: 
Ndidi Uwechue
Disable advertisements
: 
target=_blank rel=noopener>Edo Bars Civil Servants, Others Not COVID-19 Vaccinated From Government Offices
Illustration
The Edo State government from Wednesday will bar people yet to take COVID-19 vaccine from gaining entry into government offices.
 
According to the state government, the move will be the first phase of its plan to bar unvaccinated persons from large public gatherings in the state.
Illustration
Governor Godwin Obaseki had earlier vowed to deny unvaccinated persons access to banks, government offices, worship and event centres from mid-September, drawing public criticism.
On Tuesday, Permanent Secretary of the state ministry of health, Osamwonyi Irowa told journalists that only those with proof of vaccination will be allowed access into government facilities, starting from Wednesday, September 15, 2021.
"Beginning from September 15, Civil servants and others without COVID-19 vaccination cards will not be allowed into public facilities. Government House and public places will be manned by the task force."
 
"Those civil servants without the cards and those who have not vaccinated will have to stay and work from home. This will be applicable in the 18 local government areas of the state," he said.
"If you have to enter the state secretariat and other government offices, you must have your vaccination cards.
 
"The first phase of the enforcement, which begins tomorrow, September 15, is targeted at state government facilities.
 
"Those that cannot provide their COVID-19 vaccination cards may have to excuse us and be working from home, pending when a decision will be reached. As a state, we are doing everything possible to make sure that people don't get infected.
 
"We are appealing to our people to get vaccinated because that is the more suitable way to prevent the severity of the disease and avoid death. The enforcement teams will commence tomorrow to help us reduce the number of cases and deaths that we are recording daily."
He added that the state government had devised a way tell a fake vaccination card from a real one.
Similarly, Head of the COVID-19 enforcement team, Yusuf Haruna, said the government had trained 20 special teams to enforce the "no vaccination, no access to public places" policy.
The state government noted that 20 unvaccinated persons had died in the last four days.
PUBLIC HEALTH
News
AddThis
: 
Original Author
: 
Saharareporters, New York
Disable advertisements
: 
Read also Nigerian Newspapers Today and Nigeria News Today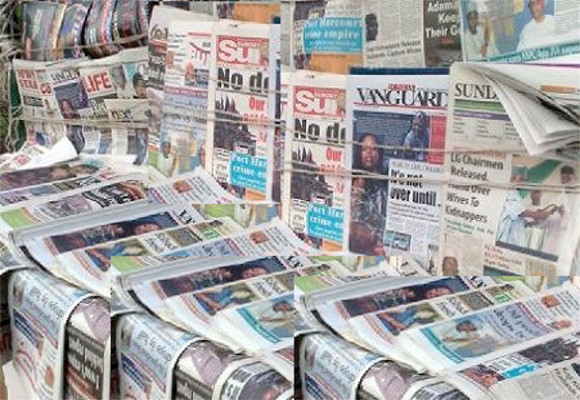 You can also check Sahara Reporters Newspaper Headlines Today