Sahara Reporters Latest News Today

Sunday 20th June 2021

Sahara Reporters Latest News Today and headlines on some of the happenings and news trend in the Country, today 20/06/21

Read also nigeria newspapers Sunday 20th June 2021
target=_blank rel=noopener>The World Needs To Act Now Before COVID-19 Overwhelms Africa, By Mosoka P. Fallah And Zacharia Kafuko
So far Africa has survived the first and second waves of the COVID-19 pandemic in spite of its weak health systems, limited health care workforce and crumbling infrastructure. The continent as a whole experienced low official case and death rates either due to inadequate testing (and treatment) or other factors such as age, genetics and previous infections. This has led to a degree of complacency- many countries have abandoned social distancing, mask wearing, and hand washing while others have encouraged large social, political and religious gatherings. Decreased community testing has undermined any efforts to determine the true magnitude of community transmission or the spread of new variants. At the same time, Africa has the fewest vaccines of any continent in the world, with only 32 million people receiving a dose, from a total population of over 1.3  billion people. Compare this to India where 255.3 million people have received one dose and the US where more than 311 million doses have been administered. Accordingly, Dr. Matshidiso Moeiti, Regional Director for the WHO in Africa, has  pointed out that, "In sub-Saharan Africa, we are at an average of one COVID-19 vaccine dose per 100 people, compared to a global average of 23, and 62 in high-income countries." This translates to 1% vaccines access, while the global average is 23% and the Global North is 62%. 
The continent has a dismally low supply of oxygen cylinders, monitors and other relevant tools needed to treat infected patients. Added to its original low supplies, the continent has received just 3,700 oxygen concentrators, 1,300 patient monitors and 700 ventilators through the United Nations Supply Portal since the start of the pandemic. For a continent with 1.3 billion people, these paltry supplies are nowhere near sufficient.
Dr. Moeti has spoken about the status of the pandemic in Africa on 10th June: "In the past week, 88,000 new COVID-19 cases were reported – an increase of 9 percent over the previous week. We are seeing rising cases in South Africa and Uganda, and cases have increased abruptly in 8 countries, including Sierra Leone, Guinea-Bissau and Nigeria."
In Liberia, the B117 COVID-19 variant has been detected with a 64% mortality rate within 28 days, which is deeply worrying. The country has reported 202 cases in the past week, the highest number of cases in any previous one week period. In Uganda patients are dying outside hospitals while waiting for beds. In Namibia, COVID-19 has overwhelmed all existing hospitals leading to the suspension of all life-threatening surgeries, while in South Africa the intensive care hospitals are filling up at alarming rates. In West Africa, there are one to four variant strains in all 16 ECOWAS countries. 
Africa is woefully unprepared for a massive third wave of the kind that has been faced by South Asia recently. 
The COVAX platform-created to make vaccines available to the most vulnerable populations has been hamstrung by vaccine nationalism and vaccine diplomacy. Most countries in Africa have received less than 2% of the vaccines expected through the COVAX platform. Ghana, the first country in Africa to receive the COVAX doses got 600,000 doses for its 31.4 million population- representing a 0.96% potential coverage for the two-dose vaccine regimen. Zambia received 228,000 doses against its 18.8 million population translating to a 0.6% potential coverage of the double dose vaccine. If we are to support African countries to vaccinate their populations, the COVAX donors need to rapidly ramp up their deliveries or we need to find ways to arrange bilateral vaccine donations. 
We have been working with Ebola response veterans and a global team of doctors, scientists, bioethicists, and professors to advance practical solutions to avert a COVID-19 driven catastrophe in Africa. This involves a focus on vaccine donations now to the countries most in need; additional funding for COVAX to purchase and distribute 225 million more doses of vaccines for Africa; and tiered pricing for vaccines so African countries can procure vaccines directly. 
To overcome the challenges we face, the world must come together- as it did during the Ebola crisis of 2014/15- to overcome geopolitical differences, counter bottlenecks in production and increase the pace of vaccinations globally. All countries should immediately underwrite initiatives aimed at increasing access to vaccines by supporting ethical standards that call on improved global vaccine access.
The COVID-19 situation in India recently has been an unmitigated disaster- the potential for a similar crisis in Africa is clear. Our continent is not adequately equipped to handle a major surge of the coronavirus. We must prepare for the worst and hope for the best. 
Opinion
AddThis
: 
Original Author
: 
Mosoka P. Fallah And Zacharia Kafuko
Disable advertisements
: 
target=_blank rel=noopener>16-Year-Old Girl Plans With Lover To Fake Kidnap, Demands N500,000
File photo used to illustrate story.
The Ekiti State Police Command has arrested a 16-year-old girl, Abimbola Suluka, alongside her boyfriend, Oluwaseun Olajide, for alleged conspiracy and self-kidnapping.
Abimbola is alleged to have conspired with her 25-year-old boyfriend and two of his friends to stage the abduction to raise money.
File photo used to illustrate story.
In a statement on Friday, the police spokesperson, Sunday Abutu, explained that Abimbola's sister had gone to the police station to report that her sister was missing after leaving the house for school.
Abutu said the sister explained that when Abimbola's phone was called, an unknown person answered the call and informed them that she was in his custody and would not release her until a ransom of N500,000 was paid.
Luck ran against the suspects when the holder of the account given for the ransom payment was tracked and arrested by the police's anti-kidnapping unit and forced to lead the police team to a hotel within the state capital where they supposedly abducted Abimbola, and her boyfriend was nabbed.
Abimbola with the three others confessed to committing the crime, claiming she wanted to raise money from her family members to relocate from Ekiti State since her mother insisted she study medicine against her dream of becoming an actress.
The police said, "She further narrated that when Suluka Abimbola's phone number was called, an unknown person picked and confirmed that Suluka Abimbola was in their custody but would not be released until a ransom of five hundred thousand naira is paid to a particular Union Bank Account belonging to one Adisa Damilola.
"The case was immediately transferred to the Anti-kidnapping Unit of the State CID where the owner of the account, one Adisa Damilola' f' who is also a friend to Oluwaseun Daniel Olajide, was tracked and arrested. Adisa Damilola led the Operatives of the Anti-kidnapping Unit to Alex Grace Hotel, along Housing, Ado-Ekiti, where Suluka Abimbola and her boyfriend, Oluwaseun Daniel Olajide, alongside one other accomplice, Adefolaju Caleb' m' 23, were lodging and were arrested.
"During interrogation, Suluka Abimbola confessed to the crime as well as Oluwaseun Daniel Olajide and Adefolaju Caleb. Suluka Abimbola said she decided to conspire with the other suspects to do that for her to raise money from her family members to enable her to relocate from Ekiti State since her mother insisted that she goes through the medical field as against her dream of becoming an Actress."
CRIME
News
AddThis
: 
Original Author
: 
SaharaReporters, New York
Disable advertisements
: 


target=_blank rel=noopener>Mob Sets Dangote Truck Ablaze For Killing Motorcyclist, Passenger In Ogun
A mob has set ablaze a truck belonging to Dangote Cement Factory, Ibese, Yewa North Local Government Area of Ogun State after it crushed two men – an okada rider and his passenger – to death.
The driver of the truck is said to have narrowly escaped being lynched.
According to Daily Post, the ugly incident happened on Friday along Igbogila-Ilaro road.
It was learnt that the two men were on a motorcycle, heading from Igbogila to Ilaro when the incident happened.
A source stated that the driver of the Dangote truck swerved off his lane, having a head-on collision with the oncoming motorcycle, otherwise known as okada.
"The two men – rider and passenger, died on the spot," the source said.
The Ogun Traffic Compliance and Enforcement Corps (TRACE) confirmed the incident on Saturday.
TRACE spokesman, Babatunde Akinbiyi, said, "according to eyewitness accounts, the Dangote truck driver engaged in reckless driving. He left its lane to face the motorcyclist and the pillion passenger at his back in the other road and crushed them to death.
"An angry mob later set the Dangote truck on fire while the driver ran away. The case is being handled by the Dangote Plant Police Post."
Akinbiyi added that one of the dead victims' bodies had been deposited at Ilaro General Hospital morgue while the family had buried the other victim.
Accident
News
AddThis
: 
Original Author
: 
SaharaReporters, New York
Disable advertisements
: 
target=_blank rel=noopener>Thousands Dump APC In Kwara State, Burn Brooms
Thousands of aggrieved members of the ruling All Progressives Congress on Saturday in Ilorin, the Kwara State capital, dumped the party to form what they described as a "Third Force." 
This is coming just as political activities for the 2023 election gained momentum in the state.
According to Daily Trust, the MM Event centre venue of the defection exercise along Offa Road was full to capacity as thousands of APC card-carrying members burnt scores of brooms, which symbolises the party.
The Kwara Central Senatorial Chairman, Alhaji Abdulfatai Abdulrahman – flanked by other notables leaders – who addressed the gathering, said their "New party would soon be unveiled in due course".
However, many of their supporters donned the paraphernalia of the Young Peoples Party (YPP), believed to be sponsored by a former gubernatorial aspirant, Yakubu Gobir.
According to the senatorial chairman, "It is, however, disheartening, shameful and preposterous that Kwara APC cannot manage its success even at half time of its tenure in the saddle of governance in the state.
"The intra-party crisis has been on for long and unabated.
"The struggle for the soul of the party, which cannot be divorced from the 2023 political ambitions, has been the root cause of the lingering internal squabbles.
"The hopes and expectation of party members to reap the fruits of their collective labour have been dashed due to the self-inflicted and unwarranted crisis. This was not what Kwara bargained for." 
He accused the Senator John Danboi-led team and National Secretariat of the party of doing nothing to address the "perfidious and glaring aberration process" of the registration/revalidation exercise, describing it as flawed with deliberate policies and grand orchestration to deregister and disenfranchise selected members of the party.
"The deliberate inaction to address the lingering crisis in Kwara APC has become evident to all discerning minds that the agenda to deregister and refusal to revalidate thousands of members across the state was a grand plot that has the backing of the National Caretaker Committee.
"There is also evidence that the incumbent governor has concluded every arrangement to ensure all the elective positions from the wards to the state level work in his favour to ease his re-election bid as governorship flagbearer of the party," he said. 
Abdulrahman, who claimed the new decampees are up to twenty thousand, listed other members to include local government party chairmen, local government women leaders, youth leaders, wards chairmen, and APC party stalwarts across the sixteen local government areas in the state. 
Politics
News
AddThis
: 
Original Author
: 
SaharaReporters, New York
Disable advertisements
: 
target=_blank rel=noopener>Retired Permanent Secretary At Fashola's Ministry Reacts To N2.5billion Contract Mismanagement Allegation
A retired Permanent Secretary in the Federal Ministry of Works and Housing, Alhaji Mohammed Bukar, has said he is innocent of allegations that he mismanaged the award of N2.5billion road contracts in 2017 and 2018 while working under the minister, Babatunde Fashola.
Bukar, in his reaction sent to SaharaReporters, said that contrary to the annual report of the Auditor-General of the Federation on the accounts of the Federation of Nigeria for the year ended, December 31, 2018, which indicted him, he never awarded any contracts.
The retired permanent secretary noted that he never also procured 36 project monitoring vehicles, adding that they were not under his watch if they were ever procured.
He said, "I have never awarded a contract worth N2.5billion or worth any amount beyond my approval threshold as a Permanent Secretary. Specifically, the allegation that I awarded a contract for the emergency repairs of Tatabu bridge in Niger State in breach of Public Procurement Act, 2007 is fallacious.
"It may, nonetheless, be instructive to note that the award of an emergency contract does not require the approval of the Federal Executive Council as provided for in Section 43 of the Public Procurement Act, 2007. SaharaReporters can confirm this from the Bureau of Public Procurement.
See Also
Corruption
Another Ex-Permanent Secretary Who Worked With Works Minister, Fashola Wanted Over Mismanagement Of N2.5billion Contracts
0 Comments
1 Day Ago
 
"That as a corollary to the foregoing, it is obvious that, since I never improperly awarded any such contract, I could not have, therefore, mismanaged any N2.5 billion road contracts as alleged; 
"That throughout my tenure as the Permanent Secretary of the Federal Ministry of Works and Housing, I never procured 36 project monitoring vehicles. If such cars were ever procured, it was indeed not under my watch; 
"On the alleged recovery of N1 Billion Naira from the account of a Civil Servant by the EFCC, I wish to state without any reservation that the said Civil Servant is not me. I never had and did not have any such money in my account, and the EFCC has never invited me to account for any fund either before or after my retirement.
See Also
Exclusive
EXCLUSIVE: EFCC Recovers N1 Billion From Permanent Secretary Working Directly With Works And Housing Minister, Fashola
0 Comments
2 Days Ago
"This fact can be easily verified in all the Ministries and extra-ministerial offices that I served. Finally, it might be useful to understand that audit queries, even if issued to a Permanent Secretary, are no indictments. It is when the queried Permanent Secretary fails to satisfactorily answer the queries that he or she may be assumed to have acted wrongly."
SaharaReporters had on Friday reported that according to the annual report of the Auditor-General of the Federation, the former PS was asked to account for some monies in the ministry.
The report indicting Fashola's former PS had partly read, "Issue one; Contract for the purchase of project monitoring vehicles without due process – N343,833,338.00. Section 24(1) of the Public Procurement Act, 2007 states that "except as provided by this Act, all procurements of goods and works by all procuring entities shall be conducted by open competitive bidding. 
"Audit observed that the sum of N343,833,338 was paid for the purchase of 36 project monitoring vehicles without following due process. Furthermore, further examination revealed that the 36 cars were not received into the store as no documents showed such delivery.
"The Permanent Secretary is required to account for the sum of N343,833,338.00. Accordingly, all affected officials should be sanctioned in line with Financial Regulation 3106."
Scandal
News
AddThis
: 
Original Author
: 
SaharaReporters, New York
Disable advertisements
: 
E2%80%99s-ministry-works-director-found-n1billion-refused target=_blank rel=noopener>Why EFCC Chairman Is Covering Up Fashola's Ministry Of Works Director Found With N1billion, Refused To Prosecute Him
EFCC Chairman Bawa
The Economic and Financial Crimes Commission's Chairman, Abdulrasheed Bawa, refused to name and prosecute a Federal Ministry of Works and Housing director caught with N1billion because of certain shady considerations, top sources have revealed to SaharaReporters.
SaharaReporters learnt that the director, who is the Chief Pay Officer of Ministry of Works, and Deputy Director in the ministry, Saliu Musa, is from Kebbi State and the Attorney-General and Minister of Justice, Abubakar Malami, also from the same state, waded in and asked the EFCC to mellow down on the matter.
EFCC Chairman Bawa
SaharaReporters gathered that the EFCC chairman covers up the matter because he is from the same state and did not want to cross Malami's path.
"The Chief Pay Officer of Ministry of Works, Deputy Director in the Ministry, Saliu Musa. He's from Kebbi State. Although he forfeited the N1billion, he is still sitting in the ministry.
See Also
Exclusive
EXCLUSIVE: EFCC Recovers N1 Billion From Permanent Secretary Working Directly With Works And Housing Minister, Fashola
0 Comments
2 Days Ago
"The EFCC chairman is covering up because he is from the same state. AGF Malami waded into his matter, and he was never detained," the source revealed.
SaharaReporters had on June 17 reported that the EFCC Chairman, Abdulrasheed Bawa, had in May while appearing before the Senate Committee on Finance, said the agency recovered over N1 billion from the bank account of a civil servant.
"It is good for us to observe for now and wait for your committee to conclude its work so that whatever report you have and anyone that your committee decides, we are ready to take it up from there," he had said.
"We have recovered over N1 billion sitting in the account of a civil servant last week."
Bawa, however, refused to mention the name of the individual civil servant.
Speaking to SaharaReporters on Thursday, a source at the anti-graft agency had identified the civil servant as a Permanent Secretary working with Fashola.
"The civil servant the chairman was talking about is the Permanent Secretary working directly with Fashola," the source said.
Corruption
Scandal
News
AddThis
: 
Original Author
: 
SaharaReporters, New York
Disable advertisements
: 
E2%80%93-pregnant target=_blank rel=noopener>I Don't Have N1.5million To Give Police, My Husband Is Not IPOB Member, Release Him – Pregnant Woman Cries Out
An eight-month-old pregnant woman, Chioma Okoro, has cried out to the Inspector-General of Police, Usman Baba, to direct the Intelligence Response Team to release her husband, Chukwudi Okoro. 
Chioma told SaharaReporters on Saturday morning that her husband, Chukwudi, is still being held at the IRT because the family had not given N1.5million to the IRT police in Abuja as demanded. 
SaharaReporters gathered that the four other South-Easterners who were raided alongside Okoro had regained their freedom after parting with at least a N1million as bribes to the police officers. 
The men were raided by the joint team of the police and the Nigerian Army on May 24 in Owerri, Imo State, and labelled as members of the Indigenous People of Biafra and the unknown gunmen. 
See Also
Corruption
EXPOSED: After Taking N1million Bribe, Inspector General of Police Team In Abuja Releases South-East Youths Framed For Being ESN Members
0 Comments
15 Hours Ago
Chioma Okoro, who is due to give birth in July, begged the police top echelon to release her husband, who is a struggling tricycle driver and the first in his family. 
She said, "He is the only one in detention among the five of his set right now. The police told us to pay N1.5million to secure his release. He is the eldest brother. He has only two younger brothers who are in school. They don't have such an amount.
"My husband needs help. He does not have such an amount. The tricycle he is riding is on hire purchase, and he has not even completed the hire purchase. I am not doing anything for now. I am eight months pregnant. I am a hairdresser. Things are very difficult for me and the family. 
"He has been arrested since May 25. He was labelled as an unknown gunman. We last spoke on Wednesday and what my husband said was I should try and find a means. We are all tired."
SaharaReporters had earlier reported that the IGP Intelligence Response Team in the Federal Capital Territory, Abuja, collected at least N1million bribes as bail before releasing South-East youths and artisans raided as members of the IPOB's Eastern Security Network.
SaharaReporters had learnt from the families of the victims, who did not want their names in print to avoid police victimisation. They paid the huge sums through their nose before securing the release of their relations.
 SaharaReporters gathered that the victims were raided in the South-East and brought to detention at the IGP'S IRT office in Abuja.
"The Investigating Police Officer at the IRT's team holding them is one Inspector Daniel. They were five in number taken to the IRT office, formerly called Abattoir.
"We paid about N1million to secure Chigaemezu (one of the victims). In June, he was released in June by the police in Abuja," one of the family members had said.
 
 
Police
News
AddThis
: 
Original Author
: 
SaharaReporters, New York
Disable advertisements
: 


target=_blank rel=noopener>Angry Residents Block Abuja-Kaduna Expressway Over Bandits' Killing of 13-Year-Old
Many travellers are currently trapped on the Abuja-Kaduna highway as angry residents have blocked the road over attacks, especially the killing of a 13-year-old girl by bandits.
The tragic incident occurred at Anguwar Magaji in Chikun Local Government Area of the state.
According to Daily Trust, the residents said bandits stormed the village head's house and abducted his family and other persons in the community.
A resident of the area said they were not safe at home and their farms.
"We cannot go to our farms and yet they will follow us to our homes to abduct us for ransom. They killed a 13-year-old girl, a security man in the village as well as abducted other residents, including the family of the village head," he said.
He explained that the residents only want security or to be allowed to protect themselves against the bandits.
A witness said the protesters refused to listen to the plea of security personnel who approached them.
The witness, who did not want to be named, said the protesters had been out since 7:30 am.
"The villagers are very angry. They blocked the road and insisted that no one would pass through. When security personnel came, the men withdrew and left their women on the road."
"Some of the women are half-naked. The soldiers were begging them to leave the road but the men cheered them on from the roadside."
The Police Public Relations Officer in Kaduna, ASP Jalige Mohammed, said the state Commissioner of Police, Umar Muri, has directed the Area Commander to visit the protest scene and ensure orderliness.
He said the police are trying to ensure that the road is open to allow road users access as they meet with the community leaders and the protesting youths to discuss the problem.
"There is an incident along the highway but we are trying to control the situation," he said.
ACTIVISM
Insecurity
News
AddThis
: 
Original Author
: 
SaharaReporters, New York
Disable advertisements
: 
target=_blank rel=noopener>Why Is Ben Ayade Competing With Idi Amin Of Uganda? By Elias Ozikpu
It is disturbing to see the rising level of lawlessness and tyranny in Cross River State which, ironically, is championed by the state governor Ben Ayade.
It is important to note that since assuming office in 2015, Ayade has been at the forefront of the illegal campaign for the strangulation of free speech as well as the suffocation of other fundamental human rights in Nigeria. 
Recall that in August of 2019, Ayade called for the regulation of social media, saying:  "If we don't regulate it, if we don't control it, if the society doesn't have a poise, we would have had more cataclysm before us."
No doubt, these were not comments made by a democrat. They were comments by one who holds extremely strong tyrannical views.
 I have written in the past how this governor bundled Paul Ifere and Joseph Odok from Abuja and arbitrarily had them incarcerated in Calabar for simply expressing critical views that the governor inexplicably considered offensive. In a similar fashion, Comrade Agba Jalingo was dragged by road from Lagos to Calabar in August of 2019 and chained to a refrigerator for weeks after a 25-hour gruelling journey.
Ayade assumed office on the back of a democratic process for which several patriotic Nigerians paid the ultimate price whilst they led pro-democracy campaigns against the juntas of Ibrahim Babangida, goggle-wearing maximum ruler Sani Abacha and the incumbent tyrant Muhammadu Buhari who spectacularly squandered a rare opportunity to re-write history about his old, terrible dark habits.
According to his official date of birth, Ayade was born in 1968, which means he was 25 years old in 1993 when the June 12 struggle erupted in Nigeria following dictator Babangida's criminal annulment of the presidential election that year. Despite being a full-grown man at the time, there is no photo or video showing Ben Ayade campaigning for democracy. What this means is that Ayade was hiding under his bed whilst these campaigns were taking place throughout Nigeria. Yet, after becoming a senator and now governor on the back of the gruesome sacrifices of several people, Ayade is now committed to the strangulation of democratic principles he has no idea how they came to life. It is for the likes of Ben Ayade that our people say:
"A child strapped to his mother's back does not know the excruciating distance covered by her weary feet."
In a similar vein, Ben Ayade who cowardly hid under his bed whilst true patriots were on the streets can so easily decide to destroy our democratic values since he has no knowledge about how democracy, through which he suddenly became a wealthy politician, came to be in Nigeria. He might even think that it fell from the sky, like Elijah's mannas in the old testament. 
The executive rascality exhibited by Ben Ayade during the recent June 12 protest was nauseating. From the preparation of the protest in Calabar up to the day of the peaceful demonstration, Ayade threw out more than enough shenanigans to frustrate the protest, as though the protesters were the armed robbers or kidnappers who continue to cause mayhem throughout Cross River State with unmitigated impunity.
First, police in Calabar who were working in cahoots with Ben Ayade barred protesters from holding the June 12 peaceful protest at the slated venue, despite the fact that it was a public place. Agba Jalingo then changed the venue of the protest and informed other comrades that the protest would hold in the premises of CrossRiverWatch, his media organisation.
A day before the protest, Comrade Agba Jalingo, leader of the protest, was arbitrarily arrested and detained by the police over a frivolous petition claiming that the activist had links with some imaginary firearms. More nauseating was the fact that the so-called petition upon which the police based their detention of the activist was not signed, and name(s) of the petitioner(s) were unknown. There also was no phone number on the petition. How the police admitted this petition and considered it worthy of being investigated is puzzling enough to explain the executive force behind it.
Agba Jalingo was released hours later after the illegal arrest went viral and the public condemned such utter lawlessness.
On June 12, being the day of the protest, armed police officers acting on the instigation of Governor Ben Ayade resumed early at CrossRiverWatch office, new venue of the protest and violently disrupted the peaceful demonstration, activists teargassed. In fact, Ayade drove to the venue of the peaceful protest to supervise the illegal arrests and utter dehumanisation of comrades who were merely exercising their constitutional rights in strict compliance with sections 39 and 40 of Nigeria's Constitution.
So, whilst his counterpart Seyi Makinde was marching with protesters in Ibadan, Ben Ayade was unleashing violence on peaceful protesters in Calabar. Two governors in one country!
Comrades Agba Jalingo, James Ibor (a lawyer), Jonathan Ugbal (CrossRiverWatch's News Editor) and others were heavily brutalised and detained for daring to exercise their fundamental rights.
Jonathan Ugbal's account of how he was brutalised is chilling. Writing on Facebook after their release, and with direct reference to Ben Ayade, he said partly:
"Dear Benedict Ayade 
I await the video and photos of me from Mary Slessor roundabout made on the orders and direction of your Aide De Camp.
After all, he ordered that my hands should be tied behind my back like a pig to be roast, I was slapped and punched several times, flogged mercilessly and my head hit on the Ford Ranger pick up truck a couple of times. Furthermore, I was dragged on the floor like a traveling bag!"
This cruelty for merely exercising basic fundamental rights is unacceptable. If Ayade had been this committed against criminals and cultists tormenting law-abiding citizens in that state, Cross River would have been a crime-free state. But no, despite receiving a monthly sum of N500 million for security votes (N6 billion annually), criminals roam freely in Cross River State but the governor prefers to torture and dehumanise peaceful protesters for demanding good governance.
Upon their release from illegal custody, Ben Ayade insisted that Agba Jalingo leaves Cross River State that day, and even made arrangement for an aircraft that was to convey him to Lagos.
Obviously, here lies one of the fundamental problems presently confronting Cross River State: Governor Ben Ayade assumes he has unlimited powers to do as he pleases. Which law empowered this governor to bundle a law-abiding Cross Riverian out of his own state with no justifiable grounds? Does Ayade think that being governor is synonymous with being Cross River's landlord?
This is a democracy, and I have made it clear to the governor in previous treatises that he is advised to resign if he is unable to submit himself under strict democratic rigours. We will continue to defend our rights even if Ayade visits the grave sites of Idi Amin, Sani Abacha, Adolf Hitler or any other role model of his to solicit their support.
Throughout history, no dictator has succeeded in winning a fight against his employers. It will not start with Mr Ben Ayade whose days in that office have been defined with a definite date. The days will not be extended by a split second beyond May 29, 2023.
We were here when Ayade came, we shall still be here to look at his back as he exits ignominiously into oblivion after eight years of reckless human rights abuses, uncompleted projects and the introduction of the world's most fraudulent project – the superhighway!
Elias Ozikpu – protest writer, human rights activist, playwright, novelist, polemicist, citizen journalist, arch-enemy of the oppressors
Opinion
AddThis
: 
Original Author
: 
Elias Ozikpu
Disable advertisements
: 
E2%80%93-university-worker-recounts-how-he-survived-terrorists target=_blank rel=noopener>ISWAP Captivity Is An Empire On Its Own – University Worker Recounts How He Survived Terrorists' Den
A member of the Federal University staff, Kashere, Gombe State and indigene of Damaturu, Muazu Bawa, who was abducted by members of the Islamic State of West African Province, finally regained freedom and reunited with his family members last Monday.
He was abducted alongside other travellers on the Damaturu-Maiduguri highway six months ago, precisely on Saturday, January 2, this year.
Speaking with Daily Trust, Bawa stated the ISWAP captivity was another empire on its own while narrating how he earlier gave up on life when he was whisked into the bush by the terrorists.
He said, "I left Damaturu for Maiduguri around 7 am on that fateful day to attend the wedding of two close friends.
"As I was driving fast to catch up, the J5 in my front started moving haphazardly; that was when I realised that something was wrong. Because I was moving at high speed, I couldn't control the car, so I skidded off the road and rammed into a solid object. The car bounced up and down to the extent that the airbag blew up and blocked my view.
"I was unconscious for a while, and all of a sudden, I saw heavily armed young people asking me to come out from the car. I tried but later realised that I sustained back injuries, so they assisted me to alight from the vehicle. From there, they picked me up to their hideout.
"They interrogated me and took my farmers' association identity card. Then, one of them searched my phone. From there, they took me to an unknown location and informed me that they would take me to their leader (amir) for an interview. After that, they said if I were lucky not to be among the people they were targeting, they would set me free and urged me to exercise patience in all the processes.
"They took me and other abductees to him at a place not very far from where I was picked. After he interviewed me, he told us to proceed to another location, a journey that lasted for over eight hours in the bush before we got to a cell where they locked us."
Asked how he fared in captivity, Bawa revealed a total disconnect with anything in life. "We were neither here nor hereafter," he said.
"That place is another empire on its own. First, they allowed us to observe the five daily prayers. Then, when the cell became too congested, they asked a few of us to start sleeping outside.
"They once directed us to appear in a video and plead with the government to rescue us, saying we would be released if we were lucky," he said.
Asked if he knew how their release was negotiated, Bawa said he had no idea. "They just asked us to prepare ourselves on that day and took 10 of us to the roadside and handed us over to a woman," he added.
Insurgency
Terrorism
News
AddThis
: 
Original Author
: 
SaharaReporters, New York
Disable advertisements
: 
Read also Nigerian Newspapers Today and Nigeria News Today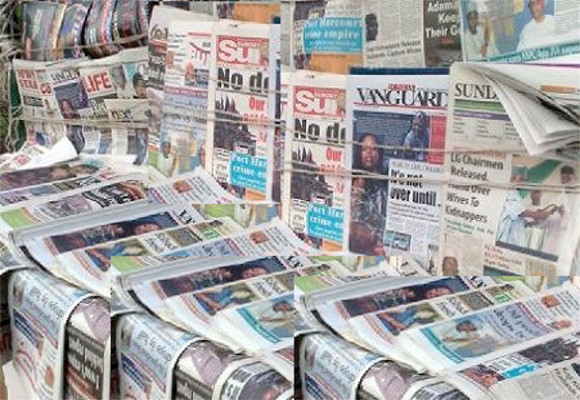 You can also check Sahara Reporters Newspaper Headlines Today