Sahara Reporters Latest News Today

Tuesday 8th June 2021

Sahara Reporters Latest News Today and headlines on some of the happenings and news trend in the Country, today 08/06/21

Read also nigeria newspapers Tuesday 8th June 2021
E2%80%94ohanaeze-ndigbo target=_blank rel=noopener>Why Northern Elders Are Behind Insecurity In The South-East —Ohanaeze Ndigbo
File photo used to illustrate story.
The apex Igbo socio-cultural group, Ohanaeze Ndigbo Worldwide has blasted former Governor of Sokoto State, Aliyu Wamakko over comments the group claimed was capable of inciting ethnic cleansing and turmoil in the country.
Wamakko, on Saturday, challenged the leaders of Southeast to stop the attacks of Indigenous People of Biafra (IPOB) on northerners living in their geo-political zone.
File photo used to illustrate story.
Wamakko, currently a senator representing Sokoto North, noted that the northern leaders would no longer douse tension among their followers if the attacks on northerners continued in the South-East.
But in a statement issued on Monday by the Secretary-General of the group, Okechukwu Isiguzoro, Ohanaeze alleged that the North is responsible for all the uprisings in the South-East, "to keep Igbo leaders busy with insecurity challenges and set traps for them (Igbo leaders) to fall in and get arrested."
It noted that the chaos in the South-East was caused by Northern leaders so they could retain Presidency in the North beyond 2023.
The group noted that Wamakko was a hypocrite who could not proffer solutions to the insecurity challenges that had ravaged Northern Nigeria for years.
The statement read, "Ohanaeze Ndigbo Worldwide has cautioned former Sokoto Governor, Aliyu Wamakko over his impulsive comments which are without any iota of truth.
"His comment is capable of inciting ethnic cleansing and turmoil in the country. It is laughable that the likes of Wamakko couldn't proffer solutions to the insecurity challenges in the North for the past 7 years, which the North incubated as a political instrument to oust power from former President Goodluck Jonathan and install the incumbent.
"The North is responsible for all the disaster in the South-East, considering an earlier warning by the USA Embassy Abuja, 'that Northern bandits and killer herdsmen are changing positions to Southern Nigeria to wreak havoc and destabilise the zones'. 
"Northern elders are behind the chaos in Nigeria as a ploy to retain the Presidency in the North beyond 2023, as they did to Jonathan in 2015, so they exported violence to the South-East to keep Igbo leaders busy with insecurity challenges and set traps for them (Igbo leaders) to fall in and get arrested.
"We are amazed at how someone who couldn't remove a speck of dust in his eyelashes could see the remedy for the log of wood in the eyes of Ndigbo. Rhetorically, Wamakko's assertion that Igbo leaders are behind the scenes motivating the violence in the South-East, exposed the northern secrets of supporting bandits and Boko Haram for economic and political reasons. 
"The silence of Igbo leaders is golden and it will generate confusion in the camps of sponsors of terror in the South-East."
Politics
News
AddThis
: 
Original Author
: 
SaharaReporters, New York
Disable advertisements
: 
target=_blank rel=noopener>Suspected Herdsmen Kill Over 20 In Fresh Attack On Benue Community
Benue State Map
Gunmen suspected to be herdsmen have reportedly killed 20 people in Odugbeho village, Agatu Local Government Area of Benue state.
The gunmen were said to have invaded the community on Sunday night.
Benue State Map
The latest attack comes days after over 30 people were reportedly killed, including students of the College of Education in Katsina Ala LGA of the state.
Catherine Anene, police spokesperson in Benue, in a statement confirmed the latest attack but said the number of casualties had yet to be ascertained.
"Agatu attack is confirmed and the commissioner of police has deployed more police officers to manage the incident and forestall further breakdown of law and order," she said.
"The number of the victims is yet to be ascertained as officers are still engaged in stabilising the area."
Insecurity
News
AddThis
: 
Original Author
: 
SaharaReporters, New York
Disable advertisements
: 


target=_blank rel=noopener>There Will Be War If You Hurt Father Mbaka, Ohanaeze Youths Warn DSS
The Ohanaeze Ndigbo Youth Council (OYC) has warned the Department of State Services (DSS) that there will be war if the Spiritual Director of the Adoration Ministry Enugu, Nigeria (AMEN), Father Ejike Mbaka, is harmed in any way by the secret police over the invitation of the Catholic priest.
Mbaka had, on Sunday, during a programme at the Adoration Ground, raised the alarm over his invitation by the DSS, announcing that he had been summoned to report to their office in Abuja.
The OYC, in a statement on Monday disclosed by the President-General, Mazi Okwu Nnabuike, said it would not tolerate further harassment of the priest with the plot to muzzle him.
See Also
Sahara Reporters
DSS Operatives Storm Adoration Ministry, Summon Father Mbaka To Abuja
0 Comments
17 Hours Ago
The statement stated, "I condemn the invitation because it is a plan by the Federal Government to silence Fr. Mbaka; whoever speaks without supporting the government, they now come for the person, just like it banned Twitter.
"There will be war if anything should happen to Father Mbaka.
"DSS has no reason to invite Mbaka. The same Mbaka prophesied the emergence of Buhari, he was not invited by DSS then, but now that he is talking about the state of the nation, hunger and killings in the land, DSS came to invite him.
"But we warn that any plot against Mbaka must be resisted by Igbo youths, let nothing happen to him. This onslaught against a revered priest in Igbo land should stop forthwith.
"The Enugu Catholic Bishop should cease from trying to silence Mbaka. Mbaka has been talking under two past Bishops- Eneja and Gbuji, they did not disturb him. We are in the know that the FG is on the neck of Onaga to silence Mbaka.
"They want Mbaka banned and sent out of the Catholic Church. But they must know that the physical cannot control the spiritual.
"Mbaka should continue to prophesy to the world, those who don't have such a gift are just envious of him."
Politics
News
AddThis
: 
Original Author
: 
SaharaReporters, New York
Disable advertisements
: 
E2%80%99s-their-right-secede target=_blank rel=noopener>Wole Soyinka Backs Biafra, Oduduwa Republics' Agitators, Says It's Their Right To Secede
Wole Soyinka
Nobel laureate, Prof Wole Soyinka, has said those calling for the sovereign nations of Biafra and Oduduwa have rights as free citizens to call for secession.
In a statement, the professor criticised the use of force against the agitators of self-determination, insisting it is the responsibility of the leadership to persuade them.
Wole Soyinka
"It is time to think outside the box. That many, in so doing, find no landing place except dissolution, is not a crime. It is not peculiar to any peoples, and is embedded in the ongoing history of many, and not only on this continent.
"It is their natural right as free citizens, not slaves of habit and indoctrination. Where disillusion rides high, sentiment tumbles earthwards, and the only question becomes: what can be salvaged? It thus remains the responsibility of leadership to persuade them, through both discourse and remedial action, that there are other options. Attempted bullying is not a language of discourse, nor the facile ploy of tarring all birds with the same feather," he said. 
While speaking on President Muhammadu Buhari's statement about the genocidal threat, Soyinka said while he was not in support of those killing and destroying government's properties, the President's statement to 'deal with them in the language they understand' was wrong and 'tragically untimely.'
See Also
Politics
Soyinka Reacts To Nigerian Government's Suspension Of Twitter, Buhari's 'Bullying' Tactics
0 Comments
3 Days Ago
"I hold no brief for those who resort to burning down police stations, slaughter their occupants simply for the crime of earning a measly monthly pittance, torch electoral offices, assassinate politicians in calculated effort to set sections of the country against others in the promotion of their own political goals.
"These are largely nihilists, psychopaths and/or criminal lords, soul mates of Boko Haram, ISWAP, Da'esh and company, not to be confused with genuine liberators. All over the world, throughout history, elections are denounced, boycotted, and generally delegitimized without recourse to wanton butchery.
"When, however, a Head of State threatens to 'shock' civilian dissidents, to 'deal with them in the language they understand', and in a context that conveniently brackets opposition to governance with any bloodthirsting enemies of state, we have to call attention to the precedent language of such a national leader under even more provocative, nation disintegrative circumstances. What a pity, and what a tragic setting, to discover that this language was accessible all the time to President Buhari, where and when it truly mattered, when it would have been not only appropriate, but deserved and mandatory!
"When Benue was first massively brought under siege, with the massacre of innocent citizens, the destruction of farms, mass displacement followed by alien occupation, Buhari's language – both as utterance and as what is known as 'body language' – was of a totally different temper. It was diffident, conciliatory, even apologetic. 
"After much internal pressure, he eventually visited the scene of slaughter. His language? Learn to live peacefully with your neighbours. The expected language, rationally and legitimately applied to the aggressors, was exactly what we now hear – 'I shall shock you. I shall deal with you in the language you understand,'" he said.
Politics
News
AddThis
: 
Original Author
: 
SaharaReporters, New York
Disable advertisements
: 
target=_blank rel=noopener>Who Offended Buhari? Twitter or Nigerians? By Fredrick Nwabufo
Fredrick Nwabufo
Government is a relationship – between the leadership and the governed. A democratic government, in particular, should not operate in vacancy of citizens' imprimatur. A government needs the trust, support and goodwill of its citizens. Legitimacy is the reward for good governance. Any government, which by intransigence severs the funiculus that links it with the citizens, is taking the highroad to oblivion. 
Really, most people will not remember the infrastructure and extraordinary projects executed by an administration. But they will remember how secure they felt and the freedom they enjoyed under that government.  General Abacha is reputed to have executed some of the sterling infrastructure projects in Nigeria. In fact, some of the roads his regime through PTF built are still sturdy to date. But how is he remembered today? He is remembered as a murderer and a violator of human rights. 
Our leaders should learn from the ruins of others before them. Power is situational. What we do with it when we possess it will live with us, and even with our relics and generations to come. At this point, what I believe should be elemental for President Buhari is his legacy. He should not let ''power hawks'' carnivorise what is left of his substance. 
Fredrick Nwabufo
The suspension of Twitter by the Nigerian government is a jackboot experiment. It cannot be defended, rationalised or excused in anyway. Internet freedom is as basic as the right to life and the right to freedom of expression. 
Naturally, some notable Nigerians and organisations have condemned this insidious attempt at absolutism. The Newspaper Proprietors' Association of Nigeria (NPAN) led by Kabiru Yusuf said lucidly ''the suspension of Twitter's operation by Nigeria is wrong and an overreaction''. Babajide Sanwo-Olu, governor of Lagos state, and member of the APC – the president's party – is of the opinion that the federal government should have managed the situation better. 
"The federal government can handle this a lot better — because of the number of ecommerce; the number of youths doing digital stuff on the internet, and we cannot throw that away and say it's not happening. I believe there could be a lot of restraint and better management from both sides," the governor said.
Nigeria is said to lose N2.18 billion per day owing to the Twitter shutdown — according to NetBlocks, a data-driven online service. We do not need an Okonjo-Iweala to divine for us the cost of this folly. Many youths and businesses rely on Twitter for oxygen. And the federal government just pulled the plug — in a country with 40 million unemployed people, blistering inflation and insecurity. 
Toiling Nigerians lose more in this dogfight between the Nigerian government and Twitter. Twitter loses nothing in the short and in the long run. So, who offended Buhari and who should be writhing from the economic perils of his ban? Well, if the government is deploying this as a gambit to asphyxiate dissenting voices on social media it will be a futile performance. Only good governance can silence the noise on social media. 
Citizens from all strata have been giving the government a dressing down in the past few days. As expected, the US, the UK, Canada and EU did not equivocate in expressing disappointment at this punitive approach to an issue that could have been resolved through other channels. The condemnations are in order. 
What is very annoying is the threat by Abubakar Malami, attorney-general of the federation, to arrest and prosecute anyone circumventing the ban to gain access to Twitter. This is farcical. Why is this man making a spectacle of Nigeria in the public square? I think we have enough comedians in the country already. 
However, there is the pesky issue of hate speech, fake news, misinformation and disinformation on social media — particularly on Twitter and Facebook? How do we address this problem? We cannot look away and pretend that this creeping monster does not portend enormous danger for Nigeria. 
Some countries like India, even the US and the UK, have set these tech leviathans to task regarding sanitising their social media space. We cannot suspend our hands and watch Nigeria burn. 
As Kadaria Ahmed, top journalist, said while reacting to the ''decree'' of the National Broadcasting Commission to broadcast stations to deactivate their Twitter accounts, ''the government (must) go back and engage with experts many of whom abound in the country on how to fight hate speech, misinformation and disinformation while respecting and upholding the rights that are fundamental in a democracy''.
The Buhari government must redeem itself. Nigeria is still a democracy. 
By Fredrick 'Mr OneNigeria' Nwabufo
Twitter @FredrickNwabufo#Keepiton
Opinion
AddThis
: 
Original Author
: 
Fredrick Nwabufo
Disable advertisements
: 
target=_blank rel=noopener>Umahi Resigns As Chairman Of South-East Security Committee, Laments Lack Of Funding
Obi Umahi
The Chairman, South-East Security Committee, Obi Umahi has resigned from the position.
On August 31, 2019, members of the South-East Governors Forum had appointed Umahi as the chairman of the committee.
Obi Umahi
The Committee was charged to draft a framework for the establishment of a South-East joint security outfit to cater to the security needs of the zone.
Finally, on April 11, 2021, South-East governors decided to take their destinies into their hands and address the fast-deteriorating security situation in the region with the unveiling of the new security outfit codenamed Ebube Agu.
Ebube Agu, meaning fear of a lion in Ibo, is fashioned after the Southwest security outfit, Amotekun, launched early last year amidst furore from the security institutions.
But Umahi, a former General Officer Commanding (GOC) 81 Division Nigerian Army, in his resignation letter dated June 4, 2021, titled, "Resignation As Chairman South East Security Committee – Ebubeagu," and addressed to the Chairman of the South-East Governor's Forum disclosed that his Committee was never funded neither was office provided for them through the duration, Punch reports.
The letter read in part, "Since this Security Committee was formed, we deliberated and agreed on ways to raise security consciousness down to the community level in Igbo land, mode of operations, logistics and some types of equipment required, such as drones, vehicles, etc. We also crafted the Concept of SE Security.
"Additionally, I chaired a 21-man Committee set up to draft a legal framework for the SE Security outfit. The committee was composed of members of the SE Security committee, the Attorney Generals of the five South-East States and some prominent Igbo sons and daughters. The 21-man Legal Framework Committee was funded to completion by the Governor of Ebonyi State.
"On 11th April 2021, SE Governors announced the formation of EBUBEAGU at Owerri. Subsequently, the draft legal framework produced by the 21-man Committee was reviewed by SE Security Committee members and the Attorney Generals of the five SE States to suit South East Ebubeagu Security outfit."
"The SE Security Committee thoroughly prepared and submitted the modalities, including the structure, for the take-off of EBUBEAGU to the Governors' Forum during the security of South East Governors' Forum, attended by the President General of Ohanaeze Ndigbo Worldwide and some other Igbo leaders presented a request that Ebubeagu should be jointly rolled out as a matter of urgency and also funded by the Government of the five SE States. From inception to date, SE Security Committee was never funded at all in any capacity and not even an office space was provided.
"At this juncture that EBUBEAGU will soon come fully on-stream, I respectfully request that Your Excellencies kindly permit me to resign my appointment as the chairman, SE Security Committee. In the spirit of my love to serve Ndigbo, I can assure you that I will always be available to advise on the success of EBUBEAGU at no cost, just as I served as the Chairman of South East Security Committee from 31 August 2019 till date at no cost directly or indirectly to the five South East State Government, groups and individual. I highly appreciate Your Excellencies for the opportunity you gave me to serve Ndigbo.
"Please be assured of my loyalty, respect and accept my highest regards of your esteemed considerations."
The letter was copied to the President General, Ohanaeze Ndigbo Worldwide, George Obiozor and Director-General, South East Governors' Forum.
Politics
News
AddThis
: 
Featured Image
: 
Original Author
: 
SaharaReporters, New York
Disable advertisements
: 
E2%80%94akintoye-tells-yoruba target=_blank rel=noopener>Igangan: Forget Constitution, Arm Yourselves, War Has Been Declared On Us—Akintoye Tells Yoruba People
Professor Banji Akintoye
The apex leader of the umbrella body of Yoruba self-determination groups, Ilana Omo Oodua, Professor Banji Akintoye, has raised the alarm that war had been declared on Yoruba people with the recent attack on Igangan area of Oyo State by suspected Fulani herdsmen.
He described the attack in which no fewer than people were killed as a declaration of war against peace-loving Yoruba people. 
Professor Banji Akintoye
Accusing the Muhammadu Buhari-led Federal Government of backing terrorist herdsmen that have been maiming, killing and raping people in Yoruba land, Akintoye, in a statement personally signed by him and made available to journalists on Monday by his Communications Manager, Mr. Maxwell Adeleye, called on Yoruba people to arm themselves with whatever they can lay their hands upon to defend their land against external aggression.
While saluting Rotimi Akeredolu, the Governor of Ondo State who doubles as the Chairman of South-West Governors Forum for his bold stand on the Igangan massacre, Akintoye called on the governors to put aside constitutional objections to defend their people, saying "Yoruba land has been surrounded, and we must act now."
The renowned historian said historically, the Yoruba people have never been conquered, while urging the younger generation of Yoruba people never to surrender to any form of intimidation or harassment.
He said, "The Alana and worldwide leader of Ilana Omo Oodua, Emeritus Professor 'Banji Akintoye, on behalf of all patriotic and concerned Yoruba people, and in consultation, and collaboration with hundreds of self determination groups at home and in the Diaspora, express uttermost shock and horror at the news of the barbarous killings and destruction by Fulani and other terrorists upon our people at Igangan, Ibarapa area of Oyo State."While commiserating with our people in Igangan, we hereby issue a red alert to all Yoruba people at home and in the Diaspora. 
"It must now be clear to all Yoruba people of all classes and economic circumstances that war has come in a big way to our homeland. This war has been coming relentlessly for five years, but some of our own people failed to understand the full intent and impact of it. Some have thought the answer is to do one constitutional or political thing to Nigeria and the war would go away. But we must now all know that such propositions concerning Nigeria are blatantly unrealistic. 
"And indeed these endanger Yorubaland, the Yoruba people and the Yoruba civilization by diverting the attention of our people from the manifest reality of our time. 
"We now call on all Yoruba people at home and abroad to focus on the danger of the moment in a manner that will be powerful enough to preserve our nation and civilization. 
"First we call on our State Governors to push aside all the constitutional objections that have been constantly raised from certain quarters whenever our governors have taken measures to defend our people. "We are particularly grateful to Governor Akeredolu of Ondo State and all other Governors who support him in the patriotic and manly statement that he has issued on the Igangan disaster. 
"We repeat what we have said again and again that we will stand fully and powerfully behind our Governors in any measure that they may adopt to defend our people. 
"We say to our state governors, your first constitutional duty is to ensure the security of life and property in our Yoruba states. In the face of that important task, constitutional and political finesse and obstructions are a danger to the lives and property of our people.
"The Federal Government of Nigeria has failed woefully to protect the Yoruba people, along with other indigenous peoples of the Nigerian South and the Middle Belt against these invading, marauding forces. 
"In fact, when we consider all the behaviour of the federal government in the face of this danger to the indigenous peoples and citizens of Nigeria, we can not avoid the conclusion that the federal government is a sponsor of the terror in our land. 
"The federal government started by saying and doing nothing about the terrorism while apparently instructing the security agencies to do nothing to confront the terrorism. 
"The federal government persistently gives to the wide world a false picture of the situation by claiming that everything is a product of climate change even as the Fulani insistently issues statements that their mission is to conquer and subdue all the indigenous peoples of Nigeria and forcefully take their land for Fulani folks from all over West Africa. And even as international terrorist organizations such as ISIS, Al Qaeda and even Al-Shabab come to reinforce this Fulani terrorism all over Nigeria. 
"While allowing the Fulani to move freely with and to import various categories of weapons into Nigeria, the Federal Government prohibited the possession of any kind of fire arms by any indigenous citizens of Nigeria, sending the police and army to seize such privately owned weapons including those for which these citizens had earlier been licensed for hunting and sports.
"In the light of all the foregoing, we call on all our governors to stop letting objections by federal officials to obstruct the defence of our peoples. 
"We call on all Yoruba people to rise up as one to defeat this danger. We Yoruba have a proud history that we have never been conquered. 
"Let us not succumb to conquest now. Let us thank the countless young people of our land who have been standing up against the invasion of our land. 
"But let us now rise to do more than merely thanking them and rise to give them all the support they need to clear our land of all terrorists of all kinds. 
"Let us show to the world that though we are a civilized and life respecting people, we are nevertheless a people supremely capable of defending our people and our homeland.
"The persistent Ilana Omo Oodua calls to arms of all Yoruba people on their farms, hamlets, villages, towns, cities and other communities must now be urgently activated with communal self defence systems, around their abodes and places of work. 
"You must urgently install early warning alarms; human, manual, scientific or spiritual. 
"Also the traditional and hi-tech defensive mechanisms must come into place. Encourage and assist our young people to form dynamic teams that not only defend but attack the enemies wherever they have dug themselves into our forests and farmlands. 
"Arm yourselves with whatever you can lay your hands upon, create or develop as individuals, and as communities to confront the enemy. 
"Ensure they no longer succeed in their mission anywhere in Yorubaland. Our technology wizards are already putting together structures that will protect our land and destroy the enemy.
"To the elite of the Yoruba Nation, our businessmen and our professionals, wenow appeal that you decide and take action to assist all the efforts outlined above. 
"We remember with gratitude that when the COVID-19 crisis loomed all over the world in 2020, our businessmen quickly put together a fund amounting to billions of naira to help fight the dreaded virus. 
"We call on you now to do the same, to set up a large fund for the defence of our homeland and help with your expertise to set up the disbursement, management and auditing of the funds. 
"The important goal must be that the funds be made to reach as quickly and adequately as possible all defensive and offensive groups and teams that demonstrate capabilities to produce quick and abiding results.
"We are Yoruba and we will prevail in this crisis. And then we will go forth and manage our own sovereign Oduduwa Nation to the admiration of all mankind- a land of security, opportunity and confident hope in prosperity for all our people and all peaceful and enterprising foreigners who come to our land."
Politics
News
AddThis
: 
Original Author
: 
SaharaReporters, New York
Disable advertisements
: 


E2%80%94prophet-tb-joshua%E2%80%99s-wife-recounts-his-last-moments target=_blank rel=noopener>I Met Him Sitting On Chair, Unconscious—Prophet T.B Joshua's Wife Recounts His Last Moments
I Met Him Sitting On Chair, Unconscious—Prophet T.B Joshua's Wife Recounts His Last Moments
Evelyn Joshua, the wife of Temitope Balogun Joshua, popularly known as T.B. Joshua, has disclosed the incident leading up to his death.
Speaking with some select journalists on Sunday, June 6, she said her husband, the founder of Synagogue Church of All Nations "ended his race prayerfully."
She revealed that the televangelist spent about three hours in prayer before the last service on the mountain and appeared to be very healthy.
She said he never showed any sign of illness or worry and that his main concern was about the prayer line they offered to Indians against the COVID-19 pandemic.
She said, "Afterward, he came up to shower and I left him to have some time to prepare for service as worship had started.
"Few minutes later, he stepped out for ministration. While ministering, he spoke about a time to come and time to leave. His statements were spiritual and suddenly, he left the stage and went to his inner chambers.
"I waited (for) a few minutes and thereafter decided to check on him. I met him sitting on the chair like someone reflecting but unconscious. I quickly beckoned on his disciples who came and tried to revive him to no avail. Of a truth, he went home to be with the Lord and left us with a message, watch and pray."  
SaharaReporters had on Sunday reported how Prophet TB Joshua died on the way to the hospital.
"He conducted a service yesterday evening. He had been sick for two days. He decided to go to the hospital after the evening programme. He died on the way to the hospital," a source had told SaharaReporters.
He was 57.  
Joshua was born on June 12, 1963, in Arigidi, Akoko axis of Ondo State. Plans were underway for his 58th birthday, which is six days away.  
News of his demise trended on social media in the early hours of Sunday as many Nigerians took turns to mourn the late prophet.
The cause of his death was not immediately disclosed, but sources told SaharaReporters he fell ill two days ago. His body is believed to have been deposited at General Hospital in Isolo, Lagos. 
TB Joshua's mega church runs the popular Emmanuel TV television station from Lagos, followed by many Christians worldwide.
Joshua is famous across Africa, Europe and America. His YouTube channel, Emmanuel TV, had over 1,000,000 subscribers and was the world's most viewed Christian ministry on the platform before it was suspended.
He is well known for his controversial prophecies such as the Ghana terror attack, US presidential election, coronavirus and his influence in African politics.
He recently predicted Nigeria would remain one despite instability in different parts of the country. He recently wrote on his Facebook page about plans to celebrate his 58th birthday.
News
AddThis
: 
Original Author
: 
SaharaReporters, New York
Disable advertisements
: 
target=_blank rel=noopener>FACT-CHECK: As Claimed By Fani-Kayode, Was Picture Of Man Holding A Burnt Child From Oyo Community?
Claim: A picture attached to a Twitter thread by former aviation minister, Femi Fani-Kayode featured a man holding a burnt child. Fani-Kayode described the picture as a casualty from the Igangan crisis in Oyo State. 
However, findings show that the picture was not from the Igangan crisis but from the Southern Cameroon (Ambazonian) genocide.
Full story
 
On Saturday, suspected Fulani herdsmen invaded the Igangan community in the Ibarapa North area of Oyo State, killing no fewer than 10 residents.
 
SaharaReporters gathered that the herdsmen arrived at Igangan around 11:00 pm on Saturday and operated till around 3.30am on Sunday. 
See Also
Insecurity
Herdsmen Return To Igangan Community, Cut Retired Principal's Hands
0 Comments
2 Months Ago
Also, houses and other property were burnt in the process.
 
The farmers/herders' clashes in Igangan generated public outcry after the murder of Fatai Aborode, a PhD holder and large scale farmer, who was purportedly killed by Fulani herdsmen.
 
The travails of many residents of the area had attracted the intervention of Yoruba Freedom fighter, Sunday Adeyemo (Igboho), who ordered the eviction of the Fulani population from the town.
 
 
Sunday Igboho, in January, ordered Fulani people to leave Yorubaland within seven days. 
 
He accused the Fulani community in the area of masterminding abductions, killings, and other criminal activities in the area.
 
He said, "Fulani cannot take over our land from us. We own our land and we won't allow anybody to take it from us. Some people are intimidating us but we won't succumb to their threat. For the Fulani living here, we are not fighting them, if they can live with us peacefully. Our fear is about Fulani taking over our land, kidnapping and killing our people…"
 
What followed was the burning of the house of the Seriki Fulani of Igangan, Salihu Abdulkadir, who was forced to leave the community after his settlement was allegedly set on fire by aggrieved youths.
 
 
Abdulkadir told SaharaReporters in Ibadan that he, his wives and children were sent out of the settlement, adding that 11 vehicles and houses were burnt in the process.
 
 
The recent attack attracted public outrage, with many people condemning the herdsmen invasion. 
 
One of those who condemned the deadly attack on Igangan is the former aviation minister, who took to his Twitter page on Sunday.
 
Over 50 innocent souls butchered& cut to pieces in their homes by Fulani terrorists in Igangan, Oyo state & the Palace of the trad. ruler burnt to the ground. I shed tears when I saw the videos. Can there be any greater provocation than this? How do we respond to such barbarity?— Femi Fani-Kayode (@realFFK) June 6, 2021
 
However, the former minister, who is known for posting controversial contents used a misleading picture.
 
His tweet had garnered over 1, 800 likes, 1, 100 retweets and some quote tweets.
 
Also, the picture was used by a blog, radiobiafrafreedom on Monday, June 7, calling on the United Nations for support and captioning the picture as one from Nigeria. A caption of the picture on the blog reads, "Dear #UN, this picture is the handiwork of Fulani soldiers aiding Fulani herdsmen the brothers of Buhari and Amina J Mohamed  NIGERIA@UN @UNHumanRights @UN_HRC @mbachelet @SecBlinken @IntlCrimCourt."
 
Checks by SaharaReporters have revealed that the image was from the Ambazonian crisis in Southern Cameroon.
 
With the use of Reverse image search, it is clear that the picture was originally captured in February 2021 from the crisis at Tiben, Batibo in British Southern Cameroon.
 
On a website,  a video captured the man, identified as Mr Ndi, holding a burnt baby while others around him mourned ( . The report was dated February 17, 2021.
 
It stated that the baby was left behind by its parents after French Cameroun Bulubeti militias invaded Tiben, Batibo Subdivision (Moghamo Local Government) of the territory of British Southern Cameroon (Ambazonia) on 11 February 2021.
 
SaharaReporters also used InVid, a video verification platform that confirmed the authenticity of the video.
 
Conclusion
Findings showed that the picture of a burnt baby being circulated with claims it was captured from the Igangan crisis on Twitter is false. The picture was from a separate event in another country.
News
AddThis
: 
Original Author
: 
Saharareporters, New York
Disable advertisements
: 
E2%80%99t-obey-nigerian-governments-directive-twitter-ban%E2%80%94 target=_blank rel=noopener>Why Deeper Life Bible Church Won't Obey Nigerian Government's Directive On Twitter Ban— Pastor Kumuyi
Pastor Kumuyi
The General Overseer of Deeper Life Bible Church, Pastor William Folorunso Kumuyi, has said the church won't obey President Muhammadu Buhari's ban on the microblogging platform, Twitter.
 
Nigeria's information and culture minister Lai Mohammed had on Friday announced Twitter's suspension in a statement by his media aide, Segun Adeyemi.
Pastor Kumuyi
Wikipedia
The suspension by the Nigerian government comes days after a post by President Muhammadu Buhari on the 1967 civil war was deleted by the microblogging platform.
 
The Nigerian government's spokesman cited "the persistent use of the platform for activities that are capable of undermining Nigeria's corporate existence" as the reason for the suspension.
 
On Saturday, the Minister of Justice, Abubakar Malami (SAN) ordered the arrest and prosecution of anyone found using the social media platform.
 
Kumuyi who defied the ban on Monday, said tweets shared on his page are targeted at a global audience in more than 5 continents and over 100 Nations.
 
"In view of the Twitter ban in Nigeria, please note that the content shared on this handle is targeted at a global audience in more than 5 continents and over 100 Nations and we share the content from any of these locations," he tweeted. In view of the Twitter ban in Nigeria, please note that the content shared on this handle is targeted at a global audience in more than 5 continents and over 100 Nations and we share the content from any of these locations.— Pastor William F. Kumuyi (@pastorwf_kumuyi) June 7, 2021
The same tweet was also posted on the official Twitter page of the church.
In view of the Twitter ban in Nigeria, please note that the content shared on this handle is targeted at a global audience in more than 5 continents and over 100 Nations where the Ministry is represented, and we share the content from any of these locations.— Deeper Life Bible Church (@dclmhq) June 7, 2021
Politics
News
AddThis
: 
Original Author
: 
Saharareporters, New York
Disable advertisements
: 
Read also Nigerian Newspapers Today and Nigeria News Today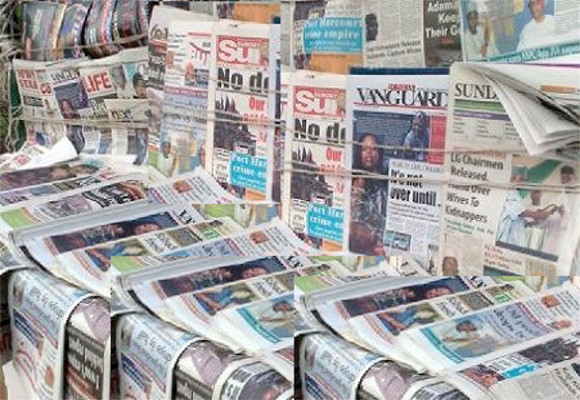 You can also check Sahara Reporters Newspaper Headlines Today