Sahara Reporters Latest News Today

Monday 5th April 2021

Sahara Reporters Latest News Today and headlines on some of the happenings and news trend in the Country, today 05/04/21

Read also nigeria newspapers Monday 5th April 2021
E2%80%94-fayose target=_blank rel=noopener>Obasanjo Told Me In His Bedroom That He Would Send Bode George To Prison— Fayose
Ayodele Fayose
Ayo Fayose, former governor of Ekiti state says former President Olusegun Obasanjo masterminded the incarceration of Chief Olabode George, a former deputy national chairman of the Peoples Democratic Party (PDP) over a tussle for the party's national chairmanship position.
 
According to Daily Independent, Fayose said it was wrong for George to accuse him of sabotaging his efforts to become the national chairman of PDP.
Ayodele Fayose
He said as Ekiti state governor, he was in Ota, Ogun State, when Obasanjo who wanted to become the chairman of the party's Board of Trustees (BoT) said he would cause trouble for George so that he won't have time to contest for the PDP national chairmanship position.
 
He said, "Let me say that Chief Bode George is our leader; I don't want to fight him. Sincerely, I don't want to fight him. He imagined that I was the one that didn't allow him to become PDP national chairman; that is his grouse. I want to say to him, if God has destined him to be national chairman, he would have been. Fayose is not God that can stop anybody.
 
"He keeps saying I stopped him and I keep saying to him too that when I wanted to become governor in 2014, he did not support me. He worked against me. He worked with the likes of Jumoke Akinjide to work against me. He worked with Dayo Adeyeye at a time. But let us be very honest, politics is all about interests. So, I don't want to blame him.
 
"He said he gave me N250, 000. I can't remember him doing that but even if he has given me money, I have given a lot of people contesting elections money. I have done favours for Chief Bode George when I was sitting governor. Do I come to the streets and start saying I bought Chief Bode George this and that. That is not equally matured. Any politician saying I give this person money is a man of little mind. I don't want to say oga is a little mind but I don't expect oga to be saying I gave Fayose N250,000. What is N250,000?
 
"When he was in prison, I went to see him. He would recall that when Baba (Olusegun Obasanjo) said he would go to prison, I was the one who went to him to come and tell him. Then I was a sitting governor. I left Ota and came to Lagos to meet him that Baba Obasanjo said he would send you to prison; that arrangement has been made for you to go to prison. He can't deny that.
 
"I was in Obasanjo's bedroom in Ota when he told me 'that Bode, he will pay for it dearly. He will end up in prison. He wants to be national chairman, let's see how he will do it'. When I heard from Obasanjo, I ran to Chief Bode George to inform him that Baba Obasanjo had insisted that Nuhu Ribadu, the then EFCC chairman should file your paper quickly, saying 'what Bode will be facing, he will not have time for national chairman'.
 
"It was in Transcorp Hilton that that crisis happened where Obasanjo and (Tony) Anenih had issues. It was because Obasanjo wants to be BoT chairman and Bode George wants to be national chairman.
 
"It was on the issue of this national chairman that sent Chief Bode George to prison. Chief Bode George wants to be national chairman; Obasanjo wants to be BoT chairman. The late Tony Anenih eventually became the BoT chairman. Obasanjo believed that Chief Bode George was going to disturb his bid, that was why Chief Bode George was charged to court."
News
AddThis
: 
Original Author
: 
Saharareporters, New York
Disable advertisements
: 
E2%80%94-el-rufai target=_blank rel=noopener>Proceeds Of Banditry, Kidnapping Used In Funding Boko Haram— El-Rufai
Kaduna State Governor Nasiru Ahmed El-Rufai
The Kaduna State Governor, Nasir El-Rufai says money realised from banditry and kidnapping is being used to fund the activities of Boko Haram insurgents in the North-East.
El-Rufai disclosed this while featuring on Channels Television's 'Sunday Politics' programme.
Kaduna State Governor Nasiru Ahmed El-Rufai
He said gunmen are targetting his state because the government refused to give them money and negotiate with them.
 
"Bandits and kidnappers are targetting Kaduna State because we refused to give them money and negotiate with them.
 
"The solution to our security problem is partly state police and we are working on that. No civilised society sits back when its sovereignty is challenged. The first thing to do is to wipe out these bandits. This is war. We must fight them to the end
 
"Nigerian Army and security agencies, as an immediate step, need to acquire advanced weaponry to combat insecurity."
 
On the government's effort in rescuing the 39 abducted students of Federal College of Forestry Mechanisation, Afaka, El-Rufai said, "Necessary action will be taken by the grace of God, we will rescue them."
Politics
News
AddThis
: 
Original Author
: 
Saharareporters, New York
Disable advertisements
: 


target=_blank rel=noopener>Gunmen Kill Delta Prince, Friend, Two Policemen
Delta State Map
The son of the Ovie (King) of Orhumwhorun Community in Udu Local Government Area of Delta state, HRH, Ighohwo Takerere, Okaka II and his friend have been killed by gunmen.
 
The incident, it was gathered, happened in Effurun, Uvwie LGA of the state on Saturday afternoon.
Delta State Map
Two policemen in their vehicles, a Range Rover and Mercedes Benz GLK (EPE 289 FB), were also shot dead by the gunmen.
 
According to a video trending online, the cars were splattered with the blood of the victims.
 
Their gruesome murder however sparked off wild protests, lootings and destruction in the Usiefurun area of Orhumworun on Saturday night.
CRIME
Insecurity
Police
News
AddThis
: 
Original Author
: 
Saharareporters, New York
Disable advertisements
: 
target=_blank rel=noopener>Odumakin: A Patriot Is Gone, Says INEC Commissioner Igini
The news of the death of Patriot Yinka Odumakin came to me today  as a rude  shock of monumental proportion. 
Comrade Yinka Odumakin's death is not only a personal irreplaceable loss but a huge loss to the Nation. 
Death ! Why did you do this to us at the most trying and difficult moments in our country? 
Odumakin is an embodiment of commitment to the success of the Nigerian  project and demonstrated it  with integrity during epochal events such as the Save Nigeria Project and the call for electoral reforms, where he exhibited how human agency can make or mar the destiny  of a nation. 
We cannot question God but the death of Yinka Odumakin is a painful reality. No words  can sufficiently  console us of his loss and the pains of his passing. 
My family  joins  his beloved wife Comrade. Dr.Joe Okei-Odumakin, his family and the entire nation in  grief over the loss of a Patriot. He never betrayed the values and principles of the common good but rather demonstrated the courage of conviction to remain true to them. He did his best, he gave his all to have a society where there will be opportunity for all and responsibility from all. By his commitment to the enthronement of equity , fairness and justice to all, he engrafted enduring  values of love and equity in the hearts of all.
 Yinka Odumakin will leave in our hearts for all times. Rest in peace until we meet again.
Mike A. IginiCommissioner(Akwa Ibom State)Independent National Electoral Commission
Press Release
AddThis
: 
Original Author
: 
Saharareporters, New York
Disable advertisements
: 
E2%80%94pyrates-confraternity target=_blank rel=noopener>How Buhari Failed To Improve Nigerian Hospitals In Six Years —Pyrates Confraternity
The National Association of Seadogs (Pyrates Confraternity) has berated President Muhammadu Buhari over his latest trip to the United Kingdom for a routine medical check-up.
 
 The NAS Capoon, Mr Abiola Owoaje in a statement he signed on behalf of the organisation entitled "President Buhari's Foreign Medical Trip: Symptom of a National Malady" noted that were Buhari a private citizen, he reserves the right to do as he wishes but as President of Nigeria "it is both unethical and embarrassing that the President would so publicly signal a vote of no confidence in the healthcare system of the country he presides over."
"We need no reminders that millions of Nigerians are left to the weak and inefficient healthcare system that their President so visibly disdains since they cannot have foreign medical trips paid for from the public treasury.
 
"The timing of this latest medical tourism is tragically poignant, coming the same week the National Association of Resident Doctors (NARD) commenced an indefinite strike over the failure of the Federal Government to implement the
Memorandum of Understanding (MoU) it signed with the association and meet other demands which include payment of entitlements as basic as hazard allowance for routine professional hazards and the extraordinary demands of the Covid-19 pandemic."
 
Owoaje lambasted Buhari
for not being able to fulfil his campaign promise to revamp the health sector
and halt medical tourism.
 
"In the six years that he has been in office, President Buhari has abysmally failed to make hospitals in Nigeria functional to the extent that it can be entrusted to handle his health and that of other top government officials.
 
"It is even more disappointing that the Aso Rock Clinic, the object of inexplicably huge budgetary allocations, is demonstrably incapable of meeting the demands of the most senior resident of Aso Rock Villa," Owoaje added.
 
While ruing how successive administrations in the country have been contributed to the parlous state of Nigeria's health sector, he challenged Buhari to use the remaining years of his tenure to work for the improvement of healthcare delivery system.   
 
According to him successive administrations in the country had contributed to the parlous state of the health sector in the country, but expectations by Nigerians that Buhari would revamp the health sector in line with his campaign promises have been dashed.
 
 "He should as a matter of priority put efforts in motion leading the charge and galvanising state governments across the country to ensure the upgrading of public healthcare facilities in the country in line with global best practices. His administration should summon the required will and mobilise the needed funds to address the structural problems in Nigeria's healthcare ecosystem. These include the conducive working environment, improved infrastructure, tools, eliminating the ongoing brain drain, improving the welfare of medical and healthcare workers in the country as well as strengthening the organic link between primary, secondary and tertiary levels of healthcare.
 
"President Buhari's preoccupation, as he enters the sixth year out of his eight-year tenure should be how to develop Nigeria's healthcare system such that no President after him would need to travel out of the country for a routine medical check-up. Nigerians want a leader who would inspire confidence in the country's health facilities. President Buhari should strive to be such a leader if he cares about the verdict of history."
PUBLIC HEALTH
News
AddThis
: 
Original Author
: 
Saharareporters, New York
Disable advertisements
: 
E2%80%94-obasanjo-sheikh-gumi target=_blank rel=noopener>What Nigerian Government Must Do To Stop Banditry — Obasanjo, Sheikh Gumi
Ex-President Olusegun Obasanjo and Islamic cleric, Sheikh Ahmad Gumi, have asked the Nigerian government to settle and rehabilitate bandits who are willing to surrender.
 
SaharaReporters had earlier reported that Gumi and some religious leaders met with the former President in Abeokuta, Ogun State capital on Sunday.
At the end of the meeting, both men issued a joint statement on what they discussed.
See Also
News
Sheikh Gumi Meets Obasanjo In Abeokuta Over Insecurity In Nigeria
0 Comments
9 Hours Ago
They urged the Nigerian government to take the issue of insecurity within ECOWAS in order to seek a regional solutions.
 
The statement read, "Federal government must be proactive, secure necessary and updated intelligence to deal with organised crimes and have common policy for the nation. It is not solving the problem when one state goes for negotiation and molly-cuddling of criminals and another one goes for shooting them. Nor should one state go for ransom payment and another one going against.
 
"Education is one main key to solve the problem in the long run but it must start now. The 14 million children that should be in school and are out of school must be put in school with local authorities, state governments and federal government working together.
 
"Wean those who are ready to be weaned out of the bushes and crime, settle and rehabilitate them, give them skills, empower them and let them have employment.
 
"The hardened criminals must be hard hit with stick. Unlawful carrying of arms should be very seriously punished.
"Federal government should take the issue up seriously within ECOWAS to work for a regional solution.
 
"Every community must be encouraged and empowered to stand firm and strong against criminals.
 
"Special courts should be created to deal promptly with cases of banditry, kidnapping, ransom demanding and unlawful carrying of weapons. Let the slogan be: Security is the responsibility of all Nigerians.
 
"We agree to continue to work together for solutions for the security of Nigeria and to seek others to join us as we widely circulate our joint statement. To this end, Sheikh Gumi has extended an invitation to Chief Obasanjo to visit Kaduna with a view to continuing the discourse started today and Chief Obasanjo has graciously accepted.
 
"We conclude that to keep Nigeria safe and secure for all Nigerians and others living in Nigeria is a task that all well-meaning Nigerians must engage in, separately and collectively. Both of us resolve that we would not relent in our efforts. The delegations on both sides acceded to this statement. We agree to meet again in due course to re-examine progress and situation of security in Nigeria."
Politics
News
AddThis
: 
Original Author
: 
Saharareporters, New York
Disable advertisements
: 
E2%80%93-kaduna target=_blank rel=noopener>Abductions: Anyone Caught Negotiating With Bandits On Our Behalf Will Be Prosecuted – Kaduna Government
Kaduna State Governor Nasir El-Rufai
The Kaduna State Government says it never appointed any group or individual to negotiate on its behalf with bandits.
The state Commissioner for Internal Security and Home Affairs, Samuel Aruwan, disclosed this in a statement on Sunday.
Kaduna State Governor Nasir El-Rufai
Aruwan said anyone caught negotiating with bandits on government's behalf, would be prosecuted.
The statement read, "The attention of the Kaduna State Government under the leadership of Governor Nasir El-Rufai has been drawn to reports in the media that it has appointed representatives to interface with bandits on its behalf.
"The Kaduna State Government hereby clarifies firmly that such intermediaries have never been appointed.
"The position of the Kaduna State Government remains the same: the government will not negotiate with or pay ransoms to bandits.
"Any person who claims to do so in any capacity, if found, will be prosecuted accordingly.
"Citizens are urged to report the details of any persons posing as official government negotiators to the Kaduna State Security Operations Room on 09034000060 and 08170189999, or email internal.security@kdsg.gov.ng."
Bandits had in March invaded the Federal College of Forestry Mechanisation, Afaka in the Igabi Local Government Area of Kaduna state and abducted 39 students comprising 23 females and 16 males.
Few days later, the gunmen kidnapped teachers from UBE Primary School in Rama, a village in Birnin Gwari LGA of the state.
The bandits have failed to release them after many days in captivity.
Insurgency
Politics
News
AddThis
: 
Original Author
: 
Saharareporters, New York
Disable advertisements
: 


E2%80%94-huriwa target=_blank rel=noopener>Buhari Hiding In United Kingdom While Nigeria Is On Fire— HURIWA
Muhammadu Buhari
The Human Rights Writers Association of Nigeria (HURIWA) has berated President Muhammadu Buhari for travelling to the United Kingdom and enjoying formidable security while Nigeria is on fire from armed non-state actors killing, maiming and destroying lives and property.
 
SaharaReporters had reported that Buhari on Tuesday afternoon departed Nigeria for the UK for a medical check-up.
Muhammadu Buhari
According to the presidency, Buhari is expected to return to the country in the second week of April.
 
"It was incomprehensible that someone who spent over a decade campaigning to be elected the Nigerian President, but as soon as he got the historic opportunity to govern the political entity called the Federal Republic of Nigeria, the same retired Major General Muhammadu Buhari has displayed crass irresponsibility and total incapacity and unwillingness to govern Nigeria and deliver good governance to the good people of Nigeria but has allowed nepotism, corruption and widespread violence and insecurity to overwhelm and dominate his nation and he runs away intermittently to the Western World to receive the best of medical services whereas he has destroyed the Nigerian health care system and all other strategic infrastructures," HURIWA said in a statement issued by its National Coordinator, Comrade Emmanuel Onwubiko.
 
The group also deplored the incessant bloodshed and coordinated killings of the citizens of Ebonyi state by suspected Fulani herdsmen and some sponsored armed militants.
 
"The major plank of the blame is on the poorly performing government of President Muhammadu Buhari for the porosity of the nation to a series of armed non-state actors such as bandits, tertorists and Fulani herdsmen, including the emerging externally induced terrorism in the Southern Nigerian states classified as 'Unknown Gunmen'.
 
"HURIWA has noted with immense pains and agony that barely twenty-four hours after eight people were killed in Adani, Uzo -Uwani Local Government Area of Enugu State, by gunmen, a Methodist priest and 17 other indigenes of Egedegede, Obegu and Amuzu communities in Ishielu Local Government Area of Ebonyi State, were on Monday evening, gruesomely killed by rampaging herdsmen who invaded the communities. The car belonging to the Methodist priest was also burnt by the herdsmen. But the police in Ebonyi said only six people were killed.
 
"HURIWA has learnt that not less than 18 or even 30 persons were killed by the herdsmen in Ishielu. Eye witnesses have regrettably amstated that as we write, 18 or 30 persons were slaughtered like animals. They matcheted many of our people, burnt vehicles, motorcycles and looted our properties.
 
"What does the Ebonyi state government do with the huge security votes on monthly basis and why did President Muhammadu Buhari who controls both the Nigerian police and the Department of State Services seem to be unconcerned when armed Fulani herdsmen unleashed unmitigated slaughter of the citizens of Ebonyi and many other states?" 
 
"The President has now shamelessly run off to a hospital that works in a country that is well protected by their elected leaders but he has abandoned his primary responsibilities of protecting Nigerians and refused to even do the constitutionally mandated transition of temporary power to his vice president, Professor Yemi Osinbanjo."
News
AddThis
: 
Original Author
: 
Saharareporters, New York
Disable advertisements
: 
target=_blank rel=noopener>Fellow Politicians Worsening Insecurity Situation In Oyo, Says Makinde
Seyi Makinde
Oyo State Governor, Seyi Makinde, on Sunday said that he would soon expose the identities of people politicising the issue of security in the state.
 
The governor, who stated this while addressing the congregation at the St Peters Anglican Cathedral, Aremo, Ibadan, on the occasion of Easter Sunday Service, said though the state is experiencing insecurity, the situation is a nationwide phenomenon.
Seyi Makinde
A statement by the Chief Press Secretary to the governor, Mr. Taiwo Adisa, quoted the governor as saying that security issues ought not to be politicised.
He, however, added that "if they are politicising issue of security because they want to be in power in 2023, it means they are making a huge mistake."
 
Makinde stated that his administration has taken time to investigate and proffer solutions to reports of insecurity across the state.
 
He implored those politicising insecurity because of their 2023 ambition to jettison the idea and seek the face of God instead of engaging in actions he said, could trigger palpable fear in the state.
 
He said: "I want to say Happy Easter to the Church of God and pray that we shall witness more on earth. It is another Easter season and it is another opportunity for us to say thank you to our Lord and Saviour, who died for us to be saved.
 
"The Archbishop has already preached and the only thing I can do is to thank God and say one or two things, which our government is doing. 
"Very soon, we will be two years in office and the area of focus of our government remains education, health, economic expansion and security.
 
"When the Archbishop was preaching, he mentioned that there are security challenges. Yes, it is true and I can confirm to this gathering that if there is something that makes me not sleep with my two eyes closed, it is the issue of security.
 
"As a government, we are doing different things and, as a matter of fact, it is on record that there is no government in this Oyo State, which has spent more money on security than this current one. 
"When we came in, within the first hundred days, we gave 100 patrol vehicles out to security agencies. 
"We re-established Swift Response Squad, SRS. We re-established Operation Burst as well.
 
"All the communication gadgets they needed were provided to cover all the areas in Oyo State and they were able to communicate with one another without hindrance. Also, before we came in, there was nothing like Amotekun, but we were able to set it up when we came in. It was just last week that Ogun State set up its Amotekun outfit.
 
"If you look at those who have set up before now; states like Osun, Ekiti and Ondo, they recruited 300 personnel each, totalling 900 for the three states. But in Oyo State, we recruited 1,500 Amotekun personnel.
 
"The issue of insecurity is not peculiar to our state; however, rest assured that this government will not rest until every inch of Oyo State is secure. 
"But I must warn that politics is inherent in this insecurity issue in Oyo State and in the days to come, I will expose the people that are politicising the issue of security.
 
"I, as well as those working with me are taking our time. If we hear of any report on insecurity, we will investigate. I know I don't have much time but I need to explain to the people what is happening so that when they hear about those trying to politicise the issue of security, they will easily know and identify what exactly is the truth. 
 
"I symphatise with the people! Why? If they continue to politicise the issue of insecurity because they want to be in government in 2023, they should know that if there is no Oyo State or Nigeria, I don't know how they want to govern the state in 2023. 
 
"So, I also want to beg you that it is not all we read on social media that is true. If we have friends who are aspiring to get into political offices, they should keep looking unto the face of God instead of seeking to destroy our state and country.
 
"God has forgiven us our sins. Let us also forgive others who have sinned against us. I have forgiven my offenders too."
Politics
News
AddThis
: 
Original Author
: 
Saharareporters, New York
Disable advertisements
: 
target=_blank rel=noopener>Sheikh Gumi Meets Obasanjo In Abeokuta Over Insecurity In Nigeria
An Islamic Scholar, Sheik Ahmad Gumi, is currently in a meeting with former President Olusegun Obasanjo in Abeokuta, Ogun state.Gumi, it was gathered, arrived at the Hilltop mansion of the former President around 11am, and went straight into the meeting.
It was learnt that the visit by the cleric was to brief Obasanjo on his recent peace advocacy visits to bandits in the Northern region of the country with the hope that the government will understand the situation better and adopt his suggestions as the best possible way of ending the current insecurity crisis.
Sheikh Gumi and the former President are expected to address journalists immediately after the closed-door meeting.
The cleric has been visiting bandits in the forest in an attempt to negotiate a peace deal with them.
He has also called on the Nigerian government to grant amnesty to the gunmen.
"I appeal to the government and recommend that the government should do to them exactly what they did to the Niger delta militants and give them a blanket amnesty. Then if anybody will continue we will deal with him," Gumi had said.
 
News
AddThis
: 
Original Author
: 
Saharareporters, New York
Disable advertisements
: 
Read also Nigerian Newspapers Today and Nigeria News Today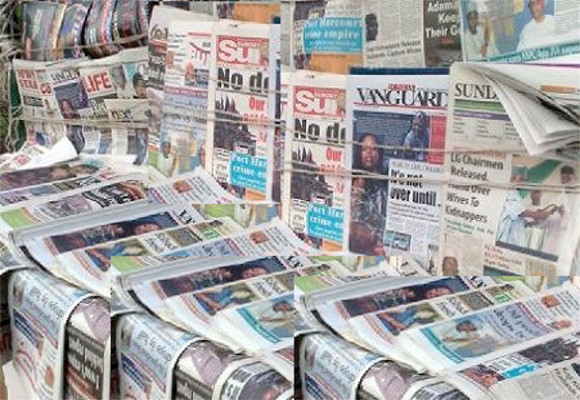 You can also check Sahara Reporters Newspaper Headlines Today