Sahara Reporters Latest News Today

Thursday 1st April 2021

Sahara Reporters Latest News Today and headlines on some of the happenings and news trend in the Country, today 01/04/21

Read also nigeria newspapers Thursday 1st April 2021
target=_blank rel=noopener>BREAKING: Gunmen Attack Former CBN Governor, Soludo In Anambra, Kill Three Policemen
Unknown gunmen on Wednesday attacked a former Governor of the Central Bank of Nigeria, Charles Chukwuma Soludo in Isuofia, Aguata Local Government Area of Anambra state, killing at least three policemen attached to him.
SaharaReporters gathered that Soludo, a governorship aspirant, was in the community for an interaction session.
"A couple of minutes ago, unknown gunmen disrupted the interactive session between Isuofia youth and Prof Chukwuma Soludo. In the process, three policemen were killed and one kidnapped, their rifles were also carted away. There is a serious stampede in the town centre right now," a resident told SaharaReporters.
The Independent National Electoral Commission (INEC) has fixed November 6 for the governorship election in the state.
Insecurity
Police
Politics
Breaking News
News
AddThis
: 
Original Author
: 
SaharaReporters, New York
Disable advertisements
: 
target=_blank rel=noopener>EndSARS: Nigerian Government Failed To Disclose Findings Of Extrajudicial Killings' Probes, Says US
The United States has said that state and federal panels of inquiry investigating suspicious deaths in civil protests such as the October 20, 2020, shootings at the Lekki Tollgate in Lagos State during the EndSARS campaign, failed to always make their findings public.
The US added that therefore, "accurate information on fatalities resulting from the Lekki shooting" was not available at the end of 2020.
The United States stated these in its human rights report on Nigeria, obtained by SaharaReporters on Wednesday.
The 47-page report is titled, Country Reports on Human Rights Practices for 2020 United States Department of State from the Bureau of Democracy, Human Rights and Labor.
The Nigeria 2020 Human Rights Report stated that although the Amnesty International reported that 10 persons died during the Lekki tollgate shooting incident, the government disputed Amnesty's report, and no other organisation was able to verify the claim.
The report said, "There were reports that the government or its agents committed arbitrary, unlawful, or extrajudicial killings. At times authorities sought to investigate, and when found culpable, held police, military, or other security force personnel accountable for the use of excessive or deadly force or for the deaths of persons in custody, but impunity in such cases remained a significant problem.
"State and federal panels of inquiry investigating suspicious deaths did not always make their findings public. The national police, army, and other security services sometimes used force to disperse protesters and apprehend criminals and suspects. Police forces engaging in crowd-control operations generally attempted to disperse crowds using nonlethal tactics, such as firing tear gas, before escalating their use of force.
"On October 20, members of the security forces enforced curfew by firing shots into the air to disperse protesters, who had gathered at the Lekki Toll Gate in Lagos to protest abusive practices by the Nigeria Police Force's Special Anti-Robbery Squad (SARS). Accurate information on fatalities resulting from the shooting was not available at year's end.
"Amnesty International reported 10 persons died during the event, but the government disputed Amnesty's report, and no other organization was able to verify the claim. The government reported two deaths connected to the event. One body from the toll gate showed signs of blunt force trauma. A second body from another location in Lagos State had bullet wounds. The government acknowledged that soldiers armed with live ammunition were present at the Lekki Toll Gate. At year's end the Lagos State Judicial Panel of Inquiry and Restitution continued to hear testimony and investigate the shooting at Lekki Toll Gate."
The US report added that there were no "reports of the federal government further investigating or publicly holding individuals accountable for the Nigerian Army's 2015 killing and subsequent mass burial of 347 members of the Islamic Movement of Nigeria and other civilians."
It noted that there were also reports of "arbitrary and unlawful killings related to internal conflicts in the North-East and other areas."
"In August, #RevolutionNow protesters organised a set of demonstrations in several cities across the country to mark the one-year anniversary of their inaugural protests calling for more responsive and accountable governance. 
"Although the protests were allowed to proceed unimpeded in most places, civil society observers reported the arrest of some peaceful protesters in Lagos, Osun, and Kano States on charges of 'conduct likely to cause breach of public peace.' All those arrested were released within days of their arrest," the report added.
#EndSARS
News
AddThis
: 
Original Author
: 
SaharaReporters, New York
Disable advertisements
: 


E2%80%93-us target=_blank rel=noopener>Nigeria Recorded 482 Human Rights Abuses Of Lesbians, Gays In 2020 – US
The United States has said that the Lesbians, Gay, Bisexual, Transgender and Queer community in Nigeria recorded increased harassments in 2020 with 482 cases of abuses and violence.
The US added that worse is the case in 12 northern states that adopted Sharia law where, adults convicted of engaging in same s** sexual conduct "may be subject to execution by stoning."
The United States stated these in its human rights report on Nigeria, obtained by SaharaReporters on Wednesday.
The 47-page report is titled, Country Reports on Human Rights Practices for 2020 United States Department of State from the Bureau of Democracy, Human Rights and Labor.
It is otherwise referred to as the Nigeria 2020 Human Rights Report.
The report said, "A 2014 law effectively renders illegal all forms of activity supporting or promoting l******, gay, bisexual, transgender, and intersex (LGBTI) rights. According to the law, anyone convicted of entering into a same-s** marriage or civil union may be sentenced to up to 14 years' imprisonment. The law also criminalises the public show of same-s** amorous affection.
"A 2016 Human Rights Watch report asserted police and members of the public used the law to legitimise human rights abuses against LGBTI persons, such as torture, sexual violence, arbitrary detention, extortion, and violations of due process rights.
"During the year (2020), LGBTI persons reported increased harassment, threats, discrimination, and incidents of violence against them based on their real or perceived sexual orientation or gender identity according to The Initiative for Equal Rights (TIERs). TIERs documented 482 human rights abuses based on real or perceived sexual orientation, gender expression, and s** characteristics between December 2019 and November.
"Of these cases, more than 20 percent involved state actors. Invasion of privacy, arbitrary arrest, and unlawful detention were the most common abuses perpetrated by law enforcement and other state actors. Blackmail, extortion, assault, and battery were the most common types of abuses perpetrated by nonstate actors.
"In the 12 northern states that adopted Sharia, adults convicted of engaging in same-s** sexual conduct may be subject to execution by stoning. Sharia courts did not impose such sentences during the year. In previous years, individuals convicted of same-s** sexual conduct were sentenced to lashing."  
The US report recalled that on October 27, 2020, a Federal High Court in Lagos struck out the charges against 47 men charged in 2018 with public displays of same-s** amorous affection for their attendance at a hotel party where police stated h********* conduct took place.
"The presiding judge struck out the charges due to a 'lack of diligent prosecution' after the prosecuting counsel repeatedly failed to present witnesses or evidence for court proceedings among other concerns," the report noted.
Human Rights
S**
News
Reports
AddThis
: 
Original Author
: 
SaharaReporters, New York
Disable advertisements
: 
E2%80%94-wike target=_blank rel=noopener>Why I Won't Go Abroad For Medical Checkup Unlike Some People— Wike
Rivers Governor Wike
The governor of Rivers State, Nyesom Wike, says he does not need to travel abroad for a medical checkup because everything he needs is already available at the Government House Clinic built by his administration.
Wike made this known when a delegation of the Medical and Dental Council of Nigeria paid him a courtesy visit at the Government House, Port Harcourt on Wednesday.
Rivers Governor Wike
 In a statement signed by his Special Assistant on Media, Kelvin Ebiri, the governor urged the council to resist playing politics with the approved quota for medical and dental schools in Nigeria, particularly the Rivers State University College of Medical Sciences.
Wike was quoted as saying, "The health care system in Nigeria requires very serious attention. It is unfortunate where we are. I don't want to comment on people who are travelling for a medical check. I have not travelled for the past two years.
"If we have all these things here why do we have to travel. We have all it takes to provide it. Why will I go out to do my check (overseas) when I have all the facilities in Government House?
"I don't need it. Everything that is required for me to undergo any test is here. The resources we have. Why can't we provide it for our people?"
The governor further said his government would sign a contract for the construction of a cancer and cardiovascular diseases centre. 
His comment came at a time when President Muhammadu Buhari left the country for London for a medical checkup, shortly before the country's doctors are billed to go in strike over poor remuneration and welfare. 
Buhari had departed the country on Tuesday for the United Kingdom in what the Presidency described as "routine medical leave."
According to a statement by his Special Adviser on Media and Publicity, Femi Adesina, the President is expected back in the country in the second week of April 2021.
Politics
PUBLIC HEALTH
News
AddThis
: 
Original Author
: 
SaharaReporters, New York
Disable advertisements
: 
target=_blank rel=noopener>US Receives N127 Billion From Sudan For Victims Of Terrorist Attacks
The United States has received $335 million (about N127 billion) settlement from Sudan to be paid out to victims and families of individuals impacted by the 1998 bombings at the US Embassies in Tanzania and Kenya, the 2000 attack on the USS Cole, and the murder of a USAID employee in Khartoum.
Secretary of State Tony Blinken said in a statement Wednesday, CNN reports. 
"Achieving compensation for these victims has been a top priority for the Department of State. We hope this aids them in finding some resolution for the terrible tragedies that occurred," Blinken said.
The multi-million dollar settlement was a key component in lifting Sudan's decades-old state sponsor of terrorism designation, which came with a series of restrictions including a ban on defense exports and sales and restrictions on US foreign assistance.
The Trump administration removed that designation after the $335 million was transferred to an escrow account and after Sudan announced it had agreed to normalise relations with Israel, both in October 2020.
The money was held in that escrow account until Sudan's sovereign immunities — which prevent it from being sued in federal court — were restored.
Blinken said Wednesday that the State Department last week "transmitted to Congress the Secretary's certification restoring Sudan's sovereign immunities pursuant to the Sudan Claims Resolution Act enacted last December."
"We appreciate Sudan's constructive efforts over the past two years to work with us to resolve these long-outstanding claims," Blinken said. "With this challenging process behind us, US-Sudan relations can start a new chapter."
"We look forward to expanding our bilateral relationship and to continuing our support for the efforts of the civilian-led transitional government to deliver freedom, peace, and justice to the Sudanese people," he said.
More than 200 people were killed and thousands were injured in 1998 when twin al Qaeda bombings rocked the US Embassies in Nairobi, Kenya, and Dar es Salaam, Tanzania. Sudan, under the leadership of ousted President Omar al-Bashir, sheltered Osama bin Laden and was found to have assisted the al Qaeda operatives.
"Families of the Americans who were killed in the US Embassy bombings are thankful to the Biden-Harris Administration for following up on the Trump administration's signing of the US-Sudan Bilateral agreement and their efforts to finalize implementation," said Edith Bartley, who lost her father and brother in the Kenya bombing and serves as a spokesperson for some of the families of Americans who were also killed in the embassy bombings.
USAID official John Granville was ambushed and assassinated in the Sudanese capital of Khartoum on New Year's Day 2008.
In October 2000, 17 US Navy sailors were killed and 39 were injured when the USS Cole was attacked by suicide bombers while in Yemen for refueling. Sudan's government denied its involvement in the attack. 
In 2014, a US court concluded that Sudan had provided al Qaeda with aid that led to the attack.
The State Department spokesperson said the $335 million from Sudan is "in addition to $72.5 million in an already paid private settlement with a number of USS COLE victims."
"This concludes a multi-year process to negotiate a bilateral claims agreement and secure the enactment of legislation that provides for the restoration of Sudan's immunities," they said.
The Sudan Claims Resolution Act was among the provisions of the omnibus bill signed by former President Donald Trump in late December. It restored Sudan's sovereign immunity with an exception for litigation from 9/11 victims and families.Protection for the pending suit was a key sticking point in negotiations, as 9/11 families had feared that earlier iterations of the deal could imperil their case against the African nation.
The act also resolved another major point of contention over the earlier settlement — unequal compensation for the victims the 1998 attacks on the US embassies in Tanzania and Kenya. Under the $335 million settlement between the US and Sudan, those who were US citizens at the time of the bombings would receive more than those who became citizens after the fact and foreign national embassy employees. The legislation signed into law as part of the omnibus included $150 million in additional funds to allow for equitable compensation between birthright and naturalized citizens.
International
Terrorism
United States of America
News
AddThis
: 
Original Author
: 
SaharaReporters, New York
Disable advertisements
: 
target=_blank rel=noopener>Bandits Kill Eight Persons, Injure Four Others In Kaduna
At least eight people have been killed and four others injured by bandits in separate attacks in Chikun, Giwa and Kajuru local government areas of Kaduna State.
Samuel Aruwan, the state commissioner for internal security and home affairs, confirmed the attacks in a statement on Wednesday.
He said armed bandits shot at the vehicle at Kan Hawa Zankoro, near Ungwan Yako in Chikun Local Government Area, which forced the vehicle to somersault, leading to the death of six persons. 
He added that four others injured were left injured.
Those who lost their lives in the crash are listed as Aisha Bello, Uwaliya Alhaji Shehu, Ramatu Sani, Muhammad Shehu, Aminu Ibrahim, and Ibrahim Abdu.
The commissioner identified the injured victims as Zainab Alhaji Usman, Surayya Bello, Khalifa Sani, and Ushe Sani.
In another attack on Iburu in Kajuru LGA, a resident identified as Amos Yari was said to have been killed.
The gunmen also reportedly invaded Hayin Kanwa village, Fatika district in the Giwa LGA, and "shot dead one Alhaji Sule, a businessman in the area, after he resisted their attempts to kidnap him".
Insecurity
News
AddThis
: 
Original Author
: 
Saharareporters, New York
Disable advertisements
: 
target=_blank rel=noopener>Sheikh Gumi: Why Fulani Bandits Are Now Helping Military Kill Islamist Terrorists
Kaduna State-based Islamic scholar, Sheikh Abubakar Gumi, has said that Fulani bandits are at war with Ansaru terrorist groups who infiltrated the northern part of the country, Guardian reports.
According to him, the vision of the bandits living in the bush is different from the ideology of terrorist groups which infiltrated the country, maintaining that a Fulani man is not fanatical, but more concerned about survival.
He said the bandits had given the Ansaru terrorists 10 days to vacate their territory.
The cleric called on government to quickly intervene, noting that their visits to the forests were yielding positive results.
Gumi said following his counsel, the bandits resisted attempts by the Ansaru terrorists to indoctrinate them.
He asserted that the bandits were doing what the military ought to be doing to the terrorists: fighting and killing them.
When asked how bandits could be differentiated from foreign invaders, the cleric said: "There is infiltration by Islamic terrorist groups. Yes, they have infiltrated the Fulani, but the Fulani have a vision. Theirs is to fight existential war. For example, they can't go to market or travel to Zuru because they would be lynched; so the best thing is to get weapons to fight.
"They will say the military too is killing their children and women; so they accept the Fulani from outside to assist them. But as they are coming in, some of the elements of Islamic terrorists join them."
Narrating how the bandits resist the terrorists' antics, Gumi said, "When we went to Niger State, we spoke with one of the gang leaders to join in the peace process. He was even the one who negotiated the release of the Kangara boys and others.
"After we came out, he talked to the contact, telling them that they were approached by the Ansaru groups who told them not to trust me and my entourage; that we are democratic scholars and shouldn't be welcomed. This is why I'm urging government to intervene fast. No time to waste."
According to the cleric, the bandits' leader replied the Ansarus that his entourage had deeper knowledge of Islam than the Ansarus, adding that they would continue the mediation with us.
He added, "The Ansarus later ambushed the man's uncle and killed him. So, the bandits' leader has given the Ansaru terrorists 10 days to vacate the bush."
The cleric, however, disclosed that some individuals were cashing in on the security challenges in the country, where the defence budget is unaccounted.
"Whoever is in the chain of when money is made available for defence, whoever benefits, wouldn't want the problems to stop, because defence budget is unaccounted for. I found that the resistance is from where money is made available," Gumi added. 
Insecurity
Insurgency
Military
Politics
News
AddThis
: 
Original Author
: 
Saharareporters, New York
Disable advertisements
: 


target=_blank rel=noopener>Ebonyi Community Names Local Council Chairman, Others As Responsible For Killings
Residents of Effium community in the Ohaukwu Local Government Area of Ebonyi State have written to the Inspector-General of Police, Mohammed Adamu, identifying the sitting LGA Chairman, Clement Odah, and four others of being behind the alarming communal clashes and killings in the area, which has claimed scores of lives.
The Ezza people in Effium community raised the petition through their lawyer, Sampson Ekigbo, who revealed that the violence may continue if the police do not step in to arrest the perpetrators identified as; Nicodemus Omenka, Frank Onwe, Vincent Egbe (Ochinanwata) and Dr Benjamin Egbe.
Meanwhile, the Ebonyi State Police Command in a reaction on Wednesday said there was no sacred cow and the police had started investigating the LGA chairman and identified persons in the local government.
A copy of the Effium community's petition, obtained by SaharaReporters, stated that over 500 persons had been killed since the crisis started in January 2021, and properties worth billions of naira had been looted and destroyed by criminals.
The community copied its petition also to the National Human Rights Commission, the Amnesty International, the Chief of Defence Staff, the Chief of Army Staff, the Director of the Department of State Service and the National Security Adviser.
The petition partly reads, "Effium communal crisis between Ufiom people and Ezza people started on January 22, 2021. The crisis has remained unabated due to the various salient reasons including estrangement, political, marginalisation, denial of other social-cultural rights and entitlements against Ezza people by the Ufiom people largely because their son, Clement Omekannaya Odah emerged the Executive Chairman of Ohaukwu council.
"Fo the avoidance of doubt, in the present unexpected crisis, we the Ezzas have remained under attack by various combined groups including Ufiom natives through their stakeholders led by Hon Clement Odah, Nicodemus Omenka, Frank Onwe, Vincent Egbe (Ochinanwata) and Dr Benjamin Egbe, among others;
"Two, we have been attacked by suspected machineries hired by Ufiom people from Jukun, Bayelsa, Benin and Igbo-esaa in Ebonyi state comprising Iyionu, Nkalagu, Umuhuali, Ezillo, Ntezi, Ntezi Okpoto, Ufiom and other orri-speaking people; and to a very extent, we have been compromised by security agents working in the community since the crisis started.
"We most sincerely request as follows; one, that the Federal government should have eye on Ebonyi state and their security agencies involved in resolving this crisis and ensure that they are dispassionate and not discriminatory, and take decisive actions to restore peace and normalcy in the troubled community.
"Two, we request full investigation of the activities of some of the security agents in the Effium crisis, especially Sunday Oboh and Chkwuma Elom of the Nigeria Police Force, Ebonyi command.
"Three, we request the arrest and full investigation of Ohaukwu Local Government chairman, Clement Odah and his kinsmen to wit: Nicodemus Omenka, Frank Onwe, Vincent Egbe (Ochinanwata) and Dr Benjamin Egbe, among others, and the illegal deployment of both local and hired men from other parts of the country with our common patrimony from Ohaukwu LG treasury to exterminate Effium indigenes of Ezza extractions."
While speaking in an interview, the Ebonyi State Commissioner of Police, Aliyu Garba, said they were under police investigation.
"They are under investigation, nobody is above the law," he noted.
News
AddThis
: 
Original Author
: 
Saharareporters, New York
Disable advertisements
: 
target=_blank rel=noopener>Despite Supreme Court Ruling, Lawan Refuses To Swear In Cross River Senator-elect
Senate President Ahmad Lawan has refused to swear in Arigbe Jarigbe as the senator representing Cross River North more than a month after the Supreme Court affirmed his election.
The apex court had on February 25, upheld the judgment of the Court of Appeal which declared Jarigbe as the authentic candidate of the Peoples Democratic Party (PDP).
In a split decision of four to three, the Supreme Court dismissed the appeal filed by Senator Stephen Odey, who had been declared winner of the senatorial rerun by the Independent National Electoral Commission (INEC).
The Abuja division of the Court of Appeal had in its judgment declared Jarigbe as the duly nominated candidate of the PDP and the rightful winner of the election against Odey, who was earlier declared by INEC and sworn in by the Senate.
The court also ordered the electoral body to immediately issue a Certificate of Return to Jarigbe and withdraw the one earlier issued to Odey.
Weeks after the judgement, INEC obeyed the court of appeal directive and issued the certificate of return to Jarigbe.
But the senator-elect has yet to be sworn in more than two months after receiving the certificate and a month after the matter was laid to rest at the Supreme Court.
Addressing journalists in Abuja, Jarigbe, who is a serving member of the House of Representatives, asked Lawan to stop Odey from attending plenary sessions.
"My opponent who has been ousted by the judgement of the Appeal Court and the Supreme Court is still attending plenary (and) that is illegal," he said.
"I have the certificate of return issued to me by INEC based on the judgement of the appeal court which invalidated his certificate of return and that has been transmitted to the National Assembly."
Politics
News
AddThis
: 
Original Author
: 
Saharareporters, New York
Disable advertisements
: 
E2%80%99s-tv-station-n66million-airing-conspiracy-theories target=_blank rel=noopener>UK Fines Nigerian Pastor Oyakhilome's TV Station N66million For Airing Conspiracy Theories On COVID-19
Chris Oyakhilome
The broadcasting authority in London, Ofcom, has sanctioned Loveworld, a religious channel owned by Nigerian Pastor, Chris Oyakhilome, for airing conspiracy theories about COVID-19 that were unproven.
 
In a statement, Ofcom said that the station has been fined £125,000 (N65.6 million) for breaching the country's broadcasting code by disseminating misinformation on COVID-19, Metro UK reports.
Chris Oyakhilome
On December 1 2020, Loveworld aired a 29-hour programme called the Global Day of Prayer, during which claims were made about the coronavirus pandemic.
 
These claims included the notion that the outbreak was 'planned', that the 'sinister' vaccine can be used to implant 'nanochips' that can control and cause harm to members of the public and the debunked theory that the virus was somehow caused by 5G.
 
Investigation Ofcom revealed that the programme breached broadcasting rules by sharing 'potentially harmful' claims about COVID-19.
 
The statement read in part, "Today we have fined Loveworld £125,000 for this breach of the broadcasting code. This was the second time in a year that the broadcaster breached our rules on accuracy in news and harm in its coverage of the coronavirus."
 
The station said it was unfortunate that the station could continue to spread such information despite previous warnings.
 
The statement further read, "Ofcom stresses that legitimate debate about the official response to the coronavirus pandemic is fundamental to holding public authorities to account during a global health crisis - particularly when public freedoms are curtailed and complex policy decisions are being taken.
 
"However, the inaccurate and potentially harmful claims made during this programme were unsupported by any factual evidence and went entirely without challenge. Ofcom was particularly concerned that this breach followed previous, similar breaches in 2020 during the investigation of which, Loveworld Limited gave Ofcom a number of assurances as to how it would improve its compliance procedures."
 
This marks the second time in a year that Ofcom has ruled against Loveworld for making unsubstantiated statements about coronavirus.
 
Oyakhilome, who heads Christ Embassy church headquartered in Lagos, has in the last one year encouraged his members to ignore COVID-19 protocols.
 
He recently asked his members not to take COVID-19 vaccines.
 
In May 2020, Loveworld was sanctioned by Ofcom, "after a news programme and a live sermon included potentially harmful claims about causes of, and treatments for Covid-19".
 
Pastor Oyakhilome has linked the virus to 5G networks and alleged that it was part of a plot to create a "new world order".
 
Such views have been widely condemned by scientists, who say the idea of a connection between Covid-19 and 5G is "complete rubbish" and biologically impossible.
 
Ofcom said that the programme "Loveworld News included unsubstantiated claims that 5G was the cause of the pandemic, and that this was the subject of a 'global cover-up'".
 
Ofcom also criticised a sermon that was broadcast that questioned the motives of those looking for a vaccine.
 
The UK authority said that it was not against controversial views, but these had to be "put into context" and not undermine trust in the health authorities.
 
The hefty fine has since come into the equation after Ofcom concluded Loveworld's breach of broadcasting guidelines were 'serious, repeated and reckless'.
PUBLIC HEALTH
News
AddThis
: 
Original Author
: 
Saharareporters, New York
Disable advertisements
: 
Read also Nigerian Newspapers Today and Nigeria News Today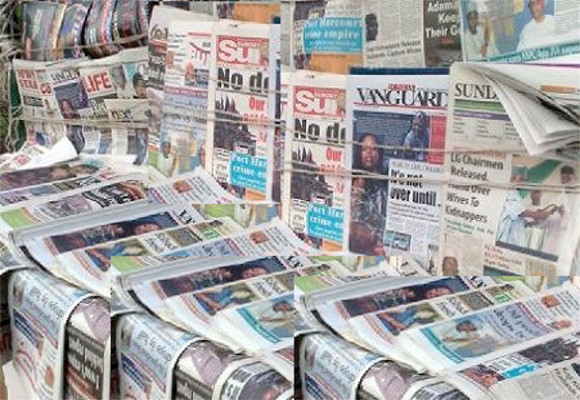 You can also check Sahara Reporters Newspaper Headlines Today