Sahara Reporters Latest News Today

Tuesday 23rd February 2021

Sahara Reporters Latest News Today and headlines on some of the happenings and news trend in the Country, today 23/02/21

Read also nigeria newspapers Tuesday 23rd February 2021
target=_blank rel=noopener>Group Gives Police IG 7 Days To Withdraw Invitation Extended To Ondo Leaders For Alleged Killing Of Cow
The Police Inspector-General (IGP), Mohammed Adamu
A group, Concerned Owo/Ose Citizens, has given the Inspector General of Police, Adamu Mohammed, a seven-day ultimatum to withdraw the invitation extended to leaders of the Ifon community in the Ose Local Government Area of Ondo State.
SaharaReporters had reported how the police invited five chiefs of the community to Abuja for allegedly killing a cow belonging to a herdsman identified as Abdullahi.
The Police Inspector-General (IGP), Mohammed Adamu
Twitter/toluogunlesi
The leaders are Chief Ekon, Chief Olijewu, Hon Saliu Omotoso, Hon Olaniyi Eni-Olotu, and Chief hunter of Ifon.
According to a letter dated February 2, 2020, and signed by the Deputy Commissioner of Police, Force Intelligence Bureau, Kolo Yusuf, the Ondo chiefs were asked to report to Abuja on March 15, 2021.
The letter of invitation which is marked 3000/FIB/STS/FHQ/ABJ/TA/Vol.5/259 stated that the Ondo chiefs were being probed for attempted kidnapping, mischief and criminal conspiracy.
The letter read in part, "This office is investigating a case of criminal conspiracy, mischief, threat to life and attempted kidnapping that your name featured. You are kindly requested to interview the undersigned officer on March 15, 2021, by 10.00hrs for fact-finding through DSP Ibrahim Magu."
Reacting in a statement released on Monday, Concerned Owo/Ose Citizens asked the IGP to tender an unreserved apology to the people of the community.
The group said it was surprising that the police were pursuing supposed killers of cows when it had yet to find those who killed their traditional ruler, the Olufon of Ifon, Oba Isreal Adeusi.
The late Oba Adeusi was killed by suspected herdsmen around Elegbeka on Ifon-Owo Highway on November 26, 2020.
See Also
Police
Police Invite Ondo Leaders To Abuja Over Alleged Killing Of Cow, Community Kicks
0 Comments
1 Day Ago
The statement read, "Rising from a prolonged meeting by the Owo/Ose concerned citizens.
"We are giving the IGP a 7-day ultimatum to withdraw the invitation extended to Ifon chiefs/leaders and tender an unreserved apology to the people of Ifon.
"To provide the killer of Olufon or present to the public the level/status of their investigation or name any invitees so far questioned about the murder of Olufon.
"Also giving the royal fathers in Owo/Ose federal constituency and their brother Obas in Ondo State a day ultimatum to make public their position on the insulting, insensitive and provocative invitation.
"Also, the state governor, who is the chief security officer of the state, should address the state and condemn this act of provocation of valuing animals (cows) above human beings.
"While the Ondo State House of Assembly should as a matter of utmost urgency cut short their recess to attend to the anti-grazing bill sent to the chamber by the executive for immediate action.
"Since November when Olufon was murdered in a botched kidnap on Owo-Ifon Road while coming from a security meeting in the governor's office attended by other Obas, no one has ever been invited and no known investigation carried out on the dastardly act.
"Inviting chiefs and community leaders to account for dead cows is not only insulting but an embarrassment and dancing on the corpse of our revered royal father.
"We will not wait for the government or any of its agencies again to defend ourselves. While waiting for the response on the above, we shall keep to our chest our next line of action(s)."
Insecurity
News
AddThis
: 
Original Author
: 
SaharaReporters, New York
Disable advertisements
: 
E2%80%98peaceful-people%E2%80%99-%E2%80%93-sheikh-gumi target=_blank rel=noopener>Bandits Are 'Peaceful People' – Sheikh Gumi
Islamic Cleric, Sheikh Ahmad Gumi, has reiterated that Fulani herdsmen involved in banditry are victims of circumstance.
Gumi restated his position during an interview on Channels Television's Politics Today on Monday.
The cleric has previously advocated for the bandits to be granted amnesty after meeting them in the bush.
"When I listened to them, I found out that it is a simple case of criminality which turned into banditry, which turned into ethnic war, and some genocide too behind the scene; people don't know," he said.
"There is no excuse for any crime; nothing can justify crime, and they are committing crime," the bandits were forced into criminality.
"I think it is a population that is pushed by circumstances into criminality.
"And this is what we should look at, let's remove the pressure, let's remove the things that made them into criminals because we have lived thousands of years without any problems with the nomadic herdsmen. They are peaceful people. But something happened that led them to this."
According to Gumi, the herdsmen-bandits are engaged in an ethnic war against other peoples, including the sedentary Fulani. The solution, he added, was dialogue.
"It is a complex issue that Nigerians need to understand," Gumi said.
"The solution is very simple, but it's not military hardware. The solution is dialogue and teaching.
"These people are acting with natural instincts, not special knowledge. And they don't have any ambition or anything. They don't have a vision of the future. They are talking about existence; their livelihood was destroyed because the cattle rustling that was going on for a long time, they are the first victims of it.
"So, we need to investigate how cattle rustling became a big business in Nigeria and how it affected the socio-cultural behaviour of the nomadic Fulani. They were pushed into criminality."
Insecurity
News
AddThis
: 
Original Author
: 
SaharaReporters, New York
Disable advertisements
: 


target=_blank rel=noopener>Osun Pensioners Lament Neglect, Refute Government's Payment Of Arrears Claim
Governor Gboyega Oyetola
Some pensioners in Osun State have lamented continued neglect and refusal of the state government to pay their pensions for five years.
The pensioners who retired as primary school teachers told SaharaReporters that they have been living on benevolence from friends and family members. 
Governor Gboyega Oyetola of Osun State
A retiree, Oyadare Gbenga, who was a headteacher at Young Primary school, Iragberi in Osun state, described the plight of the pensioners as pitiable.
He said: "Our plight in Osun State today is that we have been turned into beggars because we have not been paid for the past five years, from 2016 till date. Government owes us pensions and gratuities.
"Most of us are bedridden, many of us have collapsed at home. Stroke has claimed their hands and legs; many are now blind – total blindness. I'm not talking of visual impairment; I'm talking about total blindness. Our children have been driven out of school, even government schools. That is the situation we're passing through, our children who are graduates are still looking for jobs. We still have to cater for them.
"Our condition is so pathetic that we are living on alms. Sometimes, we rely on our brothers, sisters, friends, but for how long can they do that? We have been at home for five years now, it's very pathetic and we are pleading so that people can intervene and prevail on the governor to make available a lump sum. To pay 4,000 people in primary schools only, we are talking about a lot of money."
Speaking with SaharaReporters, Oyadare said the pensioners had advised the government to pay half salary arrears it owed them during the tenure of the past governor of the state, Rauf Aregbesola, who paid only a fraction of their salaries to them.
According to Oyadare, the current governor, Gboyega Oyetola, only paid 46 pensioners of the 4,000 affected people.
He said: "Out of about 4, 000 pensioners from primary schools, government paid only 46 last week. We insisted that they should start paying our half salary arrears. They started in December but only one half is paid off till now. They owed us 29 months' salary arrears during the days of (Rauf) Aregbesola, they paid us half salary for 36 months so it remains 29 months to complete the payment. This is for contributory pensioners.
"We told them to start paying the half salary and they started in December but they have not completed one half salary, they just paid for a few people. When the salary for December was paid, they started, when January salary was paid, they paid some people, they are planning to pay February salary now, we are asking them to let it go round for everybody. They are still on it. 
"We live on benevolence, what we are doing now is to make our voices heard so that people will prevail on the governor to go the extra mile to pay us. The issue of no money is no longer relevant, they should get the money and pay us. If they get money to do things in the town, they should get money and pay us too. That is the point we are making and we are struggling to get people who will help us make our voices heard."
Oyadare revealed that there was a plan to send delegates to Abuja so as to prevail on the governor to pay the pensioners.
According to him, primary school pensioners are lamenting because secondary school teachers have been paid up to June 2017 while local government workers have been paid up to 2018.
He said, "You see the disparity? If primary school teachers are aggrieved, I think you can see now that they have reasons, that's why we are aggrieved because we are lagging behind so much."
Another pensioner, Ishola Olagoke said many pensioners are unable to cover their medical bills irrespective of how little the bill is.
He also said the pensioners had been listening to radio broadcasts but was of the opinion that the media was only propagating fallacies to favour the government.
The 2016 retiree said, "Government is paying peanuts, there's nothing to encourage us. We live on benevolence, Many are unable to support their medical bills, no matter how little the amount is. It's very difficult because for over 5 years now, we have been in a terrible situation.
"Many have died because of N500 worth of drugs. We have been listening to radio announcements here and there coming out from the state government, all they are saying is just a cover-up. The government said they had paid off pensioners, it's a lie, it's fallacy.
"Even only one month which they have started paying, they haven't settled in totality. Assuming they have completed the first month payment, we will be looking forward to another payment. 
"It's those that are concerned that can talk about these things, not the news media, the government owns the radio station, they have to report news that will favour the government."
The development comes despite claims by the state government that it had commenced payment of arrears owed the pensioners.
Oyetola had reportedly released a total sum of seven hundred and eight million naira (N708,000,000) recently to offset pension arrears of retired officers of the state civil service.
The government had said the sum of five hundred and eight million naira (N508,000,000) of the released sum was approved for the payment of retired civil servants, while an additional sum of one hundred and fifty million naira (N 150,000,000) was approved for the payment of retirees under the contributory pensions scheme while fifty million naira (N50,000,000) was approved for the payment of gratuities of retired officers under the old pension scheme.
The governor also said his administration had released about N31 billion to cater for pensioners, including N26 billion for pensioners under the old pension scheme and about N5 billion for those under the contributory scheme.
Jobs
LABOR/WORKERS' RIGHTS
News
AddThis
: 
Original Author
: 
SaharaReporters, New York
Disable advertisements
: 
E2%80%99haram-operations-says-air target=_blank rel=noopener>Abuja Crash: Seven Deceased Officers Were ISR Experts Used In B'Haram Operations, Says Air Chief
People gathered at the site of the crash on Sunday
The Chief of the Air Staff, Air Vice Marshal Oladayo Amao, has recalled that the seven personnel of the Nigerian Air Force who died in a fatal aircraft crash on Sunday were a set of fine and well-trained officers in Intelligence, Surveillance and Reconnaissance missions, operating in the North-East against the Boko Haram insurgents.
Amao said the personnel had also been involved for "days" in the search for the abducted school pupils in Kagara, Niger State, before the crash occurred on Sunday.
People gathered at the site of the crash on Sunday
REUTERS
The air chief on Tuesday stated this at the NAF Headquarters, Abuja, when he received the Minister of Women Affairs, Pauline Tallen, who described the death of the NAF personnel as a great loss to the country.
According to a release by the NAF Director of Public Relations and Information, Air Vice Marshal Ibikunle Daramola, the air chief noted that it was a "sad Sunday for the entire NAF Family, which had lost a set of fine, well-trained, dedicated personnel, who in the course of conducting Intelligence, Surveillance and Reconnaissance missions, had operated in virtually all theatres, including the North-East, North-West as well as the North Central."  
"The CAS disclosed that the deceased personnel, who had been in Minna for days conducting ISR missions in connection with the concerted efforts to secure the release of the students and staff abducted from the Government Science College, Kagara, Niger State, had only stopped at the Nnamdi Azikiwe International Airport, Abuja to refuel before embarking on the fateful return flight to Minna, when the unfortunate incident occurred.
"While describing the incident as one of the hazards of the military profession, AVM Amao lamented that the NAF would find it difficult to replace the personnel based on their training and experience acquired over the years. He said the Service was nevertheless consoled by the fact that the deceased personnel gave their utmost in service to the nation," he stated.
The NAF Beechcraft KingAir B350i aircraft had crashed while returning to the Nnamdi Azikiwe International Airport, Abuja, after reporting an engine failure en route to Minna. 
Everyone on board died in the crash. 
They were: Flight Lieutenant Haruna Gadzama, the Captain; Flight Lieutenant Henry Piyo, the Co-Pilot; Flying Officer Micheal Okpara, an Airborne Tactical Observation System Specialist; Warrant Officer Bassey Etim, ATOS Specialist; Flight Sergeant Olasunkanmi Olawunmi, ATOS Specialist; Sergeant Ugochukwu Oluka, ATOS Specialist; and Aircraftman Adewale Johnson (Onboard Technician). 
The Chief of the Air Staff had ordered an "immediate investigation" into the incident, while several Nigerians, including President Muhammadu Buhari, mourned the loss of the personnel.
Accident
News
AddThis
: 
Original Author
: 
SaharaReporters, New York
Disable advertisements
: 
E2%80%99re-being-killed-attacked-non-muslim-soldiers-cause-chaos-sheikh-gumi-tells-bandits target=_blank rel=noopener>You're Being Killed, Attacked By Non-Muslim Soldiers To Cause Chaos, Sheikh Gumi Tells Bandits
Kaduna-based Islamic cleric, Sheikh Ahmad Gumi, has accused non-Muslim soldiers of killing and attacking Muslim bandits.
The cleric disclosed this when he led the Secretary to the Niger State Government, Alhaji Ahmed Matane, and security operatives to a meeting with some suspected bandits in Tegina forest, a border town between Niger and Kaduna states.
Gunmen suspected to be bandits had on Wednesday stormed Government Science College, Kagara, Niger State, abducting many students and staff members. 
While one student who tried to escape was gunned down, a member of staff luckily broke loose from captivity.
A day after the attack, Gumi, who is known to have access to the bandits, met some of them in Tegina forest and later pushed for them to be granted amnesty.
SaharaReporters gathered that the leader of the gang of bandits, Dogo Gide, during the meeting accused security personnel of killing many of their family members, and that many of them had lost virtually all their possessions through cattle rustling, extortion by security agents and military bombardments.
Gide lamented that thousands of their youths do not have anything to do and no means of livelihood hence their decision to go into arms struggle.
He also showed the delegation an entire community said to have been razed in a military bombardment and corpses dumped in wells.
Pleading for their understanding, Gumi in a trending video alleged that non-Muslims soldiers were stirring confusions with the aim of wreaking havoc.
"What I want you people to understand is, soldiers that are involved in most of the criminalities are not Muslims. You know, soldiers have Muslims and none Muslims. The non-Muslims are the ones causing confusion just to ignite a crisis," Gumi said.
Insecurity
Terrorism
News
AddThis
: 
Original Author
: 
SaharaReporters, New York
Disable advertisements
: 
E2%80%99m-ready-face-trial-hague-defending-biafra-%E2%80%93-nnamdi-kanu target=_blank rel=noopener>I'm Ready To Face Trial In Hague For Defending Biafra – Nnamdi Kanu
The leader of the Indigenous Peoples of Biafra, Nnamdi Kanu, has said he will not hesitate to face trial at the International Criminal Court, ICC, in Hague, if protecting Biafrans against wanton genocidal attacks by killer herdsmen and terrorists warrants his appearance at the ICC.
Kanu made the declaration on a live broadcast on Radio Biafra on Sunday.
He lamented the persistent provocations and extrajudicial killings by security agencies across the Southeastern region of Nigeria.
The IPOB leader accused the world of keeping silence over the plight of Biafrans despite complaints and petitions by IPOB as well as indicting reports against the Nigerian authorities and security agencies by some reputable global agencies, including the UN Rapporteur on human rights and Amnesty International.
He said apart from alleged state-sponsored oppressions and blatant marginalisation and exclusion against Biafrans, killer herdsmen and terrorists had continued to attack communities in the region unchallenged by the security agencies.
"Herdsmen will attack us, rape our women, destroy our farms and kill our farmers nobody will arrest them but when we try to defend ourselves, the government will come after us, rolling out the tanks and using their helicopter gunboats," he lamented.
Kanu explained that the incessant raids by herdsmen and the silence of the Nigerian authorities to tame criminals gave birth to the creation of the Eastern Security Network, to protect Biafran locals against terror.
He, however, regretted that instead of going after the perpetrators of the grievous crimes against innocent citizens, the Nigerian government rather chose to declare war against mere volunteer vigilantes as demonstrated in Thursday's airstrikes in Orlu.
The IPOB leader who said the Orlu military raid signified the beginning of the second Nigeria/Biafra war said he would mobilise people in defence of their ancestral land irrespective of the consequences.
"If defending our ancestral land against conquest by Fulani Janjaweed invaders will take me to the Hague, I am ready to go to the Hague," Kanu said.
"The world has the indicting report by the UN Rapporteur against Nigeria but they have not done anything. Do we have to wait until we are all killed before we defend ourselves?"
Kanu said the world watched helplessly as the Nigerian government used force against mere peaceful agitators while on the other hand it dialogues with, and facilitates amnesty and payments of ransoms to bandits and terrorists who have not shown any remorse or sign of stopping their killing spree.
According to him, world leaders ought to have demanded a probe of Nigerian leaders, including some northern governors and Islamic clerics over their romance with bandits. He said he would declare 40 days of prayer and fasting by next week for Biafrans all over the world to seek God's presence, and for more spiritual fortification for the task ahead.
Kanu, who insisted that Biafra has a Jewish foundation, said Israel can never be defeated by their enemy because of Abraham's covenant with God, which according to him, also follows Biafra. He expressed optimism that Biafra would soon be restored despite stiff opposition by the Nigerian state and her international collaborators as well as internal traitors.
Insecurity
News
AddThis
: 
Original Author
: 
SaharaReporters, New York
Disable advertisements
: 
target=_blank rel=noopener>There's No Room For You In Benue, Go To Bauchi, Ortom Tells Fulani Killer Herdsmen
The Governor of Benue State, Samuel Ortom, has said Fulani killer herders should go to Bauchi State as there is no room for them in his state.
Ortom, while addressing journalists in Makurdi on Monday, however, noted that all Nigerians irrespective of their origin are welcome in Benue for legitimate businesses.
Replying to a recent statement by Bala Mohammed, his Bauchi State counterpart that herders can live in any part of the country, Ortom said the governor has to read the constitution to know its provisions for such.
"Bala Mohammed, my brother, that is not how to run government, bringing a lot of disunity; maybe he has not had time to see the castigation he received from Nigerians when he insisted that Fulani herdsmen must carry AK-47 and can live anywhere in Nigeria.
"Nigeria is not governed anyhow, it's not a Banana Republic, it is governed by the constitution of the Federal Republic of Nigeria. The constitution gives power to governors in all the states to preside over the land of their states on behalf of their people, they are the only people who can give allocations and permit people to stay where they are and so bandits cannot find a forest and come in to hide under living in the forest (sic)."
Ortom explicitly stated that Fulani herders terrorising communities in the country should go to Bauchi as there is no room for them in Benue State.
"I want to tell those terrorist Fulani men not to come to Benue State, they should go to Bauchi and stay with him. Benue State is governed by the constitution of the Federal Republic of Nigeria. Benue State also has laws guiding them. Once you're a Fulani man, you come with legitimate papers, you are free to stay here and do business, according to the laws of our land.
See Also
Insecurity
You're Part Of Fulani People Terrorising Nigeria, Ortom Knocks Bauchi Governor For Backing Herdsmen's Use Of AK-47s
0 Comments
3 Hours Ago
"Anyone who is not willing to respect the laws of our land should go and meet Bala Mohammed, there you can carry AK-47s and you will not be apprehended. Here, we will apprehend you. I want this to be known. For those who are of the opinion that I have been harassing the president, I think they are completely ignorant. Apart from being governor, I am a member of the National Economic Council presided over by the Vice President on behalf of the President."
Ortom lamented the high number of internally displaced persons in the state who are in such conditions as a result of attacks by terrorist herders in the state.
"That takes me to the issue of herdsmen, terrorising us, leaving us with over 800, 000 IDPs, which is a pain to my heart because there's no way I can be a happy man leaving my people as IDPs, over 800, 000 of them. The fate of those little children would have been going to school, they are being denied and I'm not happy, I can't be a happy man," he said.
According to him, Benue State is not against anyone of Fulani extraction but rather against herders who are terrorising people in the state.
He said the rule of law must be respected by everyone within the state, violation of which attracts arrest and prosecution.
"No sentiments about this, we are not against Fulanis in Benue state, we are against terrorist Fulani men in Benue State. Everybody, Igbo, Yoruba, Hausa, Fulani, Tiv, Jukun, everybody has equal rights to stay in Benue State as long as you respect the rule of law. But as long as you refuse to respect the rule of law in Benue State, we will make sure that the law will catch up with you. We'll make sure that the security men apprehend and prosecute you and if you're convicted, you'll go to jail or pay a fine as the law prescribes.
"We are not against anyone but we are against bandits, terrorists. You have seen how we fought against internal security here in Benue State, we disarmed bandits who were locals in the state. When Gana was a challenge here, we placed the sum of N50 million ransom on him for anyone who will give information that will lead to his arrest.
"We are actively supporting our security people to ensure that they apprehend all those internal bandits doing pockets of killings here and there and they are doing well, the soldiers, police, civil defence, Department of State Services are doing well but we believe in the rule of law, at all times. We have ensured that rules of engagement of security agencies and government are observed and the duty of government is to provide logistics and support to ensure they succeed in this assignment, I believe that in no distant time, everybody will sleep with their two eyes closed.
"When we decided from the security council to ban okada (commercial motorcyclists) in the Sankera axis of Benue State, it was greeted with a lot of emotions but today, relatively, I can tell you that several calls came in from Sankera axis to appreciate the government for banning okada in that place. Relatively, we have peace in that place."
The governor insisted that no terrorist or criminal will be accommodated in the state, saying, "No kidnapper in Benue State will be spared; whoever you are, we'll go after you, apprehend and prosecute you. No criminal will be spared; I appreciate the various communities for intelligence gathering and support.
"The collaboration of government and security agencies have really paid off. The issue of Fulani herdsmen who are terrorists, we will not permit them and there is no room for them here in Benue State. If you want to do cattle business or any other business; if you are a Fulani man or any kind of person, you must ranch your cattle. Open grazing is banned and as long as this government exists, no room for open grazing here, except ranching and I'm happy that the entire country is embracing what ranching is, that is exactly what we need to do to help us."
Insecurity
News
AddThis
: 
Original Author
: 
SaharaReporters, New York
Disable advertisements
: 


E2%80%99t-buried-my-husband-3-weeks-after-his-death-%E2%80%93 target=_blank rel=noopener>Despite Being A Muslim, Nigerian Army Hasn't Buried My Husband 3 Weeks After His Death – Widow Of Soldier Killed By Boko Haram
Khadijat Mohammed, wife of Abdullahi Bhuwa Usman, a soldier who was killed by Boko Haram terrorists, has urged the army authorities to bury her husband and 'allow him rest in peace.'
SaharaReporters gathered that Usman, who recently got married to Khadijat, was among the soldiers killed on January 29 when the insurgents engaged the Nigerian military in a four-hour battle to take control of Dikwa.
The attack happened a few hours after Lieutenant General Tukur Buratai handed over to Major General Ibrahim Attahiru as the Chief of Army Staff.
The gun battle started around 6:00 pm and lasted till about 10:00 pm. It claimed many casualties, including Usman's.
A family source had told SaharaReporters that the deceased got married in December 2020 and was looking forward to raising a family when the tragic incident occurred.
"I received the news of Usman's death with deep shock. He just got married on December 27, 2020. I attended the wedding here in Lagos," the source had said.
"Though he wasn't in attendance physically (at the wedding) because he was on duty, his family members and friends were all here and left with the wife for Borno State that same day."
Khadijat told SaharaReporters she got to know about her husband's death on social media, adding that the Nigerian Army did not inform his family.
See Also
Boko Haram
EXCLUSIVE: Boko Haram Terrorists Kill Newlywed Nigerian Soldier
0 Comments
3 Weeks Ago
She alleged that the army authorities said her husband would not be buried until some senior officers who travelled to Abuja returned to Borno State.
"He was posted from Ilorin, Kwara State to Borno for a special assignment. Till now, his burial has not been done because they said some senior army officers are in Abuja, they are waiting for their return. Imagine, he was a Muslim.
"When we first heard about his death, we went to the army's mortuary to check if we would see his dead body but they got angry. A senior officer asked me who told us that he was dead. They didn't allow me to see him, they only allowed his father and his brother (to see him); they claimed his wife could not see him. They said I would be able to see him at the time he would be buried. They were very angry that we got to know about his death. 
"Then they said they would not bury him until their seniors come back from Abuja. That's how bad they treat civilians. Imagine, they didn't pay any condolence visit to the family, they promised to come but they have not come till now. All they were after was 'who told us about his death'.
"I wish to appeal to the Nigerian Army authorities to bury my husband; he was a Muslim. In Islam, this is not acceptable. I just want them to bury my husband, let them allow him to Rest In Peace. I don't know what's delaying his burial, they should allow him to rest."
Boko Haram
Military
News
AddThis
: 
Original Author
: 
SaharaReporters, New York
Disable advertisements
: 
target=_blank rel=noopener>LAUTECH Student Convicted Of Love Scam In Ibadan
The Economic and Financial Crimes Commission, EFCC, Ibadan Zonal Office, on Monday secured the conviction of one Oluwatoyin Henry before Justice Sherifat Adeyemi of the Oyo State High Court, sitting in Ibadan, Oyo State on one count of obtaining by false pretences.
A statement by the Commission's spokesperson, Wilson Iwujare, on Monday indicated that the suspect is a student of Ladoke Akintola University of Technology, Ogbomoso.
The charge reads: "That you Oluwatoyin Henry sometime in 2019, at Ogbomoso, within the jurisdiction of this Honourable Court, with intent to defraud, obtained the sum of one thousand two hundred United States of America dollars ($1,200) from one Betty Mosley, when you falsely presented to him that you are a citizen of United States of America by name Amanda, who is in love with him, which representations you knew to be false and thereby committed an offence."
The convict, who claimed to be a student of LAUTECH, Ogbomoso, pleaded guilty to the amended charge after a plea bargain agreement with the prosecution. 
Based on his plea, he was convicted and sentenced to six months in prison.
He was also ordered to restitute the sum of $1,200 to his victim, and forfeit his iPhone 11, one Infinix Hot 5 and a Nokia phone to the Nigerian government.
CRIME
News
AddThis
: 
Original Author
: 
SaharaReporters, New York
Disable advertisements
: 
target=_blank rel=noopener>Abuja Crash: NAF Investigative Panel Begins Sitting, Collects Evidence From Site
People gathered at the site of the crash on Sunday
The investigative panel set up by the Chief of the Air Staff, Air Vice Marshal Oladayo Amao, has begun sitting in Abuja on Monday, while members have also visited the scene of the fatal aircraft crash to collect evidence for examination. 
The panel was instituted to unravel the remote and immediate causes of the crash which claimed the lives of seven NAF personnel who were on a mission to search for the abducted Kagara school pupils in Niger State on Sunday. 
People gathered at the site of the crash on Sunday
REUTERS
The NAF Beechcraft KingAir B350i aircraft had crashed while returning to the Nnamdi Azikiwe International Airport, Abuja, after reporting an engine failure en route to Minna. 
Everyone onboard died in the crash. 
They were Flight Lieutenant Haruna Gadzama, the Captain; Flight Lieutenant Henry Piyo, the Co-pilot; Flying Officer Micheal Okpara, an Airborne Tactical Observation System Specialist; Warrant Officer Bassey Etim, ATOS Specialist; Flight Sergeant Olasunkanmi Olawunmi, ATOS Specialist; Sergeant Ugochukwu Oluka, ATOS Specialist; and Aircraftman Adewale Johnson, Onboard Technician. 
The Chief of the Air Staff had ordered an "immediate investigation" into the incident, as several Nigerians, including President Muhammadu Buhari mourned the loss of the personnel. 
"Yes. The panel has begun its sitting. It has also visited the scene of the crash and it is expected to collect fragments and evidence from the scene for forensic and other examination. 
"The crash is not being treated as an isolated incident. We are looking at its relation to the abduction, banditry and the general insecurity in the country," a source told SaharaReporters.
"The aircraft was returning to the Nnamdi Azikiwe International Airport, Abuja after reporting engine failure enroute to Minna, where it was scheduled to conduct surveillance missions over Niger State and its environs in connection with the concerted efforts to secure the release of the students/staff abducted from the Government Science College, Kagara, Niger State. 
"The Chief of the Air Staff instituted an investigative panel to determine the remote and immediate causes of the accident. The CAS visited the scene of the accident, in company of the Honourable Minister of Defence, Major General Bashir Magashi (retired); Minister of Aviation, Senator Hadi Sirika; Chief of Defence Staff, Major General Lucky Irabor, and other Service Chiefs," the NAF Director of Public Relations and Information, Air Vice Marshal Ibikunle Daramola, had said on Sunday evening."
Accident
News
AddThis
: 
Original Author
: 
SaharaReporters, New York
Disable advertisements
: 
Read also Nigerian Newspapers Today and Nigeria News Today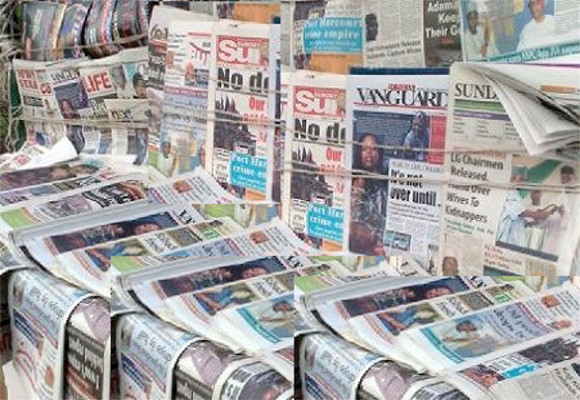 You can also check Sahara Reporters Newspaper Headlines Today