Sahara Reporters Latest News Today

Saturday 20th February 2021

Sahara Reporters Latest News Today and headlines on some of the happenings and news trend in the Country, today 20/02/21

Read also nigeria newspapers Saturday 20th February 2021
target=_blank rel=noopener>Hausa Traders Saying They Built Shasha Market Are Liars, Ford Foundation, Others Built It For Us —Traditional Leader
Chief Amusa Akinade Ajani, the Baale of Shasha Village
The Baale of Shasha village, Chief Amusa Ajani, on Friday said those ascribing the creation of Shasha market to Hausa communities are liars who do not know the history of the market.
He said the market was created by Ford Foundation and The Rockefeller Foundation through the International Institute of Tropical Agriculture (IITA).
Chief Amusa Akinade Ajani, Baale of Shasha Village
The traditional leader who spoke with SaharaReporters on Friday explained that the market was established to compensate the women in Shasha.
He said, "Over 60 years ago, the Federal Government was trying to get a specific space of land with certain qualities for IITA. This is where they were able to get it in Nigeria. So, they approached us to leave the place but we said no because they had driven us away from Eleyele, which made us relocate to the University of Ibadan.  
"They also asked us to leave the University of Ibadan and we moved to this place, and now they are telling us to leave this place again, we won't. But those white men now offered to live with us. They asked us to count the number of villages on our land and we counted them; they were 33. 
"They paid town planners and we were given this place with an agreement that they would not come to our place to disturb us. So we asked them how our wives were going to cope because, at that time, they used to go to the markets at Oja-Oba, Sango, and Mokola, which were far from here, so the white men said they would build a market for us. 
"They brought the plans for our houses and the market. Not only the market, they built these houses for us. They built the market a year before we moved to this place. There was a woman, the first councillor in Moniya, called Mrs Bolarinwa; she contributed her salaries for one year to connect electricity supply to the market. 
"After that, there was a crisis involving pepper sellers in Oja-Oba area of Ibadan. They were chased away from Oja-Oba because of crisis, and the current Seriki Shasha approached Mrs Bolarinwa to get him a market for his people. So the woman promised to take him to a market in her care which was Shasha market. 
"That was when she brought Seriki to the market and he made some sacrifices. They killed two rams in the market that day. I wasn't the Baale at that time but I was part of the committee. We were watching the elders at that time while they were making the sacrifices. To attract more people to the market, Mrs. Bolarinwa used to subsidise the prices of milk for people. She really tried to make sure the market did well. And our elders allowed Hausa people to begin bringing onions to the market from the North. Whenever we ask for them to pay royalty, Hausa people will say we want to chase them out of the market. 
"They kept telling lies that they would pay us. We took the issue to the police command and the commissioner at that time vindicated us but till today, we are still on it. He said they should be giving us 10 baskets of onions and we used to pay them the following day after we must have sold them. But when it was not doing well, we reduced the number to two baskets to ensure we had some money to run the market. So, that is the story. It was Ford Foundation and Rockefeller that built 250 shops for us, through IITA."
Insecurity
News
AddThis
: 
Original Author
: 
SaharaReporters, New York
Disable advertisements
: 
E2%80%94shasha-traditional-ruler target=_blank rel=noopener>We Won't Accept Relocation Of Shasha Market As Fighting Has Stopped —Shasha Traditional Ruler
Chief Amusa Akinade Ajani, the Baale of Shasha Village
Chief Amusa Akinade Ajani, the Baale of Shasha Village, on Friday said the community would not allow the government or individuals to move the troubled Shasha market to another location in the state.
He said truly there was a problem and it had been resolved between the two aggrieved groups.
Chief Amusa Akinade Ajani, the Baale of Shasha Village
The traditional chief who spoke with SaharaReporters at his Shasha residence in the Akinyele Local Government Area of Ibadan, the Oyo state capital, said he heard that Hausa traders had gone to Iroko in the same local government. 
He said the community would accept that.
Iroko is one of the villages surrounding Ibadan. 
Shasha market has been in the news in the past one week following a clash between Yoruba and Hausa communities, which led to the burning of houses and the killing of an unknown number of people.
The Baale of Shasha, while addressing traders in the market, pleaded with them to live peacefully with one another, saying Yoruba and Hausa people had been living peacefully for many years without any crisis.  
He said, "When God created us, He didn't identify anyone as Hausa, Igbo, or Yoruba. We are all one from the same parent. We are one. We have inter-marriages among the ethnic groups and we have children. Why can't we live together in peace? The only difference among all the tribes is the language we speak but even with language differences, we have to be fair to each other. 
"The government should help us to live in peace. The government can do it. This market has been in existence for more than 60 years, can somebody now say he wants to take it away from here? It is dangerous to take such a step. We cannot accept the relocation of the market because the issue has been resolved. Are those people who asked them to come to their village behind our woes? I keep wondering why they are calling them to come to their village. We are all in the same local government area. Governor should come and open the market, we are no more fighting.
"Hausa people can move freely in Shasha if he has nothing in mind, but those harbouring grudges against any ethnic group should not come to Shasha, even if he is a Yoruba man. We are peace-loving people and we don't encourage violence. The government should not encourage them to move this market elsewhere. 
"Initially, some of the traders were giving us onions to sell and we used to remit money to them the following day.
At a point, they stopped it and convinced two other traders who were given us to stop it. Our people protested and I told them not to fight. I even told them never to mention my name if they embarked on any unholy fight. I don't want any crisis in Shasha. 
"Our people didn't go against my order, if not that some of our Hausa friends believe in fighting rather than amicable resolution of the crisis. When your people killed a Yoruba man, I appealed to their family to be calm because even if they began to fight, it would not bring back the dead. But before we woke up the following day, they had started burning the houses in the market."
Insecurity
News
AddThis
: 
Original Author
: 
SaharaReporters, New York
Disable advertisements
: 


target=_blank rel=noopener>JUST IN: Bandits Abduct 17 Nursing Mothers On Their Way To Wedding Ceremony In Katsina
Illustration
Gunmen suspected to be bandits have reportedly kidnapped no fewer than 17 married women in the Faskari Local Government Area of Katsina State.
According to Katsina Post, the women were intercepted on Thursday on their way to a wedding ceremony.
Illustration
"The incident happened when the women were on their way from Unguwar Rimi village to Garin Maigora town to attend a wedding ceremony," the newspaper quoted a source as saying.
The source stressed that all the women were carrying babies as at the time they were abducted.
The source revealed that one woman and her baby were released by the bandits due to the ill health of the baby.
A resident of the area further disclosed that the security situation in the area had deteriorated.
He added that all the villages in the western part of Faskari town were deserted due to the activities of the bandits, adding that it is only Bilbis town that is left.
He noted that if no concrete action was taken in the next few weeks to correct the situation, Faskari town would also be vulnerable.
Katsina is one of the states most affected by terrorism and banditry in Nigeria's North-West region.
On December 11, 2020, some bandits kidnapped 344 students of Government Science Secondary School, Kankara. They were released about a week later. 
Also, on December 19, 84 Islamiyya students of Hizburrahim Islamiyya in Mahuta village, Dandume Local Government Area of the state were kidnapped but rescued shortly after. 
Insecurity
Insurgency
News
AddThis
: 
Original Author
: 
SaharaReporters, New York
Disable advertisements
: 
target=_blank rel=noopener>Lagos EndSARS Panel Awards N20million To Two Victims Of Police Brutality
Two petitioners at the Lagos State Judicial Panel of Restitution and Inquiry have been awarded N10 million each as compensation over cases of police brutality, especially involving officers of the now defunct Special Anti-Robbery Squad.
The two petitioners, Kudirat Abayomi and Hannah Olugbodi, were awarded the compensation on Friday.
According to Punch, the panel also recommended the prosecution of the erring police officers in the case involving Abayomi.
Apart from the N10 million compensation to the family of Abayomi, who was killed by a police stray bullet in April 2017, scholarships were also awarded to the children of the deceased.
The panel also recommended that a letter of apology be written to the family of the deceased by the police.
Olugbodi, a 35-year-old hairdresser, had in November 2020, narrated how she ended up using crutches after her left leg was shattered by a stray bullet fired by some men of the disbanded police Special Anti-Robbery Squad who were attempting to arrest a young man with tattoos in June 2018 at the Ijeshatedo area of Lagos.Needless to say Congratulations.My only appeal is that both Families should kindly find Peace to forgive our nation NIGERIA🇳🇬 from the depth of their hearts and Bless 🇳🇬.#EndSARS Victims Closure#Olugbodi #Adebayo @naijapasito pic.twitter.com/5eSQglP5vc— Temitope Majekodunmi Oanu-Davis (@TemiOanu) February 19, 2021
She said the SARS operatives were at one Ogun City Hotel, to demand money to fuel their vehicle when they saw the young man with tattoos among a group of persons watching a football match at the hotel. 
According to the petitioner, the owner of the hotel, one Abu, who usually gave the SARS operatives money, was not around to attend to them.
She said the SARS operatives labelled the young man with tattoos a Yahoo Yahoo boy (cyber fraudster).
She said an attempt by the SARS operatives to arrest and take the young man with tattoos away was resisted by the other people there, making the SARS operatives resort to firing gunshots.
Olugbodi said she was at Ijesha market trying to buy pepper to prepare food for her children to take to school the following day when she was hit by a stray bullet.
She said the market women rushed towards her and asked her for her address and the name of her husband, which she managed to give before passing out.
She said she was eventually taken to the Lagos University Teaching Hospital where they said there was no bed space and she was given four bags of intravenous fluid right in the bus.
In a petition involving Mrs. Kudirat Adebayo Abayomi, who was killed by a police stray bullet in April 2017, the panel on Friday, recommended the prosecution of the erring police officers.  
#EndSARS
News
AddThis
: 
Disable advertisements
: 
E2%80%94-tinubu target=_blank rel=noopener>West Africa Won't Contain Us If Any Crisis Should Lead To Mass Exodus Of Nigerians— Tinubu
Bola Ahmed Tinubu
A national leader of the All Progressives Congress (APC), Bola Tinubu, has said the West African region will not be too small to contain Nigerians if there is a crisis leading to a mass exodus in Nigeria.
Nigeria has witnessed renewed cases of insecurity and inter-ethnic clashes in recent times with clamour for secession also gaining strength in some quarters.
Bola Ahmed Tinubu
Speaking at the eighth-day Fidau prayer for the late Lateef Jakande, first civilian governor of Lagos State on Friday, Tinubu said there was a need to stop treading the warpath in the country.
He warned against ethnic conflicts in the country, noting that should such snowball into a full-blown crisis and there is a need to vacate Nigeria, the entire West African region will not be too small to accommodate Nigerians.
He said: "Nigeria is currently facing a crisis; a crisis of insurgency, banditry in all aspects of security, but God Almighty that made this country as one of the largest and most resourceful countries will protect us.
"I appeal, in his (Jakande's) memory today, for us not to turn whatever challenges we are facing right now into ethnic, tribal, and religious crises.
"If there is a crisis, where do we go? We will submerge the entire West Africa, there will be no enough space to accommodate us.
"Those who have seen the effect of war, the effect of tribal conflict, of religious conflict, will never want it for Nigeria.
"We pray to God to strengthen our minds, guide our faith, put peace, and bring peace unto this land, may Allah bless all of us."
Insecurity
News
AddThis
: 
Disable advertisements
: 
target=_blank rel=noopener>Paternity Scandal: Shina Peters Reacts To Claims He Abandoned Son He Had With Late Actress, Funmi Martins
Popular Afrojuju musician, Shina Peters, has reacted to claims that he refused to raise Damilare, a son he had with a Nollywood actress, Funmi Martins, who died as a nursing mother in 2002.
An Instagram blogger had recently alleged that Peters abandoned the 19-year-old who has since lived with his late mum's younger brother.
Damilare reportedly confessed that his sister, Mide Martins, had abandoned him with his uncle who lives in Sango Ota, Ogun State and that life had been difficult as he had to drop out of school due to lack of funds.
According to an online blog, Mide Funmi-Martins, had neglected her role as a sister and even blocked her brother on WhatsApp to restrict any form of communication with him.
Also, it was alleged that Shina Peters had refused to check on Damilare who is now 19 years old and Peters was said to be too quick in discharging the teenager who only saw his father recently at his Iju residence. 
But in a viral video where he addressed the allegations, Peters said he never said he would not take care of his alleged love child with Martins.
"I am no longer a kid. How can someone like me abandon a child? What would it cost me? I have lost count of how many kids I have raised in my life. I love children a lot, why will I refuse to take care of Damilare?" the 62-year-old asked.
"There's a reason for everything but I have chosen to let go of the past and I will never bring it up again. I never said I wouldn't take care of Damilare and it may interest you to know that I have been in talks with him on the phone.
"And I have arranged to meet with Damilare and his uncle. I assure every well-meaning people that have interfered in this matter that I will not disappoint you. I am a father and I have successfully raised a lot of kids.
"Damilare's case will not be an issue. I want to appeal to everybody concerned to not turn this boy into a beggar that money is being contributed for because of his future." 
Entertainment
News
AddThis
: 
Disable advertisements
: 
target=_blank rel=noopener>Ijaw Youths Council Writes IGP Over Alleged Unlawful Arrest, Detention Of Kinsman, Demands Unconditional Release
Inspector-General of Police (IGP), Mohammed Adamu.
The Ijaw Youths Council, IYC, has written a protest letter to the Inspector-General of Police, Mohammed Adamu, over the arrest of one Mr. Kingsley Joseph, by officers of the Force Criminal Investigation and Intelligence Department (FCIID).
According to IYC, the unlawful arrest was led by one Inspector Bonze Palasou on February 8, 2021, alongside one Chief Jack Angila from Ezetu town in the Southern Ijaw Local Government Area of Bayelsa State.
Inspector-General of Police (IGP), Mohammed Adamu.
In a statement issued to journalists from his Yenagoa office, the spokesperson for the IYC, Ebilade Ekerefe, said since Kingsley was arrested, he had been denied access to his family members, friends, and even his solicitor. 
Ekerefe described the situation as worrisome, saying the available intelligence report shows that Kingsley has been shackled in handcuffs and irons, subjected to dehumanising conditions. 
The IYC further said up to date, the alleged officers of the FCIID had deliberately refused to allow his lawyer to have access to him nor stated the crime for which he was arrested. 
The IYC said, "It is pertinent to note that our laws, particularly section 36 of the 1999 Constitution of the Federal Republic of Nigeria as amended, entitles everybody to a fair hearing no matter the gravity of the offense committed. 
"The Council is further informed that Mr. Kingsley is being moved from one detention centre to another. He was first detained at the Area Command cell, Opolo, and later moved to Azikoro Town Police Station in Yenagoa and now taken to an unknown location in Warri, Delta State.
"This is a case of gross violation of his fundamental human rights as enshrined in the Constitution. 
"The Ijaw Youths Council frowns vehemently on this naked violation of Mr. Kingsley's rights and admonishes the police command to desist from such unethical and illegal actions capable of replaying the recent mass actions arising from these condemned acts of the Nigerian police.
"While we applaud the continuous discharge of their obligations as security personnel, such actions must be guided and within the ambit of the law. Anything done in gross violation will only lead to unforeseen and unpredictable reactions by the citizenry."
Ekerefe, therefore, called on Adamu to intervene immediately to ensure the immediate release of "this illustrious son of an Ijaw nation, and allow the due process to be followed strictly".
He warned that given the volatile nature of the Niger Delta region, it would be unwise to act in a way capable of thwarting the fragile peace already existing in the region.
Police
News
AddThis
: 
Disable advertisements
: 


target=_blank rel=noopener>Lagos Speaker, Obasa, APC Supporters Violate COVID-19 Law Prescribing 6-month Jail Term For Defaulters
Lagos Assembly Speaker Mudashiru Obasa
Lagos State House of Assembly Speaker, Mudashiru Obasa, on Friday organised a political meeting in Agege in violation of the coronavirus (COVID-19) Health Protection Regulations 2021 Act recently signed into law by President Muhammadu Buhari.
Buhari had in January signed the law in the exercise of his powers under Section 4 of the Quarantine Act.
Lagos Assembly Speaker, Mudashiru Obasa
Section 34 of the new law states that any offence under the regulation is punishable by a fine or a term of six months imprisonment or both.
The law provides for the maintenance of physical distance in gatherings, while all persons in such public places must, among other things, wear face masks, wash their hands, and have their temperature checked before entering such venues.
It also restricts the gathering of more than 50 persons in an enclosed space "except for religious purposes, in which case the gathering shall not exceed 50% capacity of the space".
However, Obasa and his supporters violated the law and several COVID-19 protocols on Friday during the political he organised.
The rally was allegedly attended by over 2,000 All Progressives Congress members.
A video seen by SaharaReporters shows Obasa amid people not observing social distancing as stipulated by the law. 
The majority of those in the rally were also seen without face masks.
This comes barely six days after the Lagos State Police Command arrested about 40 protesters at the Lekki toll gate for allegedly disregarding the COVID-19 protocols, especially regarding social distancing and the use of face masks.
One of those arrested was comedian, Debo Adebayo, popularly known as Mr Macaroni. Some others were Juwon Sanyaolu, Damilare Adenola, and Dabira Ayuku.
They were tortured and later arraigned before a mobile court in Yaba for conspiracy, conduct likely to cause a breach of the peace, and violation of COVID-19 protocols.
However, a SaharaReporters' journalist at the toll plaza observed that the protesters arrested conducted themselves peacefully and observed COVID-19 protocols.
In April 2020, the police arrested popular Nollywood star, Funke Akindele-Bello, and her husband, Abdul Rasheed, for violating the lockdown ordered by the government to stop the further spread of the pandemic in the country. 
Also, the police in Lagos had in the last few months raided different nightclubs, arresting fun seekers for allegedly flouting the COVID-19 protocols.
PUBLIC HEALTH
News
AddThis
: 
Original Author
: 
SaharaReporters, New York
Disable advertisements
: 
target=_blank rel=noopener>Three Years After Kidnap: Intensify Prayers For Release Of Leah Sharibu's, Pastor Adeboye Tells Clerics, Parents
Leah Sharibu
The General Overseer of the Redeemed Christian Church of God, Pastor Enoch Adeboye, has called for prayers for the release of Leah Sharibu, the Christian girl in captivity of the Boko Haram terrorists.
In a statement titled, "A Call for Release of Leah Sharibu," which he signed and issued on Friday, Adeboye directed all pastors in the RCCG all over the world to intensify their prayers for Sharibu's release.
Leah Sharibu
The clergyman also urged all parents to use whatever influence they have to ensure that Leah Sharibu, as well as other children in captivity, are released. 
He said, "I, hereby again call and direct all pastors in the Redeemed Christian Church of God all over the world not to stop but to intensify their prayers for the release of Leah Sharibu.
"I also call on every parent, all over the world, to use whatever influence they have, to ensure that Leah Sharibu, as well as other children in captivity, are released. We shall not relent in our prayers."
Adeboye's message comes exactly three years after Sharibu and 109 other schoolgirls of Government Girls' Science and Technical College, Dapchi, Yobe State, were kidnapped by Boko Haram terrorists. 
See Also
Breaking News
BREAKING: Leah Sheribu Gives Birth To Baby Boy For Boko Haram Commander After Being Forced To Convert To Islam
0 Comments
1 Year Ago
On March 21, 2018, the Nigerian government announced the release of 106 kidnapped children, which included 104 Dapchi schoolgirls. 
The remaining two children released were said to be a girl who was not a pupil of the school and not kidnapped with them and a boy. 
Five of the Dapchi schoolgirls were said to have died on the day they were kidnapped, leaving only Sharibu behind with the terrorists. 
Sharibu's parents later said the group did not release their daughter because she refused to convert to Islam. 
The Dapchi incident came about four years after 276 schoolgirls were kidnapped from a secondary school in Chibok, Borno State, the epicentre of the Boko Haram insurgency. 
Similarly, 344 schoolboys were kidnapped on December 11, 2020, from Government Science Secondary School, Kankara, Katsina State, and released six days later. 
On Wednesday, 27 schoolboys along with some staff members and their relations were kidnapped from Government Science College, Kagara, Niger State. 
One of the students was killed while the abductees have still not been released as of the time of filing this report. 
Boko Haram
Terrorism
News
AddThis
: 
Original Author
: 
SaharaReporters, New York
Disable advertisements
: 
target=_blank rel=noopener>Call Us When There Is Attack By Fulani Herdsmen In Your Domains, OPC, Agbekoya, Others Tell Yoruba Traditional Rulers
Odua Peoples Congress, Agbekoya, Hunters Group, Isokan Ile Yoruba, Vigilante Group of Nigeria, Ibarapa Group, and Community Society Awareness Initiative have all expressed their preparation to defend Yorubaland against invasion by killer Fulani herdsmen. This was contained in a communique released after their joint meeting under the auspices of the South-West Security Stakeholders on Friday in Lagos.
The groups went further to urge the paramount rulers and traditional leaders in Yorubaland to alert them whenever there is any assault in their territories.
The communique read in part, "The meeting reviewed recent security concerns in the nation generally and Oodua land in particular. "The meeting shared the concern of the people in general and prominent Nigerians, especially about the security situation in the land. "The meeting noted the exasperation inherent in the statement of Chief of Defence Staff of the nation calling on Nigerians to defend themselves. This is clearly an official endorsement of self-defence. "The meeting feared the situation if not addressed signals a grievous national crisis. The meeting, therefore, called on the government to quickly arrest the apparent descent into anarchy. "The meeting aligned with the call of the governors of South-West that President Muhammadu Buhari should prove his innocence in the carnage being perpetrated by herders by not only unambiguously condemning the nefarious acts but also take clear steps to exterminate it. "The meeting stressed the point that multinational states such as Nigeria must be built on respect for different human components making up the sovereign nation." "The meeting re-emphasised the call for a return to pure federalism, which was the political arrangement leaders of the nation endorsed by leaders of the nation at independence. This will allow various nations in the country to take proper control of their affairs including security. "Meanwhile, the meeting urged Obas and traditional leaders of Yorubaland not to hesitate to invite any of the groups listed above in the event of any threat to the security of every Yoruba man by invading groups anywhere in our land." 
Insecurity
News
AddThis
: 
Original Author
: 
SaharaReporters, New York
Disable advertisements
: 
Read also Nigerian Newspapers Today and Nigeria News Today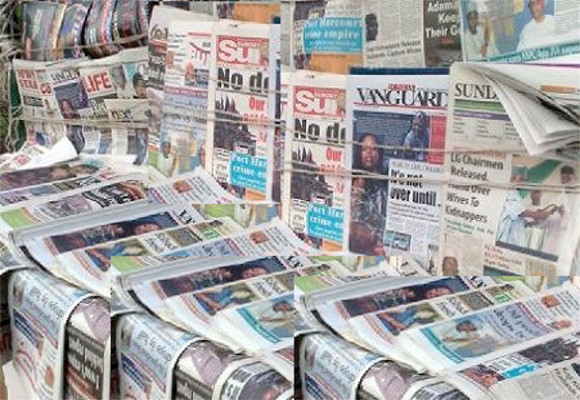 You can also check Sahara Reporters Newspaper Headlines Today