Sahara Reporters Latest News Today

Tuesday 16th February 2021

Sahara Reporters Latest News Today and headlines on some of the happenings and news trend in the Country, today 16/02/21

Read also nigeria newspapers Tuesday 16th February 2021
target=_blank rel=noopener>Airman Killed By Bandits Three Weeks To Wedding In Kaduna
One of the six personnel of the Nigerian Air Force, 271 Group, who were ambushed and killed by bandits along the Kaduna-Birnin Gwari Road, had three weeks to his wedding.
The deceased, Aircraftsman Abubakar Ahmad, was among the victims killed on February 13.
Kaduna State has been at the centre of renewed banditry attacks, particularly in the rural communities and many deaths have gone largely unreported.
According to a NAF statement on Saturday, troops of the 271 Nigerian Air Force foiled an ambush by a group of bandits at Ungwan Laya near Birnin Gwari, killing many of them.
The NAF Director of Public Relations and Information, Ibikunle Daramola, disclosed these in a statement in Abuja.
A former federal lawmaker, Senator Shehu Sani, who is from Kaduna South district, also confirmed that Ahmad was to get married in three weeks, while commiserating with his family on Twitter on Monday.
"Aircraftsman Abubakar Muhammad Ahmad along with some of these colleagues were killed by bandits in an ambush along Kaduna Birnin Gwari Road yesterday. He was to get married in three weeks," he tweeted.
The former lawmaker said he was at Ahmad's home in Kaduna on a condolence visit on Sunday.
The NAF spokesman, Daramola, said that the troops were able to beat their way through the ambush, killing several of the bandits who were over 100 in number.
He, however, added that an undisclosed number of gallant personnel of the Nigerian Air Force involved in the operation lost their lives, while others sustained injuries and were receiving treatments.  
According to the NAF spokesman, the Chief of Air Staff, Oladayo Amao, has expressed his condolences to the family of the gallant officers who paid the supreme price.
"The CAS on behalf of all officers, airmen, airwomen, and civilian staff of the NAF, commiserates with the families of the fallen heroes and prays that the Almighty God grants their souls peaceful repose.
"The CAS, who visited the injured personnel in the hospital this evening, has urged all NAF personnel to remain resolute and continue to work assiduously, in synergy with sister services and other security agencies, to rid the North-West of all criminal elements," he said.
Insecurity
Insurgency
Military
News
AddThis
: 
Featured Image
: 
Original Author
: 
Saharareporters, New York
Disable advertisements
: 
target=_blank rel=noopener>Nigerian Medical Doctor Dies In Motor Accident Two Months To His Wedding
A medical doctor, Chidera Ifudu, has died in a motor accident two months to his wedding.
The accident involving his Lexus SUV occurred on Friday morning, along Port Harcourt/Aba Expressway.
According to reports, the medical practitioner was trying to avoid hitting a pedestrian when his car veered off the road and crashed.
The deceased, who worked at Enugu State University of Science and Technology Teaching Hospital, was reportedly the only son of his father.
It was gathered that Ifudu's wedding invitation card was used to trace his relations. 
Ifudu and Judith Ogochukwu's traditional was scheduled for Tuesday, April 6, 2021, in Umuahia-South Local Government Area of Abia State and the church wedding on Saturday, April 10, at Holy Trinity Catholic Church, Independence Layout, Enugu.
LIB
One of Judith's friends, Aguli Daniel Okechukwu, wrote, "Sundown and Dusk @ Noon: Adieu Dr. Chidera Alex Ifudu. (A lone son of his father)
"What a cruel world we're living in. How can someone's wedding card be used to trace his remains after soul departure in a ghastly motor accident?
"Brother, as die-hard believers, even though it's hard to believe and accept, we can only say goodbye with prayers for God knows it all.
"May God give your dad, siblings, and other relations the fortitude to bear this irreplaceable loss. Our thoughts are with them. It's hard to take but blessed be the name of God on those who have faith in Him for he who has high faith and trust in God will always find comfort through the opium that sedates of our emotional worries and pains in the challenging life. God is Hope.
"For us the fortunate fast livers, the earlier we begin to have a deep thought on our lives with respect to death, the better for everyone.
"Dera, May the Almighty in his unreserved Mercy, and means in which you departed the mother earth grant you a peaceful repose and give you a place in Elysium.
Amen."
Accident
News
AddThis
: 
Original Author
: 
Saharareporters, New York
Disable advertisements
: 


E2%80%94farmer target=_blank rel=noopener>Fulani Kidnappers In Ondo Use Generators, Play Music Inside Forest —Farmer
File Photo
A farmer in Ijugbere axis of Owo Local Government Area of Ondo State who identified himself as Adedayo says Fulani herdsmen kidnapping in the area have generators and play music inside the forest where they hide their hostages. 
Speaking to SaharaReporters on Monday, Adedayo condemned the killing of three farmers in the area during the weekend.
File Photo
PT
He said the herdsmen invaded their farm around 7 pm on Saturday and descended on the farmers, killing three while he and others ran away from the farm. 
The farmer said the incident had created tension in the area with some residents fleeing the community.
He said, "When they kidnap, they bring people to the forest. Now, they have generators, play music in the forest. We are in a serious problem. 
"People should take away politics from what is happening currently, they should just forget about politics, otherwise, we are in for serious trouble if nothing is done."
Last month, Rotimi Akeredolu, governor of the state, issued a seven-day quit notice to the herdsmen operating illegally in the state's forest reserves.
Apart from ejecting the herdsmen, the governor also banned underage grazing, night grazing, and movement of cattle within the cities and on highways.
The governor had said, "Today, we have taken major steps at addressing the root cause of kidnapping, in particular, and other nefarious activities detailed and documented in security reports, the press, and debriefings from victims of kidnap cases in Ondo State.
"As the chief law and security officer of the state, it is my constitutional obligation to do everything lawful to protect the lives and property of all residents of the state. In light of the foregoing, the following orders are hereby issued: All forest reserves in the state are to be vacated by herdsmen within the next seven days with effect from today, Monday, January 18, 2021."
The issue generated an uproar and after a meeting with different stakeholders, Akeredolu asked herdsmen to register with the government so that they can operate unhindered in the forest reserves.
Insecurity
News
AddThis
: 
Original Author
: 
Saharareporters, New York
Disable advertisements
: 
target=_blank rel=noopener>Fulani People Are Looking For War, Says Afenifere
Yinka Odumakin
The pan-Yoruba socio-political organisation, Afenifere, has said that those who are of the Fulani extraction are looking for war. 
This is following the recent violence which erupted at Shasha market, Ibadan, Oyo State and the recent killings in the South-West by suspected Fulani herdsmen. 
Yinka Odumakin
SaharaReporters Media
The Shasha crisis claimed the lives of many people after a clash triggered by the death of a cobbler by a cart pusher.
Two men reportedly had a misunderstanding and in the process, the cart pusher, said to be a Hausa man, allegedly killed the cobbler, a Yoruba man.
The victim was confirmed dead in a hospital the following morning. This led to crisis in the community between the Hausa and the Yoruba. 
Speaking with SaharaReporters on Monday, Afenifere's National Publicity Secretary, Yinka Odumakin, said the Fulani are looking for war, hence their orchestration of violence in some South-West states. 
He alleged that the Fulani want to cause war in Yorubaland, so they would commit atrocities and take to their heels.
"Fulanis are looking for war, that's why there has been unceased and orchestrated violence in Ondo, Oyo states and these are signs that they are looking for war at all cost. Look at the Shasha killings, it's uncalled for and after they have finished perpetrating the atrocities, they took to their heels, they are running away in droves. 
"Their herdsmen are in the forests, their market men and women are causing violence in the market places and Garba Shehu says if the president talks, he will be seen as a talkative. So it's clear what they are looking for, they want to throw Yorubaland into some war; we are being careful about this because we know what they want.
"That was what (Sani) Abacha was planning to do in his days while he was throwing money all over the world and people are saying Abacha did not steal, he was throwing money to fight South-West. They want to perpetrate this agenda and we know what they are planning to do."
Politics
News
AddThis
: 
Original Author
: 
Saharareporters, New York
Disable advertisements
: 
target=_blank rel=noopener>Couple Bag 80 Years Jail Term for N53m Fraud
A couple, Ebiesuwa Abayomi Fredrick and his wife, Tinuola Idayat Oyegunle, have been sentenced to 40 years imprisonment each. 
Justice Joyce Abdulmalik of the Federal High Court sitting in Ibadan, Oyo State today, February 15, 2021, found them guilty on all four counts of conspiracy and obtaining by false pretences brought against them by the Ibadan zonal office of the Economic and Financial Crimes Commission. 
The couple, in a classic advance fee fraud scheme, fleeced one Dunni Olateru Olagbegi of N53, 713, 260.00 (Fifty-three million, seven hundred and thirteen thousand, two hundred and sixty naira) in cash and bank transfer through a spiritual cleansing gambit to avoid the calamitous consequence of mysterious sudden death having heard a conversation by a syndicate about a 'Ghana-Must–Go' bag stuffed with US dollar bills in the boot of a car. She was also tricked into bringing funds to cleanse the supposed bills. 
Couple Bags 40 Years Jail Term for N53m FraudA couple, Ebiesuwa Abayomi Fredrick and his wife, Tinuola Idayat Oyegunle,  have been sentenced to 40 years imprisonment each. pic.twitter.com/GkeG1KIRkg— EFCC Nigeria (@officialEFCC) February 15, 2021
The victim had sometime in May 2013, boarded a cab with three other passengers who, unknown to her, were members of a syndicate of fraudsters. As soon as she entered the vehicle, she heard the three other supposed passengers arguing about a Ghana-Must-Go bag filled with US dollars in the boot of the car.
Moments later, one of the syndicate members told her that she must be cleansed to avert sudden and mysterious death having heard their discussion. She was taken to an unknown destination, where she subsequently started giving the defendants, and the other members of the syndicate (at large) various sums in cash and bank payment totalling N53, 713, 260.00 to buy instruments for the cleansing of US dollar notes, which she allegedly sourced from the sale of her properties in both Ibadan and Lagos.
In the course of the investigation, it was discovered that over N9 million (nine million naira) was paid into the second defendant, Tinuola Idayat Oyegunle's account domiciled in one of the third generation banks; apart from other funds traced to the first defendant, Ebiesuwa Abayomi Fredrick's account.
 It was also discovered that the first defendant built Victoria East Park Hotel & Suite located at Igbogbo, Ikorodu, Lagos State from the proceeds of the crime.
 In his judgment today, Justice Abdulmalik found the couple guilty of the four counts and sentenced both of them to 10 years imprisonment on each of the four counts. However, while Ebiesuwa's prison term takes effect from June 19, 2017, when he was arrested, Tinuola's time in the Custodial Centre will start counting from May 26, 2017, when she was arrested.
The Judge also ordered that Victoria East Park Hotel & Suite, "be sold and the proceeds, if not up to N53, 713, 260.00 be returned to the victim in the case and if it exceeds, the balance be paid into the Nigerian government's account".
The sentences are to run concurrently.
One of the counts reads: "That you, Ebiesuwa Abayomi Fredrick, Tinuola Idayat Oyegunle and (others still at large) between 28 March, 2014 at Ibadan, within the jurisdiction of this honourable court, with intent to defraud did obtain by false pretences, the sum of nine million, three hundred and fifty-two thousand, one hundred naira (N9,352,100.00) only, from one Dunni Olateru-Olagbegi, under the pretence that the money was to be used to purchase an instrument for the cleansing of US dollar notes, which pretence you knew to be false and thereby committed an offence contrary to section 1 (1) & (2) and punishable under section 1 (3) of the Advance Fee Fraud and Other Fraud Related Offences Act, 2016.
Corruption
Legal
News
AddThis
: 
Original Author
: 
SaharaReporters, New York
Disable advertisements
: 
target=_blank rel=noopener>Police Arrest Eight Traffic Robbers in Lagos, Recover Hard Drugs
Suspects
The police in Lagos State have arrested eight suspected traffic robbers in the Ketu area of the state, after which it recovered dangerous weapons and hard drugs from them. 
The suspects were rounded up on Thursday and Friday by operatives of the Rapid Response Squad. 
Suspects
PM News
A release by the police command's Spokesperson, CSP Muyiwa Adejobi, noted that the suspects had been transferred to the State Criminal Investigation and Intelligence Department, Yaba, for further probe. 
He said, "The Lagos police command, between Thursday night and early hours of Friday, arrested eight suspected traffic robbers in the Ketu area. 
"Five of the suspects were arrested on Thursday at about 10 pm by a team of Rapid Response Squad operatives led by the Commander, Rapid Response Squad around the Motorways end of Ketu while the other three suspects were caught in the act by another RRS patrol team around 6 am on Friday. 
"The suspects are Olawuyi Olayinka, 27; Mayowa Adeleke, 17, Fa'izu Ado, 25, Segun Oluwatoyin, 27, Haruna Shuaibu, 29, Amos Abayomi, 24, Monday Obayemi, 25, and Okunlola Olawale, 21.
"One of the suspects, Amos Abayomi, who was arrested with a machete in traffic, disclosed that he used to rob in traffic with a syndicate of other hoodlums, especially at night. "He further explained that there were instances where motor boys working in Ajelogo Park, Ketu, would use their trucks to block the highway at dawn, thereby creating artificial traffic so that they could feast on motorists and commuters held in traffic. "Abayomi, who had dispossessed a young lady of her Tecno Spark 4 phone, shortly before he was arrested, noted that traffic robbery at dawn and night was all he did for a living. "He also disclosed that he had handed over the phones he collected to one of his colleagues, Akube, now at large, before he was arrested. 
"Abayomi, an Eiye cult member, also confessed that Monday Obayemi, who was equally arrested with assorted hard drugs, robs and sells hard drugs in traffic to the suspects and other criminals on a daily basis." Adejobi added that items recovered from the suspects were weapons, assorted charms, mobile phones, wraps of substances suspected to be cocaine and other hard drugs.
"The Commissioner of Police, Lagos State, CP Hakeem Odumosu, has directed that the suspects be transferred to the State Criminal Investigation Department, Panti, Yaba for discreet investigation and prosecution, as the command will not leave any stone unturned in getting the state rid of criminals and hoodlums." 
CRIME
News
AddThis
: 
Original Author
: 
SaharaReporters, New York
Disable advertisements
: 
target=_blank rel=noopener>The Man Who Was Different By Achike Chude
Achike Chude
They came to see him, the politicians, pretending to love him. They came with tears in their eyes, their heads bowed in mock humility and deceit. If it would not have been embarrassing, they would have thrown themselves to the floor in painful anguish that Baba Jakande had departed this world. 
But in truth, they hated the man they were pretending to cry for. The hated him for his humility and integrity. They despised him for his honesty and lack of avarice. They were turned off by his simplity and austere lifestyle, but most importantly they detested him for the deep love he had for the people of Lagos state. 
If they had a choice, those who still had a little bit of conscience left would not have visited the home of the great little man that has just passed and entered the pantheon of the greats. His virtues reminded them so much of their vices. He was simple – they are loud. He was humble – they are known for their arrogance. He protected the people's commonwealth – they steal the people blind. He was motivated by the desire to work for, and protect the common good – their predilection is to take from the little that the people have and add to their ill gotten wealth. He was a light that continually sought to lighten up the environment – they are darkness that continues to push our country towards the precipice. He had very little physical and material properties to show as a one time governor of Lagos state – they have properties all over the state, the country, and abroad – all, mostly the proceeds of ill-gotten wealth. 
Yes! They did not like Jakande very much. His cleanliness reminded them too much about the filth and dirt that clings and hangs on to them like a tenacious leach. 
Achike Chude
But if you read the first the first and second inauguration speeches of the late Alhaji Lateef Jakande as elected governor, you will understand who the man was and why and how he achieved so much.
They show Jakande at his patriotic and humanistic best. They show his motivations, commitments, and belief in the common good. Now we understand why his government was neither pro-rich nor pro-poor but was pro-people without colorations. It is today,  amazing to see political armed robbers, jackals and hyenas who have stolen the people blind, lining up to pay tribute to a man whose life and lifestyle was a clear and direct repudiation of their financial lusts and political concupiscence. I am almost persuaded to say that God will punish them for turning Nigeria into a wasteland of frustration, deprivation, and hunger. But He has assured us that no evil will go unpunished. We are waiting. Jakande in life and death has shamed these amoral 'conquistadors' that today's Nigerians so shamelessly extol for depriving them of a better life in the land of plenty.
His footprints are everywhere in the state. He swore to uphold free educational for all and he achieved that. He promised to invest in the health of the people and he delivered the general hospitals you see everywhere. He desired a more befitting and bigger working environment for the state civil servants and he gave them the imposing secretariat at Alausa. He even wanted to solve the now intractable transport situation in the state by building a metroline but the military government stopped him.  
So let them shed their crocodile tears, wail and gnash their teeth before television cameras and photo lenses. We know that they are secretly glad that the man who reminded them so much about their dubious political credentials and their moral deficits is gone. 
But when all is said and done, we the people know and remember our true champions. Alhaji Lateef Kayode Jakande was one of them. Adieu great one!
Opinion
AddThis
: 
Original Author
: 
Achike Chude
Disable advertisements
: 


target=_blank rel=noopener>#OccupyLekki: Forum Of Lawyers Condemns Lagos Attorney General Over Arrest, Torture Of Protesters
A forum of lawyers, the Eti-Osa Bar Forum, Ajah, Lagos State, has knocked the state Attorney General and Commissioner for Justice, Mr. Moyosore Onigbanjo, for the ugly roles he played during Saturday's #OccupyLekkiTollgate protest. 
The forum at a world press conference on Monday noted that both the AG and the state Commissioner of Police, Hakeem Odumosu, on Friday led a "show of force which is a show of shame" and acted the scripts of how they would repress the harmless #OccupyLekkiTollGate protesters. 
The Eti-Osa forum added that it was disturbed by the overall conduct of the Attorney General who instead of defending constitutionalism and rule of law, became a mouthpiece for impunity. 
The forum's release was signed by Chairman, Oladotun Hassan; and Secretary, Ayo Ademiluyi. 
The forum said, "We condemn in its entirety this act of mass criminalisation of citizens of our jurisdiction by the conduct of the Lagos State Police Command of the Nigerian Police Force. The action amounts to the derogation of democratic rights of citizens under a supposed democracy.
"This show of force which is a show of shame was acting to the script by the police officers and men of Lagos command of the threats to repress the #OccupyLekkiTollGate protest via the joint press conference of the AG of Lagos. 
"We are disturbed by the overall conduct of the AG. As the Chief Law Officer of the Lagos State Government, the Office of the AG is meant to be for the defence of constitutionalism and rule of law and not a mouthpiece for impunity. 
"We are shocked with the statements of the Defence Minister in particular, who asserted that minimum force will be applied to protesters. This is clearly undemocratic as we are not in the jackboot days of military authoritarianism." 
The forum added that the nature of the brutalisation of the arrested protesters, including the inhumane treatment they were subjected to, drew the ire of many across the world. 
"Of note is the beating that Debo Adebayo, popularly known as MC Macaroni, and his fellow arrested protesters received in the hands of the police officers. 
"We call for the investigation and arrest of the police officers who were involved in this dastardly acts. We are of the view that these attacks represent the reality that police brutality which the #EndSARS protests want to end and which many died for in the course of the protests have not ended," the forum added. 
Human Rights
News
AddThis
: 
Original Author
: 
SaharaReporters, New York
Disable advertisements
: 
E2%80%94 target=_blank rel=noopener>How Police Officers Arrested Us For Traffic Offence, Took Us To Mechanic Village For Extortion — Event Planner
An event planner in Lagos State has revealed how men of the Nigerian police force stopped the taxi she had boarded for alleged wrong-way driving and extorted them.
Speaking with SaharaReporters, she said she had a surprise birthday present to deliver to someone at 7 am on Monday and had commenced her journey as early as 5 am from Isolo but was unable to meet up with the appointment on time due to delay by police officers at Agege.
According to her, the taxi driver and others had maintained a straight lane from Ikeja but on getting to a U-turn, drivers who were trying to change direction duplicated the line which confused the officers. 
The young woman said the policemen immediately started removing number plates, hitting cars, and deflating some car tyres. 
She added that the policemen threatened that the cars would be taken to their station.
The young lady, however, said they were all directed to a mechanic village where other 'offenders' were already negotiating with officers on how to pay for the 'offences' committed. 
"What happened in that scenario was a very commonsensical thing. We were on the right lane and there were others trying to turn. We were on a normal straight lane; we'd been maintaining that lane from Ikeja so (when) we got to that Agege Under Bridge, there were like two lanes. Our lane and another for those who were trying to manoeuvre to turn.
"Suddenly, police officers came to block us that we were passing one way (guilty of wrong-way driving). I was confused, though I'm not the one who drove the car but one-way is a layman English, a road that once it is 'to', it is 'to' and once it is 'fro', it is 'fro', I was like how?
"They started removing number plates, hitting the cars, there were about 5 to 6 cars behind us. They removed all the number plates and flattened (defaulted) car tyres. One of them was even dragging the car key with our Uber driver and I was asking them what we had done wrong.
"We were going for a surprise job, a surprise job we were supposed to deliver by 7 am, they delayed (us) till 10 am. We were there for three hours; they said they were taking us to the police station but there was no police van, just a tricycle. We entered our cars and they entered their own Maruwa (tricycle). All of us on that spot followed them to the place they said was a police station; it was not a police station but a mechanic village. There were lots of people there begging them, they had arrested people before us and even while we were there, they kept arresting other people. 
"As we got there, I said excuse me, you told us you'd be taking us to a police station, this is not a police station, one of them said really? That I am trying to prove that I'm educated but the moment I saw that people were paying and bargaining, I didn't know what to do again. I was like everyone has to go through this process. So I asked them what do they want me to do, they said I should bring N15, 000 and I was like for what? What was my offence and the Uber driver is what I use for my regular brand so I couldn't have left him at the spot, it would not be fair on him. It's even on a Monday morning. We left home at 5 am because we were coming from Isolo. I asked them N15, 000 for what? What did we do, they just kept on saying you pass one way and they were stinking and smelling; smelling police officers. 
"They directed us to another man on their team who asked us to bring 15k and take our car and leave. I said I didn't have N15, 000 that I was on a job and even the job I was going to deliver, I didn't make up to 10k. This is the job that I do, why will you delay me this early Monday morning? Later, one of them agreed to the 10k, I begged, I cried, and had to trek to Zenith Bank to withdraw (the cash). I begged them to accept transfer, they said no. I shed tears before they agreed to accept 10k, I made a video of when I gave their boss the N10k and he rejected it, he gave it back to me, after like an hour, he accepted the money. 
"I was going for a surprise birthday by 7 am; they delayed us. We got to that spot before 7 am because the job was for 7 am and it was a referral job that I shouldn't have messed up.
"We later delivered late though but I had to start explaining what happened to the client. When we got to our car and was trying to fix the number plate, one of them said, 'Madam, this money is not complete' and I said it's like you are mad, he said no vex and left."
She also said the mechanic village where the people were apprehended was close to a police station. 
"They might actually be from there (police station). One of them was wearing a uniform and it was written Ogunwonu on it. They are police officers," she added.
According to her, there was a man at the spot who didn't have money to pay and resorted to begging but instead, his tyres were deflated.
"He was begging them, they didn't listen, he was crying like a baby," she recalled.
Speaking further, she stated that residents and other people nearby were aware of the activities of the officers but no one had the guts to report them.
"As I was giving the officer the money, I told them that they should go and buy coffins for themselves and their family members because they would need it, and they collected it. One woman selling food there said the way I cursed them is very good because they are notorious for that," she added.
 
Police
News
AddThis
: 
Original Author
: 
SaharaReporters, New York
Disable advertisements
: 
E2%80%98we-need-get-global-economy-going-again%E2%80%99-%E2%80%94okonjo-iweala-reacts-appointment-wto-dg target=_blank rel=noopener>'We Need To Get Global Economy Going Again' —Okonjo-Iweala Reacts To Appointment As WTO DG
Dr. Ngozi Okonjo-Iweala
The newly-appointed Director-General of the World Trade Organisation, Dr. Ngozi Okonjo-Iweala, has said that the organisation will get the global economy running again during her tenure as the WTO DG.
Okonjo-Iweala disclosed this on Monday while reacting to her appointment, which takes effect from March 1, 2021. The renewable term will expire on August 31, 2025.
Dr. Ngozi Okonjo-Iweala
Bloomberg
She also expressed willingness to make the WTO stronger, adding that the organisation would adapt to the "realities of today".
The former Nigerian Finance Minister said a key priority for her would be to work with members to quickly address the economic and health consequences brought about by the COVID-19 pandemic.
"I am honoured to have been selected by WTO members as WTO Director-General," she said.
"A strong WTO is vital if we are to recover fully and rapidly from the devastation wrought by the COVID-19 pandemic.
"I look forward to working with members to shape and implement the policy responses we need to get the global economy going again.
"Our organisation faces a great many challenges but working together we can collectively make the WTO stronger, more agile, and better adapted to the realities of today."
See Also
Breaking News
BREAKING: World Trade Organisation Confirms Nigeria's Okonjo-Iweala As New Director-General
0 Comments
6 Hours Ago
The WTO had in a tweet on Monday confirmed Okonjo-Iweala as the next Director-General of the trade organisation.
"Ngozi Okonjo-Iweala from Nigeria is appointed as the next WTO Director-General. Dr. Okonjo-Iweala makes history as the first woman and the first African to lead the WTO. Her term starts on the 1st of March 2021.
"WTO members took the decision to appoint @NOIweala at a special meeting of the General Council, following a selection process that included eight candidates from around the world #WTODG," it tweeted.
Okonjo-Iweala, who boasted US, EU, and African backing, was not at the WTO's Geneva headquarters for Monday's meeting, but was scheduled to hold an online press conference after its conclusion.
She will take over an organisation mired in multiple crises and struggling to help member states navigate the severe global economic slump triggered by the coronavirus pandemic.
Okonjo-Iweala argued during the race that she was best placed out of the eight candidates for the post to steer the WTO through the crises, calling herself a reform candidate.
She warned that growing protectionism and nationalism had been spurred on by the pandemic and insisted barriers needed to be lowered to help the world recover.
Even before Covid-19 battered the global economy, the WTO was weighed down by stalled trade talks and struggled to curb trade tensions between the United States and China.
The WTO also faced relentless attacks from Washington under Biden's predecessor, Donald Trump. Among other things, Trump brought the WTO's dispute settlement appeal system to a grinding halt in late 2019.
Economy
Politics
News
AddThis
: 
Original Author
: 
SaharaReporters, New York
Disable advertisements
: 
Read also Nigerian Newspapers Today and Nigeria News Today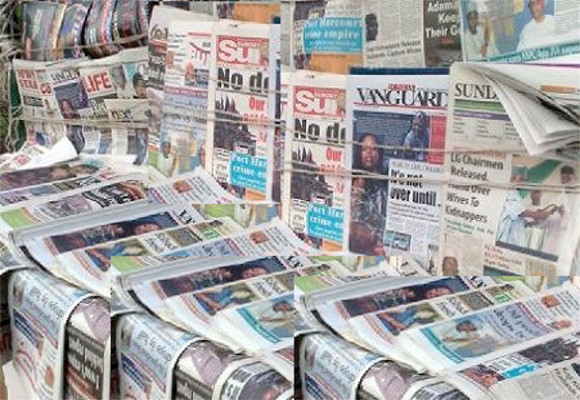 You can also check Sahara Reporters Newspaper Headlines Today