Sahara Reporters Latest News Today

Monday 15th February 2021

Sahara Reporters Latest News Today and headlines on some of the happenings and news trend in the Country, today 15/02/21

Read also nigeria newspapers Monday 15th February 2021
E2%80%99s-violence-%E2%80%93-cdhr target=_blank rel=noopener>Buhari Being Cattle Owner Cannot Be Fair In Herdsmen's Violence – CDHR
The Committee for the Defence of Human Rights has said it is unfortunate that President Muhammadu Buhari being a cattle owner himself has not risen above his personal interests to tackle effectively the ongoing farmers-herdsmen's crisis in the country.
The CDHR said the President cannot be fair in handling the crisis, which has claimed a lot of lives, particularly in the southern region.
The group stated these in a communique issued on Sunday after its National Executive Council meeting, and signed by its National President, Dr Osagie Obayuwana.
It said, "CDHR agrees with the National Assembly that no other evidence is required in proof that the Nigerian state under President Muhammadu Buhari has not only failed woefully, but has shown through a combination of lacklustre performance characterised by incompetence and indifference, that the state under Buhari leadership cannot meet the fundamental purpose for which it was established – to uphold the security and welfare of the Nigerian people. 
"We affirm that the economic policies of the Buhari government by pauperising the masses on an ongoing basis directly and indirectly fuel insecurity, as they engender acts of desperation on the part of the unemployed and impoverished teeming population of youths, the pretences at insignificant palliatives notwithstanding.
"President Buhari, being an owner of herds of cattle himself, obviously cannot rise above his entanglement in conflict of interest in the herdsmen/farmers' faceoff. We are not surprised that after the rejection of his RUGA proposal, he has retreated into subterfuge in shadowy manoeuvres.
"The herdsman needs to be mobilised to break away from the condemnation of living like an animal, with cows in bushes without any amenities. They don't own the cows yet they have committed the entirety of their lives to tending cows, without being paid salaries.
"The herdsman must be made to recognise at this time, that the relationship between him and the owners of the cows, who live in comfort in faraway cities and towns, is an exploitative one; he works 24 hours a day, seven days a week without defined terms of service.
"This relationship is a carryover from the slave era. If cow owners want ranches, they should acquire the land through purchase."
Agriculture
Insecurity
News
AddThis
: 
Original Author
: 
SaharaReporters, New York
Disable advertisements
: 
target=_blank rel=noopener>Kidnapped Rivers NTA Reporter Regains Freedom
The Rivers State Police Command has announced the release of Mrs. Chidiebere Onyia, who was kidnapped by unknown gunmen in Woji, Rivers State last Tuesday, by her kidnappers.
Onyia, a nursing mother and an employee of the Nigeria Television Authority, Port Harcourt Zonal office, spent five days in captivity.
The kidnappers had blocked her vehicle and taken her away, leaving her colleagues who were with her behind.
Confirming the development, the spokesman for the state police command, Nnamdi Omoni, in a statement on Sunday, described Ovia's release as a Valentine's Day gift.
According to Omoni, the kidnappers abandoned Ovia and fled on sighting the police. 
See Also
CRIME
Gunmen Abduct NTA Reporter In Rivers
0 Comments
4 Days Ago
He attributed the development to the police, saying the intense pressure mounted by the police paid off eventually.
The police statement was titled 'The Nigeria Union of Journalists, Rivers State chapter receives Valentine gift as Chidiebere regains freedom.'
It reads, "The Rivers State Police Command is pleased to announce the unconditional release of Chidiebere Onyia, a reporter with NTA Port Harcourt who was kidnapped last week. The rescue was made possible due to the intense pressure mounted by the Command as directed by the authority.
"Her abductors on seeing the red flag and oblivious of the fact that were closing in on them, however bowed to the seeming pressure and abandoned her, from where she was sighted and rescued. 
"She is currently receiving medical attention and will be debriefed and released to reunite with her waiting family. Recall that upon abduction, the Command assured and reassured the family, NUJ and the civil society groups that, with the strategies in place, she would be released in record time.
"Keeping faith with that assurance, we are proud to announce that she regained her freedom today 14/2/2021 at about 1130hrs, being our modest gift to the pen profession. We urge you to sustain the bonding with the command, as we remain resolute in providing the enabling environment for all to realize their full potential in the state."
Also, the state Chairman of the Nigerian Union of Journalists, Stanley Job, said, "This is what we have been praying, for her to return, especially as she is a nursing mother."
However, SaharaReporters could not confirm if any ransom was paid before she was released.
CRIME
Insecurity
News
AddThis
: 
Original Author
: 
SaharaReporters, New York
Disable advertisements
: 


target=_blank rel=noopener>Anambra #EndSARS Panel Members Shock Governor Obiano, Joint Resign Over Abuses
Members of the #EndSARS panel in Anambra State have tendered their resignation letter, knocking Governor Willie Obiano for ignoring the panel and for rising human rights abuses under his watch.
The five panel members in their joint resignation letter, dated February 13, 2021, noted that police brutality, extortion, and even extrajudicial killings had remained unchecked in the state, even as the "notorious Special Anti-Robbery Squad (SARS), Awkuzu and numerous other police outfits in Anambra State have become infamous around the world for outrageous, unconscionable, and iniquitous violations of the fundamental rights of Nigerians, including the right to life."
The members who resigned are Ifediora Chijioke, Henry Ugwu, Osonwa Chukwuka, Ebelechukwu Ngini, and Chibuike Obiwuzie.
Their letter was copied to the Chairman of the Panel, Awka, Anambra State; Secretary to the State Government, Awka, Anambra State; Chairman of Chairmen, Nigerian Bar Association, Anambra State branch; Nigerian Bar Association President; National Human Rights Commission; and the Amnesty International.
Their letter said, "Permit the undersigned to first express gratitude to you and the government of Anambra State for finding us qualified to be appointed into the Anambra State judicial panel of inquiry into the allegations of extrajudicial killings by the defunct SARS, police brutality, and other public complaints against the Nigerian police.
"It is imperative to mention that Anambra State, under your watch and that of your predecessor, was the cynosure of police brutality, extortion, and even extrajudicial killings in Nigeria.
"The notorious Special Anti-Robbery Squad, Awkuzu, and numerous other police outfits in Anambra State have become infamous around the world for outrageous, unconscionable, and iniquitous violations of the fundamental rights of Nigerians, including the right to life.
"Following the EndSARS protests that occurred in many states in Nigeria in the last quarter of 2020, we felt that perhaps the Anambra State Government may have become penitent and was willing to competently take up its duty of securing the lives and properties of its residents.  
"Sadly, the sittings of the panel were characterised by inefficiency and poor organisation because the Anambra State Government failed woefully to adequately provide for logistics for anything at all involving the proceedings of the Panel. There was no funding to enhance clerical or secretarial functions of the Panel, no provision for security or witness protection.
"The Anambra State Panel received the highest number of petitions, 310, against the police in Nigeria, even though the timeframe for submission of petitions and complaints against the police were extremely limited. The large numbers indicate the resolve of residents of Anambra State to vent out their grievances against the violations of their human rights."  
The panel members said they were, however, convinced that the Anambra State Government had no regard for the victims of the many human rights violations by the police in the state.
"The government has totally ignored the panel and had simply set up the panel to play to the gallery. Many victims of abuse of police powers and other interested stakeholders have been communicating with the panel secretariat or its members in a bid to know why the panel is no longer sitting despite more than 250 petitions which have been unattended to.
"All these inquiries have failed to yield concrete answers and the government despite being aware of the interest of the public is showing no signs of interest in the activities of the Panel.
"We firmly refuse to be pawns in the game of the government, so we hereby resign our appointments into the Anambra State Panel and completely dissociate ourselves from all the charade put up to give lip service to the plights of residents of Anambra State.
"The undersigned are fully aware that our position expressed in this correspondence may expose us to blackmail and intimidation, but we are determined to say the truth," it said.
#EndSARS
News
AddThis
: 
Original Author
: 
SaharaReporters, New York
Disable advertisements
: 
E2%80%93-mr-macaroni-reacts-police-torture target=_blank rel=noopener>We Were Beaten, Stripped Naked – Mr Macaroni Reacts To Police Torture
Popular comedian and activist, Debo Adebayo, popularly known as Mr Macaroni, has explained why he joined other #OccupyLekkiTollGate protesters on Saturday and what the arrested protesters went through in police custody.
The comedian, who was arrested alongside other protesters in the early hours of Saturday, said he was initially scared and had received numerous calls from his parents, siblings and friends not to join the protest.
In a video, which he posted on his official social media platforms, Mr Macaroni said he initially did not want to go out but he later joined the protest because he knew people would be there.
He alleged that his phones were destroyed after he was arrested and that he also sustained bruises all around his body because he was beaten by security operatives.
"The only reason I went there is because I knew people would be there and in good conscience, I don't know. But I knew people would die and I saw it, and I can confirm it that if words did not get out, people would have died because nobody would have known where anybody was or who picked up who.
"The country's current situation is a 'deep shit', everyone is scared for their lives. When we were picked up, we were taken to Adeniji, we were beaten and stripped naked," he said.pic.twitter.com/QGTIKbQo2h— DeboMacaroni (@mrmacaronii) February 14, 2021
He called for unity, especially among celebrities urging people to desist from creating division among them on the basis of who joined the protest or not.
He said the other 39 persons who got arrested stood their grounds.
"These 39 people gave me the ginger to join the protest. They are the real heroes.
"They were not out to fight but just to ask why the toll gate should be opened. The police officers, who arrested the protesters, said they would have killed us but everyone had known of our arrest.
He dismissed allegations that he was being bankrolled by anyone, stressing he had never collected money from any politician to protest.
Mr Macaroni thanked the youths for speaking up and also expressed gratitude to Nigerians who rallied support for him and other protesters.
#EndSARS
ACTIVISM
Human Rights
News
AddThis
: 
Original Author
: 
SaharaReporters, New York
Disable advertisements
: 
target=_blank rel=noopener>EFCC Arrests 20 Suspected Yahoo Boys, Recovers Cars, 40 Phones, 17 Laptops, Others
Operatives of the Port Harcourt Zonal Office of the Economic and Financial Crimes Commission, EFCC,  have arrested 20 suspected internet fraudsters.
A statement by the EFCC Head of Media and Publicity, Wilson Uwajaren, on Sunday said the suspects were arrested on Friday at New Owerri, Eminike Estate, Norble Abode, Owerri, Imo State.
According to the statement, the suspects include: Onyebuchi Victor; Isreal Victor;  Emeka Clinton; Stanley Uche;  Onyemachi Stanley; Ikechukwu Agbalieze; Franklin Ugoegbu;  Nze Collins; Nwokoro Santus and Agocha Johnson
Others are: "Oscar Anumata; Emeka Clinton Nkeoga; Ogwu Chukwu Akagha Marvis; Victor Obioha; Charles Onymesi;  Awunnaya Victor;  Henry Stephni;  Jerrard Uwaima, Franklin Uzoma and Obidike Abuchi."
The EFCC said it recovered the following items from the suspects: "40 mobile phones, 17 laptops of different brands and 6 vehicles: one blue-coloured Toyota Corolla car;  one black-coloured Acura ZX car; one ash-coloured Lexus GX 460 Sports Utility Vehicle; one green-coloured Venza car, one black-coloured Mercedes Benz car and one ash-coloured Lexus 330 SUV." 
Other items recovered from the suspects are "13 Powers of Attorney, 5 architectural documents, and a folder containing some other documents.
Uwajaren said the suspects would be charged to court when investigations are concluded.  
CRIME
News
AddThis
: 
Original Author
: 
SaharaReporters, New York
Disable advertisements
: 
target=_blank rel=noopener>Bandits Attack Niger State Transport Workers, Abduct 21 Persons
Bandits have again struck Zungeru in Niger State, attacking workers of the state transport authority and kidnapping no fewer than 21 persons.
SaharaReporters learnt that the bandits attacked the Niger State Transport Authority bus along Zungeru Road on Sunday and went with the persons.
"Bandits struck again on Sunday, and this time, they attacked the NSTA workers. It is not clear yet whether the bandits have reached out to the families of the abducted persons," a source said.  
Niger State has been facing a wave of attacks recently. 
On February 2, bandits invaded Kanyan and Sabon Gida communities in Kurebe Ward in Niger State, killing 27 residents, and injuring 20 others.
SaharaReporters had learnt from eyewitnesses that the bandits also abducted no fewer than 40 persons during the attack.
It was gathered that the gunmen invaded the communities around 1am on that fateful day to unleash their terror.
Two Thursdays ago, there was tension in Bassa, Kukoki communities in the Shiroro Local Government Area after Boko Haram terrorists invaded the areas, abducting no fewer than 50 residents.
The terrorists, working together with bandits, had attacked the areas in large numbers from Bassa, Kukoki communities up to Palalli in Gurmana Ward of the same Shiroro LGA.
Residents stated that during the deadly invasion, a yet-to-be-ascertained number of persons were also killed as the people continued to live in fear.
SaharaReporters had been told that only two Tuesdays ago, the bandits and terrorists also in "broad daylight attacked Kokki in Gurmana Ward, Magami in Manta Ward and Maguga, Marenje and other adjoining villages using 10 motorcycles," abducted several persons and killed a few others.
Insecurity
News
AddThis
: 
Original Author
: 
SaharaReporters, New York
Disable advertisements
: 
target=_blank rel=noopener>Ibadan Yoruba/Hausa Clash: Residents boo Akeredolu, Makinde over late intervention
Residents of Shasha, Akinyele Local Government Area of Oyo State on Sunday booed the state governor, Seyi Makinde, and his Ondo State counterpart, Rotimi Akeredolu, over their lateness to address the ongoing crisis in the area.
SaharaReporters gathered that the governors arrived at Shasha, where the clash occurred, around 12pm on Sunday but the Yoruba residents there inisited that the governors must visit the Yoruba traditional leader in the council before going to the Seriki Shasha.
Our source said after Makinde left the palace of the Yoruba traditional leader, he left without seeing the Seriki Shasha, which generated angry reactions from the Hausa community.
Muhammed Kabiru, who is Hausa, told SaharaReporters that Makinde "did not do well today". 
"The Yoruba community did not allow Makinde to see Seriki Shasha. After they booed him, some Yoruba leaders ushered him to the Yoruba traditional leader and the governor did not go to see the Seriki Shasha. As someone who is Hausa, I feel betrayed.
"Makinde as a leader, is a governor for both Yoruba and Hausa people. We voted for him but he treated us badly," Kabiru added. 
However, a Yoruba resident, disagreed with Kabiru on the issue, saying "The crisis was induced by Hausa leaders because they did not caution their children.
"It is true we did not allow him to talk to the Seriki Shasha. Where was he when they attacked our people? Hausa people killed many people here. Why must the governor visit him?"
Insecurity
News
AddThis
: 
Original Author
: 
SaharaReporters, New York
Disable advertisements
: 


*-scandal-pastor-petitions-cac-remove-apostle-suleman-overseer-shut-down-church target=_blank rel=noopener>S** Scandal: Pastor Petitions CAC To Remove Apostle Suleman As Overseer, Shut Down Church
A former pastor of the Omega Fire Ministries, Mike Davids, who has accused the General Overseer of the church, Apostle Johnson Suleman, of sleeping with his wife, has petitioned the Corporate Affairs Commission to remove Suleman as one of the managers of the church.
Davids, in the petition dated February 12, obtained by SaharaReporters, added that the CAC should shut down the church and appoint interim managers.
The pastor had earlier accused Suleman of sleeping with his wife, Faith Edeko, who currently heads an Abuja branch of the church.
The petition to the CAC is titled, "Petition for the immediate investigation and removal of Apostle Johnson Suleman, a trustee of Incorporated Trustee Of Omega Fire Ministry and for closure of church and appointment of interim managers to manage the affairs of church."
He said, "My petition against Apostle Johnson Suleman and the Trusteeship of the Church is as follows; I became lawfully married to my wife, Pastor Mrs. Faith Onus Davids, under the Marriage Act on 6th December, 2008 at St. Andrew's Cathedral at Ekpoma, Edo State, Nigeria. 
See Also
Christianity
S** Scandal: Pastor Adeboye Fails To Honour Invitation To Speak At Apostle Suleman's Church Programme
0 Comments
5 Hours Ago
"The said marriage is still valid and subsisting and has not been dissolved by any court in Nigeria or elsewhere in the world. A copy of my Marriage Certificate No.109 and dated 6th December, 2008 is attached as Annexure B.
"That I have had cause to believe that Apostle Johnson Suleman has continued to use his position as Trustee and General/Overseer of OFM to commence an amorous relationship with my wife which has led to several acts of enticement of my wife and an adulterous relationship between the two of them.
"That beyond having sexual relations with my wife, that in clear misappropriation of the Trustees funds and church money, Apostle Johnson Suleman opened a supermarket for my wife at Lugbe. He has bought a car for my wife and he has rented a residential apartment for my wife and children without my approval, knowledge and consent.
See Also
News
Apostle Suleman Is A Manipulator, The Audio I Released Is Genuine — Pastor Hits Back
0 Comments
1 Week Ago
"Worse still, Apostle Johnson Suleman has also unlawfully restrained me from gaining access to the house to see my children. All these actions amount to clear violations of statute and the constitution and/or objectives of the church with respect to how church money ought to be appropriated and applied.  
 "We implore your good office to ensure all of the following viz; cause an immediate Investigation and Removal and/or Suspension of Apostle Johnson Suleman (Trustee) Of Incorporated Trustee Of Omega Fire Ministry It/No: 21739.
 "Cause an immediate investigation into the improper use of church funds in Omega Fire Ministries with a view to ascertaining deep rooted financial rascality by the very persons who are supposed to be managers of God's money."
The pastor also asked the CAC to ensure the "closure of the church and/or appointment of interim managers to manage the affairs of the church."
Scandal
S**
News
AddThis
: 
Original Author
: 
SaharaReporters, New York
Disable advertisements
: 
*-scandal-pastor-adeboye-fails-honour-invitation-speak-apostle-suleman%E2%80%99s-church target=_blank rel=noopener>S** Scandal: Pastor Adeboye Fails To Honour Invitation To Speak At Apostle Suleman's Church Programme
The General Overseer of the Redeemed Christian Church of God, Pastor Enoch Adeboye, today Sunday failed to attend the annual programme of the Omega Fire Ministries International, as the founder, Apostle Johnson Suleman, battles with a fresh sexual scandal which has refused to go away.
Omega Fire church, since February 9 started their annual thanksgiving programme, tagged Ebenezer 2021, themed, "The Glory of God," in Auchi, Edo State, where Adeboye was invited as Speaker and spiritual father.
But as the programme ended on Sunday, February 14, the RCCG General Overseer did not show up at the programme which is also its 17th anniversary.
Top sources in the church said Adeboye's absence might be connected with the fresh sexual scandal rocking the church.
"Pastor Adeboye did not come for the programme. He was conspicuously absent. He did not give his reason for his absence, though," one of the sources said.
SaharaReporters had on January 25 reported that the Inspector-General of Police, Mohammed Adamu, ordered a probe of Apostle Johnson Suleman, for allegedly sleeping with the wife of one of his former pastors, Mike Davids.
See Also
Scandal
Apostle Suleman Allegedly Sleeps With Pastor's Wife, IGP Orders Probe
0 Comments
2 Weeks Ago
The woman, Pastor Faith Edeko, heads the Abuja branch of Omega Fire Ministries in Utako while her husband, Pastor Davids, has left the church.
The letter, with reference number CB:7000/IGP.SEC/ABJ/Vol.515/561, had been sequel to a petition by V.C Ezenagu & Associates on behalf of the aggrieved Pastor Davids who accused Apostle Suleman of threat to life and preventing him from seeing his three children. 
The police letter is titled, "Re: Criminal Petition Against Apostle Johnson Suleman for Enticement of a Married Woman; Adultery; Unlawful Criminal Restraint to Access Children and Threat to Life."
The letter reads in part, "I attach herewith a copy of a letter dated December 30, 2020 with its attachments received from V.C Ezenagu & Associates on the above underlined subject. The Inspector-General of Police directs that you treat. Accept the assurances of my esteemed regards please."
See Also
Christianity
I'll Expose How We Got Stephanie Otobo To Apologise Over S** Scandal – Pastor Threatens Apostle Suleman
0 Comments
6 Days Ago
Suleman had denied the allegation saying the IGP never ordered his probe and Davids was an aggrieved pastor who did not want to subject himself to discipline.
The rancour between the two had deepened further on February 8, when Davids threatened to expose the truths behind the Stephanie Otobo's s** scandal.
The case of Otobo, a Canada-based singer, came up in 2017 and 2018 when she accused Suleman of sexual relationship – a controversial scandal which rocked the church and attracted the attention of Nigerians for months.
Davids in a video noted that he and Apostle Suleman both knew how they got Otobo to come to the church in Auchi, and apologise over the scandal and how they persuaded her mother too.
"We all know the part I played in the Stephanie Otobo saga. You know as much as I do. How much involved I was in bringing that saga to a halt. I don't even need to mention names. You knew how we got Stephanie Otobo to come to the altar and apologise to mama (Suleman's wife) and brought Stephanie Otobo's mother to Auchi," Davids had said.
Christianity
Scandal
S**
News
AddThis
: 
Original Author
: 
SaharaReporters, New York
Disable advertisements
: 
target=_blank rel=noopener>COVID-19 Vaccine Not For Antichrist, Anglican Primate Assures Nigerians
Illustration
The Primate of Church of Nigeria, Anglican Communion, the Most Rev. Henry Ndukuba, has urged Nigerians, especially Christians to ensure that they are vaccinated against the deadly COVID-19 virus when the general immunisation commences in the country.
The Primate stated that the vaccine has nothing to do with the 666 sign of the Antichrist as being peddled by some conspiracy theorists.
Illustration
Hegg Health Center
Ndukuba said this at the February 2021 Standing Committee Meeting of the Church of Nigeria, Anglican Communion, which began on February 8 and ended on February 14, with a church service at the All Saints Cathedral, Onitsha, Anambra.
He said, "COVID-19 is already in our villages and communities; we have lost some members to COVID-19 infections. Many people are very complacent and careless because they believe it is a rich people's disease or not real.
"COVID-19 is real and it kills. Some people are peddling unfounded campaign against the COVID-19 vaccines; they suggest that anyone receiving the vaccine will receive the Antichrist number – 666.
"Let it be clear that COVID-19 is a virus that is ravaging the world and killing people. We give glory to God that we have a higher survival rate in Nigeria," he said.
"This disease is like Polio, Yellow Fever and other virus diseases that we receive vaccines to prevent. Those who are infected are being treated and many recover.
"The medical personnel administer drugs to cure them which does not initiate them with the 666. This vaccine is like any other that we receive to prevent diseases caused by virus.
"The End Time signs are here but the severe persecutions and tribulations have yet to come fully. We should be careful not to propagate stories that are not true and which can only be destructive to the lives of our people."
He urged Nigerians to live in faith and righteousness, and also engage in fasting and prayer to fight the pandemic.
The Anglican primate also urged Nigerians to always observe the protocols as issued by the Presidential Taskforce on COVID-19 and the Nigeria Centre for Disease Control.
"Everyone should keep the non-Pharmaceutical procedures such as keeping social distance, use of face mask, handwashing with soap under running water, the use of alcohol-based hand sanitisers and others.
"It is a virus and an enemy of our lives and at the name of Jesus Christ, COVID-19 must be destroyed; God has preserved our lives till today and He will protect and keep us till the end.
"We plead that the federal and state governments should procure vaccines and give to all our citizens, especially the most vulnerable group. The incidence of the COVID-19 has exposed the poor state of Nigerian healthcare delivery system," he said.
He appealed to the Anglican dioceses and parishes to intensify the establishment of health clinics and hospitals that would cater to members, especially the poor and vulnerable.
PUBLIC HEALTH
News
AddThis
: 
Original Author
: 
SaharaReporters, New York
Disable advertisements
: 
Read also Nigerian Newspapers Today and Nigeria News Today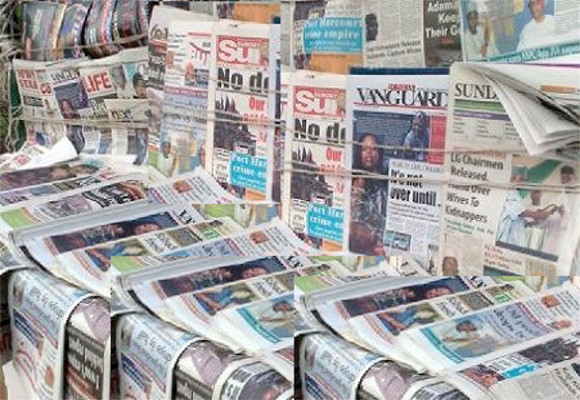 You can also check Sahara Reporters Newspaper Headlines Today