Sports News Today Headlines

Friday 22nd January 2021

Top Sports News Today Headlinese from Newspapers

Read also Punch Newspaper Headlines Today Friday 22nd January 2021
SMBLF warns FG over support for Miyetti Allah
By Dapo Akinrefon The Southern and Middle Belt Leaders Forum, SMBLF, on Thursday, warned the Federal Government over the dangerous game it is playing over its overt support for Miyetti Allah saying "Should there be any breakdown of law and order in any part of the country over this encouragement of Miyetti Allah against lawRead More
Vanguard News.
European Super League: FIFA threatens players who participate with World Cup ban
FIFA has gone on the offensive amid ongoing speculation about a European Super League, insisting any breakaway by leading clubs "would not be recognized by either FIFA or the respective confederation" while players would risk being banned from the World Cup and other major tournaments if involved. The threat came in a statement signed byRead More
Vanguard News.


Breaking: Liverpool four years home run ended by Burnley
Liverpool's 68-game unbeaten run in the Premier League at Anfield came to a stunning end as Ashley Barnes's late penalty earned Burnley a 1-0 win on Thursday. Jurgen Klopp's men have now failed to win in five consecutive league games to see their title defence collapse as they remain six points behind leaders Manchester UnitedRead More
Vanguard News.
Aguero self-isolating after contracting coronavirus
Manchester City's record goalscorer Sergio Aguero said on Thursday he has contracted coronavirus and is self-isolating. The 32-year-old Argentinian striker had already been self-isolating due to being in close contact with someone who tested positive for the virus. Britain is in the midst of a third lockdown due to the emergence of a new strainRead More
Vanguard News.
UPDATED: How 'Jogo Bonito' Erico died
Family sources have said the former Green Eagles goalkeeper, Joseph Erico, popularly know as 'Jogo Bonito', died in his sleep after complaining of body pains and was treated for malaria.
Vanguard News.
With six months to go, cancellation fears cloud Tokyo Olympics
When the Tokyo Olympics were postponed last year, officials promised they would open in 2021 as proof of mankind's triumph over the coronavirus. But six months before the rescheduled start, victory over the virus remains distant, and fears are growing rapidly that the Games may not take place at all. Publicly, organisers are still adamantRead More
Vanguard News.
Ronaldo scores 760th career goal, but is it a world record?
Cristiano Ronaldo scored his 760th career goal in Juventus' 2-0 Italian Super Cup win over Napoli on Wednesday, prompting claims he is the top scorer of all time. However, doubts persist as to who actually holds the record. With five goals for Sporting Lisbon, 118 for Manchester United, 450 for Real Madrid, 85 for JuventusRead More
Vanguard News.


Joe Erico, former Super Eagles goalkeeping coach dies at 72
Former Green Eagle and assistant coach of the Super Eagles, Joe Erico has sadly passed on at the age of 72 according to reports this morning. Popularly known as 'Jogo Bonito Exponent,' the former Julius Berger manager passed on after suffering from an unknown ailment. Goal.com Nigeria's Chief Editor Shina Oludare tweeted about his deathRead More
Vanguard News.
Pressure mounts on Zidane as Madrid lose to third-tier Alcoyano
Zinedine Zidane and Real Madrid found no sympathy on the front pages of the Spanish sports press on Thursday after their shock Copa del Rey exit to third-tier Alcoyano. The future of coach Zidane is back under the spotlight after the painful extra-time defeat that saw Juanan score in the 115th minute to earn aRead More
Vanguard News.
CHAN: Defenders turn scorers as Cameroon, Mali edge nearer last eight
Cameroonian Salomon Banga set a trend of defenders scoring Wednesday as his country and Mali moved closer to the African Nations Championship (CHAN) quarter-finals, Burkina Faso remained in contention and Zimbabwe were eliminated. In a dramatic start to the top-of-the-table Group A clash in Yaounde centre-back Banga put hosts Cameroon ahead and Mali right-back IssakaRead More
Vanguard News.
I'm not 'smiling' over Lampard, Chelsea's struggle – Mikel Arteta
Arsenal manager, Mikel Arteta, has wished Chelsea boss, Frank Lampard, the best over the Blues' current struggles. Arteta insisted that he is taking no enjoyment from Lampard's current struggles at Chelsea as speculation continues to ramp up over his future at Stamford Bridge. The Spaniard said this ahead of Arsenal's FA Cup tie with Southampton …
I'm not 'smiling' over Lampard, Chelsea's struggle – Mikel Arteta
Transfer: AC Milan close to signing Chelsea defender, Fikayo Tomori
AC Milan are closing in on the signing of Chelsea defender, Fikayo Tomori, this January transfer window. The Serie A giants will sign Tomori on a six-month loan deal with an option to buy for around £25million. This was disclosed by football transfer expert, Fabrizio Romano, on Thursday night. According to Romano, Fikayo will be …
Transfer: AC Milan close to signing Chelsea defender, Fikayo Tomori
EPL: Georginio Wijnaldum criticizes Liverpool players for losing against Burnley at Anfield
Liverpool midfielder, Georginio Wijnaldum, has criticized Jurgen Klopp's men for losing 1-0 against Burnley in the Premier League on Thursday night at Anfield. Wijnaldum said Liverpool players were not sharp enough against Burnley, adding that they were struggling to score against the visitors. Burnley ended Liverpool's 68-match unbeaten home run, thanks to Ashley Barnes' late …
EPL: Georginio Wijnaldum criticizes Liverpool players for losing against Burnley at Anfield
Copa del Rey: Koeman blasts Barcelona players for missing two penalties against Cornella
Barcelona boss, Ronald Koeman, has slammed his players for missing two penalties against Cornella in the Copa del Rey round of 32 fixture on Thursday night. Koeman said Barcelona players are scared to take a penalty against Cornella, adding that they aren't serious. Two extra-time goals from Ousmane Dembele and Martin Braithwaite sealed a 2-0 …
Copa del Rey: Koeman blasts Barcelona players for missing two penalties against Cornella
EPL: Klopp reveals what Alisson Becker said about Burnley penalty after Liverpool's 1-0 defeat
Liverpool manager, Jurgen Klopp, has revealed that goalkeeper, Alisson Becker, felt the referee was wrong to award Burnley a penalty during their 1-0 Premier League defeat on Thursday night. Burnley defeated Liverpool in the Premier League at Anfield, thanks to Ashley Barnes' late penalty. Barnes won the penalty for the visitors after Becker appeared to …
EPL: Klopp reveals what Alisson Becker said about Burnley penalty after Liverpool's 1-0 defeat
LaLiga: What Simeone said about Suarez after Atletico Madrid defeated Eibar 2-1
Atletico Madrid boss, Diego Simeone, has described striker, Luis Suarez, as an 'extraordinary player' after the Uruguay international scored a brace in his side's 2-1 win over Eibar in the La Liga on Thursday. Simeone said that Suarez was active for Atletico against Eibar at Municipal de Ipurua. Suarez's second-half two goals gave Atletico Madrid …
LaLiga: What Simeone said about Suarez after Atletico Madrid defeated Eibar 2-1
EPL: Graeme Souness predicts how Liverpool will finish season after 1-0 loss to Burnley
Former Liverpool midfielder, Graeme Souness, has rated the club's chances of winning the Premier League title this season. Souness said Liverpool are definitely not out of the Premier League title race despite their 1-0 defeat to Burnley in the Premier League on Thursday night. Ashley Barnes' late penalty gave Burnley the victory over Jurgen Klopp's …
EPL: Graeme Souness predicts how Liverpool will finish season after 1-0 loss to Burnley
I will smash Anthony Joshua – Tyson Fury
WBC Champion, Tyson Fury, has boasted he will beat Anthony Joshua inside three rounds. Negotiations for a dream fight between the two British boxers are still on. But Fury took to social media to say: "I just got off the phone with my trainer Sugarhill Steward in America. "We are going to smash AJ – …
I will smash Anthony Joshua – Tyson Fury
EPL: Carragher singles out five Liverpool players after 1-0 defeat to Burnley
Former Liverpool captain, Jamie Carragher, has expressed his concerns over five players in the current squad, following their 1-0 defeat to Burnley on Thursday night. Carragher, speaking to Sky Sports, claimed Mohamed Salah, Roberto Firmino, Sadio Mane, Andy Robertson and Trent Alexander-Arnold are all "nowhere near their best". Ashley Barnes netted a late penalty after …
EPL: Carragher singles out five Liverpool players after 1-0 defeat to Burnley
Bayern Munich confirm Upamencano transfer plan
Bayern Munich have revealed their intention to sign RB Leipzig's Dayot Upamecano. Upamecano is one of the most highly-rated centre backs in Europe. The 22-year-old has been monitored by a host of top clubs, including Premier League pair Liverpool and Manchester United. Upamecano will leave Leipzig in the summer, having agreed with club chiefs that …
Bayern Munich confirm Upamencano transfer plan
Read also Nigerian Newspapers Today and Nigeria News Today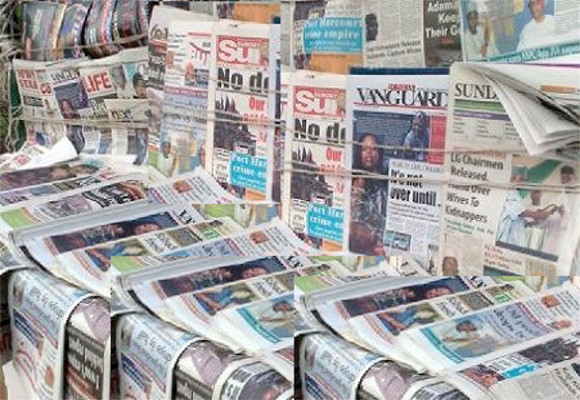 You can also check Sports News Today Headlines