Sahara Reporters Latest News Today

Thursday 14th January 2021

Sahara Reporters Latest News Today and headlines on some of the happenings and news trend in the Country, today 14/01/21

Read also nigeria newspapers Thursday 14th January 2021
E2%80%98spirits%E2%80%99-katsina Police Arrest Two 'Spirits' In Katsina
The Katsina State Police Command has arrested Kabiru Bashir and Sadiq Ashiru, both of Danbatta Local Government Area of Kano State for posing as spirits (Aljanu) to defraud people.
The police disclosed this in a statement signed by its spokesperson, Gambo Isah, on Wednesday.
Isah said nemesis caught up with the suspects after they stole the ATM card of one Rabi'atu Garba and told her they were spirits, asking her to give them her PIN.The statement read, "On 08/01/2021, around 1200hrs, the command succeeded in arresting the duo of one Kabiru Bashir, 'M', aged 27, and Sadiq Ashiru, 'M', aged 30, both of Danbatta LGA of Kano State, notorious fraudsters who specialise in defrauding unsuspecting members of the public through phone calls, posing as spirits (Aljanu)."Nemesis caught up with the suspects when they stole the ATM card of one Rabi'atu Garba, 'F' of Mani LGA of Katsina State and started calling her that they were spirits (Aljanu) and asked her to avail them with her ATM card PIN."The suspects deceitfully told her that they were about to bless her by sending one million naira to her account and directed her to go to her bank, a UBA branch in Katsina and update her account."She became suspicious and reported the matter at the Central Police Station (CPS), Katsina. In the course of investigation, the suspects were trailed and arrested. They confessed to the commission of the offence and stated that they had defrauded several unsuspecting persons in the state through the same modus operandi."One Honda vehicle, white in colour with Chassis No. JHMGD173025215012, NSCDC, ID card bearing one Kabiru Bashir, two (2) ATM cards, four (4) GSM handsets and the sum of one hundred and twenty-six thousand naira (N126, 000:00) were recovered from during police search. Investigation is ongoing."
CRIME
Police
News
AddThis
:
Disable advertisements
:
Bobi Wine: A Voice Seeking The Unification Of Africa – By Richard Odusanya
The difference between a strongman and a weak one is that the former does not give up to a defeat. In the fight for freedom, we might have to fight a battle more than once to win it. Our minds must always be guided by the fact that a good half of the art of living is resilience.
Grief and resilience live together for in them lies the strength to fight back. It is the only way to overcome our greatest weakness which lies in giving up. In this cause for the liberation of "Mother Africa", we cannot but bear losses like brave soldiers and without complaint. And at the point where the day seems lost, all we need do is grab our shield for another stand; another thrust forward, for this is the juncture that separates heroes from the merely strong.
Africans must unite to move right out of this "Babylon". It is not our place and will never be our place. We are the children of "the Great Alkebulan"-" the mother of mankind'. We cannot continue to live like nobodies or slaves in a world that takes life from our land.
Freedom of speech is unnecessary if the people to whom it is granted cannot think for themselves. Some of our conquered ancestors never wanted a nation but a crawl back to the plantation. We can't continue to reason in same manner. Our thought must always be "WE NEED OUR LAND WHICH GUARANTEES OUR FREEDOM"!
The voices of those that conquered the fear of the invaders continue to whisper courage to our souls as they urge us to fight on until we get to victory. We cannot afford to fail them!
The land we desire should be one of rest for the heroes past, comfort for the present generation and a secured future for the generations to come; This is the Africa we can call our "Father's land". No one would do this for us if we fail to rise now and key into this struggle that can bring us to freedom.
Africans are under duress even as members of the United Nations.We have far relied too much on the help of the Western world for our liberation. No wonder our hearts are broken from time to time. The UN has washed its hands off the conflict between the black traitors ruling over Africa and the voiceless masses to side with the black traitors. They stand to be neutral but in the true sense are accomplices in the misrule and dictatorial leadership style of governance in Africa.
There can never be anything like "United Nations". It is just another tool in the hands of the white supremacists in the scheme of modern colonization of Africans. Another race cannot free us if we do not free ourselves.
In this battle for the soul of Africa, we must keep plowing ahead no matter how much falls on us. This is the only way to keep the road clear in the race to restore our lost glory. Our hearts have been broken and would be broken many more times. However, we must take consolation in making arts with the pieces of our broken hearts.
An obstacle identified, to me, is half surmounted. We have identified our adversities in Africa of which some are:
*Paul Biya of Cameroun; 87years and 45years in office.
*Teodoro Mbasogo of Equatorial Guinea; 78years and 41 years in office.
*Denis Nguesso of Congo; 77 years and 36years in office.
*Yoweri Museveni of Uganda; 76 years of football age and 34years in office.
*Idriss Deby of Chad; 68years and 30years in office.
*Isaias Atwerki of Eritrea; 74years and 27years in office.
*Paul Kagame of Rwanda; 63 years and 26years in office.
Muhammodu Buhari of Nigeria (the grand patron of all black slave masters in Africa); 78 years (possibly football age), and around the corridor of power in the past 55years.
These are societal pollutants that are inimical to our existence as a people. Year in year out, they continue to spread their old ways of corruption over the land. The types of leadership and governance that emerge from them are characterized by inordinate ambitions, arrogance and empty pride.
They cannot think out of the box and proffer solutions to our problems. Instead, they compound them and such would stretch into generations to come if we do not cut off these liabilities called leaders at this very moment.
No matter how bleak these vagabonds in power have made us felt as Africans, most especially the youths, they do not own us. They cannot take away our freedom to respond and power to take action. It is our reaction to adversity itself that determines how our lives story will develop.
In recent years, I have watched the African youths stand up to our despotic leaders; Omoyele Sowore has been a thorn in the flesh of the Buhari led government, the Nigerian youths of recent took to the street to demand for good governance (#EndSARS), the Bobi Wine saga in Uganda keeps shaking Yoweri and his loyalists, the recent protest in Uganda on the arrest of Bobi Wine and insurgencies across the land of Africa from the youths.
It is really wonderful how much resilience is being displayed by these great "Wakanda Warriors". The only song I hear their souls sing is "songs of freedom"; let any obstructing cause, no matter what, in the fight for a free Africa be removed in any way, even by death!" They have refused to be reduced by intimidation of the oppressors. And I cannot but tell myself that "THE TRUE FREEDOM WE SEEK IS NEARER NOW THAN EVER BEFORE".
On this day, January 14,1963, George Wallace took over as governor of Arkansas, and his main motto for his campaign and the way he would run the State was "Segregation Forever"- a piercing tool for the hearts of the negroes.
History has got to be rewritten on this day, January 14, 2021 as the despot of Uganda would be democratically dethroned after 36 years of his reign of terror.The voice of Bobi Wine, at the moment, is the voice of the African youths that seek for the "Unification of Africa and the Eradication of the White Man's Mechanism of Segregation Forever".
We have suffered far too long in the face of racism and in the hands of the white supremacists because we have dwelt far too long in "Babylon" under the reign of black dictators we call leaders.
As Ugandans go to the polls today, it is a battle between light and darkness; good and evil; the new and old order. It is an African fight and not that of Bobi Wine and Ugandans alone.
Tyrants are never a match against democracy and its defenders. "Yoweri Museveni" of Uganda stands no chance against "Robert Kyagunlayi Ssentamu-Bobi Wine", a true son of "Alkebulan". However, the African tyrants are capable of perpetrating any evil to stay in power. So, all patriotic Africans and Pan-Africanists must do all within their capacities to see a victory and relief come to "Mother Africa".
A victory over a despot is a victory over all despots. Yoweri must go down memory lane as a "democratically conquered dictator" by "an indefatigable WAKANDA PRINCE".
"LET IT BE SAID ON THIS DAY, JANUARY 14, 2021, THAT GUNS AND BULLETS FAILED TO STOP BOBI WINE FROM DEFEATING TYRANT YOWERI!" GOD BLESS MOTHER AFRICA!
Odusanya is the convener of AFRICA COVENANT RESCUE INITIATIVE ACRI
News
AddThis
:
Original Author
:
Richard Odusanya
Disable advertisements
:


From Sak To Chik: An Essay On Classical Leadership Failure By Umar Ardo
In 2015, the campaign slogan of APC's presidential candidate, Mohammadu Buhari, was 'APC SAK'. By this, Buhari was urging the electorate, especially of Northern Nigeria, to vote APC all through from top to bottom. In return, he promised that the ensuing APC government he would head will solve the teething problems of the country. Specifically, he named economy, insecurity and corruption as priority areas. From one campaign lecture to the other, the APC presidential candidate was hard on the PDP, accusing the then governing party of destroying the fabric of the Nigerian society in its 16 years rule.
Understandably, majority of the electorate believed him and, particularly the electorate of Northern Nigeria (except for the lone state of Taraba), voted 'APC SAK'. At the return of all election results, APC won the presidency, 24 state governors and almost 2/3 seats in the National and State Assemblies. Thus, Buhari was elected president; and by that, Nigerians had fulfilled their own side of the social contract. Having been installed to power, it is then the turn of President Buhari, as head of the APC regime, to fulfill the promises made to the Nigerian electorate.
But nearly six years in office, with less than two and a half years to go, it is clear that the President Buhari-led APC Administration has failed to fulfill its core promises. The facts are indisputable.
To start with, the economy has not improved; rather, it virtually collapsed. The national Gross Domestic Product (GDP), representing the total value of all economic activities in the country, has nosed-dived and remained down, pushing the country into almost a state of permanent recession. With the value of the naira plummeting to an exchange rate of N475 to $1, and the resulting inflation sending many Nigerians below poverty line into state of deprivation and destitution, Nigeria is pronounced the poverty capital of the world.
On insecurity, the situation is no better. In fact, like the economy, things have gone from bad to worse. Not only that the dreaded Boko Haram insurgency is still rampaging, pillaging and killing like never before, thus belying government's claims of 'technically defeating' the terrorist group, and Abubakar Shekau, it's leader, releasing videoclips showcasing his prowess and mocking government and the president, again belying military's several claims of killing him, but also the group has grown in power and influence, transforming into what is now known as The Islamic State in West Africa Province (ISWAP). From its main base in the Lake Chad region, ISWAP has intensified its fierce and deadly guerrilla war, carving a territory to itself, setting up governance, imposing levies and taxes, facilitating commerce and cultivating support among local inhabitants. In addition, banditry, kidnappings, internecine communal genocides, cultism, highway robberies, militancy, etc. have become common phenomena in virtually all states of the federation, overwhelming the country's security system. To all intents and purposes, nobody and nowhere is safe as there is practically no governance in all rural communities across the country. Recognizing this fact, many communities and states of the country had to establish their own local militias and security units to protect themselves. Consequently, Nigeria is ranked No.3 on the list of world's most terrorized nations.
The same failure is as well evident in the fight against corruption. With the appointment of Ibrahim Magu, the head of the EFCC, the key anti-corruption agency, in contravention of the law, the fight against corruption started on a wrong footing. On account of security reports accusing him of corruption, thus denting his moral integrity to prosecute the war, the senate declined to confirm his nomination as required by law. Still, the president put him in office for about five years, thus calling to question the sincerity of the administration's commitment to fight corruption. Not surprisingly, Magu himself ended up being further accused by his supervising minister, Abubakar Malami, of re-looting recovered corruption loots and ignominiously removed from office. In effect, the twin evils of bribery and corruption continued to thrive unabated under the Buhari-led APC regime. Hence, all over the country, persons on corruption charges are roaming about free. Many have even bribed themselves back into public offices either in elective or appointive capacities. There are also widespread outrageous opened displays of stupendous wealth by several serving public officers, the president's family members and close associates, hitherto living from hand to mouth, suggesting corrupt enrichments within the new government.
Aside from these core issues, there are also many other aspects of our national life that have similarly deteriorated under the Buhari administration, principal of which is ethical decay. What is morally wrong, has today become politically right. But one needs not list instances, for they are endless! For a regime that promised so much and delivered so little on all scores, the bloom, as botanists would say, is well off the roses in its garden.
This dismal failure to deliver, in my opinion, is as a result of six major failings in leadership.
First, there is incapacity to provide strong and decisive leadership by President Buhari himself. Even though the regime's apologists would tend to blame these failings on the enormity of the misdeeds of past regimes, or the dislocated structures of our society, the real reason is lack of leadership's firmness, confidence and direction from the president. Almost any problem can be successfully resolved if there is effective leadership at the top. All that is required is the force of personal leadership, and this is manifestly lacking in President Buhari.
After nearly six years on the saddle, a clearer pattern of the president's leadership style is deducible. He can rightly be termed as a passive leader – one who allows problems to solve themselves, refusing to intervene even when it is absolutely necessary! Given that problems don't solve themselves, it ultimately requires direction and prodding of the leadership. Principles and practices of good leadership demand for one dominant unifying purpose – i.e. to facilitate clear decisions and enable prompt, efficient execution of those decisions! Yes, some decree of collective decision-making of the cabinet on critical national issues is necessary, but such collective decisions still need a single leading mind that keeps close control and supervision of the overall strategic objectives and direction of government. This entails the leader taking full charge and responsibility for the act and outcome of whatever events government sets in motion. Where this is lacking then there is a problem. And this is simply absent in President Buhari's leadership.
Second, even in organizing for collective decisions, President Buhari exhibits another serious leadership deficit. Over the years, it became all too clear that there is lack of harmony and coordination among the various segments and agencies of the executive organ headed by him. There have been conflicts and acrimony among members of the government that affected the regime's general output. In all these the president prefers to let his appointees thrash out issues and settle differences and disagreements themselves, with minimum or no intervention from him. This is a wrong approach to leadership, as harmony and cooperation are bench phrases for a successful government, the role of the leader in ensuring this condition is essential.
Third, President Buhari seems to have little value for ideas and innovations. The essence of collective decision-making in a government is to aggregate various ideas from cabinet members with a view to evolving the best policy option for problems at hand. As we all know, there are plenty of good ideas out there if only they can be listened to and harnessed into use by the leadership. But the president has proven to be a non-listening leader. This explains his rebuffing of all genuine and well-meaning calls on him to amend his ways on certain national issues. He even alienated ideas of his key appointees through his misconceived directive to his Cabinet Ministers to pass through his Chief of Staff in dealing, communicating and meeting with him. Needless to say, this is a bureaucratic process that will deliver nothing but mediocrity. A serious leader must evaluate and guide firsthand the initiatives of his appointees. In a situation where another appointee becomes responsible for evaluating and deciding on policy initiatives of other appointees, not only an unnecessary bureaucratic bottleneck is created but the process also diminishes the zeal, confidence and energy of the appointee concerned, ultimately hindering the general policy outputs of government. Naturally, this lack of direct evaluation and guidance of the president on the initiatives of his appointees will render the government slow, weak and bankrupt in ideas, and in policy formulation and implementation. Consequently, nothing will be properly or usefully designed and decided, as all initiatives and energy are paralyzed. Under such a situation nothing much can be achieved.
Fourth, whatever efforts put forth by other members of the government are mired in confusion from the outset owing chiefly to lack of good understanding of the real issues at play, thereby resulting in poor policy options and choices. The reason being that most of the personnel appointed do not fit the offices they occupy. Sourcing the right personnel to occupy key offices of government is no doubt important, but the refinement of the personnel to fit the offices they are assigned to is even more important. To this end, sufficient thought ought to be given in matching the character of the individual appointee with the demands of the office assigned to him or her. In this, President Buhari also failed measurably. A purposeful leadership must always have its policy makers strive to conceive and implement new initiatives so as to create and maintain positive momentum for the government. And this can only happen if the right persons hold the right offices.
The fifth failing in President Buhari's leadership style is temporization. The president hardly takes decision on virtually every issue. In fact, it looks as if the president hates taking decisions at all until compelled to do so. We have seen that in him time and again on even the most serious issues, including the formation of his cabinet, acting on corruption allegations against his appointees, changing his Service Chiefs, injecting capable hands into government, etc. Not that long period of procrastination necessarily gives cause to taking right decisions, or decisiveness leads to taking bad decisions, but temporization is hardly a virtue in the books of leadership. In fact, as the saying goes, the more easy it is for a leader to do nothing, the harder it is for him to achieve anything. A good leader must be decisive; he must abhor procrastination, temporization and equivocation. A critical virtue of an effective leader is 'to ponder, then act and take full responsibility'. We have seen this virtue in President Obasanjo; for whatever may be said of Obasanjo's leadership faults, he was undoubtedly, to his eternal credit, at least a decisive leader. President Buhari is not! Sixth, arising from all the above, there is lack of strategic imagination on the need to and ways of breaking out of this stalemate. These latter failings are directly related to the first – leadership failure at the top!
These manifest deficiencies, other than bringing the country to a complete halt (Chik), are both unsuited to the active requirements of a country in dire need of peace, economic growth and political stability, and uninspiring, discouraging and disappointing to zealous and devoted politicians, intellectuals, bureaucrats, patriotic citizens, etc. who are eager to see Nigeria leap forward into a developed world in the 21st century. I concede, however, that consequences of leadership failure may vary with the severity of the situation on ground. If, for example, institutions in the polity are strong and social conditions fairly stable, like in the United States, leadership failure may not be so disastrous. We have just seen that in President Donald Trump's leadership failures. But if the polity is weak with fragile institutions, demanding drastic changes and innovations to fix, like the Nigerian situation now and in 2015, under such circumstances, failure to provide strong, visionary and inspirational leadership to actively lead the country through the needed changes would be catastrophic.
But in both instances, leadership failure erodes a key characteristic of effective governance – trust! Good leadership creates conditions of trust by making clear mission and achieving it. Failures therefore erode people's trust and make it impossible for the leader to succeed. Therefore, without a drastic change in President Buhari's leadership capacity and style, I am afraid his presidency will be for Nigeria just another eight years of squandered time and resources that offered no solutions for salvaging the country, redeeming and securing her future. The regime will be, as Aristotle, the Greek philosopher, would say, "like a cloud that passes on without dropping rain".
Opinion
AddThis
:
Original Author
:
Umar Ardo
Disable advertisements
:
*-parties-bauchi Police Arrest Gang Allegedly Known For Organising S** Parties In Bauchi
The Police Command in Bauchi State has said it arrested a 19-man crime syndicate, popularly known as Sara-Suka for allegedly organising a s** party in the Dass Local Government Area of the state.
Parading the suspects on Wednesday, the Commissioner of Police, Lawan Tanko Jimeta, said they were arrested following reliable information on their activities.
Jimeta disclosed that the suspects, who were also notorious for thuggery and stealing mobile phones, conspired among themselves to organise a s** party with a series of atrocities in Dass town on January 11.
Represented by the PPRO, DSP Ahmed Wakili, the police commissioner said, "Based on reliable intelligence that suspected criminal syndicates notorious for thuggery (Sara-Suka), phone snatching, and indecent acts, including s** parties, were terrorising residents of the state, the command raised a team of detectives led by the Commander, Rapid Respond Squad (RRS), who immediately embarked on round-the-clock operation which resulted in the arrest of the following suspects.
"Exhibits recovered from the suspects include: One ranki, one tsitaka, one machete, one cutlass and three knives
"Those arrested include Ishaya Adamu, 19; Mohammed Abdullahi Lawwali, 22; Ayuba Adamu, 19; Aminu Tago, 19; Mubarak Baba, 22; Anas Sulaiman, alias (Danarna), 16; Yusuf Ahmed, 20 and Abba Abdullahi 20.
"Others are Sulaiman Umar, 20; Abdulrashid Ali, 17; Aliyu Iliya, 15; Idris Sulaiman, 22; Nuru Sarki, 17; Ibrahim Musa, 20; Musa Danasabe, 17; Abdulrashid Anas, 18; Salmanu Ibrahim, 22 and Kasimu Haladu, 26, all of Dass town, Bauchi State. The suspects will be profiled and charged to court.
"Also, on the 11th January, 2021, around 1200hrs, a joint team operation led by the DPO of Darazo, arrested one Sadiq Isah, alias Gojirgo, 25, from Darazo Local Government Area, following multiple complaints by the community against his conduct."
Police
News
AddThis
:
Original Author
:
SaharaReporters, New York
Disable advertisements
:
E2%80%93-residents Lagos Kidnappers' Tunnel: Cases Of Missing Children Are Common In Sari-Iganmu – Residents
Residents of the Lagos community where a tunnel believed to be used by kidnappers was discovered, have said cases of missing children are rampant in the area.
Last Wednesday, residents of Sari-Iganmu, Orile discovered a tunnel under a bridge which connects to Lagos Island and was believed to be used by kidnappers and ritualists.
In the tunnel, a lot of school pupils' uniforms, a generator set, an air conditioner and other house items were discovered.
A suspect caught by residents was lynched to death and there have been speculations of dismembered human parts found in the tunnel.
When SaharaReporters visited the area on Wednesday, residents said children had been disappearing in the area at intervals.
See Also
CRIME
Residents Narrate How Kidnappers Den Was Discovered In Lagos, Police Begin Investigation
0 Comments
4 Days Ago
The entrance to the kidnappers' den is an opening in the drainage directly in front of Araromi Secondary School, Sari-Iganmu.
A short distance down the road to Adekunle Deen Street reveals many other schools around there: David Savage Memorial Nursery and Primary School; Ireakari Nursery and Primary School; Sari-Iganmu Nursery and Primary School; Irepodun School; Orire College; and Starlight College.
At the exit of Adekunle Deen Street, a poster announcing a missing child was displayed with the picture of the child and the phone number of a contact person.
In an interview with SaharaReporters, a man who works in the area and identified himself as Alabi, said children get missing in the area but could not attribute it to kidnapping as no one knows the outcome of the search.
"Cases of missing children are common here. Several times, we see posters with pictures of children or parents going about saying they are looking for their children but we don't know if they end up seeing those children or not. I don't live here. I have only come here for my business," he said.
Another resident, who simply identified herself as Funlola, also noted that it is common to hear about a missing child in the area.
The mother of two, who stays at Makanjuola Street, added she never gets to know if the cases of missing children are ever resolved.
"They come here very well. We see mothers who cry to this place that they are looking for their children. Since we don't know where the children are, they move on to continue their search but we don't get to know if the missing children are found or not," she said.
Another resident, who also doubles as a business owner in the area, Maryam Awal, said "it is a common thing to hear about a missing child here."
According to her, it was not surprising that a kidnapper's den was discovered in the area. What she found strange was the location of the suspected den.
She said, "Do you realise that the kidnappers' den is in front of a school and there are many schools in that place. If truly that place is a kidnappers' den, do you know how many children they would have kidnapped? And it's not all of them that stay in this area so we won't even know. How did they manage to operate in such an open area; the den is close to the expressway. Human beings!"
Toheeb Atoyebi, a vulcaniser in the area, said he was at the scene when the discovery was made but believes residents have been exaggerating as he saw no human parts in the den.
"When I got there, I saw socks, school uniforms, hijab, baby diapers and some other things but there were no skulls or human hearts as some people claimed. Even the man that was killed, some people said he was coming from Mile 2 but because he looked like he was mentally ill and they believe that people who pretend to be mad are usually kidnappers, they killed him," he said.
SaharaReporters observed that the scene of the incident was deserted compared to the situation some days ago.
A boy in the community screamed when he saw our correspondent going near the suspected kidnappers' den: "Don't go near, police will arrest you, they are arresting people who go close to that place."
Speaking with SaharaReporters, the Baale of the community, Jimoh Ajayi Ojora, revealed that the community was under siege from armed robbers but that the situation was better with the intervention of the police.
On the issue of kidnapping, the Baale said it used to be commonplace in the community but no longer as bad as it used to be.
He commended the police officers of the Orile Iganmu division, stating that the police had been working to protect the lives and property of residents in the area.
The Baale, though sick, said he heard about the incident but had been assured of the intervention of the police and investigation into the matter.
He said, "The police have taken up the case, they got one person arrested and they are investigating. At the moment, police officers are guarding that spot. They are there to scare off anyone who stays at the spot for too long."
Ojora continued, "The police have really saved us in this area. Armed robbers and bad boys want to take over this place. When I first assumed this position, I had to join the police to fight crimes because this place was taken over by hoodlums. You see that corner (pointing to a narrow road opposite his house), that place used to be their base, they would stop young girls, collect their handbags and do all sorts of things. I knew I couldn't fold my hands so I joined the police in the fight against crime in this place.
"There was a time those bad boys came in their numbers to my house; they ordered me to come downstairs, that they would kill me, I had to hide in my room. I called the Divisional Police Officer who brought in his boys, it was like a war that day. I have always taken the lead when it comes to fighting crime in this community but my strength is failing me."
The community head said he was very sure the police would do a thorough investigation into the matter and that no such occurrence would happen again.
CRIME
News
AddThis
:
Original Author
:
SaharaReporters, New York
Disable advertisements
:
E2%80%99s-wife-ahead Police Assault, Strip, Arrest Ugandan Presidential Candidate, Bobi Wine's Wife Ahead Of Election
Barbara Itungo Kyagulanyi, wife of Ugandan musician turned politician, Bobi Wine, was tortured and stripped in the presence of their son by some police officers before she was arrested.
According to a video shared on Twitter by Anyamah Douglas, a Ugandan national, Barbara was seen being led away by some security officers.
At one point, the woman was seen struggling with the police officers before she was stripped to her underwear in front of her son after being pushed to the floor.
Her husband is currently hoping to unseat President Yoweri Museveni, who has been in power since 1986, as Ugandans head to the polls on Thursday, January 14.
Campaigning ahead of the election has been marred by brutal crackdowns on opposition rallies that have left scores dead and the repeated intimidation and arrest of some opposition candidates, their supporters and campaign staff.
The opposition candidate earlier in the day claimed that the military raided his home.From Uganda, Bobi Wine's wife tortured, stripped and arrested in full glare of the son who's heard shouting, "leave my mummy". Sad😭#WeAreRemovingADictator #UgandaDecides2021 #musevenimustfall Robert Kyagulanyi pic.twitter.com/yzBMJAlBem— Anyamah Douglas (@danyamah) January 12, 2021
"The army has this morning raided my home, arrested all my security guards and anyone they could see on my premises," Wine said on Twitter.
"No reason for the arrest was given. Such acts of impunity are all kicks of a dying horse."
Bobi Wine was also forced to end an interview on Kenyan radio prematurely, saying he saw Ugandan security forces attack his bodyguards.
"We are being raided by the military. I have to end the interview because I can see soldiers beating my security guards," he added.
As Ugandans wait to cast their vote on Thursday, few have access to sites such as Facebook, WhatsApp and Twitter after the government ordered a shutdown of social media.
In a letter, the Uganda Communications Commission directed all telecom companies to immediately suspend any access and use of all social media platforms and online messaging applications over the networks until further notice.
Uganda
News
AddThis
:
Disable advertisements
:
Gunmen Kidnap Polytechnic Lecturer In Rivers
File Photo: Gunmen
Some gunmen have kidnapped Mr. James Finwe, a lecturer of the Ken Saro-Wiwa Polytechnic in Bori, Khana Local Government Area of Rivers State.
The school's chapter of the Academic Staff Union of Polytechnics (ASUP) has confirmed the abduction of the lecturer.
File Photo: Gunmen
The Chairman of ASUP in the school, Prince Psudo Wiwo Nwiyo, said Finwe was kidnapped around 2am on Tuesday at his residence at Igwurtali, in the Ikwerre Local Government Area of the state. Nwiyo said the development could force the union to hold a protest to push for the release of their colleague from kidnappers' den. He said, "The news of the kidnap of Mr. Finwe came to us on Tuesday as a shock. As a union, we are calling on security agencies to take control of the situation and ensure the successful rescue of our colleague.
"The abductors are also advised to release him unconditionally without further delay. The union will not accept any abduction of any of our members, even after Finwe is released. If after a while, he is not released, we are going to embark on a serious peaceful protest."
CRIME
News
AddThis
:
Original Author
:
SaharaReporters, New York
Disable advertisements
:


Conflicting Court Orders Over Arrest Of Bayelsa Lawmaker For Allegedly Issuing Dud Cheques Cause Confusion
The conflicting court orders in Bayelsa State regarding a dud cheque allegedly issued by the member of the Federal House of Representatives representing Southern Ijaw Federal Constituency, Mr. Preye Oseke.
There is confusion over a directive given to the Zone 16 of the Nigeria Police to arrest the lawmaker.
While the State High Court sitting in Yenagoa and presided over by Justice T. Y. Abasi had on November 17, 2020, dismissed the suit numbered YHC/77/2020 filed by the claimant, Ekpete Committee against Preye on basis of being statute barred, another court issued a warrant of arrest against Preye.
The other court, presided over by Senior Magistrate Vuru Christopher, in his ruling on the suit numbered OMC/MISC/1/2020 and also filed by Ekpete Committee in a motion ex parte, ordered that the Assistant Inspector General of Police (AIG), who is the 3rd respondent, should issue a warrant of arrest against the 2nd respondent, Preye, who is a director at Presco Engineering and Construction Limited.
In his statement of claim before the State High Court, the claimant stated that though two undated bank cheques were issued to him by the lawmaker with a promise not to present the bank cheque until funds were in the account.
"Consequently, on the 10th day of October, 2019, the defendant transferred another sum of N800,000, only being a sum of two months interest to the claimant," the statement said.
According to Magistrate Christopher, after hearing from the applicant's counsel, Sonny Okorodas, the AIG, Zone 16 should produce Oseke Preye before the court upon the complaint of the complainant/applicant for the offence of issuance of dud cheques.
Speaking with newsmen after the hearing, the applicant, Ekpete, argued that the accused member of the Federal House of Representatives, Preye, allegedly issued to him two bank cheques of N2 million and N2. 8 million in April 2019 but the cheques bounced at the United Bank of Africa (UBA).
He said all attempts to recover his money from the lawmaker failed as he allegedly avoided him.
The loan agreement allegedly reached between Preye and the applicant, Ekpete, on the 12th of March, 2018 showed that a loan of N2 million was extended to Preye with an agreement on repayment.
The agreement says, "Failure to pay shall amount to payment on a simple interest basis monthly until the borrowed value shall be liquidated. Alternatively, the undersigned guarantor to the borrower shall be held liable in case of default by the borrower. Any default, the borrower shall be liable to the cost of litigation."
Politics
News
AddThis
:
Original Author
:
SaharaReporters, New York
Disable advertisements
:
E2%80%93-ex-church EXPOSED: How UK-based Nigerian Pastor, Dapo Adegboyega, Defrauded Me Of N57 million – Ex-church Member
Documents have exposed how Reverend Dapo Adegboyega, the Board of Trustees Chairman of Salvation Proclaimers Army Church (SPAC) Nation, London, a Nigerian Pentecostal church based in the United Kingdom may have defrauded a church member identified as Racheal Daniel of £110,000 (N103 million) in 2012.
SaharaReporters was told that the former pastor with World Evangelism Bible Church (WEBIC) scammed his victim using lies, half-truths and manipulations.
Bank documents showed that Dapo took a loan of about £106,264 with interest amounting to £195,940.44 with Racheal's name and refused to pay everything back eight years after.
A total of £85,000 was paid back in a piecemeal fashion, leaving about £110,000 (N57,200,000, using N520 to £1) yet to be paid.
Speaking with SaharaReporters, the victim said her traumatic ordeals in the hands of the pastor started after he approached her that he wanted to purchase a property for the church and that she should assist him with a loan.
"When he was my resident pastor at World Evangelism Bible Church (WEBIC), he asked us to assist him secure a loan, that he wanted to purchase a property for the church. This was in 2012; we had a board meeting where he said he needed our help. And I replied that I would approach my bank and get back to him.
"I never knew he had other means of securing a loan. He talked about £10,000-£20,000. Anyway, to cut the long story short, he met with a broker – Grant & Hind – who gave him £110,000 and with interest amounting to £198,000, and the money was transferred into my own account. I was away when he called me that the money was in my account and that I should come back from my holiday and make the transfers; £90,000 to the church account and £20,000 to his own account.
"After that, he left the church with half of the members for his father's church. Before leaving, he said my money would be paid back in full. He even made mention of paying £50,000 that day. Right there in the pulpit/altar. When he finished talking, I approached him and he said I knew where the money went to so why was I troubling him. My brother, I thought it was a joke. When this loan was taken initially, there was no agreement or anything of such.
"I never knew he made a repayment agreement for 35 years while he told me that after they have purchased the property, it would be within a month. Since 2017, they have refused to pay, I've been chasing them all over the place. I took a lawyer that wrote them until he got tired and they refused to reply. They just received the letters and acted as if nothing happened. When I couldn't pay the lawyer anymore, I rested. In 2017-18, I couldn't cope with it, I tried contacting his younger brother, Tobi Adegboyega, who is the main pastor of their dad's church here and he gave me money for two months £1,200 and promised to meet with the bank to clear the debt."
Racheal said to her surprise, Tobi, like his elder brother, blocked her phone numbers after four months.
"Thereafter, he (Tobi) refused to pay and answer my calls; it was a struggle to get him to pay for the third month. By the fourth month, he literally blocked me completely, I couldn't reach him. I went to the father who is aware of everything. The father's name is Prophet Samson Adegboyega of SPAC Nation, Ibadan. He kept me posted like forever, he eventually asked me to write a soft appeal letter to Tobi Adegboyega so that he could see what he could use to assist me.
"I wrote as soft as I could and sent to the father to send to him. Whenever I call the father, it's either he is sleeping or in a meeting for the past five years now. I'm just appealing to the general public to please ask Adedapo Adegboyega of SPAC Nation to pay back Halifax loan of £198,000 he fraudulently took with my name."
Asked why she did not go to the police, she replied, "I actually went to the police over here in the UK but they told me a lawyer knows what to do. But I couldn't afford to pay a lawyer anymore, so I rested."
Christianity
Scandal
News
AddThis
:
Original Author
:
SaharaReporters, New York
Disable advertisements
:
Commercial Bus Drivers Protest In Lagos
File photo used to illustrate story.
Commercial drivers on Wednesday embarked on a protest against alleged extortion by officials of the Lagos State Task Force.
According to The PUNCH, many commuters have been left stranded along Agege-Ogba-Berger axis of Lagos as a result of the protest.
File photo used to illustrate story.
PT
As of 12.14pm, gridlock had started to build up along the route with many passengers trekking long distances.
Some of the drivers were seen holding weapons in a bid to resist further arrests.
They also attacked their colleagues who attempted to convey passengers and dislodge others, as the protesters obstructed the road at the popular Omole junction.
News
AddThis
:
Original Author
:
SaharaReporters, New York
Disable advertisements
:
Read also Nigerian Newspapers Today and Nigeria News Today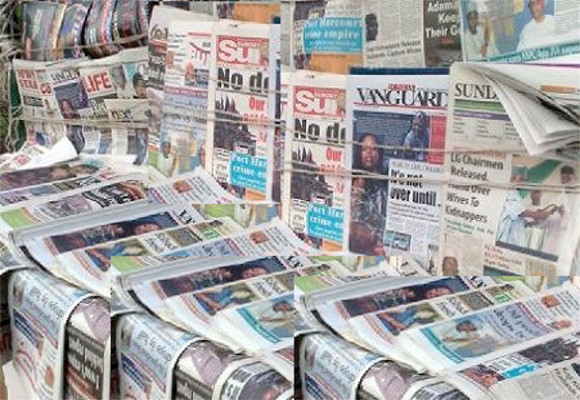 You can also check Sahara Reporters Newspaper Headlines Today