Latest News in Nigeria Today

Wednesday 13th January 2021

These are the Latest News in Nigeria Today on Wednesday 13th January 2021 .

Read also Sahara Reporters Latest News Today Wednesday 13th January 2021
US executes first woman in decades over fetal abduction
An American woman who murdered a pregnant dog breeder in order to steal her baby was put to death by lethal injection Wednesday, becoming the first female to be executed by US federal authorities in nearly seven decades. The US Justice Department said Lisa Montgomery, 52, was pronounced dead at 1:31 am Eastern Time (0631Read More
Vanguard News.
'WHO working with China's COVID-19 vaccine producers'
The Director-General of the World Health Organization (WHO) Tedros Ghebreyesus has said that a WHO team in China is working with producers of China's COVID-19 vaccines for potential emergency use listings.
Vanguard News.


YouTube suspends Trump channel over violence fears
Google-owned YouTube on Tuesday temporarily suspended President Donald Trump's channel and removed a video for violating its policy against inciting violence, joining other social media platforms in banning his accounts after last week's Capitol riot. Trump's access to the social media platforms he has used as a megaphone during his presidency has been largely cutRead More
Vanguard News.
Apologise now or quietly leave Sokoto — Muslim group warns Kukah
A Muslim group based in Sokoto, Muslim Solidarity Forum, has called on the Bishop of Sokoto Diocese, Bishop Mathew Kukah to tender an unreserved apology to the entire Muslim Ummah over his recent "malicious comments" against Islam or quietly and quickly leave the state
Vanguard News.
Bakassi Peninsula: Nigeria disposed to maintaining peace with her neighbours — Gov Bagudu
Kebbi Governor Alhaji Atiku Bagudu, on Tuesday, observed that Nigeria had always been disposed to maintaining peace with her neighbours, especially on thorny boundary issues.
Vanguard News.
Court Martial sentences soldier to death by firing squad
…Jails 5 others for various terms, demotes another By Ndahi Marama A court-martial sitting in Maiduguri, Borno State capital yesterday sentenced Trooper Azunna Maduabuchi to death by firing squad for killing the adjutant of his unit, one Lieutenant Babakaka Ngorgi. Maduabuchi of 212 Battalion was arraigned for murder after shooting Lieutenant Ngorgi in July 2020Read More
Vanguard News.
Nine state commands, other formations get new CPs
By Evelyn Usman There was a major shake up at the Police High Command yesterday, as nine Commissioners of Police were posted to State Commands, while 12 others were redeployed to other Police formations across the country. Consequently, CP Ari Mohammed Ali, who was the Deputy Commissioner of Police in-charge of Operations, Lagos State PoliceRead More
Vanguard News.


COVID-19: VCs, ASUU clash over varsities' resumption
…We're ready for resumption Jan 18 – VCs …Why we're against re-opening of varsities amid pandemic – ASUU By James Ogunnaike Vice Chancellors of some federal and state universities and the Academic Staff Union of Universities, ASUU, were at daggers drawn yesterday over resumption of universities in the face of the second wave of COVID-19Read More
Vanguard News.
Biden's transition forces Pompeo to cancel last European trip
U.S. Secretary of State Mike Pompeo has cancelled a final trip to Europe a day after it was announced, citing the transition to a new administration as President Donald Trump's term in office comes to a close.
Vanguard News.
Youths shut down NDDC hqtrs over Akwa's alleged divide and rule tactics
By Egufe Yafugborhi PROTESTING youths, yesterday, shut down Port Harcourt, Rivers State headquarters of Niger Delta Development Commission, NDDC, over alleged divide and rule by the commission's Sole Administrator, Effiong Akwa. The protesters, in their hundreds from Ibikalama, host community to the corporate head office of NDDC, besieged the premises, accusing Akwa of going behindRead More
Vanguard News.
Read also Nigerian Newspapers Today and Nigeria News Today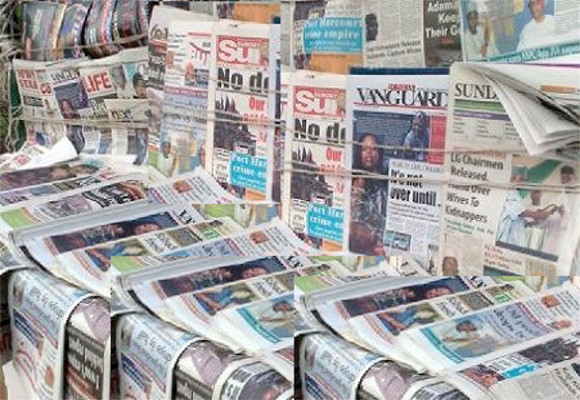 You can also check Nigeria Newspaper Headlines Today