Sports News Today Headlines

Monday 11th January 2021

Top Sports News Today Headlinese from Newspapers

Read also Punch Newspaper Headlines Today Monday 11th January 2021
Capitol riot fallout: 2022 PGA Championship pulled from Trump course
The PGA of America pulled the 2022 PGA Championship from the Trump National at Bedminster course in New Jersey on Sunday, days after supporters of President Donald Trump attacked the US Capitol. "The PGA of America Board of Directors voted tonight to exercise the right to terminate the agreement to play the 2022 PGA ChampionshipRead More
Vanguard News.
NO CHANCE: No interest from Liverpool in Sergio Ramos
The fact that Jurgen Klopp fielded two midfielders at the heart of the Reds' defence in Monday night's loss at Southampton may have hammered home the Premier League champions' desperate need to sign a new centre-half, but the captain of Real Madrid will not be rocking up at Anfield any time soon. The 34-year-old's age,Read More
Vanguard News.


'I am still alive', says Christian Chukwu
Former Super Eagles Coach, Christian Chukwu has debunked the news of his death, saying that he is hale and hearty. Chukwu disclosed this on Sunday in an interview at his Trans Ekulu residence, Enugu. The social media have since January 8, been awash with the news of Chukwu's demise. However, the former Green Eagles captain,Read More
Vanguard News.
Breaking: Christian Chukwu alive, embarrassed by news of his death
Nigeria's soccer legend Christian Chukwu is alive. Chukwu was rumoured to have passed on Saturday, same day that he spoke with the Saturday editor, Vanguard Newspaper, Onochie Anibeze who was then unaware of the rumour. Anibeze said Chukwu was full of life and cracked many jokes during their chat. He said Chukwu was elated byRead More
Vanguard News.
COVID-19: Premier League introduces stricter restrictions
The Premier League are bringing in stricter COVID-19 regulations with immediate effect and are threatening action against players and clubs who flout the rules. Coronavirus rates in the UK are currently higher than they were when the lockdown was initially ordered back in March 2020, and a number of Premier League managers have called forRead More
Vanguard News.
BATTLE OF THE BRITS: Tyson will easily beat Anthony Joshua – Tommy Fury
Former Love Island star Tommy Fury has predicted that his 'invincible' brother, Tyson, will dismantle Anthony Joshua in a historic unification bout. In a revealing interview with MailOnline, the 21-year-old boxer declared it will be the 'easiest fight' of The Gypsy King's career while claiming Tyson's former opponent, Deontay Wilder, could also finish AJ. ALSORead More
Vanguard News.
Agent Neymar: Samba star convinces Messi to join PSG
When Neymar left Barcelona for Paris Saint Germain, Brazilian journalist Marcelo Bechler was the first one to come up with the full information on the move. Now it seems there's a compatriot of his trying to break the news of a similar transfer, which would be Lionel Messi's departure to the French side. On hisRead More
Vanguard News.


Glasgow Rangers keen on extending Balogun stay
Glasgow Rangers boss Steven Gerrard is hoping to retain Super Eagles star Leon Balogun in his squad beyond the end of the 2020-2021 season. The former Brighton & Hove centre back joined the Light Blues on a one-year deal last July with the club holding an option to extend his stay for a further year.Read More
Vanguard News.
I thought Chukwu didn't like me — Odiye
By Jacob Ajom, One of Nigeria's most celebrated central defenders in the 1980s Godwin Odiye has divulged one of his long-kept secrets when he disclosed that at the beginning of his association with his former teammate and captain, Christian Chukwu, who was his roommate at the national team camp, he did not know his partner.Read More
Vanguard News.
E2%80%95-celebrating-the-chairman/ Night of a galaxy of Stars ― celebrating the 'Chairman'
By Dr Segun Odegbami, Two nights ago, I hosted my regular television program, The Sports Parliament, on Africa's largest television network, Nigeria Television Authority, NTA. It featured a number of megastar African football players from different parts of the continent. Many persons have wondered how I pulled it off, getting all of them to agreeRead More
The post Night of a galaxy of Stars ― celebrating the 'Chairman' appeared first on Vanguard News.
I want killers in my Chelsea team – Lampard
Chelsea manager, Frank Lampard, has said his squad lacks a ruthless streak and he doesn't have enough "killers" despite their 4-0 home win over Morecambe in the FA Cup. The victory was needed as a confidence booster, with Lampard selecting a strong XI against the League Two side on Sunday. Timo Werner ended a 13-game …
I want killers in my Chelsea team – Lampard
Cristiano Ronaldo becomes football's joint highest-ever goalscorer
Juventus forward, Cristiano Ronaldo, has become the joint-highest goalscorer in football history following his late strike against Sassuolo on Sunday. Ronaldo drilled home to give the Italian champions a 3-1 win. It takes his career tally to a stunning 759 for club and country. That meant the Portugal captain joins Josef Bican at the top …
Cristiano Ronaldo becomes football's joint highest-ever goalscorer
Burnley vs Man Utd: Solskjaer facing injury problems ahead of EPL clash
Manchester United manager, Ole Gunnar Solskjaer, has admitted Paul Pogba, Victor Lindelof and Luke Shaw could miss Tuesday's game at Burnley. However, Solskjaer is optimistic the trio will be fit to face Liverpool on Sunday Pogba, Shaw and Lindelof were all missing when United beat Watford 1-0 at Old Trafford in the FA Cup third …
Burnley vs Man Utd: Solskjaer facing injury problems ahead of EPL clash
Serie A: Ronaldo makes history in Juventus' 3-1 win over Sassuolo
Juventus forward, Cristiano Ronaldo, on Sunday night made history after scoring in his side's Serie A 3-1 win over Sassuolo. Juventus defeated Sassuolo at Allianz, thanks to goals from Danilo, Aaron Ramsey and Cristiano Ronaldo. Pedro Obiang did score a consolation goal for Sassuolo. However, Ronaldo's goal against Sassuolo means the Portugal captain has now …
Serie A: Ronaldo makes history in Juventus' 3-1 win over Sassuolo
EPL: Solskjaer told Man United player that will get him sacked
A former Crystal Palace Chairman, Simon Jordan, has told Manchester United manager, Ole Gunnar Solskjaer, that Anthony Martial will get him sacked from the club if the striker remains a regular part of his team this season. Jordan said this ahead of Man United's away Premier League fixture with Liverpool on January 17, 2021. Martial …
EPL: Solskjaer told Man United player that will get him sacked
Chelsea vs Morecambe: What Lampard said about Havertz, Werner, Gilmour after FA Cup win
Chelsea boss, Frank Lampard, has commented on Kai Havertz, Timo Werner and Billy Gilmour, following the Blues' FA Cup third-round 4-0 win over Morecambe on Sunday at Stamford Bridge. Lampard urged Chelsea and its fans to be patient with Havertz's performances for the club. He also said that he was pleased with Werner's display against …
Chelsea vs Morecambe: What Lampard said about Havertz, Werner, Gilmour after FA Cup win
FA Cup: Lampard confirms player that will leave Chelsea
Chelsea boss, Frank Lampard, has confirmed that defender, Fikayo Tomori, will leave the club on loan this January transfer window. Lampard said this on Sunday after Chelsea's FA Cup third-round 4-0 win over Morecambe. The Blues boss said that was one of the reasons he did not start Fikayo against Morecambe. Chelsea defeated Morecambe at …
FA Cup: Lampard confirms player that will leave Chelsea
I'm alive – ex-Super Eagles coach, Christian Chukwu speaks on his rumoured death
Christian Chukwu, a former Super Eagles coach, has debunked the news of his death, saying that he's hale and hearty. Chukwu made this known on Sunday in an interview with the News Agency of Nigeria (NAN) at his Trans Ekulu residence, Enugu State. The social media have since January 8, 2021 been awash with the …
I'm alive – ex-Super Eagles coach, Christian Chukwu speaks on his rumoured death
Burnley vs Man United: Jesse Lingard told to leave Old Trafford immediately
Former Manchester United strikers, Dimitar Berbatov and Michael Owen, have told winger, Jesse Lingard, to leave Old Trafford straight away to save his career. Berbatov and Owen said this ahead of Man United's away Premier League tie with Burnley on Tuesday. Lingard made just his third appearance of the season for Man United in their …
Burnley vs Man United: Jesse Lingard told to leave Old Trafford immediately
EPL referee, Michael Oliver reveals his best decision which didn't favour Man Utd
Premier League referee, Michael Oliver, has rated his decision to award Chelsea a penalty in the FA Cup final against Manchester United as one of his best calls. Oliver pointed to the spot in the 20th minute of the encounter, after Phil Jones had fouled Eden Hazard. Hazard stepped up and converted what would be …
EPL referee, Michael Oliver reveals his best decision which didn't favour Man Utd
Read also Nigerian Newspapers Today and Nigeria News Today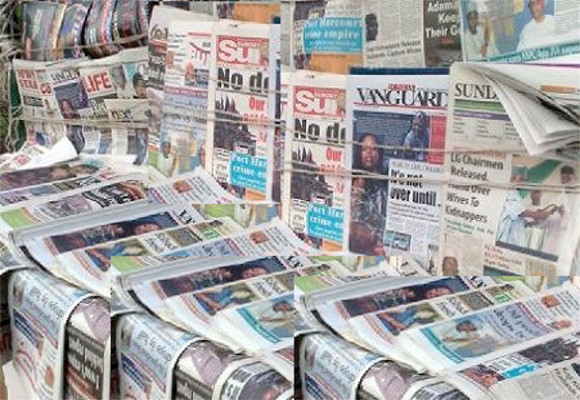 You can also check Sports News Today Headlines