Vanguard Latest News

Sunday 10th January 2021

Vanguard Latest News Today and headlines on some of the happenings and news trend in the Country, today 10/01/21

Read also The Nation Newspaper Today Headline Sunday 10th January 2021
Pope condemns storming of the Capitol in Washington
Pope Francis has condemned the storming of the Capitol building in Washington earlier this week and called on people to reject such violence, in a television interview to be broadcast later on Sunday. There will always be people who oppose community, democracy, and the common good, the pope said in comments to channel Tg5 shownRead More
Vanguard News.
China reports 96 new coronavirus cases nationwide
Chinese health authorities reported 96 coronavirus cases nationwide on Sunday as the country continues efforts to rein in a new outbreak. Fifty-nine out of the 96 new cases were confirmed in Hebei, the Northern Province surrounding Beijing, where a flare-up in the provincial capital Shijiazhuang has prompted lockdown measures and the mass testing ofRead More
Vanguard News.


What you should know about COVID-19 vaccination, by NOA
The National Orientation Agency, NOA, Sunday, shared tips on what Nigerians should expect from the COVID-19 vaccination. Read them below… 1. What are #COVID19 vaccines? #COVID19 vaccines aim to prevent the virus by triggering an immune response. If vaccinated, you are fully protected! 2. Immunity you will get from #COVID19 vaccination is scientifically proven toRead More
Vanguard News.
Peace meeting: Catholic Bishop meets Umahi, Anyim, Egwu over political differences
By Peter Okutu The Catholic Bishop of Abakaliki diocese, Bishop Nnachi Okoro, weekend waded into the clash of political interest that had ensued between Governor David Umahi of Ebonyi State and the former Secretary to the Government of the Federation, Senator Pius Anyim among others. Recall that Umahi, Senator Anyim, Senator Sam Egwu, former GovernorRead More
Vanguard News.
Gunmen storm Ebonyi police station, kill 3 officers, walk away with 2 AK47 riffles
By Nwafor Sunday Unidentified gunmen have stormed Onueke Police Station in Ezza South Local Government Area of Ebonyi state, killing three officers and carted away with two AK 47 riffles. Insecurity has indeed increased in the country as gunmen, bandits and kidnappers do not just operate on high ways, but have equally summoned courage toRead More
Vanguard News.
Body parts found at Indonesian plane crash site: official
Indonesian investigators said Sunday they found body parts off the coast of the capital Jakarta where a budget airline plane with 62 people on board crashed shortly after takeoff. ALSO READ: Traditional Rulers will be involved in policing — Amotekun Commander "As of this morning, we've received two (body) bags, one with passenger belongings and theRead More
Vanguard News.
Buhari, Air Force and Navy chiefs
Note: For the sake of those who cannot read Vanguard online I now publish the last part of the article published in December 2020. Please read on: 'FROM US WHITE HOUSE TO NUT HOUSE – ONLY ONE STEP' Will Trump attend Biden's inauguration? "Will you attend Biden's inauguration?" Fox TV interviewer. To that TrumpRead More
Vanguard News.


Breaking: Christian Chukwu alive, embarrassed by news of his death
Nigeria's soccer legend Christian Chukwu is alive. Chukwu was rumoured to have passed on Saturday, same day that he spoke with the Saturday editor, Vanguard Newspaper, Onochie Anibeze who was then unaware of the rumour. Anibeze said Chukwu was full of life and cracked many jokes during their chat. He said Chukwu was elated byRead More
Vanguard News.
SERAP to Buhari: Drop plan to borrow N895bn unclaimed dividends, dormant account balances
Socio-Economic Rights and Accountability Project, SERAP, has urged President Muhammadu Buhari to immediately drop the plan by the Federal Government to borrow about N895 billion of unclaimed dividends and funds in dormant accounts under the guise of "patently unconstitutional and illegal Finance Act, 2020."
Vanguard News.
What really killed Pastor Akinbami of the House on the Rock church?
By Nwafor Sunday Pastor Yinka Akinbami was a pastor of the House on the Rock church. He died yesterday, January 9, 2021. Until now it's still not clear how and what led to his death, but various online media have reported that Akinbami died of covid-19 complications. Paul Adefarasin, founder and Senior Pastor of theRead More
Vanguard News.
Read also Nigerian Newspapers Today and Nigeria News Today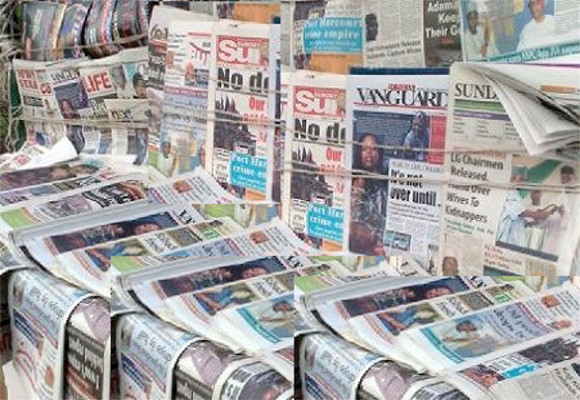 You can also check Vanguard Newspaper Headlines Today