Sports News Today Headlines

Saturday 9th January 2021

Top Sports News Today Headlinese from Newspapers

Read also Punch Newspaper Headlines Today Saturday 9th January 2021
NO CHANCE: No interest from Liverpool in Sergio Ramos
The fact that Jurgen Klopp fielded two midfielders at the heart of the Reds' defence in Monday night's loss at Southampton may have hammered home the Premier League champions' desperate need to sign a new centre-half, but the captain of Real Madrid will not be rocking up at Anfield any time soon. The 34-year-old's age,Read More
Vanguard News.
La Liga: Simeone banks on Lemar to shoot down Bilbao
As round 18 action from the 2020-21 La Liga season hots up this weekend, the top pick of matches for this round sees Atletico Madrid host Athletic Bilbao at Estadio Wanda Metropolitano later today. All the top-flight action from Spain will be live on dedicated Supersport and GOtv channels. The teams played to a 1-1Read More
Vanguard News.


BATTLE OF THE BRITS: Tyson will easily beat Anthony Joshua – Tommy Fury
Former Love Island star Tommy Fury has predicted that his 'invincible' brother, Tyson, will dismantle Anthony Joshua in a historic unification bout. In a revealing interview with MailOnline, the 21-year-old boxer declared it will be the 'easiest fight' of The Gypsy King's career while claiming Tyson's former opponent, Deontay Wilder, could also finish AJ. ALSORead More
Vanguard News.
Agent Neymar: Samba star convinces Messi to join PSG
When Neymar left Barcelona for Paris Saint Germain, Brazilian journalist Marcelo Bechler was the first one to come up with the full information on the move. Now it seems there's a compatriot of his trying to break the news of a similar transfer, which would be Lionel Messi's departure to the French side. On hisRead More
Vanguard News.
Confederation Cup: Enyimba to face Rivers Utd or Bloemfontein Celtic
Enyimba will face either Rivers United or South Africa's Bloemfontein Celtic in the play-off round of the CAF Confederation Cup. Following their 4-2 defeat on aggregate to Sudan's Al Merreikh in the CAF Champions League first round, the two-time African champions got relegated to the second-tier competition of African club football. And going by theRead More
Vanguard News.
FA Cup: Solskjaer deploys Ighalo against Watford
Manchester United coach Ole Gunnar Solskjaer has revealed that Odion Ighalo is expected to be involved in some capacity, most likely as a substitute, in tonight's Emirates FA Cup third-round clash against Watford at Old Trafford. The former Nigeria international has struggled for game time since the arrival of Uruguay marksman Edinson Cavani and hasRead More
Vanguard News.
Glasgow Rangers keen on extending Balogun stay
Glasgow Rangers boss Steven Gerrard is hoping to retain Super Eagles star Leon Balogun in his squad beyond the end of the 2020-2021 season. The former Brighton & Hove centre back joined the Light Blues on a one-year deal last July with the club holding an option to extend his stay for a further year.Read More
Vanguard News.


I thought Chukwu didn't like me — Odiye
By Jacob Ajom, One of Nigeria's most celebrated central defenders in the 1980s Godwin Odiye has divulged one of his long-kept secrets when he disclosed that at the beginning of his association with his former teammate and captain, Christian Chukwu, who was his roommate at the national team camp, he did not know his partner.Read More
Vanguard News.
E2%80%95-celebrating-the-chairman/ Night of a galaxy of Stars ― celebrating the 'Chairman'
By Dr Segun Odegbami, Two nights ago, I hosted my regular television program, The Sports Parliament, on Africa's largest television network, Nigeria Television Authority, NTA. It featured a number of megastar African football players from different parts of the continent. Many persons have wondered how I pulled it off, getting all of them to agreeRead More
The post Night of a galaxy of Stars ― celebrating the 'Chairman' appeared first on Vanguard News.
Ex-FIFA president, Sepp Blatter admitted to hospital
Ex-FIFA president Sepp Blatter is in hospital in a 'serious but stable' condition. The disgraced former football chief, 84, is expected to pull through after being rushed in on Thursday, according to reports in Switzerland. ALSO READ: US Capitol: 'Rioting unacceptable', 'criminals' will be prosecuted ― US Ambassador to Nigeria His daughter Corinne announced the surprise newsRead More
Vanguard News.
Man Utd vs Liverpool: Klopp reveals how they will prepare for EPL crunch tie
Liverpool manager, Jurgen Klopp, has said his players will take part in 11 vs 11 training to get their "rhythm" back, ahead of their crunch clash against Manchester United on January 17. The hectic fixture schedule has meant little respite for Premier League sides. However, after Friday night's 4-1 victory over Aston Villa in their …
Man Utd vs Liverpool: Klopp reveals how they will prepare for EPL crunch tie
Man Utd vs Watford: Solskjaer takes decision on allowing Van de Beek to leave
Manchester United manager, Ole Gunnar Solskjaer, has urged midfielder, Donny van de Beek to stay at the club, after suggestions, he should try to leave in January. Van de Beek has been advised to leave Old Trafford, to avoid losing his place in the Dutch national team ahead of the European Championships. The midfielder has …
Man Utd vs Watford: Solskjaer takes decision on allowing Van de Beek to leave
Man Utd vs Watford: Solskjaer reveals player that will be allowed to leave
Manchester United manager, Ole Gunnar Solskjaer, has said Timothy Fosu-Mensah will be allowed to leave this month. Fosu-Mensah joined United from Ajax's academy as a 16-year-old in 2014. He made his debut two years later in February 2016, but has not been able to break into the side regularly. In five years, he has made …
Man Utd vs Watford: Solskjaer reveals player that will be allowed to leave
Transfer: Chelsea defender tells Lampard he wants to leave
Chelsea defender, Fikayo Tomori, has asked to leave the club during the January transfer market, Mundo Deportivo reports. Tomori is said to be unhappy with his lack of playing time under manager, Frank Lampard. He has played only 45 minutes in the Premier League this season, as compared to the 15 games he played last …
Transfer: Chelsea defender tells Lampard he wants to leave
Arsenal set to terminate Mesut Ozil's contract
Mesut Ozil is very close to moving to Fenerbahce, after the door was closed to a return to the first team at Arsenal, the UK Mirror reports. The 32-year-old was initially expected to join the Super Lig side on loan for the rest of the season. That move would have seen the Gunners paying his …
Arsenal set to terminate Mesut Ozil's contract
FA Cup: Ighalo included in Man Utd squad to face Watford
Manchester United manager, Ole Gunnar Solskjaer, has confirmed that Odion Ighalo will be included in the squad to face Watford in the FA Cup third round on Saturday. Ighalo has barely featured for the Red Devils this season, with the arrival of Edinson Cavani as a free agent, limiting his chances. The former Super Eagles …
FA Cup: Ighalo included in Man Utd squad to face Watford
*-tape-trial/ Zidane speaks on Benzema's s** tape trial
Real Madrid manager, Zinedine Zidane, has publicly backed Karim Benzema, with the striker set to stand trial on the charge of conspiracy to attempt blackmail. Versailles prosecutor's office is accusing Benzema of having pressured his former France teammate Mathieu Valbuena in 2015, to pay blackmailers who threatened to reveal a s** tape in which Valbuena …
Zidane speaks on Benzema's s** tape trial
FA Cup: What Michael Owen said about Thiago after Liverpool's 4-1 win over Aston Villa
Former Liverpool striker, Michael Owen, has singled out midfielder, Thiago, for praise following the club's FA Cup third round 4-1 victory over a youthful Aston Villa side on Friday night. Owen insisted that there is nobody in the Premier League that plays like Thiago after the former Bayern Munich star showcased his masterful quality with …
FA Cup: What Michael Owen said about Thiago after Liverpool's 4-1 win over Aston Villa
FA Cup: Mourinho threatens Tottenham could refuse to play if games are postponed
Tottenham Hotspur manager, Jose Mourinho, has warned footballing authorities that his side will refuse to play two-midweek games again amid a potential fixture pile-up. Spurs' Premier League fixture against Fulham was recently postponed due to a COVID-19 outbreak in their opponents' squad. And their match on Wednesday against Aston villa could be at risk too …
FA Cup: Mourinho threatens Tottenham could refuse to play if games are postponed
EPL introduces new rules amid COVID-19 second wave
The Premier League is trying to curb the spread of COVID-19 among players and staff, by introducing an "enhanced" set of measures. In a letter sent out on Friday, the 20 clubs were warned to adhere or risk the possibility of punishment. First of all, players have been instructed not to hug or shake hands. …
EPL introduces new rules amid COVID-19 second wave
Read also Nigerian Newspapers Today and Nigeria News Today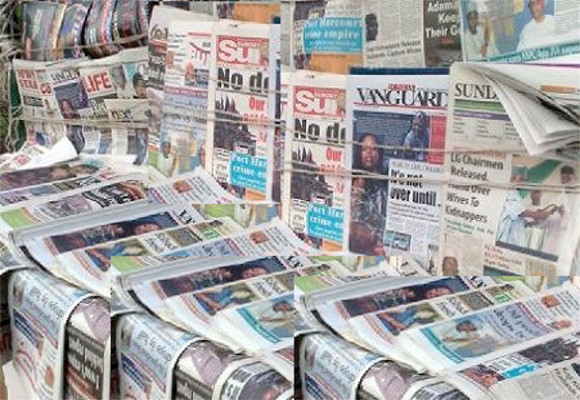 You can also check Sports News Today Headlines