Vanguard Latest News

Thursday 7th January 2021

Vanguard Latest News Today and headlines on some of the happenings and news trend in the Country, today 07/01/21

Read also The Nation Newspaper Today Headline Thursday 7th January 2021
NANS mulls security, education summit
.Says FG's 2021 budgetary provision to education worst in 10 years By Rotimi Ojomoyela The National Association of Nigeria Students (NANS) , Com. Sunday Asefon, on Thursday disclosed that the association planned to organize a Security and Education Summit to partner stakeholders on how to arrest the drift in the two critical sectors . He describedRead More
Vanguard News.
Ganduje cites recession as he dumps N30,000 minimum wage, opts for N18,000
By Bashir Bello – Kano Due to the recession occassioned by the COVID-19 pandemic, the Kano State Government says it is stopping the new minimum wage and to pay its workers with the N18,000 old wage. The Special Adviser to Governor Abdullahi Umar Ganduje on Media, Salihu Tanko Yakasai confirmed this to newsmen on Wednesday.Read More
Vanguard News.


Ibidapo-Obe, Ajeyalemi might have contracted COVID-19 at wedding party
Two other professors in ICU BY Adesina Wahab The former Vice Chancellor of the University of Lagos, Prof. Oyewusi Ibidapo-Obe and the former Dean, Students Affairs of the institution, Prof. Duro Ajeyalemi, who died earlier in the week, might have contracted the deadly Coronavirus disease at a society wedding they attended some weeks agoRead More
Vanguard News.
Youths protest in Senegal capital over COVID-19 curfew
Youths protesting a coronavirus curfew clashed with security forces overnight in the Senegalese capital, burning tyres and erecting barricades as police fired tear gas in Dakar's Ngor district, an AFP photographer reported. Incidents were also reported in other parts of the capital overnight Wednesday. President Macky Sall called a state of emergency on Wednesday asRead More
Vanguard News.
In the spirit of SALTVIM 2020
SALTVIM is the acronym for, Society for the Advancement of Local Talents and Virtue in Management. It was established about eight years ago, to promote, first and foremost, Virtue in Management and secondly, Nigerian talents in their aspirations to reach the highest level of management in the very large companies especially the Globalized Corporate Organisations operating in Nigeria.
Vanguard News.
'So shameful': Ghana army steps in to quell parliament clash ahead of swearing-in
Ghanaian soldiers intervened overnight to quell a clash between opposing parties in parliament ahead of the body's swearing-in set for Thursday. Chaotic scenes erupted after a ruling party deputy tried to seize the ballot box during the vote for parliament speaker. The ensuing clash lasted several hours until the army stepped in, with national televisionRead More
Vanguard News.
NDDC: Appointment of sole administrator based on court injunction – Akpabio
By Chris Ochayi The Minister of Niger Delta Affairs, Sen. Godswill Akpabio, has disclosed that the appointment of a sole administrator for Niger Delta Development Commission, NDDC, was based on court injunction. Senator Akpabio noted that the action was necessitated by a court injunction issued by Justice A.R. Mohammed of the Federal High Court inRead More
Vanguard News.


Capitol Hill Show of Shame: Why the world should be worried
NATO Secretary-General Jens Stoltenberg who has dealt with a lot of heat in the Trump era called the event "shocking scenes." German Foreign Minister Heiko Maas, who is a senior official in a German government that has clashed with the US on important issues, is concerned that "the enemies of democracy will be delighted." UKRead More
Vanguard News.
Trump pledges 'orderly transition' after Congress affirms Biden win
Even though I totally disagree with the outcome of the election, and the facts bear me out, nevertheless there will be an orderly transition on January 20th," Trump said in a statement minutes after the US Congress formally certified Biden's victory. Outgoing US President Donald Trump on Thursday offered the clearest signal yet that heRead More
Vanguard News.
Atiku receives Pfizer Covid-19 vaccine
By Nwafor Sunday Former Vice President, Alhaji Atiku Abubakar, has received Pfizer Covid-19 in jab vaccine on Thursday. Confirming the news, Ovation magazine Publisher, Chief Dele Momodu, displayed Atiku's picture when the vaccine was administered to him by a medical practitioner. Though Dele did not mention the place Atiku took the vaccine but information reachingRead More
Vanguard News.
Read also Nigerian Newspapers Today and Nigeria News Today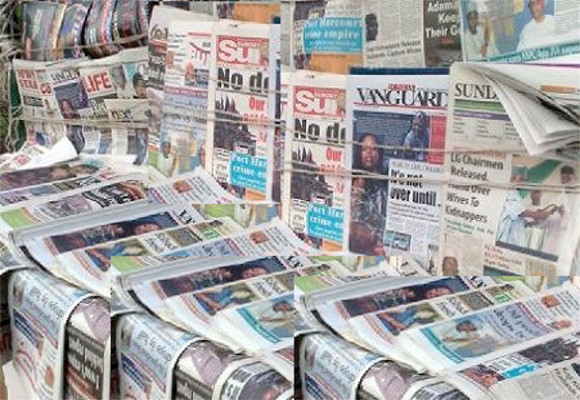 You can also check Vanguard Newspaper Headlines Today