Sahara Reporters Latest News Today

Wednesday 6th January 2021

Sahara Reporters Latest News Today and headlines on some of the happenings and news trend in the Country, today 06/01/21

Read also nigeria newspapers Wednesday 6th January 2021
N10.9bn Fraud: Court Jails Ex-Finbank MD, Nwosu, Three Others
Justice Lateefa A. Okunnu of the Lagos State High Court sitting in Ikeja, on Tuesday, January 5, 2021, convicted and sentenced Okey Nwosu, a former Managing Director, Finbank Plc, to three years imprisonment for over 10m fraud.
The Economic and Financial Crimes Commission, EFCC, had arraigned Nwosu alongside Dayo Famuroti, Agnes Ebubedike and Danjuma Ocholi on a 26-count amended charge bordering on stealing and illegal conversion to the tune of N10,934,704,402.
The defendants, who perpetrated the fraud while they were directors of the bank, pleaded not guilty to the charge preferred against them, thereby leading to their full trial.
In the course of the trial, the prosecution counsel, Rotimi Jacobs , SAN, called witnesses and also tendered several documents that were admitted in evidence against the defendants.
Delivering her judgment, the Judge found the defendants guilty and sentenced the first and second defendants, Nwosu and Famoroti, to three years imprisonment each.
The Judge also sentenced the third defendant, Ocholi, to 12 months imprisonment and slammed a six- month community service on the fourth defendant, Ebubedike.
The case had, suffered a setback as the defendants challenged the jurisdiction of the trial court up to the Supreme Court. While the court maintained its jurisdiction to try the defendants, Nwosu approached the Lagos Division of the Court of Appeal which in November 2013 struck out the charge against the banker.
The appellate court ruled that the Lagos High Court lacked jurisdiction to entertain the charges because they emanated from capital market transactions, which should be handled by the Federal High Court.
Following the appeal court ruling, Dayo Famoroti, Danjuma Ocholi and Agnes Ebubedike approached the Lagos High Court to dismiss the charges preferred against them.
But Rotimi Jacobs, SAN, counsel for EFCC had prayed the court to adjourn the matter indefinitely pending the determination of its appeal at the Supreme Court
Justice Okunnu upheld the prayers of Jacobs and adjourned the matter sine die to allow the Supreme Court rule on the matter.
The Supreme Court, in its judgment, upheld EFCC's appeal.
The Supreme Court directed Nwosu and co- defendants to submit themselves for trial before the Lagos High Court.
CRIME
Legal
News
AddThis
:
Original Author
:
SaharaReporters, New York
Disable advertisements
:
E2%80%99s-arrest-poor-representation-nigeria-biden-%E2%80%93-former-us-ambassador-campbell Sowore's Arrest Is Poor Representation Of Nigeria To Biden – Former US Ambassador, Campbell
John Campbell
A former United States of America's Ambassador to Nigeria, John Campbell, has stated that the arrest of human rights activist, Omoyele Sowore, by the Nigerian authorities is a poor representation of the country to the incoming Joe Biden's administration.
Campbell, who is now the Ralph Bunche Senior Fellow For Africa Policy Studies at the Council on Foreign Relations, Washington D.C., stated this in his tweet on Tuesday.
Former United States of America's Ambassador to Nigeria, John Campbell.
The former ambassador to Nigeria between 2004 and 2007, said, "The arrest of Nigerian journalist and human rights activist Omoyele Sowore is a poor representation of Nigeria to the incoming Biden administration." The arrest of Nigerian journalist and human rights activist Omoyele Sowore is a poor representation of Nigeria to the incoming Biden administration. mdash; John Campbell (@JohnCampbellcfr) January 5, 2021
Sowore alongside four other activists had been arrested on the New Year's Eve during a crossover protest in Abuja and brutalised by the policemen.
They had been clamped in detention for five days before being arraigned in court on Monday on trumped-up charges by the police.
Both national and international groups, including the Amnesty International, had called on the Nigerian government to respect the rights of the activists and release them unconditionally.
The Country Director, Amnesty International, Osai Ojigho, while speaking with SaharaReporters, had stated, "Our position is always clear in matters like this; since the authorities have him in their possession, they should respect the constitution which is very clear. If you arrest someone based on a known crime, charge the person within 24 or 48 hours as the case may be.
"But most importantly, they should ensure that his human rights are respected throughout this process and comply with the constitution and International human rights laws."
See Also
ACTIVISM
Respect Sowore's Rights, Amnesty International Tells Nigerian Government
0 Comments
4 Days Ago
Human Rights
News
AddThis
:
Original Author
:
SaharaReporters, New York
Disable advertisements
:


Iran Applies For International Arrest Warrant For Trump, Others Over Soleimani's Death
The capital city of Iran, Tehran has applied to Interpol for an international arrest warrant for the President of the United States, Donald Trump, in connection with the murder of Iranian top general Qassem Soleimani, last year.
Iran's justice spokesman Gholam Ismaili, in a television broadcast on Tuesday, said the country has filed a red notice against Trump and other United States' commanders.
According to NAN, he also said there is constructive cooperation with its neighbouring country, Iraq, on the issue.
He said, "In this regard, we have filed a 'red notice' at Interpol against 48 people, including Trump, US commanders, and Pentagon representatives as well as US troops in the region."
A country can use the "red notice" to request other countries to track down and arrest a person.
On January 3, 2020, on Trump's instructions, the US Army reportedly killed Soleimani, who was on a visit to Iraq with a rocket attack near Baghdad airport.
The influential Iraqi militia leader, Abu Mahdi al-Mohandes, the deputy head of Iraq's Hashd al-Shaabi militia, was also killed.
Soleimani was the commander of the elite Quds Force, part of an elite unit of the Iranian armed forces.
He coordinated the activities of militias loyal to Iran in Iraq and other countries.
President of Iran, Hassan Rowhani, called Soleimani a national hero who had become a legend in the region after his assassination by the US.
"Tehran will avenge his murder in due course and at the same time take legal action against Trump and the Pentagon," Rowhani said.
International
News
AddThis
:
Original Author
:
SaharaReporters, New York
Disable advertisements
:
Governor Wike Knocks Buhari, Calls Proposed Ogoniland Cleanup Exercise A Sham
Rivers Governor Wike
Rivers State Governor, Nyesom Wike, says the Nigerian government has been playing politics with the Ogoni environment remediation programme recommended by the United Nations Environment Programme (UNEP).
He noted that Ogoni, having played a pivotal role in the economic development of Rivers State and the country, deserves more than what is currently being offered to the area.
Rivers Governor Wike
Wike stated this during the inauguration of the 16.06 km dual carriageway – Sakpenwa-Bori Highway by the Governor of Enugu State, Dr. Ifeanyichukwu Ugwuanyi in Bori, Khana Local Government Area of Rivers State on Tuesday.
The governor urged Ogoni people to stop believing those who use the Ogoni cleanup exercise at the turn of election year to deceive them, while questioning why the cleanup exercise never happens when elections are over.
"I am not like the Federal Government. They promised you they will do Ogoni cleanup. Has it been cleaned? I promised you road, have I done it? So, you can see the difference between our party and their own party. The difference is clear.
"When the election comes in 2023, they will start another cleanup. You people don't even ask questions. Why is it a year to the election that Ogoni cleanup will always commence? Now that there is no election, are they doing cleanup now? Watch from next year, they will start cleanup."
Wike said only governors belonging to the Peoples Democratic Party (PDP) are delivering development projects to their people.
The governor challenged those who feel uncomfortable with his public declarations to also showcase their projects and invite persons of repute to inaugurate them as he has done.
Politics
News
AddThis
:
Original Author
:
SaharaReporters, New York
Disable advertisements
:
E2%80%98side-chick%E2%80%99-who-stole-lover-man%E2%80%99s-three-month-old-baby-ondo Police Arrest 'Side Chick' Who Stole Lover Man's Three-month-old Baby In Ondo
Men of the Ondo State Police Command have arrested a woman identified as Temitope Adeniyi, who allegedly stole her lover man, Wasiu Mamukuyomi's three-month-old baby.
SaharaReporters had reported how Temitope abducted the baby at the shop of Wasiu's wife, Stella, at Oke-Bola area, Ondo town.
See Also
Sports
'Side Chick' Steals Lover Man's Three-month-old Baby After Apprenticing With Wife
0 Comments
12 Hours Ago
It was learnt that the man introduced his mistress to his wife as the girlfriend of one of his friends.
Narrating how the incident happened, Stella said, "My husband brought the lady to me on the 3rd of December, 2020 to train her in tailoring.
"On Saturday, 2nd of January, 2021, the lady came to the shop as usual. After bathing the baby girl that afternoon, she took permission from me to put the baby on her back.
"I later gave her my ATM card to help me withdraw N3,000 that was transferred to my account by a customer at a nearby POS (Point of sale) stand. But she never returned, as she escaped with the newborn baby and my ATM card.
"After disappearing with my baby, I called my husband several times to inform him about the incident, but my husband refused to answer his calls.
"He was later arrested and taken to Ẹnuọwa Police Station in Ondo, where he confessed that the lady in question was his girlfriend."
Speaking to journalists on Tuesday, Ondo state police spokesman, Tee- Leo Ikoro, said the stolen baby had been recovered alive from the suspect.
Ikoro added that the police had started an investigation to know the reason for Temitope's action.
News
AddThis
:
Original Author
:
SaharaReporters, New York
Disable advertisements
:
E2%80%99-bail-application How Police Counsel Struggled In Court To Frustrate Sowore, Others' Bail Application
The Nigeria police again on Tuesday showed desperation at the Magistrates' Court sitting in Wuse, Abuja, in its bid to frustrate the bail application for human rights' activist, Omoyele Sowore, and his four colleagues who were brought for their bail hearing.
The police prosecution team, led by Adama Musa, argued that it was inappropriate in law for an application for bail to be brought for more than one person.
Musa asked the presiding magistrate, Mabel Segun-Bello, to jot down what he was saying and she told him 'no'.
The police prosecution went further to cite a case in 1975 and the magistrate replied that she had not been born by then.
Earlier, Abubakar Marshal from the Falana & Falana Chambers, who alongside four lawyers, represented Sowore and the others, had put forth a motion for bail application.
Adama objected by saying they were not ready because they had just been served.
Adama argued that they did not have enough time to study the document given to them on Tuesday morning.
The magistrate gave them two hours to study the application.
After that plot failed, the police prosecuting team filed another counter affidavit and served it to the activists' team of lawyers.
Marshal stood up to bring to the knowledge of the court the motion he had brought before the court. His prayer was that the Magistrate should admit all defendants to bail.
The police team continued with the argument on whether an application was sufficient for several persons, and the magistrate asked Marshal to respond to it.
The defence counsel noted that there were several cases that could be cited to support such an application.
He cited cases where a joint charge required a joint bail application.
The Magistrates' Court finally reserved its ruling on the bail application till Friday, January 8.
The presiding magistrate ordered that the activists should be moved from the Kuje Correctional Centre to the Force Criminal Investigation Department located at Area 10 in Abuja.

ACTIVISM
Human Rights
Police
News
AddThis
:
Disable advertisements
:
Nigerian Singer, Paul Okoye Narrates COVID-19 Harrowing Experience, Warns Nigerians
Nigerian popular singer, Paul Okoye, also known as Rude Boy, has narrated his experience fighting COVID-19 virus, while warning Nigerians that the virus is real.
Okoye took to his verified Instagram account to announce that he had contracted coronavirus and could not wait after 10 days to get re-tested.
He used the opportunity to sensitise his followers to the reality of COVID-19.
He said, "Attention. Covid is real. I know as a typical Nigerian or African, it is very hard to believe. Some will say 'experience is the best teacher'.
"Oh well, the experience and the teacher has visited me and they've been dealing with me for more than 10 days now. It is not funny, worst sickness ever!!! You all better be careful out there. If you like, believe me, if you like, don't believe me.
"You can as well wait for your own experience by playing ignorance. Goodluck. God help us all."
The singer also went on to share his harrowing experience battling the virus. He revealed that he would do his final test again to know if he was free of the virus.
"I cannot wait for tomorrow to do my final test, so if they declare me free of the virus, I will know that I am free. Guys, stay safe out there. If you see me and want to hug me and I push you, do not be angry, I am not 'forming celebrity'. Let's learn to greet from afar.
"There is nothing worse than this illness, I understand when you are ill and feeling pain. The usual pain is headache, high temperature, dizziness. But when it has to do with the inability to breathe; that experience I do not want to experience it again.
"That is the worst part of the illness. Also, you will have a bit of memory loss. Please be careful out there."
PUBLIC HEALTH
News
AddThis
:
Original Author
:
SaharaReporters, New York
Disable advertisements
:


Police Arrest 45-year-old Dad For Raping Daughter, 13, In Ogun
The Ogun State Police Command has arrested a 45-year-old man, Akanji Oluwaseyi, for allegedly defiling his 13-year-old daughter in the Obantoko area of Abeokuta.
The police said the arrest of the suspect followed a complaint from the victim who reported at the Obantoko divisional headquarters that her father committed the crime on December 30.
The victim narrated that she was working as an apprentice tailor, and that her father visited the place on the fateful day and asked her mistress to permit her to fetch some water for him at home.
According to the police, the teenager said after she had finished fetching the water, her father, however, "suddenly grabbed her and forcefully had carnal knowledge of her."
The Ogun State Police spokesperson, DSP Abimbola Oyeyemi, said the Commissioner of Police, Edward Ajogun, had ordered the immediate transfer of the case to the anti-human trafficking and child labour unit of the State Criminal Investigation and Intelligence Department for further investigation and prosecution.
He said, "On the strength of the report, the Divisional Police Officer of the Obantoko division, quickly detailed detectives to the man's house where he was promptly arrested. He initially denied the allegation but when he was confronted by the victim, he became dumbfounded.
The victim was quickly taken to Olukoya hospital for medical attention."
CRIME
Police
S**
News
AddThis
:
Original Author
:
SaharaReporters, New York
Disable advertisements
:
Tinubu Can Run For President in 2023, Southeasterners Have Not Shown Interest, Says Osoba
Bola Tinubu
A former governor of Ogun State, Olusegun Osoba, has said that the National Leader of the All Progressives Congress, Bola Tinubu, has the right to contest for president in 2023.
Osoba, a chieftain of the ruling APC stated this during a television programme monitored by SaharaReporters on Tuesday.
"Asiwaju Bola Tinubu as an individual has the right to put himself forward, we have not zeroed in on an individual. Zeroing in on any individual will destroy our efforts now but Asiwaju Bola Tinubu has a right to pursue his own agenda," he said.
He also revealed that the South-West must be in harmony and put its house in order to accomplish a great feat in the next presidential election.
Osoba went further to disclose that there is a gentleman's agreement in the APC that the South will produce Nigeria's president in 2023.
He, however, observed that despite that "there is so much noise from the East," nobody has communicated with him or other leaders of the party to indicate interest in running for president in 2023.
"As an elder in the party, nobody from the South-East has contacted or consulted me to lobby, to even say they are interested," Osoba stated.
Politics
News
AddThis
:
Original Author
:
SaharaReporters, New York
Disable advertisements
:
Nigerian Government Begins Talks With China Over COVID-19 Vaccines
Illustration
The Nigerian government has said it has begun discussions with the People's Republic of China on how to have access to COVID-19 vaccines for Nigeria.
The Minister of Foreign Affairs, Mr Geoffery Onyeama, stated this on Tuesday in Abuja while briefing newsmen shortly after a bilateral meeting with the Chinese Foreign Minister, Wang Yi.
Illustration
Yi is in Nigeria on a working visit.
Onyeama recalled that China was of immense assistance to Nigeria at the advent of the pandemic, noting that the donation of protective equipment greatly affected the nation in the fight against COVID-19.
The minister said that at this point when countries were discovering vaccines and China being one of them, Nigeria was engaging the country in the area of access to the vaccine.
"We have received a lot of support from China in the area of personal protective equipment that they were very quick to provide us with and of course, with the vaccine discoveries now.
"China is also one of those countries that have been able to discover vaccines for COVID-19, so we are also engaging with China to also help with regards to access to vaccines for our people," he said.
According to Onyeama, the relationship between both countries has dated 50 years, adding that both countries have many areas of cooperation to celebrate.
"We also realised that in 2021, we would be celebrating 50 years of diplomatic relations between Nigeria and the People's Republic of China," he said.
Giving insights into some of the deliberations during the closed-door meeting, Onyeama said that he and his counterpart looked at the trade relations between the two countries and areas that could be improved. He said that they also discussed health issues and global pandemics.
"In the area of fostering relations, both countries are now considering having a direct flight from Nigeria to China.
"We want to establish a direct air link with China. We hope that very soon, a Nigerian carrier would be carrying out scheduled flights to China in the not-too-distant future," he said.
PUBLIC HEALTH
News
AddThis
:
Original Author
:
SaharaReporters, New York
Disable advertisements
:
Read also Nigerian Newspapers Today and Nigeria News Today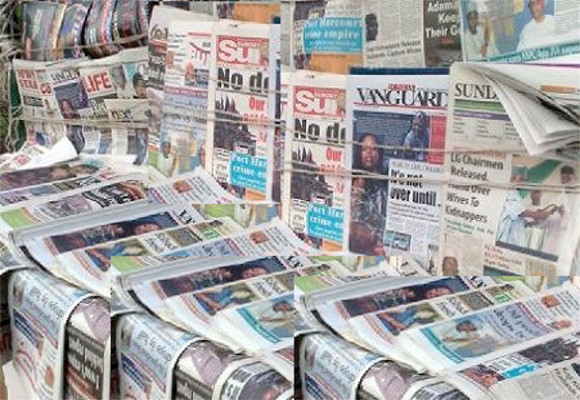 You can also check Sahara Reporters Newspaper Headlines Today