Thisday Newspaper News Today

Tuesday 1st December 2020

Top Nigeria news Dailies Update from Thisday Newspaper News Today 01/12/20

Read also The Nation Newspaper Today Headline Tuesday 1st December 2020
NHIS Flags off Group Health Insurance for Nigerians
By Onyebuchi Ezigbo The National Health Insurance Scheme (NHIS) has formally launched a new health insurance policy known as the group, individual and family social insurance package. Speaking during the launch of the insurance scheme in Abuja, the Executive Secretary of NHIS, Prof. Mohammed Sambo, said the move was in keeping with the determination of …
THISDAYLIVE.
Akwa Ibom REC: LG Elections in Nigeria are Organised Crimes
Says Nigerian media to start projecting election results The Resident Electoral Commissioner (REC) for Akwa Ibom State, Mr. Mike Igini, has described local government elections in Nigeria as nothing but organised crimes. Igini has also said with the deployment of the INEC results portal, the Nigerian media will soon start projecting election results like their …
THISDAYLIVE.


Niger Confirms Plan to Slash Workers' Salaries
By Laleye Dipo The Niger State Government on Thursday confirmed its decision to slash the salaries of all workers including that of all political appointees, the governor and his deputy, saying its action is unavoidable. THISDAY had reported a meeting between organised labour and officials of the government on Monday where the Accountant General of …
THISDAYLIVE.
17 Years After, Katsina Assembly Passes Child Protection Bill into Law
By Francis Sardauna Seventeen years after the presentation of the Child Right Protection Bill by the Katsina State Government to the state House Assembly and subsequent agitation for its passage by civil society organizations (CSOs), non-governmental organizations (NGOs) and human right activists, lawmakers in the Assembly finally passed the bill into law on Wednesday. The …
THISDAYLIVE.
Two Armed Robbers to Die by Hanging in Ekiti
By Victor Ogunje An Ekiti State High Court in Ado Ekiti, which is presided over Justice Lucas Ogundana, has sentenced two accused persons, Lanre Kayode, 34, and Olanrewaju Aremu, 35, to death by hanging for robbing a resident at gunpoint. In his verdict, Justice Ogundana said: "The law has prescribed mandatory punishment for the offence …
THISDAYLIVE.
Female Lawmakers Seek Executive Bill on 35% Affirmative Action
By Udora Orizu Female lawmakers in the Senate and House of Representative have called on President Muhammadu Buhari to forward an Executive Bill to the two chambers of the National Assembly on 35 percent affirmative action for women in government. The lawmakers who expressed their views, during a workshop for national and state assemblies women …
THISDAYLIVE.
Police Confirm Bandits' Attack on Sokoto Community
By Onuminya Innocent The Sokoto State Police Command last night confirmed an attack and killing of one person by gunmen who burnt down Deyeji village in Gudu Local Government Area of the state. The state Police Police Public Relations Officer (PPRO) Assistant Superintendent of police (ASP) Muhammad Sadiq told THISDA,Y that the gunmen invaded Deyeji …
THISDAYLIVE.


EndSARS: PDP Backs UK Parliament's Threat of Sanctions
By Chuks Okocha The Peoples Democratic Party (PDP) yesterday applauded the resolution by the British Parliament to impose travel restriction and visa ban to officials of the President Muhammadu Buhari-led All Progressives Congress (APC) administration involved in the violation of human rights, including the shooting and killing of unarmed and peaceful protesters in Nigeria. The …
THISDAYLIVE.
Attempted Murder: Osun Students Granted Bail
Five secondary school pupils in Osun State arrested and arraigned by the police last week have been granted bail by an Osogbo Magistrates' Court. The students, Abdulateef Surajudeen, 18, Musibau Quadri, 20, Tunde Sikiru, 20, Azeez Ibrahim, 18, and Jelili Adegoke, 16, were arraigned for conspiracy, attempted murder, belonging to an unlawful society, and malicious …
THISDAYLIVE.
I'm Proud of You, Buhari Tells Chief of Staff, Gambari
By Omololu Ogunmade President Muhammadu Buhari last night said he is proud of his Chief of Staff, Prof. Ibrahim Gambari, describing him as "a remarkable public servant who has put his vast experience and knowledge to the service of the world." According to a statement by presidential spokesman, Malam Garba Shehu, on the occasion of …
THISDAYLIVE.
Read also Nigerian Newspapers Today and Nigeria News Today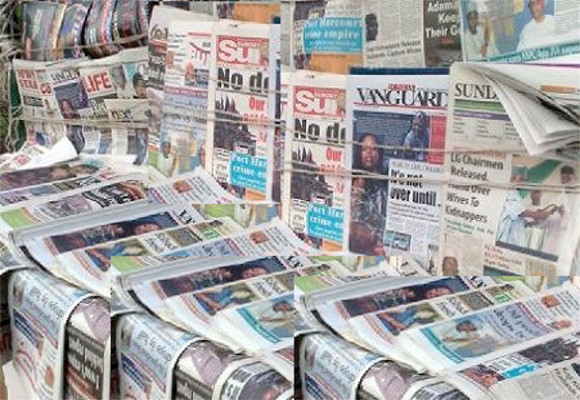 You can also check Thisday Newspaper News Today