Sports News Today Headlines

Sunday 29th November 2020

Top Sports News Today Headlinese from Newspapers

Read also Punch Newspaper Headlines Today Sunday 29th November 2020
BOXING: Blockbuster Mike Tyson, Roy Jones Jr bout ends in draw
Ahead of Saturday's exhibition fight between boxing legends Mike Tyson and Roy Jones Jr., it was impossible to predict what would happen in the ring. At a combined 105 years of age and with uncertainty over the rules ahead of the event, an already unpredictable situation felt even harder to figure out. But once theRead More
Vanguard News.
Delayed Tokyo Olympics to cost additional $1.9bn — Report
The coronavirus-delayed Tokyo Olympics could cost $1.9 billion more than its original budget of $13 billion, a 15 percent increase, a report said Sunday. The Olympics organisers will formally decide the increased budget for the Games as early as mid-December after communicating with the Japanese government and the host city Tokyo, the Yomiuri Shimbun reported,Read More
Vanguard News.


Maradona and Nigeria
By Desmond Ekwueme Nigeria is 60…and Diego Armando Maradona who just passed on a couple of days ago was 60. Maradona was born on October 30, 1960….same month and year Nigeria gained her independence from colonial rule. Nigeria got her independence on October 1st, 1960. Maradona featured against Nigeria at USA 94 World Cup. HeRead More
Vanguard News.
Outrage as Edo 2020 postponement hits athletes, coaches hard
By Ben Efe Nigerian athletes and coaches have been pouring out their hearts after the Presidential Task Force on Covid-19 and the Sports Ministry threw spanner in the works of the National Sports Festival. "Edo 2020" was postponed for the second time last week with just a few days to the start of the festivalRead More
Vanguard News.
Maradona's death may trigger family inheritance battle
Diego Maradona's tormented private life, with its tangled relationships and paternity suits, suggests distributing his inheritance will be a complex task for lawyers bracing for claims from a slew of children — those he recognized and those he didn't. "There's going to be a big fight. He didn't leave a will," according to a sourceRead More
Vanguard News.
Ex-Nigeria internationals Semitoje, Bazuaye, Okosieme, Ebiogbe mourn Maradona
Ex- Nigeria internationals Isaac Semitoje, Baldwin Bazuaye, Ndubuisi Okosieme, Sunday Ebiogbe and others have described the death of the world football icon Diego Armando Maradona, as a big blow to World football Family. Reacting to the news of his demise, Denmark based former Super Eagles star Isaac Semitoje, said the world football fraternity has lostRead More
Vanguard News.
Budweiser celebrates new football season with promo
By Nkiru Nnorom Budweiser Lager Beer, the official sponsor of the English Premier League and the Spanish La Liga, has launched a promo, "Budweiser Smooth Kick-off Promo" to celebrate the new football season. The under the crown promo invites consumers to send the code under the crown cork to stand a chance to win attractiveRead More
Vanguard News.


Diego Maradona: One of the greatest footballers ever
There are few players who have commanded such a God-like status as Maradona, a footballer who has transcended eras and remains amongst the most celebrated icons the sport has seen. The Argentine was the inspiration behind his nation's World Cup triumph in 1986 and produced arguably the finest individual performances the tournament has seen, withRead More
Vanguard News.
Maradona: The gift of the gods!
By Dr Segun Odegbami, Football is, probably, the most powerful and most followed human activity on earth. For many of its adherents to jointly conclude that one person is, probably, the greatest football player of all time cannot be considered flimsy or a mean feat, or taken lightly. It is not surprising, therefore, that theRead More
Vanguard News.
Redemption time for Inter Milan against Sassuolo
The action continues this weekend as the 2020-21 Serie A season enters Round 9. The ultimate destination for lovers of 'The Beautiful Game'is Supersport as all the matches will be broadcast live. Inter Milan succumbed to Real Madrid 0-2 last Thursday in the Champions League. Today's fixture against Sassuolo in Seria A, could just offerRead More
Vanguard News.
Man United vs PSG: Neymar issues warning to Mbappe, others
Paris Saint-Germain forward, Neymar, has warned his teammates, including fellow strike partner, Kylian Mbappe that they must improve ahead of their UEFA Champions League clash with Manchester United on Wednesday. Neymar gave the warning following PSG's 2-2 draw with Bordeaux in the French Ligue 1 encounter on Saturday. Goals from Neymar and Moise Kean ensured …
Man United vs PSG: Neymar issues warning to Mbappe, others
EPL: Mourinho reveals Tottenham's game plan against Chelsea
Tottenham Hotspur manager, Jose Mourinho has revealed Spurs' game plan against Chelsea ahead of both side's Premier League clash on Sunday evening. Mourinho said his team would go to Stamford Bridge with the desire to win the match against Chelsea, adding that they would try to score more goals than Frank Lampard's men. Mourinho's men …
EPL: Mourinho reveals Tottenham's game plan against Chelsea
Arsenal vs Wolves: Gunners players to miss EPL clash revealed
Arsenal coach, Mikel Arteta will be without three key players when they take on Wolves in the Premier League on Sunday night at the Emirates Stadium due to injury, suspension and positive COVID-19 test result. The players are Sead Kolasinac, Thomas Partey and Nicolas Pepe. Arsenal disclosed this in a statement via its official website …
Arsenal vs Wolves: Gunners players to miss EPL clash revealed
Arsenal vs Wolves: Gunners ready to sell Nicolas Pepe
Arsenal are ready to sell Nicolas Pepe, after he failed to impress at the Emirates, the Daily Star reports. The 25-year-old put in a fine display against Molde in the Europa League on Thursday, making amends for his sending off against Leeds last weekend. But Pepe is still to deliver on the promise he showed …
Arsenal vs Wolves: Gunners ready to sell Nicolas Pepe
EPL: Berbatov predicts Southampton vs Man Utd, Chelsea vs Tottenham, Arsenal vs Wolves
Former Manchester United striker, Dimitar Berbatov, has predicted some of the Premier League fixtures that will be played on Sunday. Southampton host United, before the clash of the weekend between Chelsea and Tottenham Hotspur at Stamford Bridge. Arsenal will also welcome Wolverhampton Wanderers looking to win maximum points and climb up the table. On Southampton …
EPL: Berbatov predicts Southampton vs Man Utd, Chelsea vs Tottenham, Arsenal vs Wolves
EPL: Michael Owen predicts Arsenal vs Wolves, Chelsea vs Tottenham, Southampton vs Man Utd
A former Real Madrid and Liverpool player, Michael Owen, has predicted that Chelsea will secure a win against Tottenham Hotspur in the Premier League on Sunday evening. Owen also backed Southampton to hold Manchester United to a draw in today's Premier League tie at St. Mary's. According to him, Arsenal will beat Wolves when both …
EPL: Michael Owen predicts Arsenal vs Wolves, Chelsea vs Tottenham, Southampton vs Man Utd
LaLiga: Zidane reacts as Real Madrid lose 2-1 to Alaves
Real Madrid manager, Zinedine Zidane, has said he has "no explanation" for their inconsistent form, after they lost 2-1 at home to Alaves on Saturday. The defeat makes it three games without a win in LaLiga. Lucas Perez scored an early penalty, before Joselu doubled Alaves' advantage in the second half. Casemiro grabbed a late …
LaLiga: Zidane reacts as Real Madrid lose 2-1 to Alaves
Benevento vs Juventus: Pirlo defends dropping Ronaldo after 1-1 draw
Juventus manager, Andrea Pirlo, has defended his decision to rest Cristiano Ronaldo after they were held to a 1-1 draw at Benevento on Saturday. Alvaro Morata gave the Serie A champions the lead in the 21st minute, but the home side levelled in first-half stoppage time through Gaetano Letizia. Juve failed to find a winner …
Benevento vs Juventus: Pirlo defends dropping Ronaldo after 1-1 draw
Chelsea vs Tottenham: Ian Wright predicts EPL clash at Stamford Bridge
Former England and Arsenal striker, Ian Wright, believes Chelsea and Tottenham will share points when both London clubs clash on Sunday. Frank Lampard's in-form Blues host Spurs, in search of a fourth league victory in a row. But Jose Mourinho's men are also on an impressive run of their own, with four consecutive league wins …
Chelsea vs Tottenham: Ian Wright predicts EPL clash at Stamford Bridge
EPL table: Liverpool still on top despite 1-1 draw with Brighton
Liverpool has gone top of the Premier League table despite a 1-1 draw with Brighton on Saturday. The champions were seeking a win to open a considerable gap ahead of Tottenham Hotspur and Chelsea but were level with one point after a late penalty. Neal Maupay missed a penalty in the first half for the …
EPL table: Liverpool still on top despite 1-1 draw with Brighton
Read also Nigerian Newspapers Today and Nigeria News Today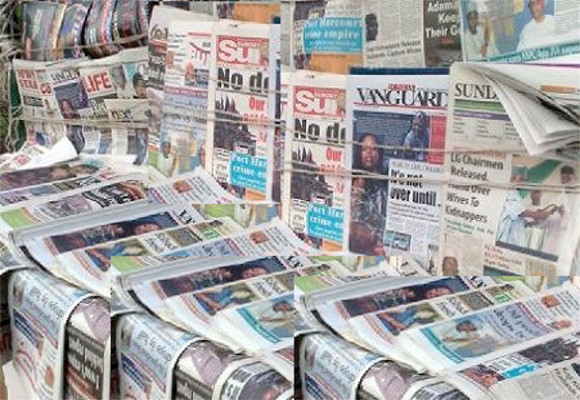 You can also check Sports News Today Headlines