Sahara Reporters Latest News Today

Sunday 29th November 2020

Sahara Reporters Latest News Today and headlines on some of the happenings and news trend in the Country, today 29/11/20

Read also nigeria newspapers Sunday 29th November 2020
Nigerian Soldiers Assault, Arrest Voice Of America Journalist For Interviewing Residents Of Oyigbo In Rivers State
File Photo
Grace Abdu, a journalist with Voice Of America, was on Saturday assaulted and arrested by Nigerian soldiers for 'interviewing residents of Oyigbo in Rivers State'.
SaharaReporters gathered that Abdu was illegally detained by the soldiers for several hours.
File Photo
"She went there around 11, so around 12pm, the soldiers saw her and arrested her. They also seized her equipment. She was kept at the Army Post in Oyigbo for several hours before they released her this evening," a source told SaharaReporters.
Recall that army operatives were deployed to Oyigbo amid the violence that broke out in the town after some alleged Biafran agitators clashed with security agents.
The soldiers have, however, been accused of extra-judicial killings and abuse of human rights.
The security agents are allegedly moving from house to house killing people.
Also Amnesty International said it received reports that soldiers were invading homes and that "some residents reported seeing dead bodies on the street," allegedly shot by soldiers, but the army denied this allegation.
"Amnesty International is receiving disturbing information from Oyigbo, Rivers State.
"Despite the existing curfew, soldiers are allegedly invading homes. Some residents reported seeing dead bodies on the street, allegedly shot by soldiers.

"We are calling on the military authorities to exercise restraint and stop the killings," the organisation tweeted.
Journalism
Military
News
AddThis
:
Original Author
:
Saharareporters, New York
Disable advertisements
:
South-South, Ndokwa/Ukwani Land: Looking Inwards By Evans Ufeli Esq
As a follow up to my last advocacy on the marginalisation and exploration of the resources of Ndokwa/Ukwani land, I wish to complete same today for the records. In as much as the Federal Government cannot be completely insulated for being the remote cause of the underdevelopment of the South-South in general and Ndokwa/Ukwani land in particular, it is time to look inward.
The Niger Delta Development Commission is a Federal Government agency established by former Nigerian President, Olusegun Obasanjo, in the year 2000 with the sole mandate of developing the oil-rich Niger Delta region. In September 2008, late President Umaru Yar'Adua announced the formation of a Niger Delta Ministry, with the Niger Delta Development Commission to become a parastatal under the ministry.
One of the core mandates of the commission is to train and educate the youths of the oil rich Niger Delta regions to curb hostilities and militancy, while developing key infrastructure to promote diversification and productivity. While this was a commendable idea the South-South leaders, the commission and the ministry have failed to manage the affairs of their states even with huge resources at their disposal.
In Delta State, the Board of Delta State Oil Producing Areas Development Commission (DESOPADEC) was set up in July, 2007 to execute a clear and critical mandate; to rehabilitate, rejuvenate and resuscitate the peoples and communities of the oil producing areas of Delta State. This mandate is stated unequivocally in Section 13 (i) of the enabling law which set up DESOPADEC and states that the commission shall "receive and administer exclusively the fifty percent (50%) of the thirteen percent (13%) Oil Derivation Fund accruing to the Delta State Government for:
(a) The rehabilitation and development of oil-producing areas in the state, and
(b) Other development projects as may be determined from time to time by the commission.
The law establishing the commission in Section 14 empowers it to:
(i) Manage and supervise the affairs of the commission;
(ii) Enter into contract as may be necessary or expedient for the discharge of its functions and ensure the efficient performance of the functions of the commission in accordance with government financial regulations;
(iii) Establish and maintain such number of departments as it may deem fit for the effective discharge of its functions;
(iv) Pay the staff of the commission such remunerations and allowances as appropriate;
((vi) Do other such things as are necessary and expedient for the efficient performance of the functions of the commission.
Dear Governor Ifeanyi Okowa, as we speak, these laws are observed in breach as the commission is failing in her responsibilities to develop their immediate communities as their primary function.
The new DESOPADEC law signed by Okowa seeks to restructure the management of the commission for better results.
Under the amendment, the role of part-time commissioners representing the various ethnic nationalities is to propose projects and ensure their execution.
Recall that in the commission's budget for 2013 and 2014 were N37 billion and N39 billion naira, respectively. Statistics show that if N30 billion went to DESOPADEC annually for the development of oil bearing communities; it means that in 13 years, at least N390 billion naira may have passed through the commission since inception.
Despite all these funds, the people of Delta State and Ndokwa/Ukwani land in particular still live under high tension poverty whilst those in the helm of affairs live in outlandish opulence. Their water is polluted,
land degraded and sources of livelihood ruptured
I will therefore advocate that the Delta State Government and her leaders in Ndokwa/Ukwani land must turn a new leaf and focus on the people. Let the people's resources get to them. Enough is enough! The security and welfare of the people is the primary purpose of government. This is still the law.
I shall go to Rabbi again.
Evans Ufeli Esq is a Lagos-based legal practitioner and Executive Director, Cadrell Advocacy
Opinion
AddThis
:
Original Author
:
Evans Ufeli
Disable advertisements
:


Wife Of Ondo Governor's Chief Of Staff, Four Others Released After Abduction
The wife of Olugbenga Ale, Chief of Staff to Ondo State governor, Rotimi Akeredolu, who was abducted by gunmen, has been freed.
She was abducted on Thursday while travelling on the Owena axis of the state along with other occupants in her vehicle.
See Also
Breaking News
BREAKING: Kidnappers Abduct Wife Of Ondo Governor's Chief Of Staff
0 Comments
1 Day Ago
SaharaReporters gathered that the woman, Mrs Olubunmi Ale, was released on Saturday morning by her abductors after ransom money was allgedly paid.
One of the aides to the Chief of Staff confirmed her release.
He said, "She was released overnight at Alade/Atosi axis after several calls including and midnight negotiations between the Chief of Staff and kidnappers.
"The hoodlums were so blunt and determined and were able to release her after they confirmed payment of ransom.
"It was a huge fund that we gave them and those who kidnapped the woman were so young and purely Fulani people who had stayed long in the bush."
Adetunji Adeleye, Commander of Amotekun Corps in Ondo, also confirmed the release of Mrs Ale.
Adeleye added that four other kidnap victims were also freed through security efforts.
He explained that the victims were abducted on the same day that the traditional ruler of Ifon, Oba Isreal Adewusi, was killed by kidnappers at the Elegbeka area of the state.
Tee-Leo Ikoro, spokesman for Ondo State Police Command, also confirmed the release and explained that the woman had been reunited with her husband.
Insecurity
News
AddThis
:
Original Author
:
Saharareporters, New York
Disable advertisements
:
Muhammadu Buhari's Nigerian Presidency And His Niger Republic Development Agenda By Dr Bolaji O. Akinyemi
The author, Dr Bolaji O. Akinyemi
The scrapping of History as a subject from our school curriculum is a deliberate ploy by the OLIGARCHY to keep us in the dark concerning their dealings against the rest of the country.
Unofficial historical records claim that Muhammadu Buhari's father was a poultry farmer from Niger Republic who came to settle in Northern Nigeria and eventually married a Kanuri Muslim from today's Borno State. Muhammadu is therefore the 1st generation Nigeria citizen from the Buhari lineage. What a privilege for him to have become the president of the Federal Republic of Nigeria within a generation! A parallel of some sort between Buhari and Obama! Though Obama visited Kenya a couple of times as the sitting president of the United States of America, that was at his personal cost . We are talking about a federation where things work; a place where the president is a tenant in the White House and must pay his rent; a facility where his wife as the first lady is the CEO of their official residence, while their constitutional occupation lasts. But our own Nigerian federation spends more money on cutlery for the Villa in a year than we do on any of our federal universities in a year. Our own presidents are a burden to the Villa, adding no value to its maintenance.
The sojourn of young athletic Muhammadu in Nigeria was dotted with favour. In the past joining the military was not fashionable among young men, let alone women. Majority of Southern Nigerian youths were more attracted to the academia, the civil service and the corporate sector. So, young immigrants in the North from Chad, Niger, Sudan and Cameroon had practically no competition from their Southern counterparts.
The author, Dr Bolaji O. Akinyemi
Muhammadu Buhari, thus had a rewarding career in the army. He became the governor of the old North Eastern state at age 33 in 1975. This is the average age of some peaceful protesters on whom the army turned the gun at Lekki Toll Gate recently and recorded painful and embarrassing massacre of the 21st century. Buhari went on to become the Federal Commissioner of Petroleum Resources in 1976 at the age of 34 and within a spate of one year, young Muhammadu has seen it all as governor and a Federal commissioner of Petroleum Resources.
Forty-four years down the line, the youth of that age lined up the streets to protest police brutality tagged: #EndSARS as well as bad administration.
Buhari's emergence as head of state was dramatic. Himself and his gang in kakhi aborted our Second Republic and sent to jail politicians of the Southern descent under spurious allegations, while their Northern counterparts found solace in the comfort of their homes where they were under house arrest for the same nature of offences for which most of the Southern politicians eventually died in jail due to the harsh and inhumane conditions of our prisons.
His reign was an allegory seen but hardly heard of. His 2 in C, Major General Tunde Idiagbon held the show and ran it. Little wonder that the young man Sabiu "Tunde" Yusuf from Daura who is serving as his personal assistant and private secretary had the name Tunde added to his name. This second Tunde is so relevant and influential in the running of Muhammadu Buhari's government that the mighty and powerful defer to him, while the arrogant sojourners in the corridors of power kowtow him. But this is another story for another day.
Muhammadu Buhari and Tunde Idiagbon had one thing in common. They were pious Muslims with a leaning on fundamentalism. With Islamic jurisprudence guided decrees drafted and promulgated under them as head of state and Chief of Staff Supreme Military Headquarters respectively, they were indeed supreme in power. They were so rigid with the implementation of draconian decrees till the liberals in the army who were also Muslims saw the need to step in and allay the fears of Christians in the country who were already feeling uncomfortable. The distrust of the Muslim North in Babangida who overthrew a trusted ambassador of Islam led to Babagida's decisions to haul Nigeria into the (Organisation of Islamic Countries (OIC) to regain the confidence of the North.
Buhari's eventual release was an eye opener to him. The challenges of the poor masses of his community, who run to him on daily basis for assistance was a burden for which he sought power to be able to help them. Buhari's integrity in this regard is a top notch. He never hid this fact.
He often said: "I am seeking a democratic power to help my people."
He made successive attempts to make good his promise to gain power and better the lot of his people.
After recording serial failures, he finally retired to fate but not without recording a consistent 11 million voters who wanted him to be their democratically elected president, majority of whom are Northern Muslims. Staring the nation in the face was his alleged cronyism, nepotism and bigotry. It was so bad that his Christian cook who is an Igbo man became a campaign model, as if cooks are critical stakeholders of executive decisions. Nigerians now know better.
Thus in 2014 when Bola Ahmed Tinubu was looking for a way to oust PDP, a Northern candidate was relied upon to do the magic, projecting to take over from such a person. The 11 million electoral value of Muhammadu Buhari fanned his political greed which is today his albatross.
Where the heart of a man is, there will his treasure be invested. If Buhari were a musician he would have sung the song of Maradi as Peter Torch did of Jamaica.
If told that Buhari's umbilical cord was possibly buried in Maradi, many will not doubt it. His preference for Niger to Nigeria first became an open threat to every concerned Nigerian in Kano when two governors from the Niger Republic graced his presidential campaign. Buhari of course won the 2019 election. Since then all roads and rails lead to Maradi, Niger Republic.
The rail construction to Niger was an executive fiat. It must be finished and commissioned by 2021, the same year the MOU for fuel importation from Niger into Nigeria will take effect. I guess your mind is as good as mine. Buhari is not clueless as most people believe. Adding the rail construction to the fuel importation deal signed with the Nigerian Government would tell you why the rail was extended to Niger in the first place.
Unfortunately, ours is a country where citizens are too busy ekking out a living. We have no time for the Government. Those who dare bother about happenings in government and have taken it upon themselves to keep people in government on their toes are labelled idle, lazy and even failures. But we must keep asking questions till answers are provided.
We have four refineries with a combined refining capacity of 450,000 barrels per day that are abandoned to rot away.
Niger Republic is a small landlocked country without access to any body of water. Though maritime transportation could aid easy movement of products, can you figure out the need for Amaechi's railway design to Niger? (81b) where a refinery will "grow overnight" with a REFINING CAPACITY of just 20,000 barrels per day. Don't you think we need to ask how much was the cost of this miracle refinery that became our saving grace the same year that N81 billion was spent on ours without any head way? Yet, we abandoned our own and went to embrace Niger Republic. These useful idiots are unacceptable in the 21st century communication lexicon. But our country seems to me like a nation of idiots. For how else should people who don't ask questions and for whom anything goes, be described. Sadly so. An honourable minister had asked us to rejoice that our crude oil would finally be refined in Niger and the finished product would now be returned to us through the pipeline and railways options. Why shouldn't our Muslims say Allah Akbar! And the Christians say, praise the Lord!
Only a "god" whose dwelling place is in the desert can make a man in this 21st century sign an MoU of $2b to transport crude oil from his own country via pipelines to another to go and refine. Such "wisdom" must be pre medieval, the type that saw the Hausa surrender their land and thrones to the Fulani centuries ago; the same scenario that shifted the Yoruba out of their inheritance in Ilorin to give Fulani an edge; while we must submit to modernisation and allow indigenous Fulani the benefit of it. Wouldn't we ask questions about what would become of us when a loan taken in the name of Nigeria but used to develop facilities in another sovereign state can't be paid back? China may end up taking over facilities in Nigeria with no consequences to the Niger Republic.
There is what the Yoruba call "hot love," the kind that abandons itself while festering the nest of others. This must be the love at work. If it is not, just maybe it's one for the place of one's nativity. I still can't fathom how we opt to transport our crude oil to Niger Republic at an outrageous cost to us and buy back the refined product at additional cost.
We have the resources to run pipelines from Niger Delta to supply crude oil to Niger Republic, but we "lack" the expertise to maintain our existing refineries which Nigeriens must have in abundance, for our lack can't be resources. Yet, we say, we elected a government of the Federal Republic of Nigeria.
Daura today is the most developed village in Africa with the status of a modern city. The man, who, 47 years ago, scuttled the hope of Lagos in joining the league of metropolitan cities with a metro line has elevated his village with less than the population of any ward in Lagos to a city, with assistance from former governors from the southern part of Nigeria – Babatunde Raji Fashola of Lagos, Rotimi Amaechi of Rivers and Timipre Sylvia of Balyesa. A money miss road government errand runners from the South East was not left out. He completed a state of the art library for a community whose youths are roaming streets across the country.
Shouldn't we ask questions? Won't professors of History and International Relations who don't want to offend our politicians at least teach us what we need to know about how Niger discovered oil and joined the league of oil producing countries?
Our loss to Maina alone is said to be around N40 billion, but someone (Ndume) from the North stood surety for him with a property in Asokoro, worth possibly a hundred million naira but allegedly valued for 500 million to tally with the terms of surety. Ndume is being remanded in a correctional centre till the N500 million is provided or the house will be sold to cover the money. So what becomes of Maina and our remaining 39.5 billion?
Where is Maina? Is his ancestral root also from Niger Republic? Could he be hidden among the Sahels and Tuareg who are partners in the agenda to develop Niger Republic at the expense of Nigeria? An adage in Yoruba says, "he that asks questions doesn't get lost." If applied, he who is lost and asks questions will surely find his way home. Nigeria is lost to Niger. There are many questions we must ask our leaders so that we can start finding our ways back to Nigeria.
Opinion
AddThis
:
Original Author
:
Dr Bolaji O. Akinyemi
Disable advertisements
:
Six Killed In Lagos-Ibadan Expressway Accident
Six persons on Saturday died in an accident, which involved a truck and a Honda Pilot Sports Utility Vehicle in the Ogere area of Lagos-Ibadan highway.
Sector Commander, Federal Road Safety Corps in Ogun State, Ahmed Umar, confirmed that the incident happened around 7:00am.
According to him, the road crash was caused by speeding and loss of control on the part of the SUV driver.
He stated that the driver of the Honda Pilot marked LSR 525 FY, was on "lost control of the vehicle and subsequently rammed into the moving truck with registration number KRV 716 ZV".
Umar added that an injured passenger was taken to Idera Hospital, Ogere, for treatment while the deceased were deposited at FOS morgue in Ipara.
Accident
News
AddThis
:
Original Author
:
Saharareporters, New York
Disable advertisements
:
Suspected Herdsmen Kill Pastor In Ekiti
Gunmen suspected to be herdsmen on Friday killed a cleric, Reverend Johnson Oladimeji, along Igbara-Odo/Ikere-Ekiti Road.
The incident occurred around 5pm beside the Bamidele Olumilua University of Education, Science and Technology in the Ikere Ekiti, Ekiti State.
It was learnt that the gunmen, who were hiding in the bush along the highway, attacked Oladimeji's vehicle and shot severally at it in an attempt to stop him from fleeing.
Reports had it that the pastor was hit by some of the bullets shotd at the vehicle.
President of Ekiti Baptist Church, Adeyinka Aribasoye, confirmed the incident.
Aribasoye said the deceased was killed while returning from Ipetu-Ijesha in Osun State.
News
AddThis
:
Original Author
:
Saharareporters, New York
Disable advertisements
:
E2%80%99s-killers-captured-him-toilet-after-heavy-gunshots-%E2%80%93son-murdered-nasarawa How My Father's Killers Captured Him In Toilet After Heavy Gunshots –Son Of Murdered Nasarawa APC Chair
Shekwo's son, Samuel and •Shekwo's widow, Larai
With tears streaming down his cheeks, 20 years old Samuel Shekwo, son of the assassinated All Progressives Congress Chairman in Nasarawa State, could not fathom why unknown gunmen would cut short his joy by killing his father.
The late Philip Shekwo was abducted by some gunmen last Saturday at his Lafia residence opposite Peace House on Kurikyo Road, Bukan Sidi in Lafia before his body was found the next day a few metres away from his house.
Shekwo's son, Samuel and •Shekwo's widow, Larai
TheNation Newspaper
See Also
Insecurity
Bandits Kill Abducted Nasarawa APC Chairman
0 Comments
6 Days Ago
According to The Nation, Samuel recalled that the late politician was captured by his killers in the toilet after searching extensively for him in the house.
He said, "On Saturday night, we were all at home. My father went to play golf and came back in around 8 pm, and I went to the parlour to greet him. He had just finished eating and was telling us how the game went when I went into my room and left him in the parlour with others as they were watching the news on television.
"A few minutes before 10 pm, one of my course mates at Nasarawa State University called me and we were discussing the whole strike issue. Then from nowhere, I started hearing gunshots all over the house.
"I dropped my phone without even ending the call and rushed out of my room. I went into my parents' room first to see whether they were fine, and I saw my father coming out from his room. I started switching off the lights because I noticed that we were under attack, so that they (attackers) would not be able to see through the house.
"They surrounded the entire house and were shooting from different directions. While four of them were trying to gain entry into the house through the front door, another four were at the backdoor trying to gain access into the house.
"I was also making contacts to see if help could come. I called a friend, Mr Dominic Bako's son, who is actually a close friend to my father and I am friends with his son too. So, I called him and he told his father that we were under attack. When I called him the second time, I could hear his father making contacts, saying that the Chairman was under attack.
"Throughout this period, my father was in his bedroom. But when I noticed that the pressure was much, I thought that they were armed robbers. So I went back to my room and started picking certain valid items and documents to hide. I also took my car key and laptop and hid them.
"Later on when I started hearing their voice, I locked my door and lay down together with my cousin sisters and we were just praying. Later on, I heard two gunshots in the direction of my parents' room. I thought they had gained access into my parents' room and I started crying and praying.
"That was when I started hearing voices inside the house. I also noticed that one of them was opening the back door, and I started hearing more voices inside the house. I couldn't come out at that time because I had locked my door already.
"They were searching round the house but they could not find my father, so they went out through the back door and were lamenting. They appeared frustrated that they could not find my father. That was when they got our security guard who normally sits at the back of the house before moving to the security post at the gate.
"When they got the security guard, they started beating him. We were hearing them from the room as they were asking him where is Oga. He told them that Oga had travelled but they said it is a lie, that Oga was around. They were actually beating him with their machetes because even from the sound, we could hear it.
"Later on, they asked what about the children. We heard he has a son. They were speaking in Hausa. From their ascent, you would know that they were Fulani, and they were not covering their faces. When they came to my room and noticed that it was luocked, they pushed the door and forced their way in. They saw us lying down together with my cousin sisters, because my blood sisters were not around.
"They now asked us to stand up. They asked the security guard, 'Is this Oga's son?' He reluctantly nodded his head in the affirmative. Their leader now held me by my shirt and dragged me up. The other one now said since they couldn't find my father, they should just go with me.
"They asked me to stand up and follow them; that my father must give them the money he was enjoying from the government. As they were about going out with me, one of them with a gun noticed that one of the rooms was locked, so their attention shifted to the place. They now detailed one of them to keep an eye on me and the security guard, that if I moved, he should shoot.
"They broke the door and entered but they did not see anybody. On their way out of the room, they decided to check the toilet and noticed that it was locked. That was when they forced their way into the toilet. There they saw him and my mum. Even when they had broken the toilet door, they still were not able to enter because my father was pushing from the back and they could not push their way in. Their leader now said since the door was not opening, they should shoot. One of them was about to shoot when my father released the toilet's door and they got him.
"One thing that baffles me is that they did not manhandle him. They were not even sure if he was the one. They were calling him Moses. They assured us that they were not going to harm him; that it was just money they wanted. He was pleading with them, begging them. My mum too was begging and pleading with them, but they said there was no need begging, it was just money they wanted.
"They left with him and we were at home throughout that night, praying and hoping that they were going to call since they said it was money they wanted, only for us to get the sad news on Sunday afternoon that they had found his body."
News
AddThis
:
Original Author
:
Saharareporters, New York
Disable advertisements
:


Calling Vote Unfair Doesn't Make It So, US Court Tells Trump
A federal appeals court on Friday flatly dismissed President Donald Trump's claim that the election was unfair and refused to freeze Joe Biden's win in the key state of Pennsylvania.
According to AFP, three appeal court judges unanimously said that allegations of unfairness were not supported by evidence in a scathing review of the Trump campaign's arguments that the President was cheated in his November 3 re-election bid.
"Charges of unfairness are serious. But calling an election unfair does not make it so," the court said.
In appealing a lower court ruling, the Trump campaign claimed discrimination, the judges noted.
"But its alchemy cannot transmute lead into gold," the court said.
It was the latest in more than two dozen court defeats around the country for the Trump campaign and Republicans, who have alleged fraud and other misconduct contributed to the President's loss.
Trump persists in arguing that Biden's clear victory is invalid.
"Just so you understand, this election was a fraud," he told reporters on Thursday.
Last week, a Pennsylvania State court rejected arguments by Trump's personal lawyer, Rudy Giuliani, that the millions of votes in the state should be thrown out due to fraud.
The judge in that case, however, embarrassed Giuliani by forcing him to admit that none of his precise claims before the court involved fraud or anything more than technical issues in overseeing the vote count.
United States of America
News
AddThis
:
Original Author
:
Saharareporters, New York
Disable advertisements
:
Man Petitions Lagos Panel, Says Police Inserted Hot Iron Into His Private Part, Damaged His Ear Drum
Lagos Judicial Panel
One Omeli Humphery Darlington has submitted a petition to the Lagos State Judicial Panel of Inquiry against the Nigeria Police Force on how he was brutalised and assaulted in 2013.
Darlington explained to the panel how he was wrongly accused by his company, First Bank of Nigeria, arrested and tortured for days.
Lagos Judicial Panel
SaharaReporters Media
He stated that his ear drum had been damaged as a result of the torture by the police officers.
He said, "This allegation was a crime I know nothing about as all evidences clearly points to those involved. But First Bank Of Nigeria Plc had to instigate the Nigeria Police Force to subject me to (11days) illegal detention with torture, without any form of fair hearing till date.
"At first, (25/09/2013), I was taken to the Lion Building Police Station where I was detained for three days.
"I was discharged on the third day 27/09/2013, but on my way home, some of the First Bank Head Office Security Operatives ( 1. a MOPOL, 2. a spy police, 3. Mr. Okon, 4. Mr. Abidemi) kidnapped me, blindfolded me, and beat me up with different objects within reach. The Mobile Police man with them kept hitting my head with the butt of his gun till blood started gushing out from both sides of my ears.
"They tried to kill me so that it would look like I got lost on my way home but God intervened by using other citizens to rescue me (witnesses).
"The people who rescued me insisted that I should be taken to a nearby police station which happened to be the Ikoyi Police Station on the Lagos Island.
"Everyone joined to Ikoyi station where the masses handed me over to the police with the hope that I was safe but when we got inside, these set of First Bank operatives instructed the police to torture me to admit to a crime I know nothing about.
"The Ikoyi police officers (INSP. Adeleye Bashiru and his boys) proceeded to torture me that night based on the report made by First Bank Security operatives that I was a fraudster and a criminal who defrauded the bank of N355m.
"The officers tortured me by using iron rods to beat me on my joints saying I should take them to where I kept the money.
"Iron was inserted into my private part until i could no longer bear the pains and fainted."
He stated that the torture continued in the cell for seven days before the police eventually charged him to court on false charges.
He said he was arraigned before Mrs A.T Omoyele of Tinubu Senior Magistrate Court (II), Lagos, on charges of stealing, conspiracy and forgery without presenting an evidence before the court.
"I could not perfect my bail and had to be remanded at the Ikoyi Prison all through the period till I finish disposing my properties just to meet my bail conditions.
"My ear drum was damaged along the line from beating by the police (doctor's report attached) and I kept going to court till (24/02/2014) when the case against me was finally struck out for lack of diligent prosecution.
"It will interest you to know that I won a N500,000 judgment against the police in the rnforcement of my fundamental human rights suit I filled against the police and First Bank after my release. Unfortunately, the police in keeping with their position to deal with me has blatantly refused to pay the judgement debt till date," he added.
Darlington prayed the judicial panel to order the police to pay the sum awarded to him and other compensation to enable him have proper medical treatment as his health condition had degenerated.
#EndSARS
Human Rights
Police
News
AddThis
:
Original Author
:
SaharaReporters, New York
Disable advertisements
:
Group Writes NCC, Demands FoI Request On Blocked #EndSARS Website
Paradigm Initiative Nigeria, a social enterprise that builds an ICT-enabled support system and advocates digital rights in Africa, has written a Freedom of Information request to the Nigerian Communications Commission demanding information on the alleged secret blocking of the domain names of #EndSARS related websites by the Nigerian Government.
On Thursday, website of popular women's right group, Feminist Coalition, and two others allegedly suffered a cyber attack and became inaccessible to Nigerians.
When accessed with a Nigerian mobile network, the websites cannot be reached but when a user uses a VPN, the sites become accessible.
PIN in a statement on Friday described the action as violation of constitutionally and globally guaranteed rights of freedom of expression and access to information.
The statement reads, "Websites related to the campaign have been inaccessible as reported by many citizens and from independent checks carried out by Paradigm Initiative. These attempts are an unacceptable violation of constitutionally and globally guaranteed rights of freedom of expression and access to information.
"In a similar development that occurred in October 2017, we monitored and challenged the Nigerian government's censorship directive through the Nigerian Communications Commission, an agency which is supposedly independent.
"The NCC must not continue to offer itself to be used by the Federal Government under any guise to intimidate citizens who engage in legitimate protests and exercise their digital rights by leveraging digital platforms for the protest."
The group's Senior Program Manager, Adeboye Adegoke, added, "Section 39 of the constitution of the Federal Republic of Nigeria expressly provides that every person shall be entitled to freedom of expression, including the freedom to hold opinions and to receive and impart ideas and information without interference. Article 19 of the Universal Declaration of Human Rights provides similarly that everyone shall have the right to freedom of expression.
"This right shall include freedom to seek, receive and impart information and ideas of all kinds, regardless of frontiers, either orally, in writing or in print, in the form of art, or through any other media of his choice."
Speaking also, 'Gbenga Sesan, Executive Director of PIN, said the group had sent a FoI request to the NCC to answer key questions such as who ordered the recent blocking of websites, the reason for the blocking, disruption, or restriction on the websites.
He said, "We want to know under which legal provision this is being carried out and if the NCC authorised the blocking, disruption, or restriction of these websites. We also need to know if the owners of the websites were informed that their websites will be blocked, and if they were given an opportunity for a fair hearing.
"Another question that must be answered is: Did the NCC act independently or was it acting on behalf of other government institutions? In a country with increasingly closed civic spaces and one that must do more work to protect freedom of expression and press freedom, a dangerous precedent could be set if the NCC continues to carry out the restriction of access to websites that are critical of the government or that support citizens' right to contribute to our democracy."
#EndSARS
News
AddThis
:
Original Author
:
SaharaReporters, New York
Disable advertisements
:
Read also Nigerian Newspapers Today and Nigeria News Today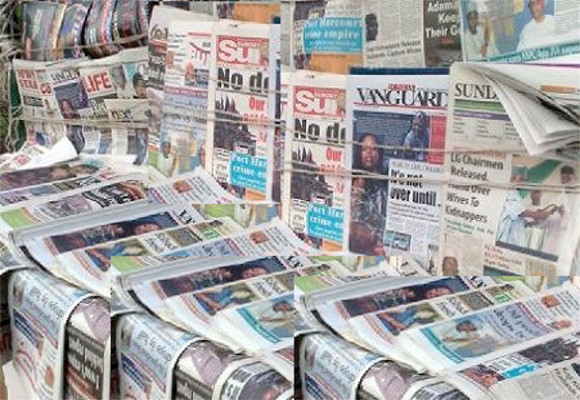 You can also check Sahara Reporters Newspaper Headlines Today