Vanguard Latest News

Sunday 22nd November 2020

Vanguard Latest News Today and headlines on some of the happenings and news trend in the Country, today 22/11/20

Read also The Nation Newspaper Today Headline Sunday 22nd November 2020
Nigeria's eyes turn to the UK as climate summit draws closer
Nigeria and the UK have had a troubled history. Nearly a hundred years of resource extraction and colonialism has left its mark on both our countries. Now, Nigeria and the UK are bound by the Commonwealth, an alliance which has been described as a "family" by British Prime Minister, Boris Johnson.
Vanguard News.
Army steps up military patrol of riverine areas in Delta
By Jimota Onoyume – Warri The Nigerian army has stepped up security patrol in riverine areas of Delta state ahead of the yuletide season. Commander 63 Brigade, Asaba, Delta state, Brigadier General Ibrahim Jallo disclosed this weekend in Warri while flagging off this year's Operation crocodile smile 6 ( Marine operations ). He further assuredRead More
Vanguard News.


FG orders trailers to vacate Ogere on Lagos-Ibadan expressway
The Minister of Works and Housing, Mr Babatunde Fashola, on Saturday directed trailers parking indiscriminately at Ogere section of the Lagos-Ibadan expressway to immediately vacate the area to give way for ongoing construction works. Fashola, who undertook an inspection of the road from Lagos, gave the directive during a town hall meeting with stakeholders atRead More
Vanguard News.
APC governors' visit to Jonathan shows Nigeria is better off with PDP- Ologbondiyan
By Dirisu Yakubu National Publicity Secretary of the Peoples Democratic Party, PDP, Kola Ologbondiyan, has said Saturday's visit by governors elected on the platform of the All Progressives Congress, APC, to former President Goodluck Jonathan has further affirmed that Nigeria, as a nation, is better under its government. The publicity scribe who stated this inRead More
Vanguard News.
As Ogun takes youth rights advocacy to the next level
The recently suspended #EndSARS protests came like a whirlwind and left manifold stories and lessons in their trail. The nation had advance warning for three years but dithered and slithered. Then came a video showing members of the now-disbanded Special Anti-Robbery Squad (SARS) at their bestial best against yet another citizen, and dissent kicked off across the country, and then around the world.
Vanguard News.
Okumagba's death, a great loss – Omo-Agege
By Henry Umoru DEPUTY President of the Senate, Senator Ovie Omo-Agege, All Progressives Congress, APC, Delta Central has described the death of the Chief Executive Officer and Managing Director of BGL PLC, Albert Okumagba as a great and colossal loss to the capital market industry, to the Urhobos, Delta State and Nigeria at large. Omo-Read More
Vanguard News.
Recession: Expunge non essential items from 2021 budget, Atiku counsels Buhari
Proposes 15 per cent tax on luxury goods By Dirisu Yakubu – Abuja Former Nigeria's Vice President, Atiku Abubakar has advised President Muhammadu Buhari to delist all non essential line items from the proposed 2021 budget as a means saving costs as the country enters another phase of recession. Atiku who gave the counsel inRead More
Vanguard News.


'How Jimi Agbaje, Oby Ezekwesili, Niyi Adebayo couldn't make presidential running mate'
***Says Tinubu proposed alliance with Buhari as far back as 2011 ***On presidency: My day will come like Joe Biden's By Dapo Akinrefon You have an intimate relationship with President Muhammadu Buhari… President Muhammadu Buhari's destiny and my destiny kissed on October 1, 1984. We had not met at the time. I had just beenRead More
Vanguard News.
T.A.Orji: The game-changer attains 70
A few months into his second term as governor of Abia State, Chief Theodore Ahamefule Orji, now Senator representing Abia Central Senatorial District, invited me to Umuahia, the state capital, for a private chat.
Vanguard News.
Fashola to contractors: Make Lagos-Ibadan Expressway motorable, safe
The Minster of Works and Housing, Mr Babatunde Fashola has directed Julius Berger, the contractor handling section one rehabilitation/reconstruction of the Lagos-Ibadan Expressway to speed up construction ahead of the Yuletide. Fashola while inspecting the highway on Saturday, told the Julius Berger team after taking their project presentations to hurry construction ahead of the Yuletide.Read More
Vanguard News.
Read also Nigerian Newspapers Today and Nigeria News Today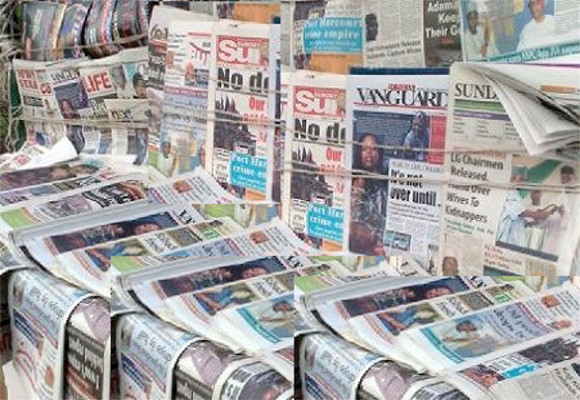 You can also check Vanguard Newspaper Headlines Today