Nigerian Newspapers Today :

Thursday 19th November 2020

Here are some of the Nigerian Newspapers Today on Thursday 19th November 2020 .

Read also Nigeria news Wednesday 18th November 2020
2023: It's Premature to Zone Presidency Now, Says PDP
•Promises to address South-east concerns •Clarifies Umahi's decision to leave party not irrevocable By Emmanuel Addeh Despite the agitation by the South-east for it to allot the presidential ticket of the party to the zone in 2023, the Peoples Democratic Party (PDP) yesterday said it would not be stampeded into doing so. According to the …
THISDAYLIVE.
NLC Demands Emergency in Oil Downstream Sector
•Sylva: Subsidy unfair to the masses By Omololu Ogunmade and Onyebuchi Ezigbo in Abuja The organised labour yesterday called on the federal government to immediately declare a state of emergency in the downstream arm of the petroleum sector as a means of arresting the rising price of petrol. In addition, it advised the government to …
THISDAYLIVE.


OPEC Projects 11m bpd Oil Demand Shortfall by December
•Banks on COVID-19 vaccines for market recovery •US company, Moderna, announces 95% efficient vaccine By Emmanuel Addeh in Abuja and Martin Ifijeh in New Jersey, USA The Organisation of Petroleum Exporting Countries (OPEC) has predicted that despite increasing stability in the demand for crude oil by China and India, there will be a reduction in …
THISDAYLIVE.
CBN, NDIC to Establish Fund to Guarantee Depositors' Funds Safety
•Aims to aid timely creation of bridge bank By Obinna Chima The Central Bank of Nigeria (CBN) and the Nigeria Deposit Insurance Corporation (NDIC) have been empowered to establish a Banking Sector Resolution Fund to ensure the safety of depositors' funds as well as financial system stability. The powers to set up the resolution fund …
THISDAYLIVE.
COVID-19: Don't Let Down Your Guard, Lagos Warns Worship Centres
By Segun James The Lagos State Government yesterday warned worship centres and residents of the state not to let down their guard as Nigeria is yet to win the battle against COVID-19. The state government urged religious centres and residents to intensify adherence to safety protocols to avert a second wave of the virus. It …
THISDAYLIVE.
Ex-FIRS Boss, Fowler, Returns to EFCC over Alleged Diversion of N5bn
By Kingsley Nwezeh Former Chairman of the Federal Inland Revenue Service (FIRS), Mr. Babatunde Fowler, yesterday returned to the Economic and Financial Crimes Commission (EFCC) for further questioning over his stewardship and alleged diversion of N5 billion. Fowler is also accused of allowing gaps in the auditing of the agency's accounts and other allegations of …
THISDAYLIVE.
Boost Food Production, Analysts Urge FG as Inflation Hits 14.23%
By James Emejo Analysts yesterday reinforced their call to the federal government to increase food production as a means of combatting inflation that has continued its uptick. The analysts, in separate interviews with THISDAY, said monetary policy alone can no longer curtail the rising inflation, which hit 14.23 per cent in October, according to figures …
THISDAYLIVE.


INEC Defends Buhari's Reappointment of Yakubu as Chairman
By Chucks Okocha The Independent National Electoral Commission (INEC) yesterday defended President Muhammadu Buhari's decision to reappoint Prof. Mahmood Yakubu, for a second term as its chairman, stating that it is within the constitutional powers of the president to do so. It added that it decided to conduct the outstanding National and State Assembly elections …
THISDAYLIVE.
EU Delivers Equipment to MNJTF to Combat Insurgency
•Military routs insurgents, bandits in Borno, Katsina By Kingsley Nwezeh In a bid to contain insurgency in the North-east and Lake Chad region, the European Union (EU) yesterday delivered Command, Control, Communication and Information Systems (C3IS) equipment to the Multinational Joint Task Force (MNJTF) to enhance its operational efficiency. This comes as the Air Task …
THISDAYLIVE.
The Global Race for COVID Vaccine
BY REUBEN ABATI If there is anything that the COVID-19 pandemic has proven beyond doubt, it is how humanity depends on science for its survival. Every confounding development that has been thrown up by nature or biology since the days of the pre-historic man has been resolved, and humanity has advanced on the back of …
THISDAYLIVE.
Read also Nigerian Newspapers Today and Nigeria News Today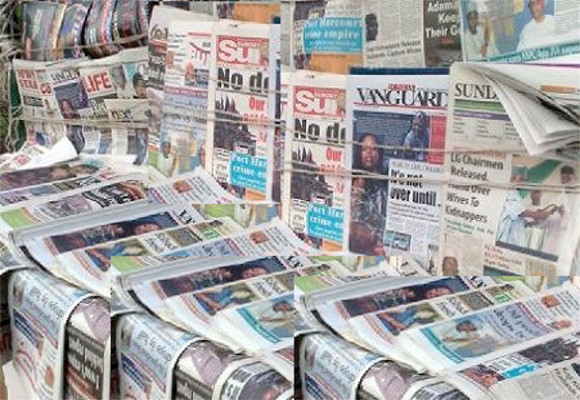 You can also check Nigeria Newspaper Headlines Today