Nigerian Newspapers Today :

Thursday 29th October 2020

Here are some of the Nigerian Newspapers Today on Thursday 29th October 2020 .

Read also Nigeria news Wednesday 28th October 2020
No Insurance Cover for COVID-19 Business Disruption, Says NIA Chairman
By Dike Onwuamaeze The Chairman of the Nigeria Insurers Association (NIA) and the Group Managing Director of the Custodian Investment Plc, Mr. Wole Oshin, has revealed that there is no insurance cover for those that experienced business interruption as a result of the lockdown imposed by the federal government to contain the spread of COVID-19 …
THISDAYLIVE.
Heritage Commences Account Opening for Special Work Applicants
Heritage Bank Plc has revealed it preparedness to commence account opening with Bank Verification Numbers (BVN) for the earmarked 774,000 participants for the federal government's SPW Programme throughout the 774 Local Government Areas. The participants are to be paid an allowance of N20, 000 only, monthly and the programme is to kick off from 1st …
THISDAYLIVE.


United Capital Grows Nine-month Profit by 26% to N4.1bn
By Goddy Egene United Capital Plc has reported improved results for the nine months ended September 30, 2020 despite the challenging economic operating environment. Gross earnings rose 33 per cent from N5.32 billion in 2019 to N7.07 billion in 2020. Net operating income jumped by 58 per cent from N4.29 billion to N6.76 billion, while …
THISDAYLIVE.
CBN Raises Red Flag over COVID-19 Financing
The Central Bank of Nigeria has advised all financial institutions to be abreast with emerging risks and other developments while taking proactive steps to address the new and emerging money laundering and terrorism financing. The banking sector regulator noted that changes in the trends of business activities and financial transactions precipitated by COVID-19 pandemic had …
THISDAYLIVE.
Oni: Govts Should Access Capital Market for Devt Projects
Mr. Sola Oni, a former spokesman of the Nigerian Stock Exchange, a journalist, stockbroker and Managing Director/CEO, Sofunix Investment & Communication Limited. In this interview, he speaks about his professional experience, capital market among others. Goddy Egene presents the excerpts: How will you describe your experience as a journalist? Exciting. Journalism is a demanding profession. …
THISDAYLIVE.
Fidelity Named 'SME Support Bank of the Year'
Fidelity Bank Plc has disclosed that in recognition of its support for micro, small and medium scale enterprises (MSMEs) in the country, it recently clinched the award for the 'Outstanding SME Supporting Bank of the Year' at the 2020 Marketing & Advertising Award for Excellence. The ceremony held in Lagos. According to the organisers, Marketing …
THISDAYLIVE.
NDIC: Rising Public Debt, Bad Loans Threat to Financial Stability
Says banks likely to seek bailout By James Emejo The Managing Director/Chief Executive, Nigeria Deposit Insurance Corporation (NDIC), Alhaji Umaru Ibrahim has said the rising public debt stock as well as increase in banking industry non-performing loans (NPLs) portfolio have put financial regulators under pressure. Owing to this, he stressed take measures to respond and …
THISDAYLIVE.


Renaissance Capital Highlights Value in Stripe, Paystack Deal
By Obinna Chima Analysts at Renaissance Capital (RenCap) have estimated the perceived value realised by Nigeria's start-up, Paystack in the recent announcement of its acquisition by Stripe, an American financial services and software company. The deal was put at over $200 million. RenCap estimated in a report on the transaction obtained yesterday that the deal …
THISDAYLIVE.
NNPC: Nigeria's Oil Deposit Down by 2.16% to 36 Barrels
By Chineme Okafor The Nigerian National Petroleum Corporation (NNPC) has disclosed that the volume of oil deposits Nigeria holds declined by 2.16 per cent between 2018 and 2019 and is now 36.89 barrels (bbls). While the country's oil deposit reduced by this amount, the corporation however noted that it recorded a 1.27 per cent increase …
THISDAYLIVE.
Okorocha Suggests Best Way to Tackle Almajiri Problem in Nigeria
By Segun Awofadeji A former Imo State Governor, Rochas Okorocha, has stated that the best way to tackle the almajiri problem in the country particularly in the north is for everyone to see them as human beings. Okorocha, who was invited to Bauchi State by Sheik Dhairu Usman Bauchi, to celebrate his yearly Mauloud, was …
THISDAYLIVE.
Read also Nigerian Newspapers Today and Nigeria News Today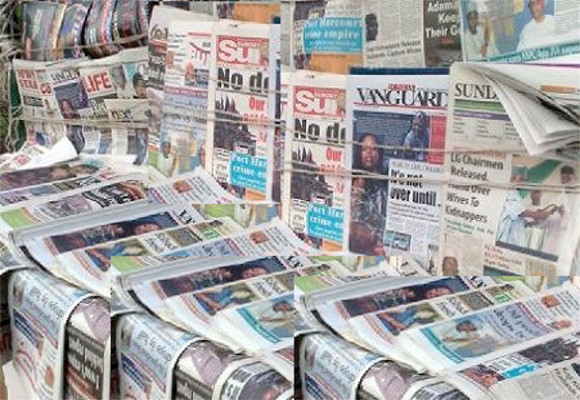 You can also check Nigeria Newspaper Headlines Today