Latest News in Nigeria Today

Tuesday 20th October 2020

These are the Latest News in Nigeria Today on Tuesday 20th October 2020 .

Read also Sahara Reporters Latest News Today Tuesday 20th October 2020
900 prisoners escaped in jail-break – Bakwanamaha
The mayor of eastern Congolese city of Beni on Tuesday said 900 prisoners had escaped from jail, including members of an Islamist militant group. Modeste Bakwanamaha said rebels from the Allied Democratic Forces (ADF) and other rebel groups were among those who had been sprung from the jail by attackers using welding equipment. Out ofRead More
Vanguard News.
E2%80%95-ondo-deputy-governor/ Why I won't resign ― Ondo Deputy governor
By Dayo Johnson – Akure The embattle Ondo deputy governor, Hon Agboola Ajayi has said that he would not resign his position no matter the intimidation and propaganda from the state government. Ajayi had resigned from his political party, the All Progressive Congress and defected to the Zenith Labour Party (ZLP) under which he contestedRead More
The post Why I won't resign ― Ondo Deputy governor appeared first on Vanguard News.


Stop attacking #EndSARS protesters with hired hoodlums, policemen, PANDEF warns
By Emma Amaize PAN Niger- Delta Forum PANDEF, has demanded a halt to acts of intimidation, harassment and physical assault by hired hoodlums and police officers of well-meaning young Nigerians peacefully indicating their frustrations over how the affairs of their country are being conducted. PANDEF, umbrella body of monarchs, leaders and stakeholders of the coastalRead More
Vanguard News.
#EndSARS: Reps committee suspends public hearings indefinitely
By Tordue Salem – Abuja The continuing #EndSARS protests across the country, have forced the House of Representatives Committee on Aviation to postpone indefinitely, its three-day hearing on six Civil Aviation Bills, that were slated to begin today. A statement personally signed by the Chairman, Rep. Nnolim Nnaji(PDP-Enugu), said the "the postponement was necessitated byRead More
Vanguard News.
#EndSARS: Sporadic shootings in Abuja as soldiers disperse protesters
By Omeiza Ajayi – Abuja There was tension in some parts of Sokale and FO1 areas of Kubwa on Tuesday morning following an invasion by soldiers who fired sporadically into the air to disperse some #EndSARS protesters who had gathered to begin the day's protest. While passers-by scampered to safety, residents who were still inRead More
Vanguard News.
Call off protests, allow govt meet your demands, Tinubu begs #EndSARS protesters
National leader of All Progressives Congress, APC, Asiwaju Bola Tinubu, has appealed to #EndSARS protesters across the country to call off their protests and allow the federal government attend to their demands. Tinubu in a statement, titled "#EndSARS Protests The Remedy for National Maladies is more, not less Democracy", also asked his party to utilizeRead More
Vanguard News.
Niger Delta militants plan to attack Chevron, Shell, NNPC facilities
By Emma Amaize – Warri A coalition of nine renegade militant groups in the Niger-Delta region has declared support for the raging EndSARS protests across the country, saying they were ready to resume hostilities, attack oil and gas facilities if Federal Government did not meet the demands of protesting Nigerian youths. The militant groups underRead More
Vanguard News.


#EndSARS: IGP men hunt NOHE staff over office disagreement
By Dennis Agbo The Chairman of National Orthopedic Hospital Enugu, NOHE, Cooperative Thrift, and Loans Society, Mr. Philip Ugwuona has raised the alarm that he has gone into hiding following intimidations and unwarranted arrests by the Inspector General of Police, IGP, monitoring team from Abuja. Ugwuona who spoke from his hideout said that the teamRead More
Vanguard News.
Money Laundering: Court gives Sen Ndume 21 days to produce ex-Pension boss, Maina
…Orji Kalu, Nyame, Dariye pressured me to stand surety for him, Ndume laments By Ikechukwu Nnochiri THE Federal High Court in Abuja yesterday gave Senator Ali Ndume, who is representing Borno South, 21 days, to produce former chairman of the defunct Pension Reform Task Team, Abdulrasheed Maina, who has repeatedly failed to appear for continuationRead More
Vanguard News.
TRIBUTE: John Pepper Clark-Bekederemo (1935-2020)
BY Obi Nwakanma There is the story of John Pepper Clark and his best friend, Kayode Jibowu at the University College Ibadan. One evening in 1956, in the common room of Tedder Hall, they had engaged in what must still be the longest, fiercest, and most passionate debate at the university to date. It wentRead More
Vanguard News.
Read also Nigerian Newspapers Today and Nigeria News Today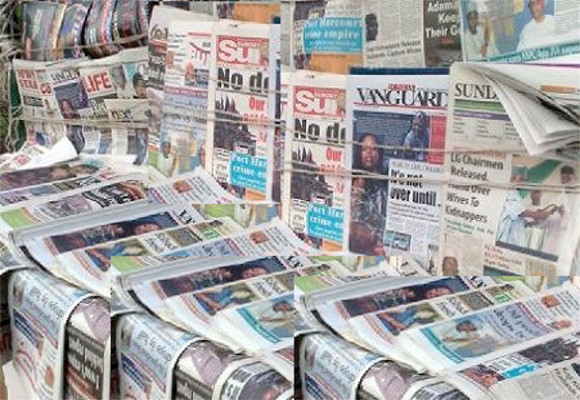 You can also check Nigeria Newspaper Headlines Today