Latest News in Nigeria Today

Sunday 18th October 2020

These are the Latest News in Nigeria Today on Sunday 18th October 2020 .

Read also Sahara Reporters Latest News Today Sunday 18th October 2020
Diri hails protests against police brutality
Directs release of illegal detainees By Samuel Oyadongha – Yenagoa Bayelsa State Governor, Senator Douye Diri, has said he is totally in support of the ongoing protest against police brutality exemplified by the hashtags #EndSARS and #EndSWAT across Nigeria noting that his administration would not condone acts that infringed on the fundamental rights of citizensRead More
Vanguard News.
#ENDSARS: Compensate victims of Police brutality, PDP tells FG
By Adeola Badru THE National Chairman of the Peoples Democratic Party (PDP), Uche Secondus, has declared support for the ongoing protest over alleged police brutality and all forms of violence against the people, adding that the Federal Government, just as a matter of necessity, do a comprehensive and holistic reform of the police. Secondus,Read More
Vanguard News.


Unequal access to literacy raises poverty, insecurity, says Mabini-Adesanya, Zatem boss
Given the large number of out-of-school children in Nigeria, unequal access to literacy poses threat of poverty, poor health, insecurity and an increase in crime rate.
Vanguard News.
The tragic experience of Dr. Ezekiel Izuogu and its corollaries (1)
It seems that the target of this robbery is to stop the efforts we are making to mass produce the first ever locally made car in Africa By Douglas Anele As everyone knows, the topic that is trending most in Nigeria today is "EndSars," the catch-phrase for spontaneous protests especially in the south against policeRead More
Vanguard News.
I'm not sponsoring #ENDSARS protesters – Tinubu
By Nwafor Sunday The National Leader of the All Progressives Congress, APC, Ahmed Tinubu has reacted to a news making the rounds that he was among those sponsoring #ENDSARS protesters. In a statement signed by his spokesman, Tunde Rahman, Tinubu exonerated himself, advising Nigerians to jettison the news. The statement according to Thecable says: "ThereRead More
Vanguard News.
Arewa leader blows hot: Those promising Igbo president in 2023 are deceiving them
By Jimitota Onoyume AREWA leader in the South, Alhaji Musa Saidu, has asked Igbo to forget about presidency in 2023 if they fail to build bridges of peace across the country. Saidu, in a chat with the Sunday Vanguard, said those promising Igbo the presidency without the need for them to build bridges of peaceRead More
Vanguard News.
At long last, 'Democracy' visits Nigeria!!
By Tonnie Iredia In 2015, when the then US President, Barrack Obama visited a handful of African countries, Nigeria was excluded, though he got as close as neighbouring Ghana. Later in the year, at an International Conference on Media Development and Sustainability in Africa organized by the University of Neuchatel, Switzerland, one participant engaged meRead More
Vanguard News.


#ENDSARS: 2 die; gov attacked; Lagos, Osun, Benue grounded
…Ogun, Ekiti, Enugu, Delta raise probe panels on police brutality …I watched helplessly as stray bullet killed my driver – Victim's boss during Sanwo-Olu's visit …Woman arrested over death of 2 demonstrators By Our Reporters #ENDSARS protests took a deadly turn, yesterday, after Governor Adegboyega Oyetola of Osun State was attacked by suspected hoodlums inRead More
Vanguard News.
#ENDSARS, #ENDSWAT: Why police reform failed twice —Ex-Police Reform Chair
•'How President, govs undermine police' •Reveals how rights' abuse victims, families of extrajudicial killing casualty can get justice By Esther Onyegbula Former Chairman, Network on Police Reforms, NOPRIN, Okechukwu Nwangwuna, in this interview, speaks on the type of reforms needed for a better policing system in Nigeria. With hindsight, he reveals why past efforts atRead More
Vanguard News.
Police bemoan beheading of three suspected kidnappers in Cross River
…No group has right to take life – CP By Ike Uchechukwu – Calabar The Cross River State Police Command has condemned the gruesome killing of three suspected kidnappers stressing that no individual or group has the right to maim or take the life of another person irrespective of their offence. The reaction on comingRead More
Vanguard News.
Read also Nigerian Newspapers Today and Nigeria News Today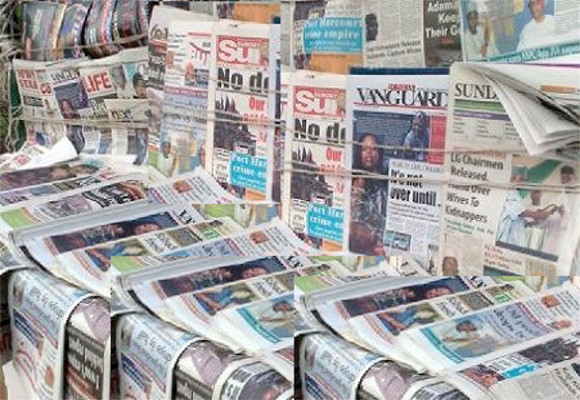 You can also check Nigeria Newspaper Headlines Today