Sports News Today Headlines

Friday 16th October 2020

Top Sports News Today Headlinese from Newspapers

Read also Punch Newspaper Headlines Today Friday 16th October 2020
COVID-19: Australia Open cancelled, first time since WW2
The Australia Open will be absent from the sports calendar for the first time since World War Two this season. This came to be after Golf Australia and the Professional Golfers Association (PGA) of Australia cancelled all of their top events on Friday because of the COVID-19 pandemic. The 105th edition of the country'sRead More
Vanguard News.
Osun United to resume training on Sunday
The management of Osun United Football Club of Osogbo says the club will begin full preparation for the 2020/2021 Nigeria National League (NNL) season on Sunday. Tajudeen Amodu, the club's Media Officer, in a statement on Thursday said the move followed Federal Government's announcement of the lifting of its ban on contact sports. "The decisionRead More
Vanguard News.


COVID-19: Italian minister says Ronaldo may have violated protocols
Cristiano Ronaldo may have violated health protocols by travelling to Portugal for international duty, according to Italy's minister for sport Vincenzo Spadafora. The Juventus forward linked up with his national side for their October fixtures after the Serie A champions had created a 'bubble' at the team hotel, with two members of staff having tested positiveRead More
Vanguard News.
Courtois backs Hazard to explode at Real Madrid after injury woes
Thibaut Courtois backed Eden Hazard to eventually "explode" for Real Madrid after his luckless injury run. Hazard is yet to make an appearance for Madrid this season, having suffered a muscle injury just as he neared a return from an ankle issue. The playmaker struggled to have much of an impact for the LaLigaRead More
Vanguard News.
Ronaldo returns to Italy despite coronavirus infection
Portuguese superstar Cristiano Ronaldo has returned to Italy to complete his quarantine after testing positive for the coronavirus on international duty, his club Juventus said Wednesday. "Cristiano Ronaldo returned to Italy with a medical flight authorised by the competent health authorities at the request of the player and will continue his fiduciary isolation at hisRead More
Vanguard News.
Newcastle ace Saint-maximin signs new six-year deal
Newcastle forward Allan Saint-Maximin has signed a new deal to stay at St James' Park until 2026. The Frenchman was already under a long-term contract, having signed an initial six-year deal when he joined the Magpies in August 2019 following a £16million transfer from Nice. Saint-Maximin impressed during his debut Premier League season, playing 30Read More
Vanguard News.
Drew Uyi hails Antetokounmpo brothers over NBA honours
FA-licensed football agent and international brand expert, Drew Uyi, has doffed his hat in celebration of Kostas Antetokounmpo and Giannis Antetokounmpo for the double NBA honours both brothers won in the just-concluded NBA 2020 season.
Vanguard News.


Romero asks Man United to cancel his contract
Manchester United goalkeeper Sergio Romero has asked the club to cancel his contract before the end of the month. Despite deadlines in Europe passing last week, that would allow him to join a team in Major League Soccer, where the transfer window remains open until 29 October. Romero has lost his place at Old TraffordRead More
Vanguard News.
Blunt Spain need scoring solution to rule again on world stage
Spain coach Luis Enrique has a month to sort out the nation's goalscoring problems if they are to reach the Nations League Final Four. That was the verdict on Wednesday after the team managed just one goal in three games in this international break. "Without goals we are going nowhere," was the Marca headline theRead More
Vanguard News.
Football: African international results
Results of African international friendly matches Tuesday: At Niamey Niger 1 (Djibrilla 54) Sierra Leone 0 At Rio Maior, Portugal Angola 3 (Mateus 45+1, 77, Gelson 79) Mozambique 0 At Rabat Morocco 1 (Mazraoui 45) Democratic Republic of Congo 1 (Wissa 60) At Sankt Veit an der Glan, Austria Nigeria 1 (Iheanacho 21) Tunisia 1Read More
Vanguard News.
Newcastle vs Man Utd: Pogba not happy with Solskjaer, demands to play in Fernandes' position
Manchester United midfielder, Paul Pogba, is unhappy with Ole Gunnar Solksjaer playing him in a withdrawn role, the UK Independent reports. It is believed there is a degree of friction brewing over United's midfield set up, with Pogba particularly at odds with the role he has been given. The arrival of Bruno Fernandes from Sporting …
Newcastle vs Man Utd: Pogba not happy with Solskjaer, demands to play in Fernandes' position
Newcastle vs Man Utd: I'm always ready – Ighalo tells Solskjear
Manchester United striker, Odion Ighalo has told the club's head coach, Ole Gunnar Solskjaer that he is always ready to feature for the Red Devils ahead of their Premier League clash against Newcastle United on Saturday evening. The Nigerian attacker is waiting for an opportunity to start for Man United in the Premier League this …
Newcastle vs Man Utd: I'm always ready – Ighalo tells Solskjear
Wenger reveals biggest regret of his career
Legendary Arsenal boss, Arsene Wenger, has admitted his biggest regret is failing to win the UEFA Champions League. The 70-year-old claimed he would swap the 'Invincible' Premier Leagues season for the biggest club football prize. The Gunners made history in the 2003/2004 campaign, when they won the title without losing a single match. However, during …
Wenger reveals biggest regret of his career
Newcastle vs Man Utd: Solskjaer told to drop Maguire for EPL clash
Former Manchester United defender, Rio Ferdinand, has advised Ole Gunnar Solskjaer to drop Harry Maguire for this weekend's trip to Newcastle. The 27-year-old has endured a miserable start to the campaign and was sent off on England duty in midweek, as the Three Lions lost 1-0 to Denmark in the UEFA Nations League. With Solskjaer …
Newcastle vs Man Utd: Solskjaer told to drop Maguire for EPL clash
Newcastle vs Man Utd: Ighalo sends message to Cavani, others
Manchester United striker, Odion Ighalo, has finally paid his tribute to the club's new signings, Edinson Cavani, Alex Telles and Facundo Pellistri. Ighalo welcomed Cavani, Telles and Pellistri to Man United and backed the trio to challenge any player playing in their positions in the Red Devils squad in order for them to get first-team …
Newcastle vs Man Utd: Ighalo sends message to Cavani, others
Chelsea officially confirm deal for Victor Moses
Chelsea have officially confirmed that their winger, Victor Moses, has left the club to join Spartak Moscow on loan. Frank Lampard's side disclosed this in a statement via their official website on Thursday evening. The statement read: "Victor Moses has joined Spartak Moscow on loan for the remainder of the 2020/21 campaign. "The Russian side …
Chelsea officially confirm deal for Victor Moses
Man City vs Arsenal: Arteta speaks on playing Partey in EPL clash
Arsenal boss, Mikel Arteta, has confirmed that the club's new signing, Thomas Partey, is desperate to make his Gunners debut in Saturday's Premier League clash against Manchester City at Etihad. Arteta also admitted that Partey would need to make an instant impression in his first training session if he is to be selected to face …
Man City vs Arsenal: Arteta speaks on playing Partey in EPL clash
Pellistri reveals who convinced him to join Man Utd
New Manchester United player, Facundo Pellistri, has identified the club's former player, Diego Forlan, as one of the people that convinced him to join the Red Devils. Pellistri explained that Forlan advised him a lot, adding that the Uruguay legend plays an important role in his career. The 18-year-old completed a move to Man United …
Pellistri reveals who convinced him to join Man Utd
EPL: Alan Shearer predict position Man Utd will finish this season
Newcastle United legend, Alan Shearer, has predicted the position Manchester United will finish this season in the English Premier League, EPL. Man United finished third on the Premier League table last season behind Liverpool and Manchester City respectively. But Shearer expects Man United not to improve on the third position they finished last season, insisting …
EPL: Alan Shearer predict position Man Utd will finish this season
Golden Boy Award: Chelsea's Hudson-Odoi, Arsenal's Saka make 20 man shortlist Full list
Chelsea's Callum Hudson-Odoi, Arsenal's Bukayo Saka and Manchester United's Mason Greenwood are some of the names on the 20-man list of nominations for the 2020 Golden Boy award on Thursday. The Golden Boy prize is an annual award established by Italian newspaper Tuttosport which is handed to the best player in European football under the …
Golden Boy Award: Chelsea's Hudson-Odoi, Arsenal's Saka make 20 man shortlist Full list
Read also Nigerian Newspapers Today and Nigeria News Today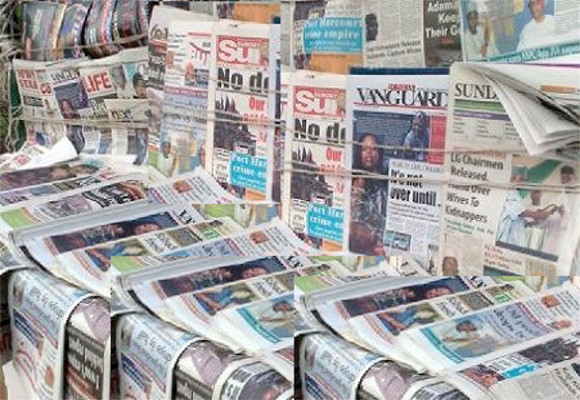 You can also check Sports News Today Headlines