Sahara Reporters Latest News Today

Friday 16th October 2020

Sahara Reporters Latest News Today and headlines on some of the happenings and news trend in the Country, today 16/10/20

Read also nigeria newspapers Friday 16th October 2020
E2%80%94apostle-johnson All Inmates Currently In SARS Cells Should Have Their Cases Reviewed —Apostle Johnson Suleman
Apostle Johnson Suleman of Omega Fire Ministries has waded into the dissolution of the dreaded police unit, Special Anti-Robbery Squad.
Suleman called for the review of all cases of inmates in the cells of the defunct police unit.
He said efforts should be made to fight for those in detention over trumped-up charges after being tortured to admit under duress what they were innocent of.
In a tweet via his Twitter handle, Suleman wrote, "All the inmates currently in SARS cells should have their cases reviewed. In as much as we fighting for the ones killed,what about the ones in detention over trumped up charges, tortured to admit under duress what they were innocent of. We need their cases reviewed."
News
AddThis
:
Original Author
:
SaharaReporters, New York
Disable advertisements
:
E2%80%99s-speech-announcing-ban-sars-isaac-prince A Reflection On IGP's Speech Announcing The Ban On SARS By Isaac Prince
Inspector-General of Police (IG-P), Mohammed Adamu
After listening to the Inspector General of Police, Mohammed Adamu's speech last Sunday the 11th of October, 2020 announcing the disbandment of the Special Armed Robbery Squad (SARS), I had no doubt in my mind that the motive for the action was less than his desire to entrench an accountable crime-fighting unit for the Nigerian police. I will explain.
Apart from the fact that the IGP's speech is completely devoid of empathy for victims of SARS brutality and failed to take responsibility for human rights violations committed by this abusive outfit, it was an attempt to make political gain out of the still unfolding event. Take a look at the opening part of the FPRO statement which read like a PR stunt: "In the finest spirit of democratic, citizen-centred and community policing, the Inspector-General of Police, IGP M.A Adamu, NPM, mni has today, 11th October, 2020, dissolved the Special Anti-Robbery Squad (SARS) across the 36 State Police Commands and the Federal Capital Territory (FCT) where they hitherto existed" the statement said.
Predictably, the speech was met with skepticism by some activists who averred that the speech appeared more like a poor attempt to paint the police chief's action as a patriotic, well thought-out strategy to address a pressing national issue, rather than an act of a reluctant public officer who was simply obeying superior orders. For the FPRO Frank Mba who gleefully announced just a few days earlier that SARS cannot be scrapped because of its potency in combating criminality and deadly criminal gangs in the country and a police chief who a few days earlier refused to come down from his 7th floor office at Edet House to address aggrieved protesting youths in Abuja to posit that their subsequent action was taken "in the finest spirit of democratic and community policing" is simply laughable.
Inspector-General of Police (IG-P), Mohammed Adamu.
Still, on the IGP's proclamation, perhaps the most impracticable part was the announcement that SARS personnel will be redeployed to other police units. My concern with this part is directly related to my previous experience and knowledge of issues that played out when former SARS officers were redeployed to other police units. First, it is extremely difficult to transfer a senior SARS officer from his base no matter the strength of the petition against him, because of the entrenched interest surrounding the position. A former IGP, Solomon Arase admitted that during his tenue as IGP, he attempted to transfer all the Officers in SARS Lagos to other units but came under intense pressure from powerful individuals including politicians and traditional rulers. Curiously, the officers they want him to retain turned out to be the most abusive one's going by the number and nature of complaints he had received. The same scenario played out in the case of James Nwafor, the notorious former head of SARS Awkuzu in Anambra state, often regarded as the most abusive SARS formation in the country. Nwafor has been repeatedly accused of torture and extra judicial executions by human rights groups in Nigeria. After several unsuccessful attempts to transfer him owing to pressures from the Anambra state government officials and business moguls in Anambra state, Solomon Arase in the last few weeks of his tenue finally succeeded in transferring the seemingly untouchable James Nwafor to Bauchi state. He fought his way back to Awkuzu SARS, just few weeks after the retirement of that IGP. On the practicability of transferring former SARS officers to other formations, the story of Okpontu will suffice here. Between 2004 and 2006, Okpontu was the most visible and notorious officers in the anti-robbery squad of Enugu state command. "Okpontu" – as the name suggest means 'the Nailer' in Igbo language – after he reportedly drilled through the palm of a detainee with a nail in 2006. This officer was so notorious that he caught the attention of most national and international human rights organizations who initiated discussions on how to address his excesses and bring justice to his victims. Several petitions to the police authorities to that effect failed to yield any positive result. In June 2005 the UN special Rapporteur on Extra judicial killings (EJK), Professor Philips Aston, while on a visit to Nigeria vowed to take up his issue with the Nigerian government after listening to dozens of testimonies about Okpontu's brutality. In late 2007, shortly after the UN special Rapporteur on EJK released his report on Nigeria, Okpontu was deployed from the Anti-robbery unit to the security team of the Enugu state governor, Sullivan Chime. You may think that this was the end of the matter, right? Wrong! Less than six months later, precisely on 2 October 2007, the security team of the Enugu state governor under the leadership of Okpontu, ran into protesting students of Kogi State University, Ayangba while returning to Enugu from Abuja and opened fire on them killing 4 students and injuring scores. The incident was never investigated and Okpontu and his team were never punished.
Another practical example is currently playing out in Anambra state. The current terror in Anambra and Enugu state is not SARS but the anti-cult unit of the Nigeria Police Force. Interestingly, most of the officers in this unit including their leaders were former SARS officers. In Enugu state, the name DSP Chidobe Ekeleme, the head of anti-cult unit of the state command invokes more terror in the mind of youths than any SARS officer. SARS may have been disbanded but the anti-cult and the anti- kidnapping units, where former SARS officers currently run the show, is still alive and kicking.
So when the IGP said the police will deploy SARS officers including those with blood on their hands to other police formations, I knew that we have a problem at hand. The chances of traffic officers (probably transferred from SARS) shooting motorists for failing to stop at a traffic light is a future possibility if we fail to address this issue now.
We must insist on accountability for abuses committed by SARS officers, not only to ensure justice for victims but to send a strong message to other officers that no matter how long it takes, every act of human rights violation will not go unpunished.
Meanwhile let the protests continue. We must demand for accountability for acts of human rights abuses by SARS officers. We are close to achieving this, but not yet there.#EndsarsNow #EndPoliceBrutality #EndPoliceImpunity
Isaac Prince is a police reforms expert based in Abuja.
Opinion
AddThis
:
Original Author
:
Isaac Prince
Disable advertisements
:


EndInsecurityNow: Police Watched As We Got Lynched By Thugs, Say Journalists Covering Protest In Kano
The End Insecurity Now protest is against rapes, banditry, kidnappings, Boko Haram insurgency and killings that have plagued the region.
Armed thugs have disrupted a peaceful protest tagged #EndInsecurityNow by youth groups of the 19 Northern states in Kano.
The protest, which on Thursday saw hundreds of youths carrying a banner and placards calling on the Nigerian authorities to end banditry, Boko Haram and rape in the region, started from Kabuga heading towards the BUK old site where they were attacked by armed thugs with cutlasses and other dangerous weapons.
Though no life was lost , it was confirmed that several persons received injuries of varying degrees including journalists present there.
The End Insecurity Now protest is against rapes, banditry, kidnappings, Boko Haram insurgency and killings that have plagued the region.
Daily Trust/Ibrahim Yaba
Thousands of youth across the country have in the last one week been protesting against the harassment and extrajudicial killings perpetrated mainly by the Special Anti-Robbery Squad of the Nigeria Police Force.
The police authorities have since disbanded the unit and announced the Special Weapons and Tactics unit as its replacement.
Aliyu Samba, a journalist with Kannywood TV, was injured at the scene and told newsmen that policemen were present while they were being lynched by thugs.
He said, "We started the protest from Kabuga and were moving peacefully towards BUK old site. There were policemen behind and around us as the protest moved on.
"I was in the front making livestream coverage on social media. All of a sudden I heard noise of people coming from behind my back. Immediately I turned round I saw thugs carrying machetes and metals who immediately started hitting us.
"They disrupted and scattered the protest. They seized the protest banner and neatly folded it. They charged at me and beat me up and seized my phone. I summoned courage to get my phone back while they continued to beat me.
"The police were standing by the side watching. No thug was arrested. It was merely a protest calling on the government to stop banditry and incessant killings in the North as well as rape," he said.
Another journalist, Abba Gwale of Leadership Newspaper, also a victim of the attack by thugs, said the hoodlums brought the busy way to a standstill as they struck and injured protesters.
"I was there to cover the event which started at Kabuga towards the BUK old site. Before we reached Kofar Fanfo, thugs appeared from nowhere carrying machetes, metals and stones. They dispersed everybody and brought the busy way to standstill. One of the thugs hit me on the hand with a metal and I am seriously injured. No life was lost but several people were injured," Gwale stated.
Human Rights
Police
News
AddThis
:
Original Author
:
SaharaReporters, New York
Disable advertisements
:
Four Nigerians Arrested In India For Alleged Fraud
Five persons including four Nigerian nationals have been arrested for allegedly duping a city-based woman of $56,793 after befriending her on social media, Nagpur Cyber Police in India said on Tuesday.
One of the accused befriended Reena Samsher Singh (56), an ex-army nurse, on Facebook by using fake profiles, the police said.
According to India's media, the Nigerians arrested were identified as Michael Scott Kolain (23), Idu Dollar Ukeke (32), Imu Sunday Azudaike (32), Kelvin Neke (29).
Their Indian accomplice was named as Sujeet Dilip Tiwari (25).
One of them claimed to be from the United States and told Singh that he would send her gifts and gold jewelery.
The accused asked her to deposit money in various bank accounts for `releasing' the goods from the customs. She then received WhatsApp messages, threatening to implicate her in a money laundering case if she failed to pay.
She thus ended up depositing $56,793 in accounts in Vijaya Bank, Canara Bank, UCO Bank and HDFC Bank.
Finally, realizing that she was being defrauded by cyber criminals, she approached the police.
The cyber police tracked down the accused from CCTV footage of bank branches where she had deposited the money. The money received from the ex-army official was diverted into eight different accounts.
Most of these accounts were traced to Delhi resident, Sujit Tiwari, who was the first one to be picked up by the city police team.
Cyber cops, under city police chief, Amitesh Kumar, and additional CP Sunil Phulari, had frozen the eight bank accounts with balance of around Rs18 lakhs, seized 13 mobile phones and 18 different credit cards from the gang.
Police are yet to trace out the passport and visas of the Nigerian nationals.
A team of only six persons comprising Senior Inspector, Raghavendrasingh Khirsagar, Asst PI Vishal Mane, head constable Sanjay Tiwari, constable Ajay Pawar, Deepak Chavan and Bablu Thakur had to strive for several days in Delhi to arrest the Nigerian nationals and their local contact, Tiwari.
One of the Nigerians had nearly slipped away from the cops but was pinned down by the alert team. It was Tiwari, who helped the racket with his bank accounts, SIM cards and other documents to receive the money from their victims.
Police managed to trace and nab Tiwari first, from whom details of the Nigerians were mostly gathered.
CRIME
International
News
AddThis
:
Original Author
:
SaharaReporters, New York
Disable advertisements
:
PFN Urges Nigerian Government To Heed Calls For Restructuring
Rev Felix Omobude
The Pentecostal Fellowship of Nigeria has called on the Nigerian Government not to ignore calls by well-meaning citizens to restructure the country and its internal security.
Rev Felix Omobude, National President of the PFN, disclosed this after a joint meeting of its National Advisory Council and the National Executive Council at the Bishop's Court in Lagos.
In a statement by Simbo Olorunfemi, the Christian group urged the Nigerian Government to do more in responding to the heightened level of poverty in the country and institute further measures to address the hardship being faced by the people.
Rev Felix Omobude
The statement reads, "Various issues of concern to the Church and the Nigerian nation were fully discussed at this meeting, which had in attendance Pentecostal leaders from different parts of the country. The PFN, in particular, took notice of the increasingly strident calls from fathers, leaders of thought and well-meaning Nigerians for the restructuring of the political and administrative apparatus that presently govern Nigeria. The calls validate the long-standing position of the Pentecostal Fellowship of Nigeria and her consistent appeal, over the years, to the government to pay attention to the callas and activate the necessary mechanism for it. "The Pentecostal Fellowship of Nigeria restates her call for restructuring, which has now become even more urgent, given the increasing push on the part of different groups towards tendencies that further division rather than unity. We note, with concern, the restiveness in different parts of the country and we are of the opinion that concerted efforts have to be urgently made by the government to reassure Nigerians that their interests will continue to be guaranteed within the Nigerian entity. "We restate our belief in the unity of Nigeria and a commitment to one Nigeria where people of different faiths and tongues can continue to live together as one. However, we call on the government to do all it can to assuage the fears and concerns of everyone and ensure the practice of Federalism in its true form. We urge the government to pay attention to the calls for restructuring and find a way to push for further devolution of powers, while adopting an all-inclusive approach to governance and development in the country. "The Pentecostal Fellowship of Nigeria urges the government to do more in responding to the heightened level of poverty in the land and institute further measures to address the hardship being faced by the people, especially in the face of the downturn in the economy made worse by COVID-19 pandemic, "The PFN is concerned about the allegations consistently made about apparent lopsided appointments into sensitive positions by the Federal Government, alleged to favour one part of the country over the other. We urge President Buhari and the Federal government to adopt an all-inclusive approach, not just in the manner of its appointments, but to ensure that there is a noticeable balance across ethnic and religious divides so as not to exacerbate the increasing mistrust along ethnic and religious lines in the country.
"The Pentecostal Fellowship of Nigeria restates its call for the Federal Government to activate the necessary mechanism and legal backing for the setting up of state police in the country. We believe that the recent agitation and introduction of different variants of regional and community policing models attests to the fact that Nigerians are yearning for an alternative approach to policing. We believe that with the introduction of a different model one that not only incorporates direct participation by other tiers of government in tackling insecurity in the country but one that will enhance the level of security in the country."
Politics
News
AddThis
:
Original Author
:
SaharaReporters, New York
Disable advertisements
:
I Regret Creating SARS In 1984, Says Retired Police Commissioner, Fulani Kwajafa
Fulani Kwajafa
A retired Commissioner of Police, Fulani Kwajafa, has expressed regrets for establishing the Special Anti-Robbery Squad of the Nigeria Police Force.
The excesses of the unit notorious for human rights violation has sparked protests across Nigeria for over one week now with demonstators demanding a reform of the entire police system.
Kwajafa while speaking in an interview with BBC Hausa said the unit had completey derailed from its founding objectives.'
Fulani Kwajafa
He said, "My name is Fulani Kwajafa. I entered the Nigeria Police Force in 1984. Then robbery was prevalent, this was why Buhari was Head of State. He (Buhari) got a lot of complaint that people were stealing from each other, robbing people — he told me and Mr Inyang, the then IGP, that we must do something about it or be fired.
"Mr Inyang called me and told me to come up with a plan to save the country from thieves, so I said okay. I told him to give me his trust, resources and officers to start work.
"After four months of creating SARS, there was peace, those who were not caught ran, and those who were caught were sent to prison.
"This thing frustrates me, there is no reason why because someone commits a crime that the person should be killed. There are laws and no one will give an order that if you see armed robbers kill the person.
"I have been hearing disheartening news, to the extent that I have thought to myself that it seems among the SARS officials, there are armed robbers.
"This is not why we created SARS, the reason is completely different, this is not the purpose. In fact, when I am mentioned as the creator of SARS, I feel ashamed. It's a thing of regret for me.
"If I had known it would be like this, I wouldn't have created it because people who know when I established the unit always say to be, is it not Kwajafa's baby? But this is not what I birthed, it has been changed."
Police
News
AddThis
:
Original Author
:
SaharaReporters, New York
Disable advertisements
:
Fish Out Policemen Who Killed Protesters, Nigerian Governors Tell Inspector-General Of Police
Governors of the 36 states of the federation have asked Mohammed Adamu, Inspector-General of Police, to fish out and sanction policemen responsible for the deaths of protesters across the country.
The governors made the request at a teleconference of the Nigerian Governors' Forum held on Thursday.
In a communique read by Kayode Fayemi, Chairman of NGF, the governors said the policemen, who attacked protesters must be brought to book.
"Governors were unequivocal that all police officers who participated in the abuse or actions that might have led to injury or the death of innocent citizens must be fished out and brought to book while other Nigerians who have been adversely affected by police brutality or other actions that were injurious to them or their loved ones, should be compensated," the communique read.Read here the communique from the Governors' meeting with the Inspector General of Police pic.twitter.com/jotM3grsfX— Kayode Fayemi (@kfayemi) October 15, 2020
See Also
Breaking News
BREAKING: Northern Governors Meet President Buhari, Reject Disbandment Of SARS
0 Comments
13 Hours Ago
Police
Politics
News
AddThis
:
Original Author
:
SaharaReporters, New York
Disable advertisements
:


INEC Announces Date For 2023 Presidential Election
The Independent National Electoral Commission has disclosed that the 2023 presidential election will hold on February 18, 2023.
INEC Chairman, Mahmood Yakubu, made the disclosure on Thursday.
He spoke at the inauguration of the Ad hoc Committee on Review of the 1999 constitution.
He told members of the House of Representatives that there were about 855 days left before the next general election.
Also, Secretary to the Government of the Federation, Boss Mustapha, urged the committee to pick things they can get over with and avoid the ones that will stall the process and destabilise the system.
Elections
Politics
News
AddThis
:
Original Author
:
SaharaReporters, New York
Disable advertisements
:
#ENDSARS: Have Our Children Gone Mad? By Azu Ishiekwene
Azu Ishiekwene
You'll have to go back nearly a decade to find anything resembling what has been happening across the country in the last one week.
Back then, civil society deeply offended by trillions of naira stolen by government officials and campaign donors to the ruling party in the name of petrol subsidy mounted protests that rocked the country and nearly brought President Goodluck Jonathan's government to its knees.
As it turned out, nearly didn't kill that bird. It, however, triggered #BringBackOurGirls, which sent waves of protests, as far away as the US White House, against the cavalier way that Jonathan's government handled the kidnap of over 200 school girls from their dormitory in daylight in Chibok.
Yet, even the protests at that time are only a shadow of what has been happening in the country since last week. #ENDSARS is what happens when deep-seated injustice and oppression meet single-minded courage and determination.
It's hard to tell which of the stories that sparked the protests is more heart-breaking. The story of the woman whose brother was killed by the Special Anti-Robbery Squad (SARS) and whose grief was compounded by SARS men demanding s** before the young man's corpse would be released? The corpse was released after a radio announcer intervened. But the victim's mother died while waiting.
What about the case of young Aborisade who was forced to get off an inter-state bus because he was carrying an iPhone and after the SARS men didn't find enough money in his account, framed him as a robbery suspect?
Or the case of Ifeoma Abugu, a young lady that had just completed her national youth service who was arrested in place of her fiancé, sexually molested in detention and left to die in the cell? Or Tiyamiu Kazeem who was stopped by SARS men and as they tried to take him into custody fell out of the SARS van and was run over by a moving car?
Azu Ishiekwene
Have we forgotten the cases of dozens of young men humiliated, detained and brutalised for their dreadlocks, tattoos, long beards and avantgarde dressing? Or the filmmaker who escaped death by the skin of his teeth for carrying props meant for an action movie?
Even if you overlook the trauma of the survivors, which is quite a mountain to climb, the 82 persons who according to an Amnesty International report were killed extra-judicially by SARS in the last three years present unique stories of ruthlessly aborted dreams. While each affected family has borne its own grief in its own unique way, not a single perpetrator has been brought to book.
Ochuko, the young man whose shooting in Ughelli last week sparked the latest protests, barely escaped with his life. It doesn't matter whether it was SARS or "Operation Delta Safe" that pulled the trigger: They're cousins of the same deadly heritage.
And that's precisely the point: how long that heritage would be endured, tolerated and even enabled.
As the protests spread, former Inspector General of Police Suleiman Abba, shed a few tears, not for the victims of the heinous crimes and brutality, but for SARS. He said we're going to miss SARS so badly, that we would regret the day they were redistributed. By the time he was done messaging, I couldn't help a sense of relief that he failed to get the All Progressives Congress (APC) nomination to run for Senate in Jigawa. That's how he would have been talking in the Senate?
Abba doesn't get it. He won't. In his 30-year career in the police force apart from his tour of duty as aide-de-camp to General Sani Abacha's wife, his withdrawal of the police orderly attached to former Speaker Aminu Tambuwal, and the day Dr. Reuben Abati announced his appointment as IGP in a short press statement, you'll have to scratch your head to remember that he rose that high in the force. He apparently just loved to leave rotting dead bodies in the force exactly where they were buried, with a big face mask over his nose.
Abba is not the only one who thinks that we might yet send roses to SARS for dismantling them. I've heard some say that while SARS operating in most parts of the North are good guys, the ones in Lagos and a number of the states in the South (and especially the Southerners among them), are the bad guys. Why dismantle the good guys with the bad?
Why? When there's an epidemic of rape, the way to save potential victims is not to try to find which likely perpetrators are wearing tribal marks or to use a measuring tape down below.
There's no question that there are good policemen and I have met a few of them in my lifetime. The question is whether the culture of brutality in the force – and indeed in the security services – is not too deeply entrenched to make any cosmetic changes useless and endanger even the few good ones.
Even in the midst of the protests, policemen were still slashing the car tyres of social crusader Aisha Yesufu and those of other protesters; they were teargassing them and hosing them with water cannons when the Fire Service couldn't find enough water to quench the fire set to the office of the Accountant General of the Federation, just next door.
Is that the force you redeem with a sermon or save by preaching like IGP Mohammed Abubakar Adamu did that they shouldn't be inspecting people's phones for the heck of it?
What the protesters are asking for – and what the country now deserves – is root-and-branch change; not tokenism by vested interests behaving as if they have been asked to donate their virility.
The good thing is that no matter the distractions and efforts to obfuscate things, the protesters are largely clear about what they want. And they know that the arm-twisting to make them relent is worse than giving SARS another welcoming party.
The protesters don't want government money because they've seen protest leaders paid off and nothing changed. They don't want a "seat at the table", because they have seen White Papers on police reform turn brown and things only got worse.
And yes, they're not burning tyres or looting shops because they have also seen genuine protests hijacked in the past and watched reactionaries use such incidents to compromise or blackmail demands for action.
They have learnt from the mistakes of their long-suffering parents and at least learnt a lesson or two from their striking teachers who were either lied to or who lied to themselves that change is best served piecemeal. They are charting their own course by having their skin in the game. They are levying themselves to pay for food, drinks and music as they keep the protests going.
While Tunde Lemo, Chairman of the start-up fintech, Flutterwave, was apparently away to ease himself, for example, the staff in his company donated the first N2million to fund the protests and gave details on social media to the last kobo how other donations came in and were being spent. Bundle Africa, another fintech, did the same thing. Anyone with a morsel's worth of brain would know that all the talk about some people hijacking these companies to transfer illicit funds is nonsense.
Some of the best and smartest young people I've ever known – including a number of them with good-paying jobs and well-off parents – were out there on the streets, leveraging technology, social connections and their place as citizens of the world – to press for fundamental change. No PDP, no APC.
We may dislike the inconvenience caused by the road blockades. Or be embarrassed like Governor Abdullahi Ganduje whose appointee posted a snide remark against President Muhammadu Buhari. I honestly didn't know that Ganduje still had the capacity to be embarrassed after all the dollar stories.
But after years of watching us play the ostrich, our children appear to be telling us the game is up. They're not mad. And in this particular case, SARS is not even a predator police. A predator hardly wastes its prey. SARS is worse than predatory police: it has been infiltrated by a criminal gang that has bought the right of access and transformed the force in its own brutal image.
Georgia faced a similar problem. In an article in the June 11, 2020 edition of Foreign Policy, former Georgian President, Mikheil Saakashvilli, said when he took over as president in 2004, "Law enforcement agencies functioned like criminal gangs. Officers demanded bribes, trafficked in narcotics and weapons and worked for political and business elites as mercenary security force."
Saving the fruit basket by removing the bad apples was not an option. He scrapped the system completely in addition to changing "the mentality of a broken, cynical, and fearful society."
The process of creative destruction, according to him, involved dismantling the legacy of politicised policing, disbanding the traffic police, and replacing them with an entirely new force with no background in law enforcement and therefore no ties to the old corrupt network. It's the culture, stupid!
New recruits were subjected to competitive exams and courses in the criminal procedure code, while they were taught new skills in persuasion, negotiation and mediation. The system had to be rebuilt from ground up.
Their stations were pulled down and every single one rebuilt with transparent glass frames. There was no longer any hiding place. The net result was a 66 percent decline in violent crimes and over 50 percent drop in the overall crime rate. At the end of Saakashvilli's presidency in 2013, law enforcement ranked among Georgia's most respected institutions with 87 percent approval rating.
It's fair to argue that Georgia's population is just about the size of a local government in Lagos and that what works there may not work here. That's OK, but why not take the principle and start by truly decentralising the police and making them accountable? Redistributing SARS officers amongst the regular police force and throwing more money at the problem won't solve it.
And the lesson about change by band aid is that it only makes the wound fester. Those resisting fundamental root-and-branch change in the police are not doing so out of benevolence. They want just about enough change that maintains their current privileges and nothing more. And they would do anything, including blackmailing protesters and spreading lies and hysteria, to get what they want.
Only creative destruction can produce something lasting. It remains to be seen if this moment will bring it about.
Ishiekwene is MD/Editor-In-Chief of The Interview
Opinion
AddThis
:
Original Author
:
Azu Ishiekwene
Disable advertisements
:
Falz Writes President Buhari Over Non-constitution Of NHRC Board
Folarin "Falz" Falana
Folarin Falana, a Nigerian musician better known as Falz, has asked President Muhammadu Buhari to reconstitute the governing board of the National Human Rights Commission.
Falz in a letter seen by SaharaReporters on Thursday said the absence of the governing council as required by the law had led to the aggravation of human rights abuses in the country.
He said, "It has been brought to my knowledge via a statement by your Special Adviser on Media and Publicity, Femi Adesina, that the Federal Government has accepted the 5-point request of the ENDSARS protests presented by well-meaning Nigerian youths.
Folarin "Falz" Falana
"The statement went on to state that there would be an independent investigation panel to look into the violations of Human Rights by the defunct SARS and othe segments of the Nigerian Police.
"Quoting Mr Adesina's statement: The Forum agrees to the setting up of this independent panel by the National Human Rights Commission within the next one week.
"It is pertinent to note that section 5 of the National Human Rights Commission (Amendment) Act 2010 empowers the National Human Rights Commission itself you receive complaints and investigate all alleged cases of human rights violations in Nigeria and make appropriate recommendations to the President.
"The detailed and concise provisions of this section adequately empower the Human Rights Commission to look into these cases by itself. The commission need not set up another panel for the exercise of its function.
"As it stands now, the National Human Rights Commission has remained without the Governing Council since 2015 and still remains without it. The unfortunate circumstance has led to the aggravation of human rights abuse."Mr President, please treat as urgent @MBuhari 👇🾠pic.twitter.com/mqkbPQ27um— Bop Daddy (@falzthebahdguy) October 15, 2020
Human Rights
Music
News
AddThis
:
Original Author
:
SaharaReporters, New York
Disable advertisements
:
Read also Nigerian Newspapers Today and Nigeria News Today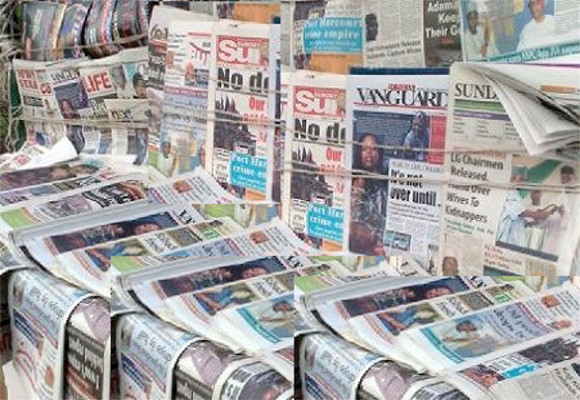 You can also check Sahara Reporters Newspaper Headlines Today