Vanguard Latest News

Tuesday 13th October 2020

Vanguard Latest News Today and headlines on some of the happenings and news trend in the Country, today 13/10/20

Read also The Nation Newspaper Today Headline Tuesday 13th October 2020
FG Considers ASUU "UTAS" Payment software, subjects it to integrity test today
By Henry Umoru STRONG Indications have emerged that the Federal Government may at the end of the day, accept demands by the Academic Staff Union of Universities, ASUU by jettisoning and the Integrated Payroll and Personnel Information System, IPPIS and accepting tthe University Transparency Account System(UTAS) payment platform developed by the University Lecturers. According toRead More
Vanguard News.
#EndSARS: Gov Sanwo-Olu delivers letter from youths to Buhari
ABUJA- GOVERNOR Babajide Sanwo-Olu of Lagos State yesterday presented to President Muhammadu Buhari the letter from the protesting youths on the brutality of the disbanded Special Anti-Robbery Squad, SARS.
Vanguard News.


ENDSARS: Soldiers used gun butts, tree branches to beat protesters, journalists at Nat'l Assembly
The #ENDSARS protests took another turn in Abuja on Tuesday, when soldiers set up a blockade before the National Assembly, NASS, and beat up the protesters and journalists covering the event.
Vanguard News.
COVID-19: All rapid test kits submitted by vendors failed validation test,says MLSCN
ABUJA–THE Medical Laboratory Science Council of Nigeria,MLSCN,has said all the COVID-19 Rapid Diagnostic Test (RDT) kits submitted by some vendors failed its validation test.
Vanguard News.
Onochie's nomination, an assault on nation's constitution – PDP
…Says it negates Buhari's promised credible election legacy By Dirisu Yakubu The Peoples Democratic Party, PDP, has described President Muhammadu Buhari's appointment of his Special Assistant on social media, Lauretta Onochie, a card-carrying member of the All Progressives Congress, APC, as national commissioner in the Independent National Electoral Commission, INEC, as a highly provocative assaultRead More
Vanguard News.
2021 Budget Proposal: ActionAid calls for upward review of Agric, Health, Education allocations
Says public debate needed before FG enters loan contracts By Gabriel Ewepu – Abuja A non-governmental organisation working to combat poverty and promote social justice in Nigeria, ActionAid Nigeria, Tuesday, called for upward review of Agriculture, Health, and Education allocations in the 2021 Budget Proposal presented by President Muhammadu Buhari to the National Assembly lastRead More
Vanguard News.
EndSARS protest grounds Enugu as Phyno, Flavour join
By Chinedu Adonu Thousands of youths in Enugu State on Tuesday joined their counterpart across the country in protest against the now banned Special Anti Robbery Squad (SARS). Popular musicians, Phyno, Flavour, Zoro, KayCee among other musicians, Tuesday led thousands of youths in protest against the dreaded Special Anti Robbery Squad (SARS). The youths wereRead More
Vanguard News.


IMF reverses forecast for Nigeria's economy to – 4.3 % in 2020
… Projects 1.7% growth in 2021 … As World economy expected to fall -4.4 % in 2020 By Peter Egwuatu The International Monetary Fund, IMF, Tuesday reversed Nigeria's economy growth projection to -4.3 percent in 2002 from its earlier projection of 5.4 percent. The Fund also projected that Nigeria's economy would grow by 1.7 perRead More
Vanguard News.
Unless we work together, we will suffer for nothing, Buhari tells APC members
President Muhammadu Buhari Tuesday in Abuja called for a stronger sense of commitment to the governing party, All Progressives Congress (APC), that will translate into electoral victories in polls, admonishing that "unless we work together, we will suffer for nothing.'' The President gave the advice to APC party leaders and members when he received theRead More
Vanguard News.
Withdraw Lauretta Onochie's name now as INEC Commissioner, 14 CSOs, Dino Melaye tell Buhari
By Henry Umoru FOURTEEN leading Civil Society Organisations, CSOs have taken a swipe at President Muhammadu Buhari following his nomination of his Special Assistant, Social Media, Lauretta Onochie as a National Commissioner for the Independent National Electoral Commission, INEC for Screening and subsequent confirmation. Also yesterday, Senator Dino Melaye who represented Kogi West in theRead More
Vanguard News.
Read also Nigerian Newspapers Today and Nigeria News Today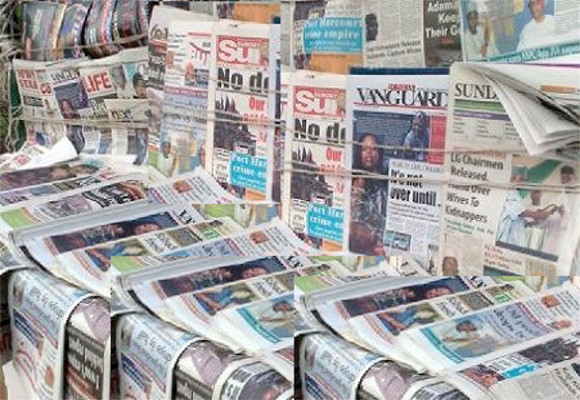 You can also check Vanguard Newspaper Headlines Today